Cleansing your skin is the first and most important step in your routine.
This helps you remove bacteria, pollution, dust, makeup, and grime (instead of leaving them on your face).
Today I will talk about a few cleansing habits you should start implementing in order to take good care of mature skin as well as recommend some of my favorite cleansers for aging skin I'm sure you will love.
So, let's start from the top. Here are…
The 10 Best Cleansers For Aging Skin (Reviewed Below)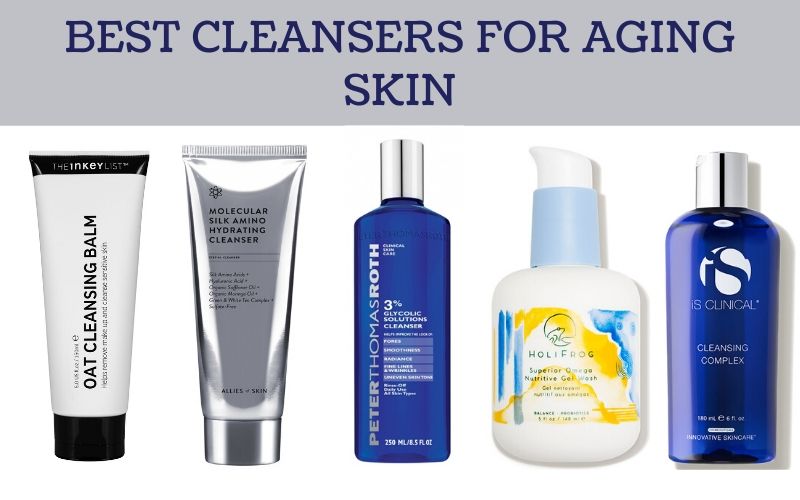 NB:
What if I told you I can show you how to never have acne again?
If you have acne and want it gone
,
read this message
.
[ninja_tables id="6477″]
Peter Thomas Roth – Glycolic Solutions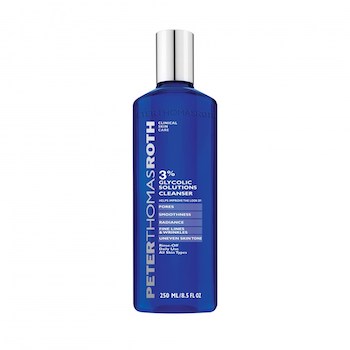 The Glycolic Solutions Cleanser by Peter Thomas Roth is a gentle, exfoliating cleanser that contains glycolic acid to help dissolve the glues that are holding dead skin cells together and promote natural shedding.
This will contribute to a brighter and glowing complexion as well as great hydration due to the soothing and hydrating ingredients such as allantoin and panthenol.
Additionally, the cleanser contains arginine, which is a skin-identical ingredient and one of the primary building blocks of collagen in the skin.
SkinCeuticals – Glycolic Renewal Gel Cleanser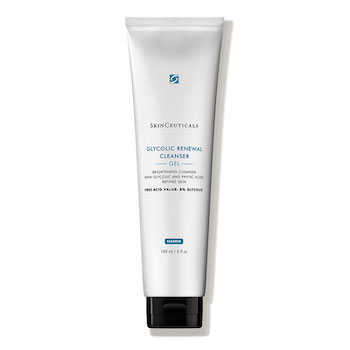 The SkinCeuticals Glycolic Renewal Gel Cleanser is intended to remove impurities, dirt, oil, and long-wearing makeup from the skin, without overly stripping or dehydrating it.
Its star ingredient is glycolic acid which is an exfoliating AHA that dissolves the bonds between the dead skin cells in order to promote natural shedding.
Additionally, it also contains 1% phytic acid which is a plant extract with antioxidant properties as well as 2% aloe leaf extract to calm and soothe any existing redness on the skin.
Besides being a great cleanser for aging skin, this can also be an excellent cleanser for younger, acne-prone skins.
HoliFrog – Superior Omega Nutritive Gel Wash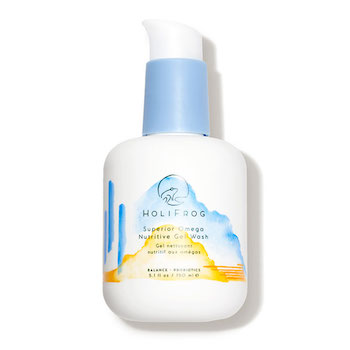 The Superior Omega Nutritive Gel Wash by HoliFrog is carefully formulated at an ideal pH of 5.5 and it works to gently remove impurities from the skin without over stripping it from its natural moisture.
The cleanser contains probiotics such as lactobacillus, omega fatty acids such as grape seed oil, broccoli seed oil, and various vitamins to cleanse and nourish the skin and prevent it from drying out.
iS Clinical – Cleansing Complex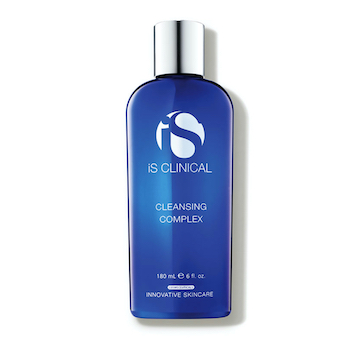 The iS Clinical Cleansing Complex is an excellent cleanser to reach for if you are dealing with adult acne as this cleanser contains a healthy blend of exfoliating ingredients such as white willow bark, antioxidants and soothing ingredients such as chamomile and Centella Asiatica, as well as moisturizing ingredients such as sugar cane extracts.
The gel cleanser is designed to remove pore-clogging sebum and prevent breakouts, boost cellular turnover, and soothe any existing inflammation on the skin.
Allies of Skin – Molecular Silk Amino Hydrating Cleanser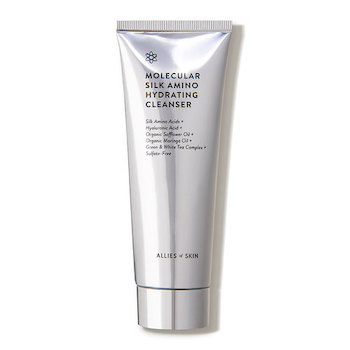 The Molecular Silk Amino Hydrating Cleanser is a gentle gel cleanser formulated with a hydrating blend of antioxidants, phospholipids, and moisturizing ingredients as well as an ideal pH of 5.5.
If that's not enough, the cleanser is completely free of sulfates and it works to gently remove makeup, dust, pollution, dirt, and other impurities without stripping the skin of its essential moisture content.
Additionally, the cleanser contains lactic acid, which is the most gentle alpha hydroxy acid that works to gently exfoliate, brighten, and moisturize the skin.
First Aid Beauty – Pure Skin Face Cleanser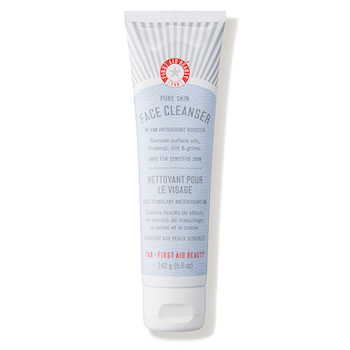 The Pure Skin Face Cleanser is the ideal creamy goodness for everyone that deals with excessively dry skin that typically comes with aging.
It has a lightweight, whipped texture that transforms into a cream when mixed with water and it is supercharged with antioxidants and soothing ingredients such as vitamin E, chamomile, allantoin, licorice extract, and aloe vera extract.
The cleanser gently removes daily impurities from your skin while leaving it clean, hydrated, and nourished.
Paula's Choice – RESIST Optimal Results Hydrating Cleanser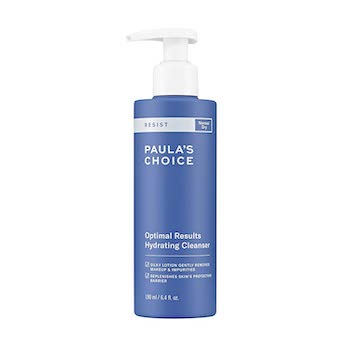 This hydrating cleanser by Paula's Choice is quite affordable and it gives you the best value for money considering its size, the excellent formulation, and the high-quality ingredients it contains.
It has a creamy texture that replenishes skin moisture and helps maintain a healthy skin barrier, which results in hydrated, plump, and glowy skin.
It also contains antioxidants such as green tea and chamomile extracts as well as fatty alcohols and emollients that work to nourish, moisturize, and protect your skin from damage and premature aging.
Algenist – Genius Ultimate Anti-Aging Melting Cleanser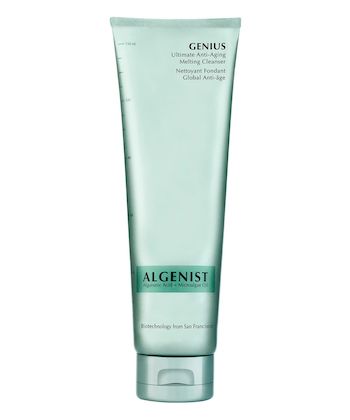 The Algenist Melting Cleanser is a unique cleanser designed to dissolve traces of stubborn, waterproof makeup, daily impurities, pollution, grime, and all the things you don't want to go to bed with.
It has an innovative formula that can be described as a hybrid of cleansing oil and cleansing cream which makes it a great option as a first cleanse.
However, this cleanser does leave an oily film on the skin due to the blend of several oils it contains, therefore, it has to be followed up with a thorough second cleanse.
Its superstar ingredient is alguronic acid that works to keep the skin hydrated and improve firmness as well as a blend of bilberry seed oil, avocado oil, and olive oil to soften and nourish the skin.
The Inkey List – Oat Cleansing Balm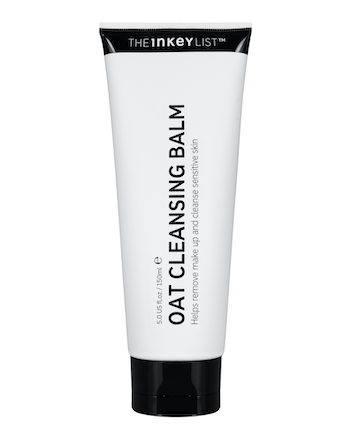 The Oat Cleansing Balm by Inkey List is a cleanser intended to be used as a cleansing balm to gently dissolve makeup, dirt, grime, and excess oil, without overly stripping the skin from its natural moisture barrier.
It contains oat kernel oil to nourish the skin and support its healthy barrier as well as colloidal oatmeal that helps reduce the appearance of redness and soothes irritation.
It is formulated without sulfates or harsh surfactants, which makes it a perfect option for all skin types, including the most sensitive skins.
REN – Evercalm Cleansing Gel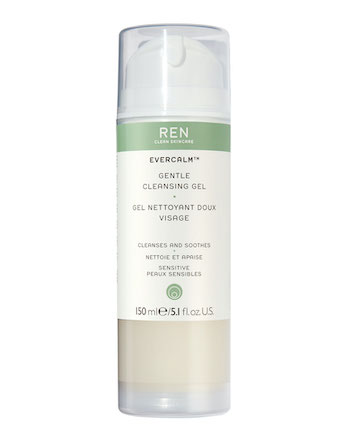 REN's Evercalm Cleansing Gel is a gentle facial cleanser that contains several hydrating ingredients such as glycerin, xanthan gum, panthenol, oat amino acids, etc, which are excellent for nourishing and moisturizing the skin.
Additionally, it contains a very mild percentage of lactic acid to gently exfoliate and moisturize the skin.
However, this cleanser also contains fragrance and one fragrant component at the very bottom of the ingredient list, so if that's something you are particularly sensitive to, perhaps this isn't the best option for you.
Other than that REN is a certified cruelty-free brand and they don't test any of their products on animals.
---
How Often Should You Wash Your Face?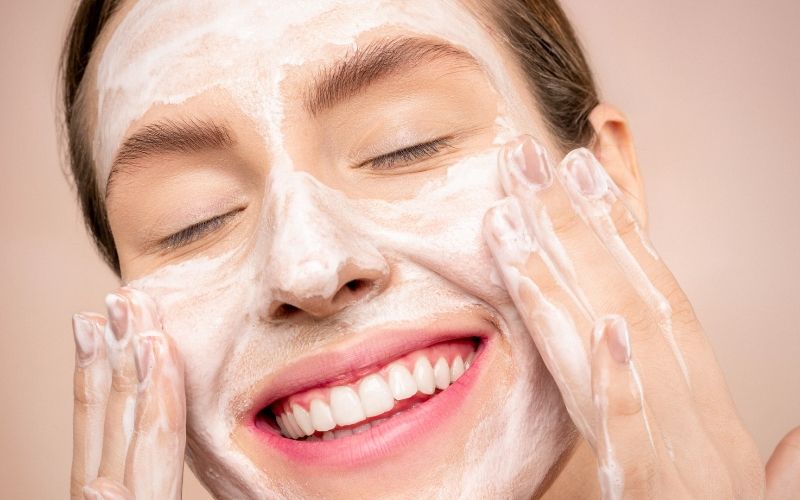 You should wash your face up to twice a day (if this is what your skin needs).
When you cleanse in the evenings, you need to make sure you're getting rid of everything that's stuck on your skin and you don't want to take to bed with you.
This includes makeup, sunscreen, or simply dust and pollution from being outside during the day.
However, when you cleanse in the morning, you are getting rid of sweat or buildup of products you've used the previous night.
So, if your skin isn't shiny and doesn't need to be cleansed in the mornings, you can get away by simply splashing plain water on your face and continuing with your morning routine.
How To Choose Your Next Cleanser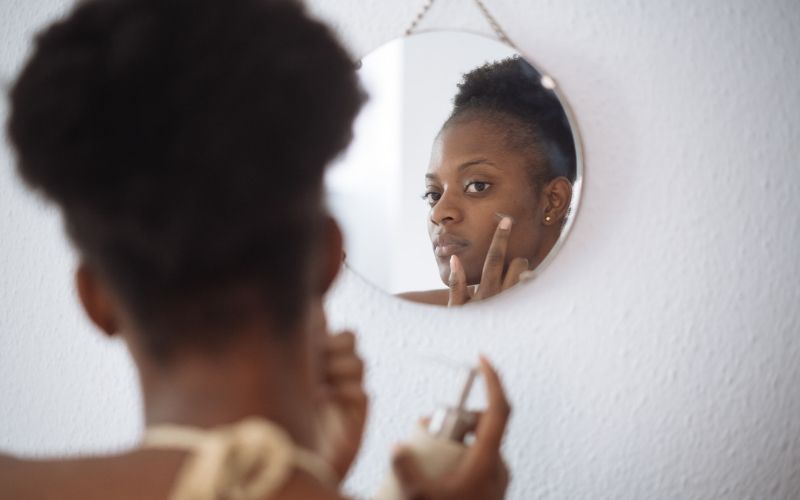 There are three things you need to think of when choosing a cleanser for your skin:
your skin type
your skin's needs
the ingredients of the cleanser
Aging skin typically lacks collagen and because of this, it tends to be saggy.
Therefore, what you need is a gentle cleanser that spreads easily and doesn't require any pulling or tugging.
These types of cleansers usually come in a cream or gel formulation.
Additionally, aging skin typically falls on the dry side, therefore, you need a hydrating cleanser rather than a stripping one that can overdry your skin and make your wrinkles and fine lines appear more prominent along with making your skin feel uncomfortable.
Therefore, you should avoid cleansers that contain alcohols such as Alcohol denat which is often present in skincare products to help other ingredients penetrate better but, unfortunately, it is too drying of an agent itself.
Furthermore, aging skin is also thinner and less plump due to the lack of collagen and elastin to provide support which often makes it more sensitive and reactive to certain ingredients such as fragrance and fragrant components in skincare.
How To Know If Your Cleanser Is Too Harsh?
If your cleanser contains drying agents such as alcohol, excessive amounts of fragrance, astringents, harsh surfactants such as sodium lauryl sulfate, etc, chances are it can dry out your skin with continuous use.
If your skin feels stretched, squeaky clean, and tight after cleansing, this might mean the cleanser you've picked is too harsh for you and it is clearly drying out your skin.
My name is Simone and I am a certified skin specialist. I created this website to teach my readers how to take great care of their skin and I also like to occasionally share my honest opinions on skincare products I've tried. You can learn more about me here.
The Acne Solution: Your Ultimate Guide To Flawless Complexion
An extensive, no-nonsense course showing you how to never have acne again, from a licensed Esthetician specializing in oily/acne-prone skin.