With summer rapidly approaching on the tiny island where I live, I had to stock up on high protection sunscreens and decided to try something new this time.
After reading so many positive reviews about the Australian Gold sunscreens, I decided to pick one out and see what the hype was about.
However, as I often do, I picked the wrong sunscreen.
I wanted untinted, matte sunscreen, but by the time I realized this was actually a body sunscreen – it was too late, and the product was already on its way to my door.
Had I seen the size, I would've assumed it's a body sunscreen, but anyways, I decided to give it a try, and in a worst-case scenario, I would at least have sunscreen for my hands and arms.
Therefore, this is my Australian Gold Mineral Lotion review, so let's jump right into it: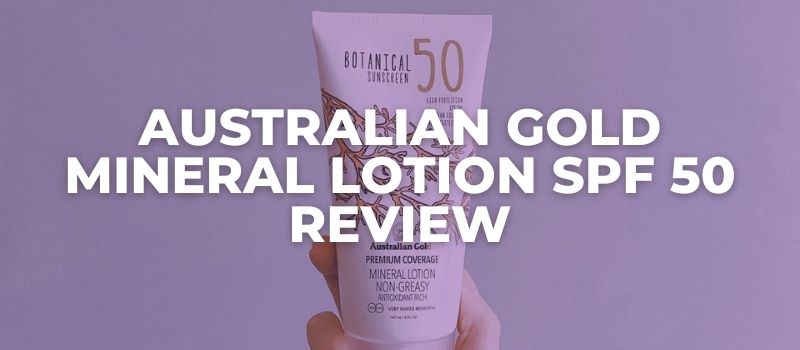 NB:
What if I told you I can show you how to never have acne again?
If you have acne and want it gone
,
read this message
.
What Is The Australian Gold Mineral Lotion SPF 50?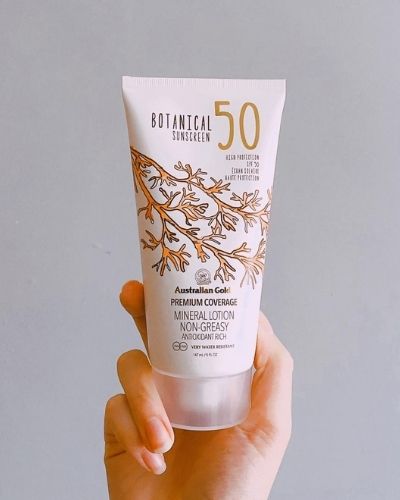 The official Australian Gold website says that the Mineral Lotion SPF 50 is a non-tinted, hypoallergenic, reef-friendly mineral lotion with a matte finish that offers certified Broad Spectrum SPF 50.
It also says that the lotion should leave the skin non-greasy, soft, and supple.
So, let's take a more in-depth look at the Mineral Lotion SPF 50, starting with:
Ingredients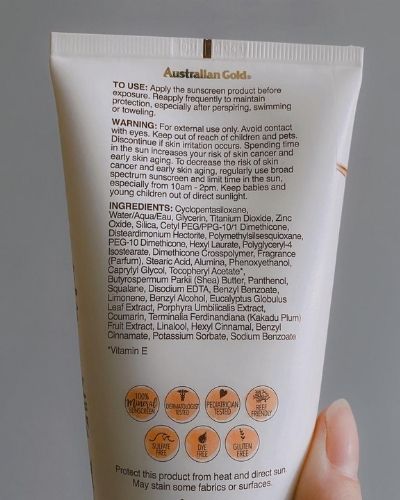 The Mineral Lotion has quite an assortment of beneficial ingredients, including antioxidants, brightening agents, humectants, and ingredients that are soothing to the skin.
First things first, this is a purely mineral sunscreen that contains Zinc Oxide and Titanium Dioxide as the main ingredients to protect the skin from UV rays.
The next ingredients I want to talk about is Porphyra Umbilicalic, or red algae extract, obtained from the waters of the Atlantic coast and an excellent source of protein, mineral salts, as well as vitamins A and B12.
Contrary to popular belief, algae extracts won't make your skin erupt into a painful breakout, and they actually have great moisturizing and humectant properties that help retain moisture in the skin.
Additionally, algae extracts are often found in sunscreens because recent studies have shown that they can mitigate and decrease UV damage.
The product also contains a native Australian ingredient – Kakadu Plum – and soothing Panthenol to boost the efficacy of sunscreen against free radicals and calm the skin.
Lastly, there's glycerin, an excellent humectant, and squalane, which is a lipid that's very similar to our natural sebum and helps soften and lubricate the skin.
However, there are a few ingredients I was on the fence about.
The first one is Stearic acid, an emollient that can be comedogenic for some skins, as well as Benzyl Benzoate, an antimicrobial solvent and a perfuming agent which is classified as a potential allergen.
That being said, there are also other perfuming agents in the Mineral Lotion, so while it is incredibly gentle, I wouldn't recommend this product to someone sensitive to fragrance.
Consistency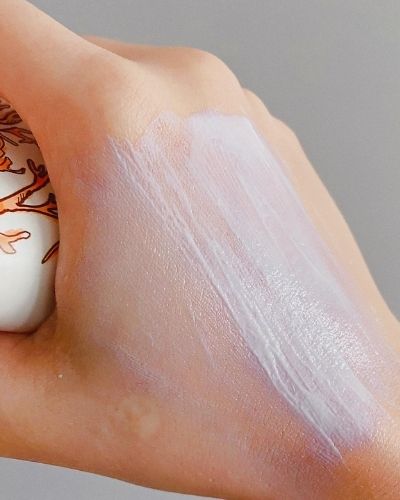 The Mineral Lotion has a very thick consistency, but, surprisingly, it spreads quite easily on the skin.
I was expecting to have difficulty rubbing it in because it's so thick, but it spreads surprisingly well for what it looks like.
Scent
Since the Mineral Lotion has added fragrance and a few other fragrant components, it has quite a strong scent.
The scent listed on the website is "Citrus Oasis," but the lotion smells sickeningly sweet, and this is coming from someone who loves vanilla and other sweet scents.
The Mineral Lotion smells like a combination of a pineapple and a pear, and while I personally don't hate it, someone who isn't a fan of sweet scents will definitely have a hard time getting used to it.
How To Use The Mineral Lotion SPF 50?
The right way to use sunscreen is to apply 2-3 fingers worth to dry skin as the last step in your morning routine.
I usually apply 3 fingers' worth to my face, ears, and neck, which is how I used the Mineral Lotion SPF 50.
Performance
After realizing I've purchased the wrong item, I did some research and found out that quite a few people complained about the white cast the Mineral Lotion leaves behind.
But I wanted to be positive and not worry about it; however, I soon realized the complaints were misplaced because this thing does not only leave a white cast, but it makes my pale skin look ashy and purple.
The cast is so bad; it is impossible to do three fingers' worth of product and not end up looking like a ghost with a slight purple hue.
But I decided to give it a chance and see how it holds up on my excessively oily and very acne-prone skin. When used on its own, the Mineral Lotion has a matte finish that stays that way for the entire day.
I wore it from morning until evening without makeup, and I didn't have to blot ONCE, which is something I can't expect even from my favorite matte sunscreen (Paula's Choice Super-Light Wrinkle Defense) especially on a hot summer day.
I was ready to forgive the terrible white cast because I was planning on covering it up with a little bit of foundation, concealer, and a bronzer; however, I was in for an unpleasant surprise when I tried to do this the next day.
The Mineral Lotion sat terribly under my makeup, and it made my pores look huge, and my makeup was chalky in areas of my face.
It didn't look good at all, and even my husband told me my makeup looked weird that day. Ladies, you know it's bad when your man notices there's something strange going on with your makeup.
So, this sunscreen was a huge no-no for me, and after seeing how bad it wore with my makeup on top, I know I will never apply it on my face again.
However, all the bad things aside, I use this sunscreen for my hands daily, especially with the summer being around the corner.
I apply it to the back of my hands, and my arms and I wait 10-15 minutes until it fully dries. After that, I am good to go because I know nothing will rub it off my skin.
The Mineral Sunscreen is very water-resistant and it's quite difficult to remove, so you either need to use some sort of makeup-removing oil to remove it or get ready to scrub the hell out of your skin (which I highly don't recommend) to get it off.
As for whether I would repurchase it, I have to say that I would probably be more open to repurchasing the Mineral Lotion if it wasn't so expensive here.
I paid 36 euros for it, and although it comes in a large tube of 147 ml (5 oz), there are cheaper and larger body sunscreens that get the job done.
Australian Gold Mineral Lotion SPF 50 Pros:
High SPF
Non-greasy, matte finish
Very water-resistant
Affordable
Australian Gold Mineral Lotion SPF 50 Cons:
It doesn't sit well under makeup
It can be very drying for normal to dry skin types
It leaves a white cast
It contains a strong fragrance and may not be suitable for sensitive skin
3 Best Sunscreens For Oily & Acne-Prone Skin
Since the Australian Gold Mineral Lotion was a bit of a flop, here are three of my favorite sunscreens for oily and acne-prone skin:
Paula's Choice – Super-Light Wrinkle-Defense SPF 30 – $33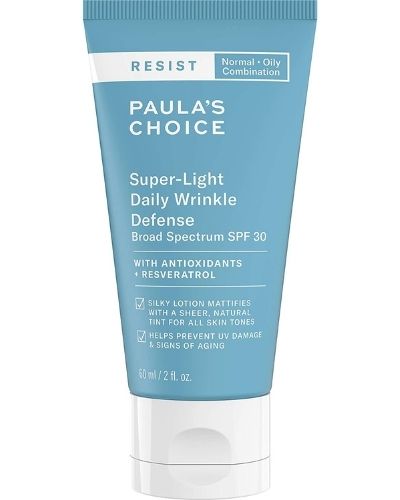 Paula's Choice Super-Light Wrinkle Defense SPF 30 will forever be my favorite sunscreen.
It comes at a good price and good size (60ml), dries super-matte, and has a tint that isn't quite my shade, but it works well with my foundation to match my tone.
It also sits very well under makeup, and I usually don't have to blot throughout the day unless it's a very hot day outside.
I only wish the SPF was higher, but other than that, it is a great sunscreen suitable for very oily and acne-prone skin.
Read my full review of the Super-Light Wrinkle Defense here.
EltaMD – UV Clear Broad-Spectrum SPF 46 – $37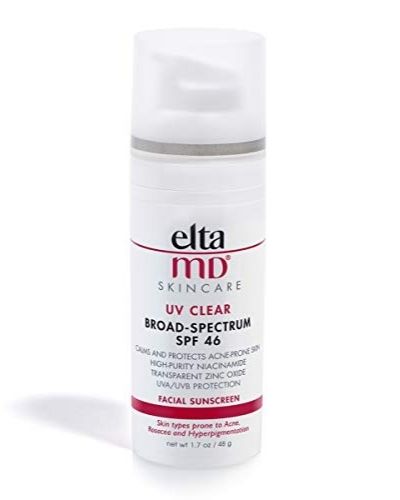 EltaMD UV Clear Broad-Spectrum SPF 46 is another win in the oily and acne-prone department, and while it doesn't dry matte, it gives an insanely beautiful glow and won't clog your pores or cause you to break out.
It is a little too shiny for me, but I top it up with my Super-Light Wrinkle Defense to get better UV protection, and they work amazingly well together.
Here is my full review of the UV Clear Broad-Spectrum SPF 46.
Differin – Oil-Absorbing Moisturizer SPF 30 – $12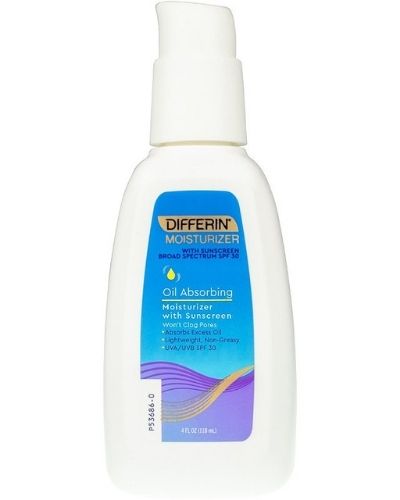 Differin's Oil-Absorbing Moisturizer SPF 30 is a great option for acne-prone skins.
It doesn't dry matte, and it leaves a little bit of shine behind, so it doesn't truly live up to its name, but it definitely won't exacerbate your acne or leave a white cast.
It is a chemical sunscreen that uses several cosmetically elegant UV filters, and it also contains a couple of soothing and anti-inflammatory ingredients, including zinc and allantoin.
It's also fragrance-free, which makes it a good option for anyone who's allergic or sensitive to fragrance, and it comes in a good-sized bottle of 118 ml (4 oz) for only $12.
My name is Simone and I am a certified skin specialist. I created this website to teach my readers how to take great care of their skin and I also like to occasionally share my honest opinions on skincare products I've tried. You can learn more about me here.
The Acne Solution: Your Ultimate Guide To Flawless Complexion
An extensive, no-nonsense course showing you how to never have acne again, from a licensed Esthetician specializing in oily/acne-prone skin.