Only a tiny percentage of people are born with sensitive skin, and they often experience irritations even while doing ordinary things like washing their skin with tap water.
On the other hand, for people that don't have sensitive skin from birth but are experiencing sensitivity, chances are something triggered the sensitivity to start occurring.
This could've been the use of various products that are not tolerated well by the skin, such as products designed to fight acne, which are often quite harsh.
The inflammatory condition often accompanies sensitive or sensitized skin because of the compromised skin barrier.
But if dealing with acne isn't challenging enough, you also need to look for products that won't further irritate your skin and cause discomfort.
Therefore, in this article, I will list the twelve best skincare products for sensitive and acne-prone skin that you can use daily to tackle acne without causing unnecessary irritations.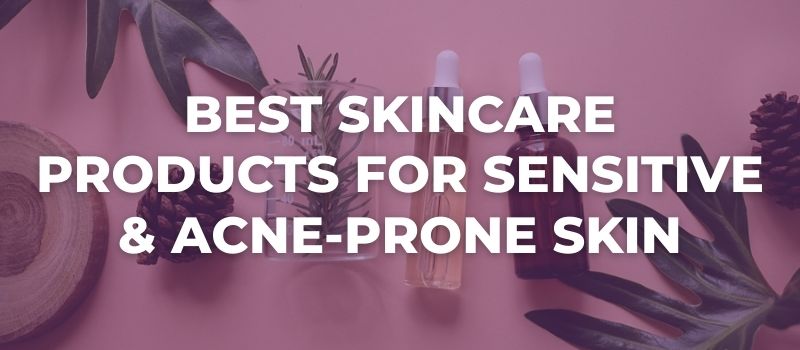 NB:
What if I told you I can show you how to never have acne again?
If you have acne and want it gone
,
read this message
.
La Roche Posay – Toleriane Purifying Foaming Cleanser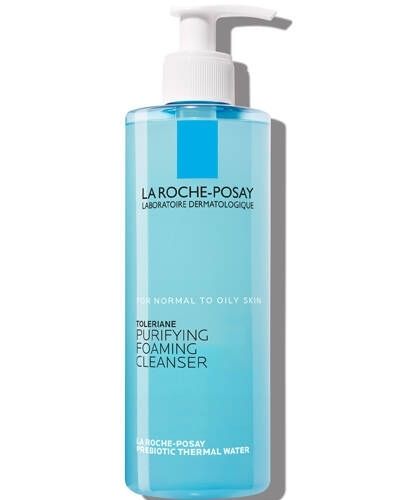 The Purifying Foaming Cleanser contains an excellent combination of ingredients that address excessively oily skin, acne, as well as sensitivity.
This cleanser will efficiently remove the daily grime, excess oils, and dirt off your skin, but it will also leave it soft and hydrated.
The unique blend contains hydrating humectants, soothing ingredients such as propanediol and niacinamide, but also ceramides which are the building blocks of a healthy skin barrier.
It's also quite affordable too, and at only $15 for 400ml, this is a great choice for oily, sensitive, and acne-prone skin.
COSRX – Pure Fit Cica Cleanser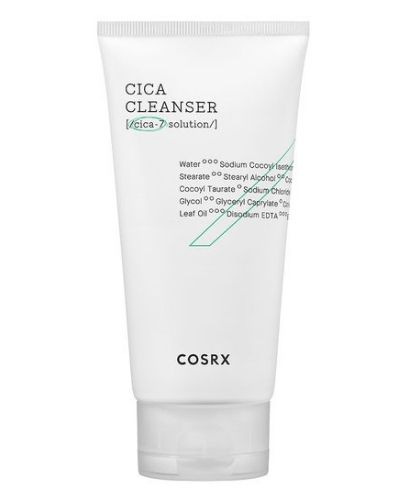 COSRX has been one of the staple brands in my skincare journey ever since I discovered their Low pH Good Morning Gel Cleanser.
Therefore, it isn't a surprise that they came up with yet another banger in the cleansing category intended for sensitive skin types.
The Pure Fit Cica Cleanser is a part of the Pure Fit Cica Collection, where each product contains formulas of CICA-7 Complex and Pinus Pinaster Bark Extract.
The CICA-7 Complex contains one of the highest concentrations of Cica, and it's infused with seven different Centella ingredients, which are incredibly soothing and calming to sensitive and delicate skin.
This cleanser works great for removing impurities and excess sebum while keeping the skin's natural barrier hydration and strong.
It's also formulated at a delicately low pH in order to leave the skin perfectly balanced and healthy after cleansing.
And besides all this, it's reasonably priced at $15 for 150ml.
Vivant Skincare – Green Tea Cleanser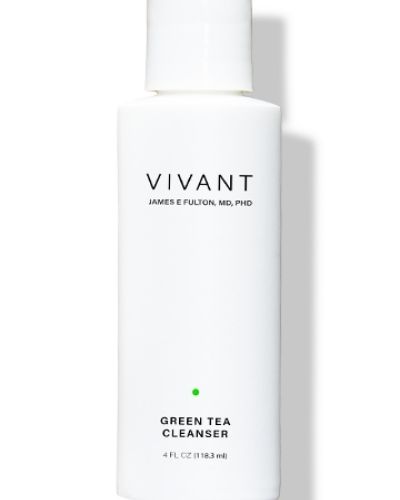 I, unfortunately, haven't had the chance to try the Vivant Skincare Green Tea Cleanser because there were some issues with the shipping; however, I did message the brand, and hopefully, I will be able to try it out very soon.
I still decided to add it to this list because the ingredient list is pretty bomb, and I've heard some amazing things about the brand from respectable names in the industry.
Basically, the Green Tea Cleanser is an antioxidant-packed product that contains nourishing and calming ingredients such as green tea, grape seed, kiwi, etc.
It also contains glycerin, a powerful humectant, and honey, which is the best natural humectant you can use on your skin.
This gentle formula is designed to dissolve makeup, dirt, and oil without stripping the skin's acid mantle and compromising the moisture barrier.
Even though I haven't tried it so far, I am sure my oily and acne-prone skin will love it once I do.
It's also reasonably priced, at $19 per 120ml.
Acaderma – Serenity Calming Cleanser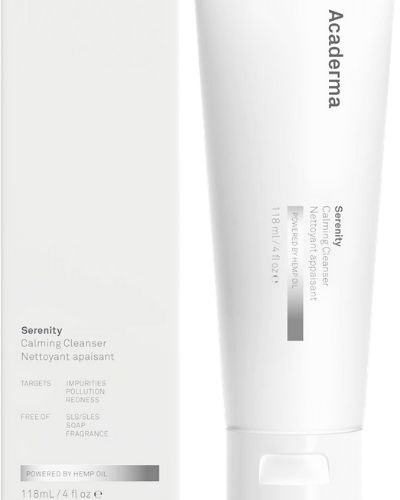 This is one of the best cleansers for dry, dehydrated, and sensitive skin types that are dealing with acne breakouts.
The Serenity Calming Cleanser by Acaderma is infused with cannabis Sativa seed oil that helps prevent dryness and works to soothe and moisturize skin that has been previously damaged and compromised by using harsh treatments.
It may not be enough for you if you have excessively oily skin; however, if you still want to try it out, you may very well use this cleanser in the morning instead of starting the day with something harsher.
Paula's Choice – Redness Relief 1% BHA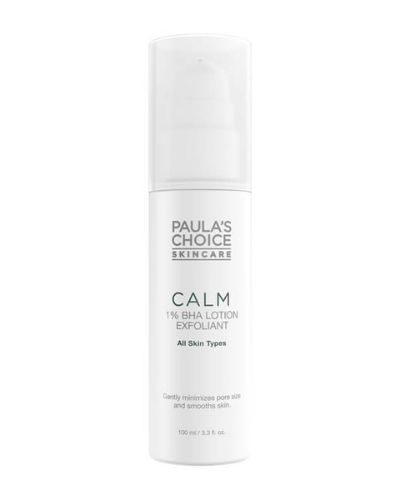 This is a great product that I would recommend if your skin feels dry, tight, irritated but is still breaking out.
The Paula's Choice Redness Relief 1% BHA is a mild exfoliating product that contains the necessary percentage of salicylic acid to be effective against minor breakouts without irritating your skin.
This won't get rid of severe and persistent acne; however, it is enough to keep it under control if your skin is super sensitive and won't accept other, stronger products.
It's formulated with skin-soothing plant extracts, including allantoin, oat and licorice extract, and green tea, to calm redness for overly reactive skin and soothe irritation caused by harsh products.
It's so mild that it can even be used on rosacea-prone skin.
Paula's Choice – Anti-Redness Exfoliating Solution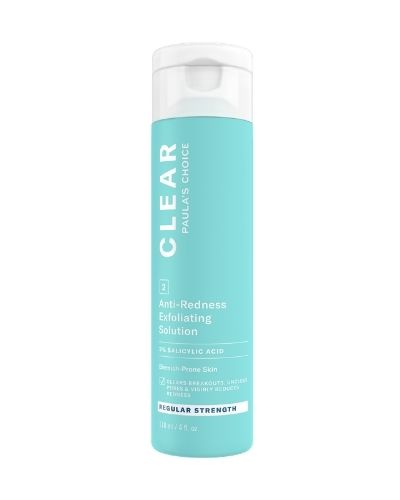 The Anti-Redness Exfoliating Solution with 2% Salicylic Acid is a gentle, leave-on exfoliant that's slightly stronger than the one mentioned above but still gentle enough to be used up to 2-3 times a week.
It contains 2% salicylic acid followed by simpler ingredients that focus on hydration and soothing the skin.
It's a great formula for oily skin types that are dealing with blackheads, pustules, and even mild cysts here and there.
While it probably won't be enough for more serious acne issues, it's definitely a good place to start, especially if your skin is too sensitive for stronger treatments.
RELATED: Paula's Choice BHA Exfoliants Comparison Review
Vivant Skincare – Mandelic Acid Serum 8%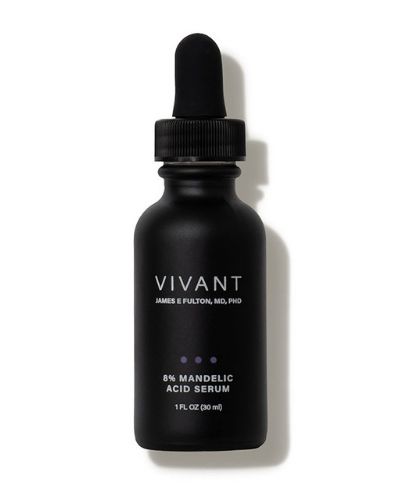 Vivant's Mandelic Acid Serum 8% is a gentle exfoliating serum that contains a blend of mandelic and lactic acid – two AHAs that work to gently exfoliate the dead skin cells unclog pores, soothe inflammation, and hydrate the skin.
Besides that, this wonder-serum also contains urea which is an organic compound that has hydrating properties and also works very well in combination with AHAs as well as niacinamide and inositol, which are both parts of the vitamin B family known for their anti-inflammatory and brightening properties.
Last but not least, the serum also contains Sodium PCA, which is one of the skin's natural moisturizing factors, as well as Saccharomyces and zinc ferment.
If you need a serum that targets dryness, dehydration, acne, and hyperpigmentation, this is definitely the one for you.
ClarityRX – Pick Me Up Booster Pads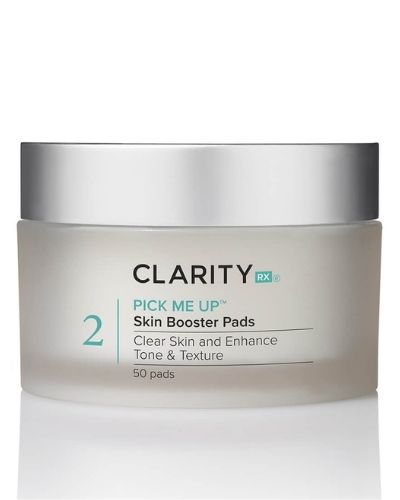 The Pick Me Up Booster Pads by ClarityRX is a slightly more intense treatment that should be done once a week.
The packaging contains 50 pads saturated in glycolic and salicylic acid as well as a few other soothing ingredients such as arginine, chamomile extract, white oak extract, calendula extract, honey, and aloe vera.
Besides these beneficial ingredients, the formula also contains alcohol denat, which can be a rather dehydrating ingredient; however, it's great for removing excess oil before an exfoliating treatment such as this one.
It also serves as a penetration enhancer, helping all those beneficial ingredients to get into the skin and work their magic.
All in all, this is a great treatment that's worth the money. It costs $54 for 50 pads, and considering you only have to use one or two pads a week; it will last you for months!
COSRX – Aloe Soothing Sun Cream SPF50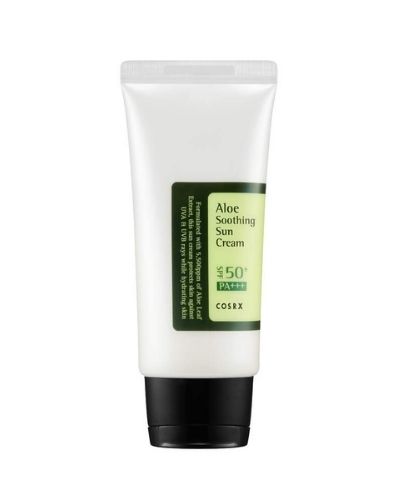 The COSRX Aloe Soothing Sun Cream is the first K-beauty product I've ever tried and also one of my favorite ones.
This sunscreen is so gentle and hydrating, I used to apply it right after doing intense chemical peels while my skin was still red and sensitive.
This product never broke me out, and it never caused any sort of irritation, no matter how raw my skin felt.
It contains plenty of hydrating and moisturizing ingredients, and it's suitable for all skin types, including oily, sensitive, and acne-prone.
EltaMD – UV Clear Facial Sunscreen SPF 46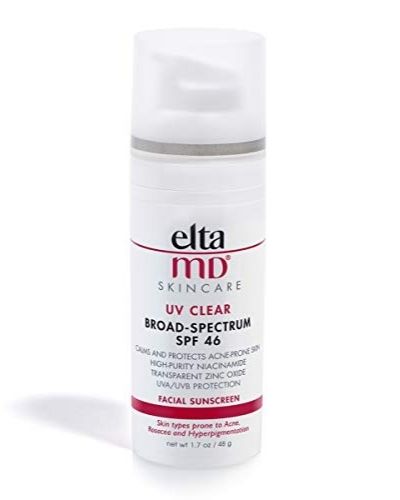 The EltaMD UV Clear Facial Sunscreen SPF 46 is great for oily skin types prone to acne breakouts.
It contains both zinc oxide, a mineral UV filter, and octinoxate, a chemical UV filter suitable for sensitive skin.
Besides the product being an efficient UVA/UVB protector, it also contains ingredients such as niacinamide, which can balance out excess oil production on the skin and brighten dark spots and discoloration, as well as hyaluronic acid to hydrate and plump the skin.
This product is so gentle; it's the only one I apply on my eyelids and very close to my eyes without experiencing any sort of irritation in my eyes.
EltaMD – UV Restore SPF 40 – Tinted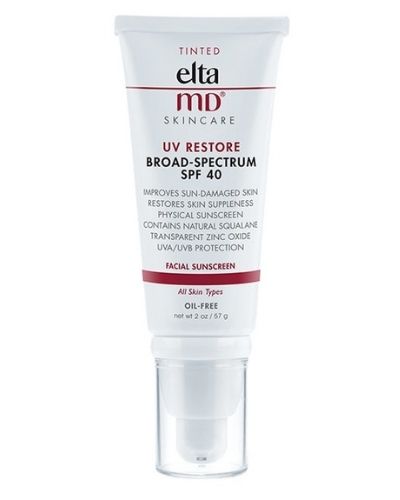 The UV Restore SPF 40 is another great sunscreen from EltaMD that's suitable for sensitive and acne-prone skin. It dries out in soft matte, and it's tinted, which is super helpful for covering redness on the skin.
Unfortunately, they only have one shade, which is not my match either, but it still helps cover the redness on my cheeks. I then follow it up with a concealer in my shade, and the color evens out easily.
Paula's Choice – Super-Light Wrinkle Defense SPF 30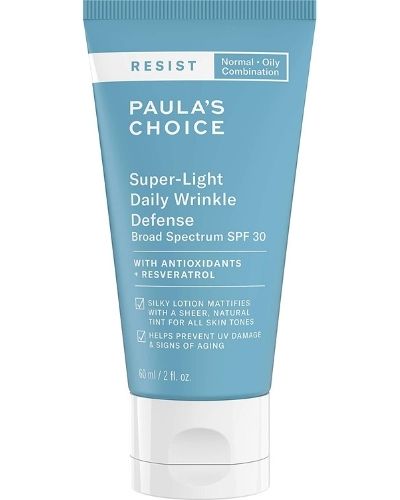 Paula's Choice Super-Light Wrinkle Defense SPF 30 is a mineral-based sunscreen that contains zinc oxide and titanium dioxide as the main active ingredients.
Besides that, it also contains a few other antioxidants, including resveratrol, bisabolol, and EGCG, which is one of the active parts of green tea believed to be responsible for its many health and skin benefits.
The product has a matte finish, and it will help control excess oiliness throughout the day. Additionally, it is also tinted, which helps with covering redness, and it can be worn on its own or under makeup to help keep a matte base.
My name is Simone and I am a certified skin specialist. I created this website to teach my readers how to take great care of their skin and I also like to occasionally share my honest opinions on skincare products I've tried. You can learn more about me here.
The Acne Solution: Your Ultimate Guide To Flawless Complexion
An extensive, no-nonsense course showing you how to never have acne again, from a licensed Esthetician specializing in oily/acne-prone skin.