Niacinamide is a component that has many benefits for the skin. One of these includes speeding up the healing process due to its ability to strengthen the skin barrier and soothe inflammation.
This makes it a great addition to any skincare routine, especially if you have sensitive skin or are prone to breakouts!
Additionally, niacinamide can be used after certain procedures, like chemical peels, to help repair the skin, promote healing, and ensure a more even complexion.
However, although safe for post-peel aftercare, niacinamide should be used with caution, as certain strengths may irritate the skin even further and actually slow down the healing process.
Therefore, in this article, we'll discuss the benefits of niacinamide for skin healing, some potential side effects that can occur with overuse, as well as how to use niacinamide safely after getting a chemical peel for maximum benefits and minimal irritation.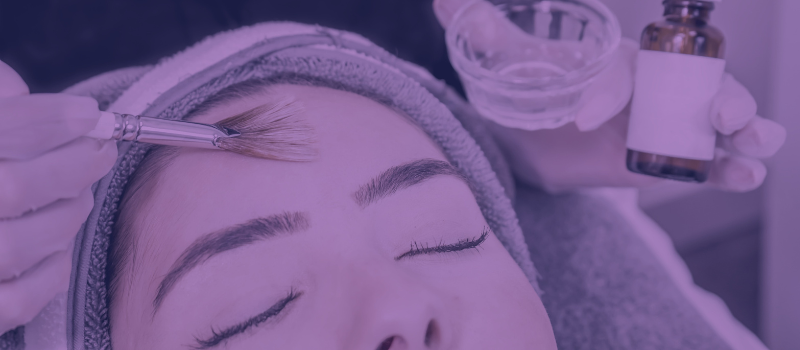 NB:
What if I told you I can show you how to never have acne again?
If you have acne and want it gone
,
read this message
.
What is Niacinamide?
Niacinamide is a form of vitamin B3, a water-soluble vitamin that's effective in improving a number of skin concerns, including acne, uneven skin tone and texture, post-inflammatory hyperpigmentation, post-inflammatory redness, and rosacea.
Niacinamide is also a gentle ingredient that's easy to formulate and works well with most other ingredients found in skincare, which is why it's commonly included in anything from cleansers, toners, serums, moisturizers, and even sunscreens.
It is also generally well-tolerated, making it suitable for all skin types, including sensitive and reactive skin, and it can be used both morning and night.
What are the Benefits of Using Niacinamide?
Niacinamide is an all-rounder ingredient that offers multiple benefits for the skin. Some of these include:
Reduced oxidative stress and improved signs of UV and environmental damage due to its antioxidant properties.
Reduced redness and inflammation due to strengthening the skin barrier and improving its function.
Improved skin hydration due to strengthening the skin barrier and preventing moisture loss.
Decreased lines and wrinkles due to helping the skin to retain moisture better.
Brightened and evened-out complexion due to reducing post-inflammatory hyperpigmentation and blocking the uneven transfer of melanin to the skin's surface.
Reduced appearance of acne due to its anti-inflammatory and skin-soothing properties.
Refined skin texture due to its ability to strengthen the skin barrier and reduce water loss, which helps keep the skin plump and supple.
Tighter, clearer, and smaller-looking pores due to providing energy to skin cells and helping to minimize excess oil production.
The Side Effects of Niacinamide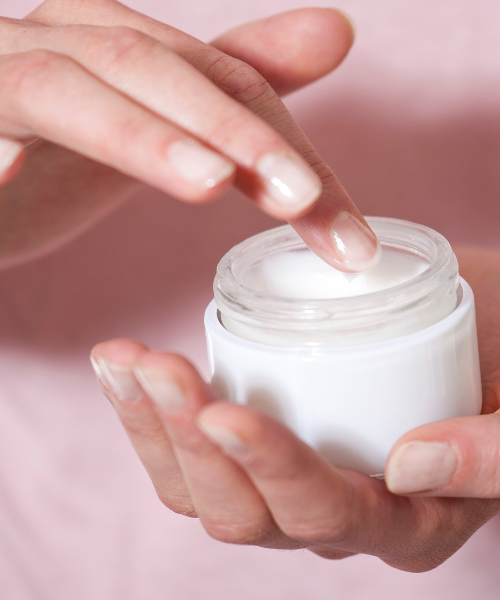 Some potential side effects of niacinamide are dryness, stinging, redness, itching, peeling, burning, and skin texture.
Active ingredients tend to have these effects initially, but eventually, once your skin gets habituated, they go away unless the product you're using is unsuitable for your skin.
On the other hand, if your niacinamide sensitivity persists, and your skin is still reacting to the product after a while of using it, it could be due to one or a few other reasons, including:
The product you are using contains high niacinamide content, and your skin is reacting to its potency.
The product is from a bad batch, expired, or the formula has been compromised.
Other ingredients in the formula are irritating your skin.
Other products in your skincare routine don't play well with your niacinamide product.
Your skin doesn't tolerate that particular product.
Allergic reactions.
These are just a few things to consider when trying to figure out why niacinamide may be causing your skin issues.
However, with all that said, niacinamide intolerance is the skin's way of communicating with you and telling you that it doesn't like something.
So, if this is the case, it's best to stop using the product and find an alternative treatment to address your skin concerns.
Can You Use Niacinamide After a Chemical Peel?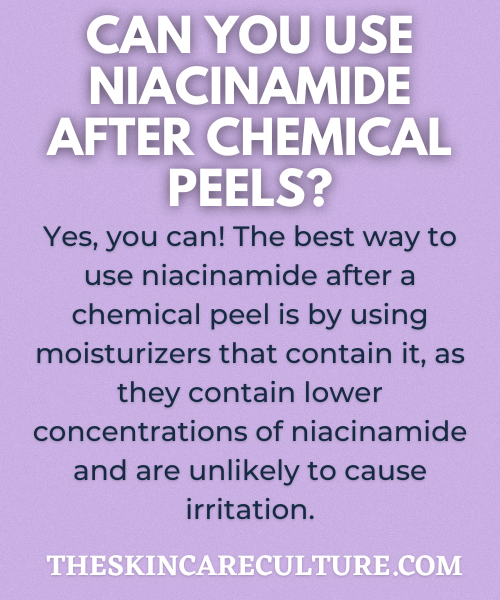 The best way to use niacinamide after a chemical peel is by using moisturizers that contain it, as they contain lower concentrations of niacinamide and are unlikely to cause irritation.
Moisturizers usually contain niacinamide in up to 5% along with other skin-strengthening and hydrating ingredients like ceramides, glycerin, and hyaluronic acid, which can help replenish the skin barrier and prevent further water loss, helping the skin retain moisture and speeding up the healing process.
However, since niacinamide can sometimes be problematic for irritated or traumatized skin after a procedure such as chemical peels, avoid using serums that contain it in 10% and above.
The Best Niacinamide Moisturizers (for Post-Chemical Peel Aftercare)
Here are the best niacinamide moisturizers you can safely use after getting a chemical peel:
CeraVe PM Facial Moisturizing Lotion, $19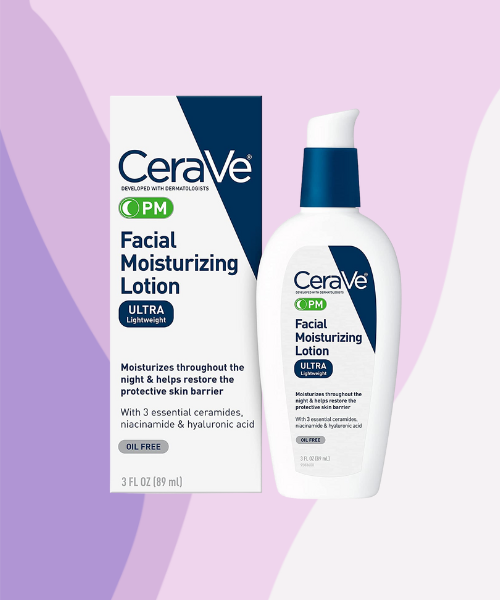 Best for dry, sensitive skin.
The CeraVe PM Facial Moisturizing Lotion is a soothing rich cream made to calm irritated skin and provide a splash of moisture for all skin types.
The moisturizer contains beneficial ingredients such as hydrating hyaluronic acid, barrier-strengthening ceramides, brightening and soothing niacinamide, and silicones that help create a layer on the skin's surface and slow down transepidermal water loss and fatty alcohols to help soften dehydrated, rough, and sensitive skin.
Naturium Niacinamide Gel Cream 5%, $20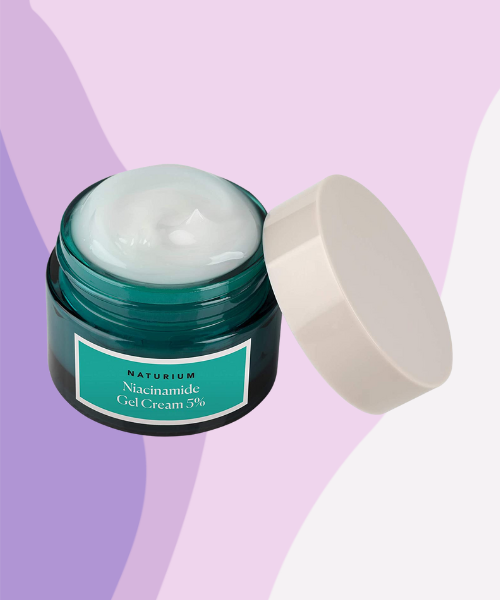 Best for combination, oily skin.
Lightweight with a gel-like texture, the Niacinamide Gel Cream by Naturium is an excellent option for those with combination and oily skin types.
The moisturizer contains 5% niacinamide and is rich in phytonutrients, electrolytes, and amino acids, which help promote healing and reduce redness and inflammation.
The gel cream also contains sodium hyaluronate, a form of hyaluronic acid, to help retain moisture and keep the skin hydrated.
La Roche-Posay Toleriane Double Repair Face Moisturizer, $21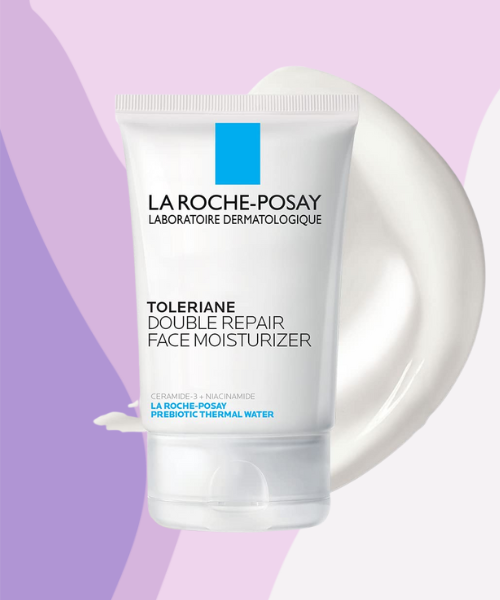 Best for sensitive, reactive skin.
The Double Repair Face Moisturizer from La Roche-Posay is specially formulated for sensitive and reactive skin types, making it an ideal post-peel product.
The moisturizer contains a combination of ceramides and niacinamide to help reinforce the skin barrier, reduce redness and irritation, and protect against environmental aggressors.
It also includes glycerin to keep the skin plump and hydrated.
Olay Regenerist Niacinamide + Peptide 24 Hydrating Moisturizer, $35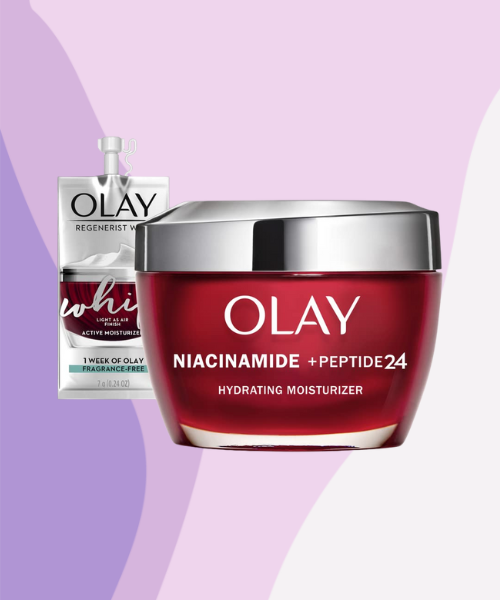 Best for mature skin.
Loaded with hydrating hyaluronic acid and glycerin, the niacinamide + Peptide 24 Moisturizer by Olay is perfect for anyone who wants to help reduce the appearance of fine lines and wrinkles.
The addition of niacinamide and peptides work together to help improve the look of dullness and sagging skin while encouraging cell turnover for a more even tone.
EltaMD PM Therapy, $41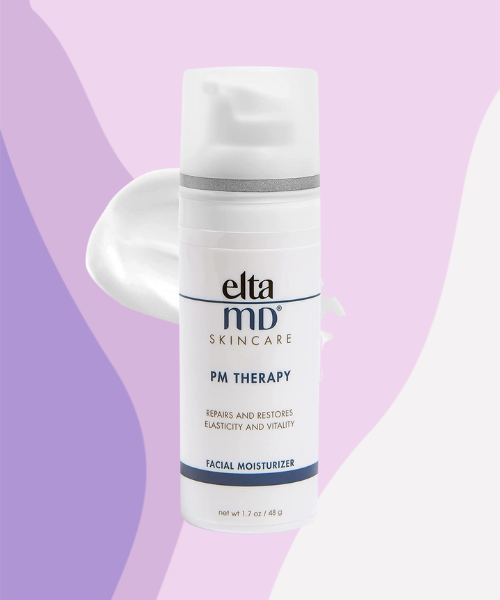 Best for all skin types.
The PM Therapy moisturizer by EltaMD is a luxurious cream specifically made for sensitive and reactive skin or traumatized skin after treatments such as chemical peels.
The moisturizer contains a unique blend of ceramides, niacinamide, and hyaluronic acid to hydrate and strengthen the skin and promote healing while protecting against environmental aggressors.
EltaMD UV Clear SPF 46, $40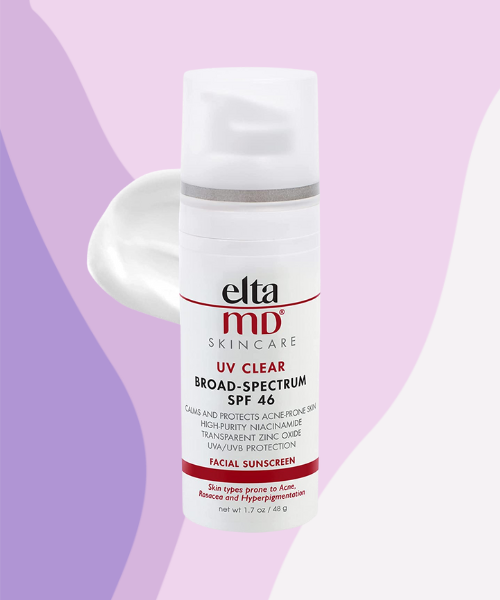 Best for combination, oily, and acne-prone skin.
Lightweight, oil-free, and non-comedogenic, the UV Clear SPF 46 from EltaMD is an excellent sunscreen for skin that has been compromised after treatment, such as chemical peels.
The zinc-based sunscreen provides excellent UVA/UVB protection while also including niacinamide, which helps reduce redness and irritation and accelerates healing.
My name is Simone and I am a certified skin specialist. I created this website to teach my readers how to take great care of their skin and I also like to occasionally share my honest opinions on skincare products I've tried. You can learn more about me here.
The Acne Solution: Your Ultimate Guide To Flawless Complexion
An extensive, no-nonsense course showing you how to never have acne again, from a licensed Esthetician specializing in oily/acne-prone skin.