Acne is the most common skin condition and it can be found anywhere on the body. It most commonly develops on the face, neck, chest, shoulders, and back.
However, acne is not a life-threatening condition, but it can be painful and uncomfortable and can cause scarring depending on the severity.
It can also affect your self-esteem and can cause emotional distress.
While there are many natural ways to improve the condition of your skin through maintaining a healthy diet, regular exercise, and a good amount of water intake, it all comes down to the most essential part – a good skincare regimen.
There are many effective treatments for acne that can reduce the inflamed pimples and your chance of scarring.
Today, I am doing the Medik8 Clarifying Foam review and will be giving my opinion on whether this really is the best cleanser for acne.
TLDR Review Summary: The Clarifying Foam is deeply purifying and antibacterial. It contains a blend of AHAs and BHAs that work in synergy to gently exfoliate the dead skin cells and unclog the pores, leaving the skin smooth and promote a perfected complexion that is significantly less prone to future acne breakouts.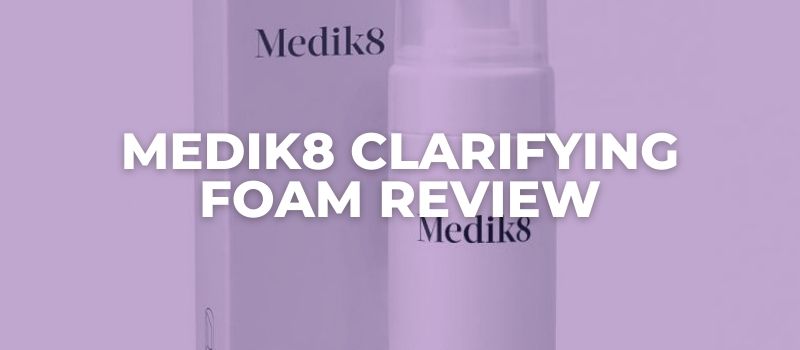 NB:
What if I told you I can show you how to never have acne again?
If you have acne and want it gone
,
read this message
.
Medik8 Clarifying Foam Review
£7 (from Medik8.com)
Price

Ingredients

Brand Quality

Average Customer Review
Medik8 Clarifying Foam Review Summary
Alcohol-Free
No Artificial Fragrance
Vegan-Friendly
No Synthetic Colors
What is the Medik8 Clarifying Foam?
Medik8 Clarifying Foam (previously known as Beta Cleanse) is a carefully balanced pH foam cleanser designed for acne-prone skin.
Let's have a quick throwback to chemistry class:
The pH is a scale that measures acidity and alkalinity. Zero is the most acidic (oily) and 14 the most alkaline (dry).
The skin's natural pH is between 4.6 – 6, which is slightly acidic due to the production of sebum.
This means that healthy skin is supposed to be on the oilier side because the acidic environment supports the growth of the skin's natural bacteria, which is also necessary for healthy skin.
Moreover, it is the ideal environment for your skin's enzymes which seal in hydration and desquamate (shed) dead skin cells.
The Medik8 Clarifying Foam is pH balanced, which means that it will gently remove daily impurities from the surface of your skin without stripping the skin or disrupting its natural barrier.
It is completely free from artificial fragrances that can cause or further aggravate irritation on the skin and it has a fresh and pleasant aroma due to containing tea tree oil.
The Clarifying Foam is deeply purifying and antibacterial. It contains a blend of AHAs and BHAs that work in synergy to gently exfoliate the dead skin cells and unclog the pores, leaving the skin smooth and promote a perfected complexion that is significantly less prone to future acne breakouts.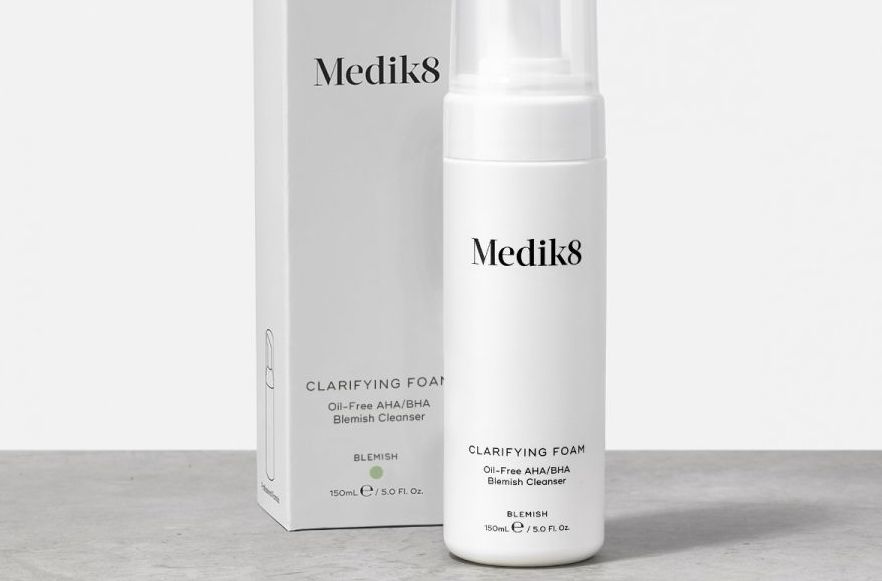 What Causes Acne?
Your skin has tiny holes or passages (as I like to call them) called pores. Each pore of your skin is the opening to a follicle and the follicle is made up of hair and a sebaceous (oil) gland.
The oil gland releases an oily substance called sebum, which travels up to the hair, out of the pore, and remains onto your skin.
This is our own natural moisturizer that keeps the skin lubricated, soft, and protected from bacteria and pollution.
Acne develops when the pores on your skin become blocked with excess oil, accumulation of dead skin cells, and bacteria buildup thus; it remains inside the follicle, causing problems on the skin.
There are self-care activities you can try at home to prevent acne or clear them up. Make sure to follow these few important steps:
do not touch your face
avoid wearing hats or tight headbands
keep your hair away from your face
do not squeeze or pick pimples to avoid spreading the bacteria and infected oil
clean your face daily with an adequate cleanser to remove dirt and bacteria
But how do you know whether a cleanser is adequate and will solve your particular problem?
You read the list of ingredients in the product.
The Key Ingredients in The Medik8 Clarifying Foam

The Clarifying Foam is packed with antibacterial and purifying ingredients and healing agents to prevent skin irritation.
Let's take a look at the main active ingredients:
Salicylic Acid – an oil-soluble BHA that travels deeper into the skin to unclog and decongest the pore from within, regulate sebum production and give deeper exfoliation from the inside.
L-Mandelic Acid – a gently exfoliating AHA that is naturally derived from almond extracts, this chirally correct mandelic acid can work on the surface of the skin and within pores for deep exfoliation and significantly improved skin texture.
Niacinamide – otherwise known as vitamin B3, is a gentle and soothing ingredient that controls sebum production and reduces redness and irritation due to its powerful anti-inflammatory properties.
Tea Tree Oil – an exceptional antimicrobial, tea tree oil has the ability to target acne-causing bacteria. It also has anti-inflammatory properties to soothe and heal the irritation on your complexion.
The Clarifying Foam is The Right Choice for You if…
~ You continue to experience persistent acne symptoms after trying out many products that didn't help or aggravated your symptoms even further.
~ You are looking for a gentle and purifying agent formulated with ingredients to help you get rid of acne and prevent future outbreaks.
~ You are looking for a cleanser that contains exfoliating agents to slough away the build-up of dead skin cells on the surface and helps you achieve a bright and more radiant complexion.
How to Use Clarifying Foam for Best Results?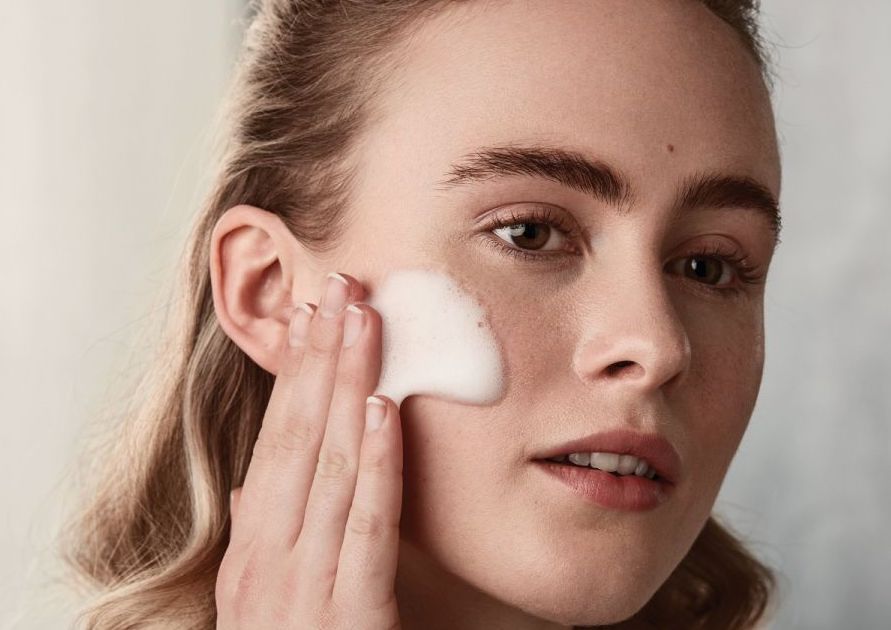 A small amount of the Clarifying Foam goes a long way, so you can pump a small amount of the cleanser and massage it gently over moistened face and neck if necessary.
The Clarifying Foam can be used to treat all skin areas of concern, so if you need to get rid of those pesky little acne breakouts on your back, shoulders or chest, the Clarifying Foam has your back.
Before trying out the Clarifying Foam, my biggest concern was how would my oily but highly sensitive skin react to all the strong antibacterial ingredients it contains.
To my relief, this cleanser didn't irritate my skin in the slightest and I was pleased with how it left my skin feeling soft and fresh after the first use.
What Are Medik8 Customers Saying?

My job as a therapist is to encourage my clients to take good care of their skin with adequate skincare products. This practice has never failed to give me an incredible joy whenever I see a happy and satisfied client coming back to share their positive results.
I was also curious about what other people had to say about this product on the Internet, so I sat down and did my research as I started writing this review.
Here are some of the comments on the Medik8 Clarifying Foam I found on several websites which I will also link below:
Michelle wrote for MiSkn – My thirteen-year-old daughter started using the Medik8 Beta Cleanser along with the Medik8 Balance Moisturizer approximately six months ago. Her skin went from clear to acne almost overnight and having acne whilst living with 150 girls at boarding school who all have amazing skin, in her eyes, was hard to watch. The Medik8 line has helped clear her skin, and she loves the feel of the foam cleanser and uses it twice a day. Thanks, Medik8 for helping my girl get her confidence back.
Julie wrote for SkinCity – I bought this product for my son who has suffered from acne since his late teens. I am thrilled to say that the results achieved after only a month's use of Medik8 Clarifying Foam and the Balance Moisturizer are amazing. This has done so much for his confidence.
Jassi wrote for ZestBeauty – I have congested skin and am prone to often breakouts. This face wash is amazing for clearing up breakouts in record time! It keeps my skin clean, glowing, and fresh. Thank you, Medik8!
The Best Place to Buy Medik8 Products
The best place to buy these products is from their original Medik8 website, where you will also find tons of product information and all the ingredients explained in great detail.
Some of the Medik8 products are also available on several other websites for easier access in different parts of the world.
The Clarifying Foam is also available on Amazon, Amazon UK, and Amazon DE.
---
---
My name is Simone and I am a certified skin specialist. I created this website to teach my readers how to take great care of their skin and I also like to occasionally share my honest opinions on skincare products I've tried. You can learn more about me here.
The Acne Solution: Your Ultimate Guide To Flawless Complexion
An extensive, no-nonsense course showing you how to never have acne again, from a licensed Esthetician specializing in oily/acne-prone skin.