As someone who often appreciates a good pampering treat, I've always enjoyed adding a sheet mask as an extra step in my usual skincare routine.
Sheet masks are easy to use, deliver quick results and they feel oh-so refreshing on my face during the insanely hot summers on my tiny island.
In this article, I will be reviewing The Body Shop Vitamin E Quench Mask and I will give you my evaluation on what this mask did for me (and is it worth your time?).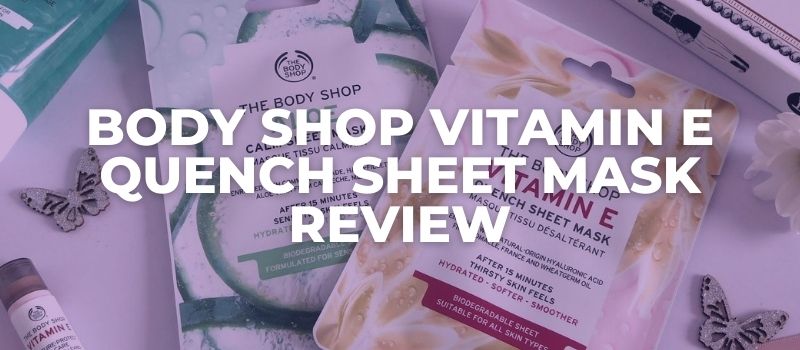 NB:
What if I told you I can show you how to never have acne again?
If you have acne and want it gone
,
read this message
.
My Review of the Body Shop Vitamin E Quench Sheet Mask
I was on a casual day out and about, checking out the stores in a large shopping centre and walked into The Body Shop as per usual whenever I see their shop.
I immediately noticed the sheet masks and threw myself into reading the ingredients when an enthusiastic salesgirl approached me and excitingly said that they have just received the masks earlier that week.
As I was reading the ingredients of the few different masks she went on explaining how their masks were made with a cellulose fibre derived from renewably sourced wood pulp that is 100% biodegradable in compost.
What in the heck is biodegradable? Of course, I asked what it means. Duh. How else would I know?
She was polite enough to smile and continued explaining how an item that is biodegradable can break down into natural materials in the environment without causing pollution.
While some biodegradable items break down relatively easily, others will eventually do so but it may take years.
She added that The Body Shop's sheet masks take about 40 days to disintegrate.
Sold.
So I went home and I did a little bit (a lot more!) of research about how harmful a sheet mask can be for the environment.
And I was surprised, to say the least, from what I've learned.
Key Ingredients in The Body Shop Vitamin E Quench Sheet Mask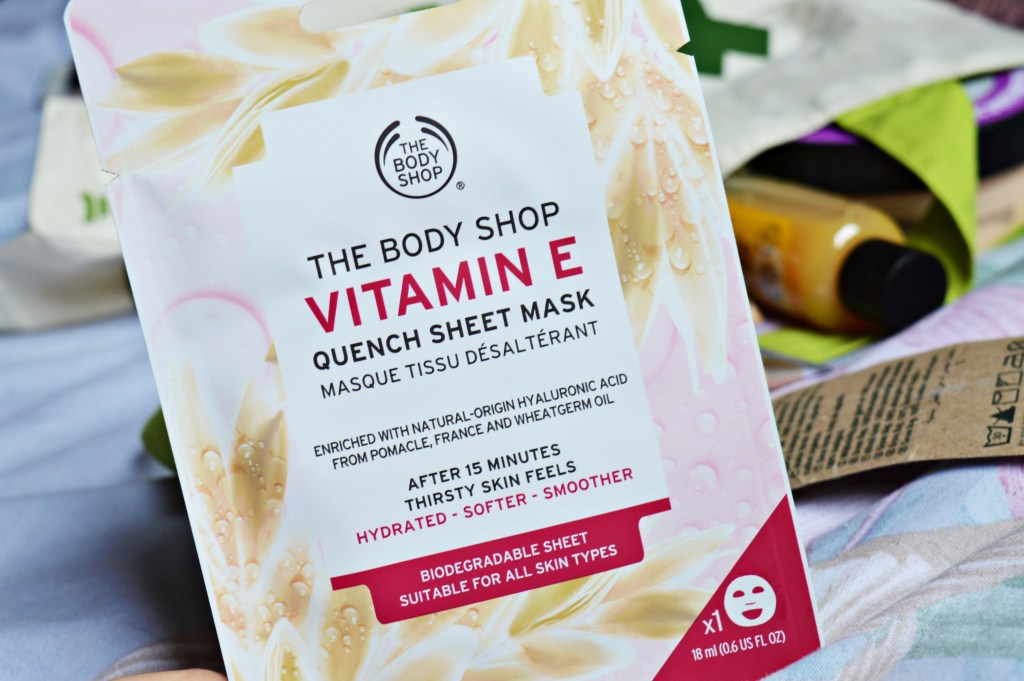 Hyaluronic Acid
Hyaluronic Acid is a humectant like Glycerin and Urea. Humectants attract moisture from the environment into the skin to keep it hydrated.
Hyaluronic Acid can bind up to 1000 times its weight in water, which means a waterfall of moisture for your thirsty, dehydrated skin.
Moisture increases elasticity and plumps up fine lines and wrinkles. When the skin is well moisturized it is soft to the touch and has a beautiful dewy glow.
Wheatgerm Oil
Or simply wheat oil is a nutritiously packed vegetable oil that is easily absorbed into the skin which makes it an effective moisturizer.
It is packed with antioxidants and when applied to the skin it delivers a healthy infusion of vitamin A, B, and E to fight damaging free radicals, support collagen formation and brighten the complexion.
Wheatgerm oil is a rich supply of omega-6 fatty acids that relieve skin irritations, dryness, and itching.
Aloe Vera
Aloe Vera contains polysaccharides that work in a myriad of ways to deliver vital oxygen, heal, lift and tighten the skin.
Polysaccharides are a natural component, a powerful water-binding agent that contains antioxidant properties and stimulates the fibroblast cells to produce collagen.
Aloe also has phytosterols that can stop itchiness and relieve skin irritations as well as reverse sun damage in the skin.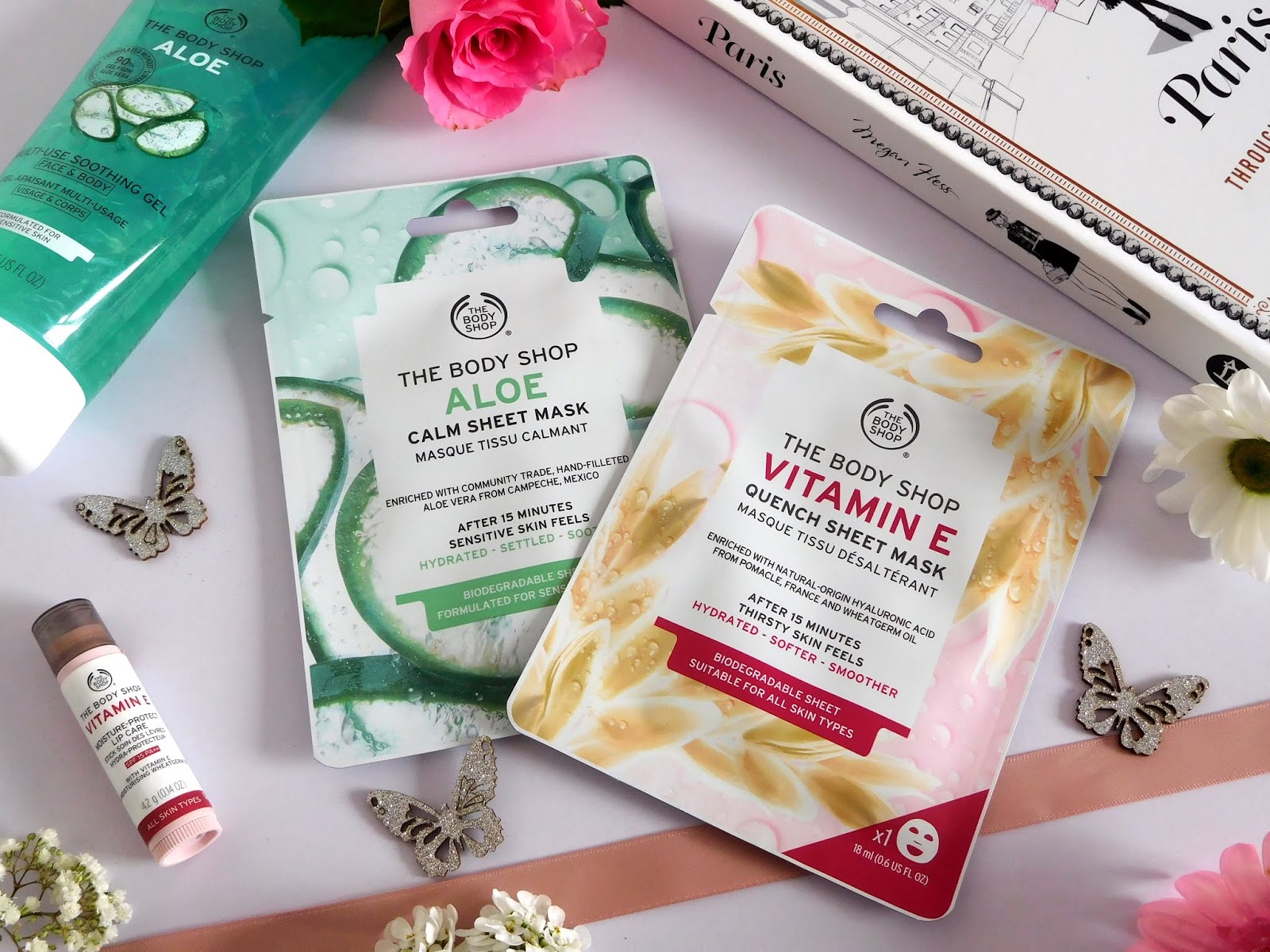 Personal Use and Opinion
The instant best thing I noticed is when applying this mask it stayed even on my face and didn't move or force me to lay down despite being drenched in refreshing essence.
And by drenched I mean you will notice how there's plenty of essences left in the sachet that you can use to massage onto your neck and decollete.
The recommendable time is to keep it on for 15 minutes because typically sheet masks dry out after that time, but surprisingly it stayed wet and felt refreshing on my face for nearly 30 minutes.
After removing it I went on about the rest of my skincare routine with a fresh and moisturized canvas that made my otherwise oily skin feel smooth and plump.
For £3.50 at The Body Shop, this sheet mask is a total steal, if I do say so myself.
---
---
Are Sheet Masks Bad For the Environment?
While our beloved sheet masks aren't the only things responsible for the waste, they are certainly not helping the issue, either.
Sheet masks are single-use products and this means that with each and every time we use a sheet mask, we are generating some sort of waste.
For example, the pouches that hold sheet masks are typically a combination of aluminum and plastic, which cannot be recycled in typical municipal recycling systems.
That's how these pouches end up in landfills after being tossed in the trash.
On a more positive note….
Most sheet masks are made of 100% cotton, which may be composting with difficulty, but it is getting there.
The essence that sheet masks contain can be all-natural or chemical which isn't necessarily a factor, although essential essences decompose faster.
So, until they start packing sheet masks in glass jars I will definitely keep it on the low with using them, however, that doesn't stop me from sharing my experience with the Vitamin E Quench Sheet Mask from The Body Shop.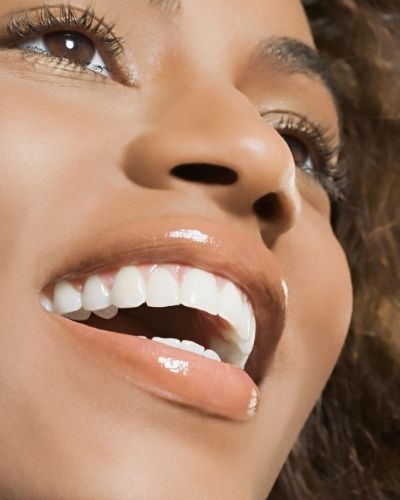 ---
Having oily but sensitive skin which can be a total pain to deal with under the wave of the summer heat, I am in a constant search for that perfect product that can soothe, hydrate, and most importantly make my skin look mattified.
The Body Shop Vitamin E Quench Sheet Mask which I reviewed in today's article although not specifically made for oily skin is totally worth your time as we all need that extra boost of hydration regardless of our skin type.
My name is Simone and I am a certified skin specialist. I created this website to teach my readers how to take great care of their skin and I also like to occasionally share my honest opinions on skincare products I've tried. You can learn more about me here.
The Acne Solution: Your Ultimate Guide To Flawless Complexion
An extensive, no-nonsense course showing you how to never have acne again, from a licensed Esthetician specializing in oily/acne-prone skin.