If you are already familiar with the Natura Bisse Stabilizing Cleansing Mask, chances are you've heard about it from a famous makeup artist and skincare influencer on Instagram – Nam Vo.
Nam Vo swore by using this facial mask on her Instagram story a little over a year ago, and it has been out of stock everywhere you look since then.
However, as with many other "holy grail" products that skyrocket in popularity all of a sudden – this one, too, has mixed reviews by people who loved it and will never stop buying it as well as those who weren't so impressed by it.
Which is why I decided to try it out for myself and after using it regularly for nearly two months now, I am ready to get into my Natura Bisse Stabilizing Cleansing Mask review.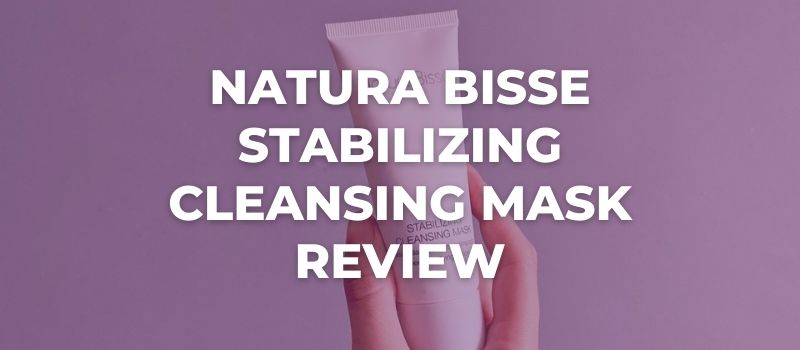 NB:
I can show you how to never have acne again.
If you have acne and want it gone
,
read this message
.
What Is Natura Bisse Stabilizing Cleansing Mask?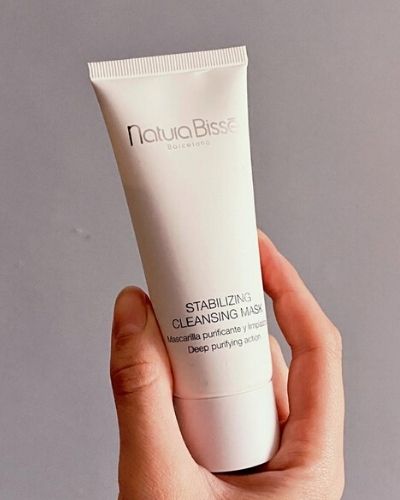 On the official Natura Bisse website, it says that the Stabilizing Cleansing Mask is a multi-tasking product that can be used as a cleanser or a mask to clarify oily and acne-prone skin by eliminating impurities and any residue left on the skin.
So let's take a look at the…
Ingredients
When I first checked the ingredient list on this product, I was immediately thrown off by kaolin and alcohol denat, which are two components that can be drying to the skin.
Kaolin clay is considered to be one of the gentlest facial clays. It contains kaolinite, a mineral that consists of layered silicate.
Many people say that this helps "absorb" the excess sebum, and "draw out impurities" from the skin; however, these claims are not necessarily correct.
The first issue I have with these claims is the fact that everything that claims to be oil-absorbing is actually drying for the skin.
Remember that our skin needs its natural oil to stay lubricated, balanced, and protected, and if we didn't have this oil to do all these things – our skin will feel dry, stretched, tight, uncomfortable, and it would possibly crack and bleed due to dryness.
The second issue I have with the claims of how kaolin is beneficial to the skin is the false information that there are toxins or impurities in our skin.
The only impurities we have are on the surface of the skin because our skin is the organ that prevents stuff from the external world from entering inside of us.
And you may very well remove these impurities by simply cleansing your skin with water or a gentle cleanser.
You don't need dehydrating clay to "pull toxins and impurities" from your skin because there aren't toxins and impurities inside the skin.
The only way our bodies detox is through using the toilet, not through our pores.
And lastly, if you think that clay molecules can actually enter inside the pores and dissolve sebum and stuck dead skin cells that are causing a clog which then leads to breakouts – you are also wrong.
Clay molecules are too big to enter inside the pore and they don't have the ability to dissolve sebum, cellular debris, or other metabolic byproducts from the surrounding skin tissue.
That's what salicylic acid does, but not clay.
All that said, the Natura Bisse Stabilizing Cleansing Mask does contain salicylic acid, however, since this is a wash-off product, the salicylic acid isn't given enough time to work and will probably do much less for your skin than a leave-on product would.
Besides that, the mask also contains a bunch of fragrant oils, including rosemary leaf oil, tea tree leaf oil, and fragrance, which means that people who have sensitive skin or are allergic to fragrance should definitely avoid using this product.
Consistency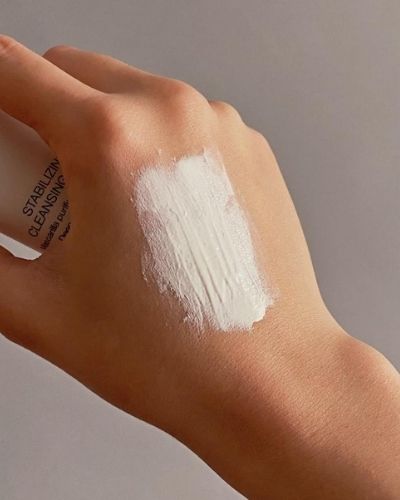 The Natura Bisse Stabilizing Cleansing Mask has the consistency of a thick paste that dries quickly and is a little difficult to spread on dry skin, which is why it's better to apply it on damp skin.
Scent
The Stabilizing Cleansing Mask contains perfume and other fragrant components, so it has quite a strong fresh scent.
I would compare it to one of those old soaps or shaving creams everyone's grandpa used to use back in the day.
The scent is extremely potent and although some may like it due to its freshness, I am personally not a fan of it.
How To Use The Natura Bisse Stabilizing Cleansing Mask?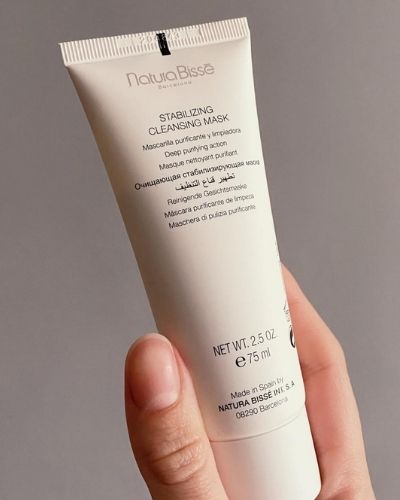 The Natura Bisse Stabilizing Mask comes with instructions that you will find inside the box.
On the paper it says that you can use the mask in two ways:
As a daily cleanser.
As a weekly mask that you should leave on your skin for 5-10 minutes.
Performance
My skin is (incredibly) oily and acne-prone.
Having a good skincare routine helps a lot, but by default, it's prone to congestion, breakouts, post-inflammatory redness, texture, and dullness.
My routine consists of frequent exfoliating (iS CLINICAL Active Serum has been my favorite product for a few months now) as well as other brightening agents, including azelaic acid and retinol.
I was able to use the Stabilizing Cleansing Mask alongside my usual routine and didn't have to cut anything out; however, I always try to follow it up with milder actives such as azelaic acid rather than retinol, for example.
Now, this mask works, if what you want to achieve is shrunk pores, a smooth surface, and skin that feels tight as hell after washing the treatment off.
But I am not a fan of the tight feeling it gives me. Even though I have very oily skin, I found this mask to be very drying.
Another thing I didn't like how it worked out for me is the salicylic acid that caused my skin to purge and there was always a new pimple either on my chin or my temple or my forehead the morning after using the mask.
This makes me assume that I would probably need to use the mask daily so that the purge eventually stops, but that is just too much for my skin as even using it twice a week became progressively more drying over the last couple of months.
It's also not suitable to be used as a spot treatment because it will only dehydrate the pimple and most probably cause it to become hyperpigmented, instead of healing it.
This is why I plan on finishing the tube I have, but I will not be repurchasing the Stabilizing Cleansing Mask again.
It's just not worth it for me because, sadly, I didn't find it particularly useful for my concerns and I am starting to lose interest after using it for a couple of months.
Who Is This Product For?
The Natura Bisse Stabilizing Cleansing Mask is more suitable for coarse, oily skin types.
Who Isn't This For?
Don't use the Natura Bisse Stabilizing Cleansing mask if you have dry, sensitive, rosacea-prone skin, or are allergic to fragrance.
Stabilizing Cleansing Mask Pros:
Makes the skin feel refreshed for a short while.
Minimizes the look of enlarged pores for a short while.
Stabilizing Cleansing Mask Cons:
Can be drying and irritating to the skin.
Salicylic acid may induce purge.
Contains fragrance which is a potential allergen.
It's pricey ($65).
Where To Buy The Natura Bisse Stabilizing Cleansing Mask?
You can buy the Natura Bisse Stabilizing Cleansing Mask on the following websites: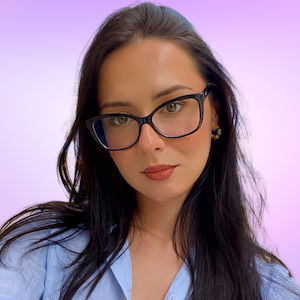 My name is Simone and I am a certified skin specialist. I created this website to teach my readers how to take great care of their skin and I also like to occasionally share my honest opinions on skincare products I've tried. You can learn more about me here.
The Acne Solution: Your Ultimate Guide To Flawless Complexion
An extensive, no-nonsense course showing you how to never have acne again, from a licensed Esthetician specializing in oily/acne-prone skin.