Antioxidants represent an entire crew of molecules that effectively deactivate free radicals and prevent them from damaging the DNA of the cells in your body.
They do this by boosting the production of the body's enzymes, such as superoxide dismutase and catalase that go on to protect the cells from free radical damage.
The best way to receive antioxidants in your body is by ingesting them through fruits and vegetables.
However, this won't do that much for free radical damage to the skin because your smart body prioritizes more important organs such as the brain that benefits most from an antioxidant-rich diet.
This is why topical application of antioxidant products will be more useful for skin that has been damaged by harsh external factors, such as UV rays, weather conditions, pollution, etc.
Serums, specifically, are products packed with a high concentration of potent ingredients and they are the most hardworking and effective product in your entire skincare routine.
Therefore, in this article, I will give you a list of the 10 best antioxidant serums that will help you tackle any type of free-radical damage to the skin.
But first things first, let's take a look at what ingredients have antioxidant properties so that you know what to look for in case you don't find anything you like on this list.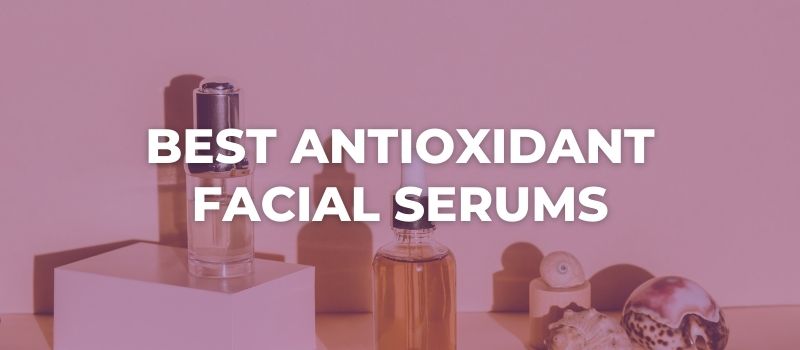 NB:
I can show you how to never have acne again.
If you have acne and want it gone
,
read this message
.
[ninja_tables id="7015″]
---
What Ingredients Have Antioxidant Properties?
Here are only a few ingredients with antioxidant properties that are most commonly found in skincare products:
Vitamin A (retinol or retinoic acid) is an anti-aging powerhouse, can brighten the most stubborn forms of hyperpigmentation, and it's great for acne-prone skin too.
Vitamin C (ascorbic acid) has other handy skills outside of being a free radical scavenger, like boosting the effects of sunscreen and fading dark spots caused by the UV rays.
Vitamin E (tocopherol) has anti-inflammatory properties that work to moisturize the skin and prevent it from overdrying. It's best for normal to dry skin.
Vitamin B3 (niacinamide) is another powerful anti-inflammatory antioxidant that can help decrease irritation on the skin, brighten mild hyperpigmentation and uneven skin tone, as well as help strengthen the skin barrier.
Green tea polyphenols have one of the best anti-inflammatory skills among ingredients used in skincare products. Green tea extract is soothing, calming, and excellent for sensitive, irritated, and reactive skins.
Resveratrol contains skin-calming properties that can help reduce redness and even out mild hyperpigmentation.
---
The Best Antioxidant Serums For All Skin Types (Reviewed)
Here is a list of the 10 best antioxidant serums for all skin types:
Yeouth – Vitamin C & E Serum – $16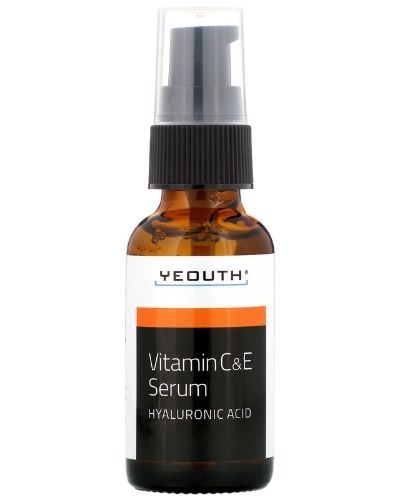 The Yeouth Vitamin C & E Serum is a very affordable vitamin C serum that uses a stable form of vitamin C known as Magnesium Ascorbyl Phosphate, as well as hyaluronic acid to plump and hydrate the skin.
The product has the consistency of a clear gel-like serum and it can be a little sticky when applied on fully dried skin, so a helpful tip is to use it on damp skin, instead.
There is no smell, which is a great plus because vitamin C serums usually require a ton of fragrance and citrusy fragrant components to mask the raw ingredient that has a very unpleasant smell.
The only downside of this product is that it's not easily available, so you do have do to a little bit of digging as to how you can get to it, depending on where you live.
Best for normal/dry/mature/sun-damaged skin.
Naturium – Vitamin C Complex Serum – $20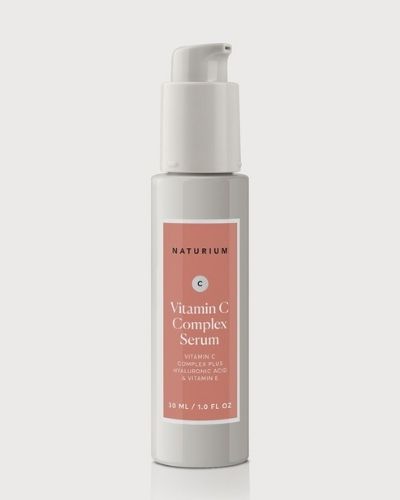 Naturium's Vitamin C Complex Serum is another affordable vitamin C option that helps brighten the skin and slowly get rid of the environmental side effects visible on the skin.
The Vitamin C Complex Serum is made with glutathione, which can help to not only stabilize the vitamin C but enhance its efficacy, resulting in brighter, firmer, and more radiant skin.
It also contains soothing aloe vera leaf juice, a form of hyaluronic acid, as well as beta-glucan which is a polysaccharide that can improve the function of the skin's natural moisturizing factors.
Best for normal/dry/mature/hyperpigmented/sun-damaged skin.
Paula's Choice – Defense Antioxidant Pore Purifier – $31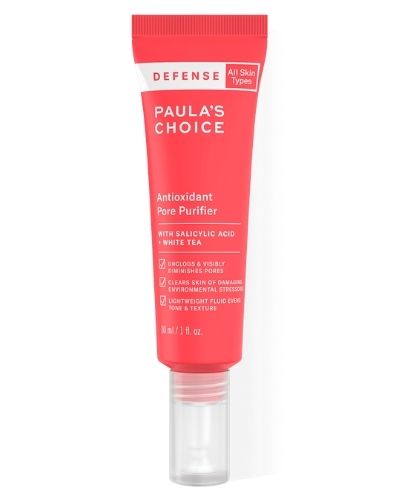 Paula's Choice Defense Antioxidant Pore Purifier is a serum that has a slightly thicker consistency than usual.
It contains a myriad of beneficial ingredients and a potent blend of antioxidants, including white tea leaf extract, coffee fruit extract, grape-seed extract, vitamin C, coenzyme Q10, soybean, and soothing Centella Asiatica.
Besides all that goodness, it also contains skin-repairing panthenol, brightening and restoring niacinamide, as well as a small percentage of salicylic acid to clear out the pores and make them appear smaller.
It is best used before your moisturizers and sunscreen in the morning to prep the skin for the day.
Best for combo/oily/acne-prone skin.
First Aid Beauty – Radiance Niacinamide Serum – $42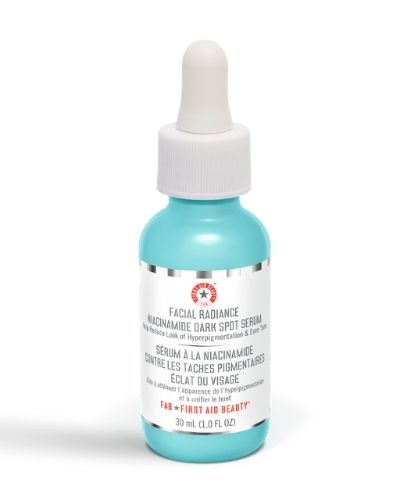 The First Aid Beauty Radiance Niacinamide Serum is a great, non-irritating option that aims to reduce the appearance of dark spots, UV-induced damage, mild hyperpigmentation, discoloration, uneven skin tone, as well as superficial post-acne scarring.
The formula is very mild so if you have severe hyperpigmentation, it may not be the best option cause it will work very slowly, but it is perfect for those that just want a little bit of a brightening boost.
The product contains a low percentage of niacinamide, boosted by soothing licorice root extract and golden kiwifruit, which has antioxidant properties due to being rich in vitamin C as well as another carotenoid antioxidant known as Lutein.
Best for normal/dry/combo/oily/mild-hyperpigmentation/sun-damaged skin.
La Roche Posay – Daily Antioxidant Serum SPF 50 – $42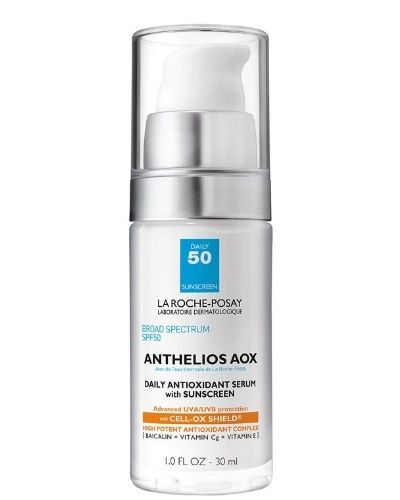 The Daily Antioxidant Serum by La Roche Posay is a lightweight, sunscreen serum with SPF 50.
It is a chemical sunscreen that contains Avobenzone, Homosalate, Octisalate, Octocrylene, and Oxybenzone as protective filters, and these ingredients make up for a very elegant finish with zero white cast.
However, since it's a very lightweight serum, you need to use a lot to get the protection that's written on the bottle and this can be rather expensive because the product will run you $42 for only 30ml.
A better option to ensure maximum sun protection is to use the SPF serum after cleansing but follow it up with a second layer or with another sunscreen once it dries down.
The product is very hydrating and leaves a healthy, glowy finish.
Best for normal/dry/mature skin.
Elemis – Peptide Antioxidant Hydra Serum – $72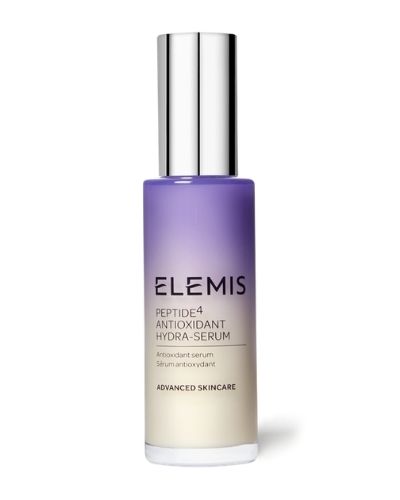 The Elemis Peptide Antioxidant Hydra Serum is a product that has a luxurious, silky texture that's thicker than the standard serum and it glides onto the skin with ease.
Its main antioxidant is Hydrolyzed Verbascum Thapsus Flower which is a substance derived from the flowers of Verbascum Thapsus, a plant native to Europe, Northern Africa, and Asia.
The component is rich in vitamin E, vitamin C, and beta carotene, which helps protect the cells from damage.
But besides that, the serum also contains a blend of lotus flower milk, saffron flower, and Indian gooseberry, rich in polyphenols and flavonoids.
Lastly, there is also the Peptide4 complex, which not only helps soften the skin and smoothen fine lines but can also strengthen the skin barrier and help it deal with inflammation better.
As I already mentioned above, the serum has a milky, smooth texture and it smells absolutely divine. However, due to the added fragrant components, this may not be suitable for sensitive skin or someone who is allergic to fragrance.
Best for dry/mature skin.
Vivant Skincare – PURE C + E – $82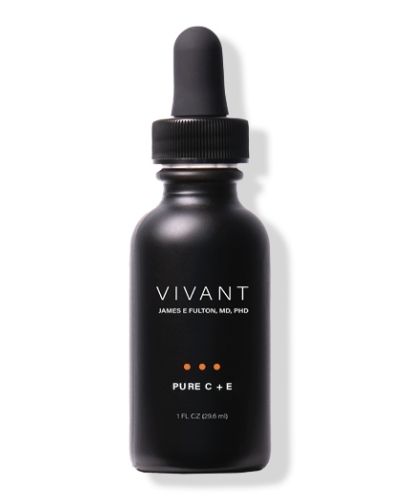 The Vivant Skincare Pure C + E is a lightweight serum that helps promote more even, smooth, and glowing skin while fading spots caused by environmental stressors.
The serum is enriched with antioxidants as well as urea which is an excellent hydrator, glycine – a natural amino acid that can help improve elasticity in the skin as well as niacinamide and inositol – both members of the vitamin B family that help brighten the skin and strengthen the moisture barrier.
Best for normal/dry/mature/combo/oily skin/hyper-pigmentation/sun-damage.
iS Clinical – Poly-Vitamin Serum – $105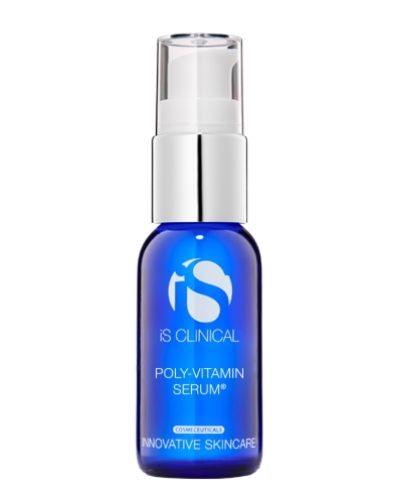 iS CLINICAL is slowly becoming one of my favorite skincare brands and for a good reason.
Their Active Serum is an incredible concoction of ingredients that makes my acne disappear overnight, and their Poly-Vitamin Serum is a beautiful formula that deeply hydrates and infuses the skin with powerful antioxidants.
The serum contains a combination of essential vitamins and amino acids, as well hydrating sugar cane extract, anti-inflammatory zinc, soothing green tea extract, anti-aging retinol, and brightening niacinamide.
Although a little pricey, this serum is well worth it because it tackles more than one skin concern at the same time, and since you only have to use a few drops, a 30ml bottle could last you anywhere from 3-5 months.
Best for all skin types/all skin concerns.
SkinMedica – GlyPro Antioxidant Serum – $125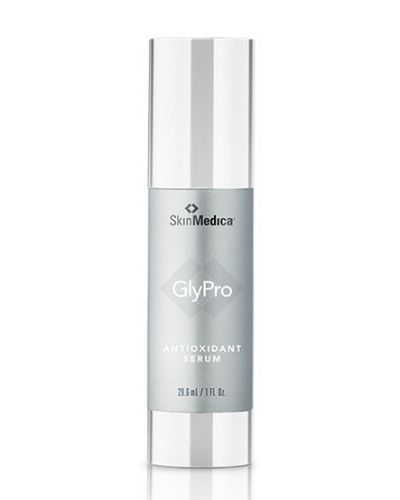 The SkinMedica GlyPro Antioxidant Serum is a great option for mature skins that want to minimize the appearance of lines and wrinkles.
The thick, creamy serum contains stevia leaf and olive leaf extracts which are two antioxidants proven to plump, soothe, and protect the skin from oxidative stress and environmental aggressors.
Besides that, the serum also contains a dose of glycolic acid, which is an alpha-hydroxy acid that works on the surface of the skin to break up the proteins that hold dead skin cells together and promote a brighter, smoother, and more radiant complexion from underneath.
The GlyPro Antioxidant Serum is pricey, but it is a targeted treatment that shows results in the form of minimized fine lines and smoother skin after only a couple of weeks of using it.
Best for dry/mature skin.
SkinCeuticals – C E Ferulic – $166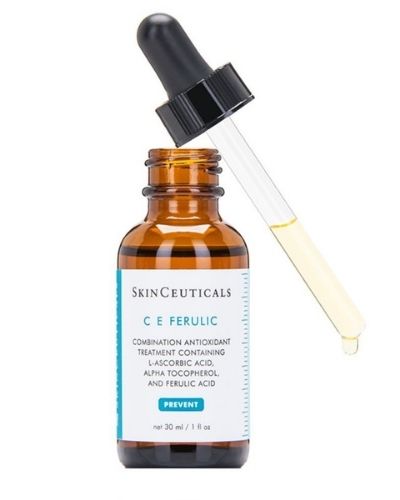 – *sighs* – I know what you're thinking.
Every single beauty website, esthetician, dermatologist, skincare influencer, and all their grandmas are pushing this product, but, trust me guys, this list simply wouldn't be complete without it.
The SkinCeuticals C E Ferulic is definitely the best vitamin C serum in the market, and the SkinCeuticals team knows what they created, which is why they weren't thinking twice before racking up that price tag.
Sitting on a "modest" $166 tag, this serum contains 15% pure L-ascorbic acid which is one of the most potent forms of vitamin C that can be stabilized, alongside ferulic acid.
Together, they are clinically proven to reduce oxidative damage from the sun, ozone pollution, and exhaust by up to 41%.
The serum brightens the skin, removes dark spots, evens out uneven skin tone, and gives an unreal glow.
It's pricey, but the cult classic definitely delivers.
Best for dry/mature/hyperpigmented/sun-damaged skin.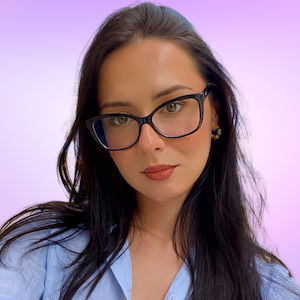 My name is Simone and I am a certified skin specialist. I created this website to teach my readers how to take great care of their skin and I also like to occasionally share my honest opinions on skincare products I've tried. You can learn more about me here.
The Acne Solution: Your Ultimate Guide To Flawless Complexion
An extensive, no-nonsense course showing you how to never have acne again, from a licensed Esthetician specializing in oily/acne-prone skin.