I am always on the lookout for a good salicylic acid product since this is an ingredient that has played a major role in clearing up my acne and is also a staple in my skincare routine.
I dare not go without salicylic acid.
I know that once I stop using it, my skin will immediately start showing signs of clogging and inflammation in the form of mild pimples on my chin (mainly from doing makeup and wearing a mask) that will start spreading all over my face in no time.
CODAGE is a high-end, Paris-based skincare company that has a lot to offer.
They create a variety of cleansers, serums, moisturizers and even offer customized skincare, which is definitely starting to have its momentum in 2021.
The first thing that caught my eye is their Purifying Lotion that features a blend of exfoliating acids, soothing zinc, and other calming extracts.
I wanted to try this immediately, and since I have been using it for a little over three weeks now, I am ready to give you my honest opinions on it.
This is my review of the CODAGE Purifying Lotion, so let's start by diving a bit deeper into the product.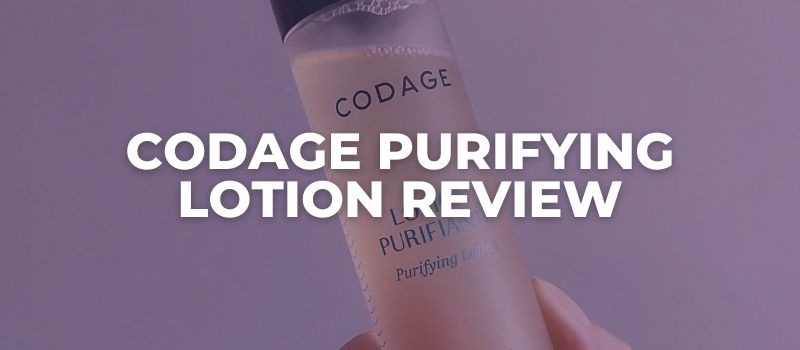 NB:
What if I told you I can show you how to never have acne again?
If you have acne and want it gone
,
read this message
.
What Is The CODAGE Purifying Lotion?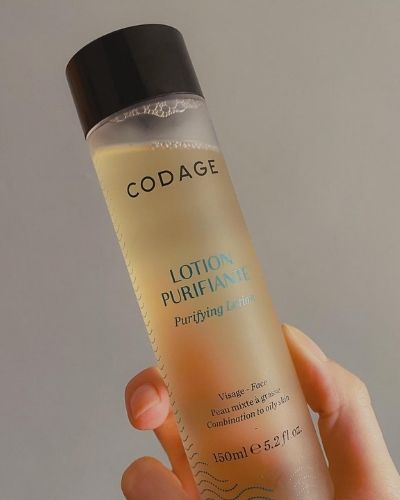 On the official CODAGE website, it says that the Purifying Lotion is a concentrate of fruit acids, salicylic acid, and zinc that help eliminate dead skin cells, unclog pores, regulate sebum production, and soothe the skin to achieve a more purified, regenerated, and radiant look.
So, let's start with the…
Ingredients
First things first, the Purifying Lotion contains water and glycerin, which is an excellent humectant that helps retain moisture into the superficial layers of the skin.
Next, we have 2% salicylic acid, which is the standard for every over-the-counter product.
Higher percentages are used for professional chemical peels, but anything lower can be more suitable for sensitive skin, albeit not as effective for coarser and more resilient, oily, and acne-prone skins.
Fourth on the list, we have our good old lactic acid of 3%, which is an excellent exfoliant suitable for dry, sensitive, and rosacea-prone skin.
This is a very mild concentration of lactic acid; however, it can be efficient for someone who isn't dealing with a serious acne onset.
Last, from the exfoliating components, we have sugar cane extract, which is a milder alternative to glycolic acid with very gentle exfoliating and buffering properties, as well as sugar maple extract, which contains the two less-known AHAs – malic and tartaric acid.
Besides the exfoliating acids, the formula also contains zinc, which is an anti-inflammatory mineral that also regulates sebum production, as well as soothing propanediol (vitamin B5), moisturizing allantoin, soothing seawater, and calming sodium lactate.
All in all, this is a great-looking ingredient list that gives the product a lot of potential!
Consistency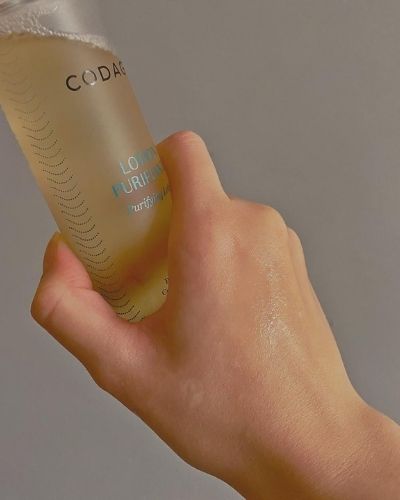 The Purifying Lotion has a very lightweight, watery consistency; however, the product doesn't absorb into the skin as quickly as I'd like it to (more on that later in the review).
Scent
The Purifying Lotion has added fragrance, and it has a scent that I am really not a fan of because it's mildly suffocating in the beginning.
The scent is very fake, it's like the product wants you to think it's citrusy, but you can smell something else underneath. It smells like citrus fruit, a hospital, and burned plastic at the same time.
Luckily, it doesn't linger for long, but it is there initially, and it's not pleasant at all.
How To Use The CODAGE Purifying Lotion?
The CODAGE website advises you to use the Purifying Lotion daily, morning and/or night with a cotton pad or with bare hands if you want to get the most out of the product.
If you have been following me on Twitter or you have read some of my previous blog posts, you probably know that I am not a fan of daily exfoliation, and I strongly advise against it, especially if your skin is already in a compromised state due to acne.
Daily exfoliation is very tricky as it will give you great results for the first few days, but it will wreak havoc on your skin a couple of weeks later.
Seeing your skin smooth and perfect-looking is just a sign that the exfoliator is shedding the build-up of dead skin cells on the surface of your skin; however, you can only go with this as far before your skin becomes irritated due to over-exfoliation.
Remember that the dead skin cells need to mature before they can "die" and be shed, and by constantly removing new and immature skin cells, you are only getting your skin to become irritated.
That said, I started using the Purifying Lotion every day to see how strong it is and what it does, and after a week of daily use, my skin started feeling stretched and raw after cleansing, and it was starting to tingle, burn, and get red after applying my usual moisturizer and sunscreen.
This was my sign that my skin has been over-exfoliated and that I should slow down with the Purifying Lotion.
So, I would say that using the Purifying Lotion 2-3 times a week should be a perfect balance, depending on your skin's needs.
Performance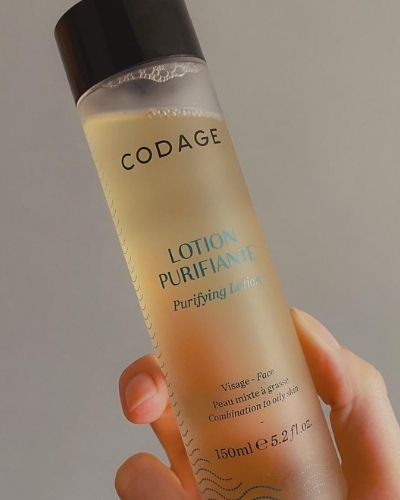 My skin is (incredibly) oily and acne-prone.
Having a good skincare routine helps a lot, but by default, it's prone to congestion, breakouts, post-inflammatory redness, texture, and dullness.
My routine consists of frequent exfoliating (iS CLINICAL Active Serum has been my favorite product for a few months now) as well as other brightening agents, including azelaic acid, retinol, and an enzyme mask.
When I started using the CODAGE Purifying Lotion, I had to ditch the iS CLINICAL Active Serum from my routine because this was definitely going to be too much exfoliation.
The Purifying Lotion consists of many moisturizing agents, which is why I personally didn't enjoy the oily residue this leaves on my skin and the fact that my skin becomes incredibly oily a couple of hours after applying it.
The initial purge started 3-4 days of starting the Purifying Lotion, but it wasn't that bad.
I had a few pimples on my forehead as well as on my cheeks, where I usually get them when trying a new salicylic acid product or a retinoid.
However, something happened when I was nearing the end of the second week of using this product, and I decided to stop using it.
My skin was becoming incredibly oily to the point where I stopped moisturizing, and it was still only getting oilier and oilier.
My pores were enlarged, which was very strange given the fact that salicylic acid should clear the pores from the inside out and, if anything, make them appear smaller.
I also started breaking out more and more, but these weren't purge-induced pimples. They were deep cysts on my chin and cheeks, which is how I usually break out when my pores are clogged.
I differentiate purge-induced pimples from a regular breakout by how my skin looks and feels at the time of breaking out.
If my skin gets oily, my pores are abnormally enlarged, and there is always a greasy layer on the surface of my skin – I know that this is a regular breakout caused by clogged pores.
On the other hand, if my skin looks and feels fresh and clean, my pores are small, but I am breaking out from a newly-introduced purge-inducing agent – I am patient because I know it's going to go away soon.
Anyhow, I think that the Purifying Lotion is just too rich for me, and no matter the fact that it contains salicylic acid, the super-moisturizing agents that are a part of the formula wasn't doing it for me and were causing my skin to break out.
Which is why I decided to stop using the Purifying Lotion after three weeks of using it.
Who Is This Product For?
The CODAGE Purifying Lotion is a great option for anyone who deals with dry skin and occasional pimples.
Who Isn't This For?
I definitely don't recommend using the CODAGE Purifying Lotion if:
you are sensitive or allergic to fragrance
have excessively oily skin
have severe acne issues
If this is the case, look into a couple of other salicylic acid products, such as the iS CLINICAL Active Serum or Paula's Choice CLEAR Anti-Redness Solution.
RELATED: 5 Best Serums For Acne-Prone Skin.
CODAGE Purifying Lotion Pros:
Moisturizing
Excellent for dry skin and mild breakouts
CODAGE Purifying Lotion Cons:
Very rich for oily skin
It can clog pores and cause more breakouts
Where To Buy The CODAGE Purifying Lotion?
Amazon doesn't carry CODAGE, so the best way to purchase the Purifying Lotion is through:
My name is Simone and I am a certified skin specialist. I created this website to teach my readers how to take great care of their skin and I also like to occasionally share my honest opinions on skincare products I've tried. You can learn more about me here.
The Acne Solution: Your Ultimate Guide To Flawless Complexion
An extensive, no-nonsense course showing you how to never have acne again, from a licensed Esthetician specializing in oily/acne-prone skin.