Acne Rosacea is a long-term skin condition associated with facial redness and flushing.
It often appears in your 30s and is more prevalent in those with fair skin. Besides that, for some unknown reason, rosacea disproportionally affects women, but men can also be dealing with this condition.
There are several factors believed to contribute to the development of rosacea. These include genetics, blood-vessel abnormalities, hormonal influences, microorganisms, and diet.
This means that keeping rosacea under control requires much more than just skincare products. Using the right skincare products is essential because rosacea can flare up and become uncomfortable, thus, you want to have the right kind of products that will help you soothe the discomfort.
In this article, I will give a list of the 10 best skincare products for rosacea, and I will also answer a few of the web's most frequently asked questions regarding rosacea.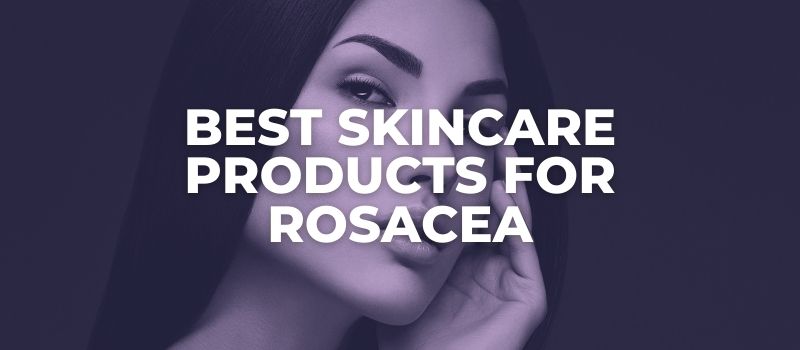 NB:
What if I told you I can show you how to never have acne again?
If you have acne and want it gone
,
read this message
.
10 Skincare Products To Deal With Acne Rosacea (Reviewed)
[ninja_tables id="7137″]
La Roche Posay – Toleriane Hydrating Gentle Cleanser – $15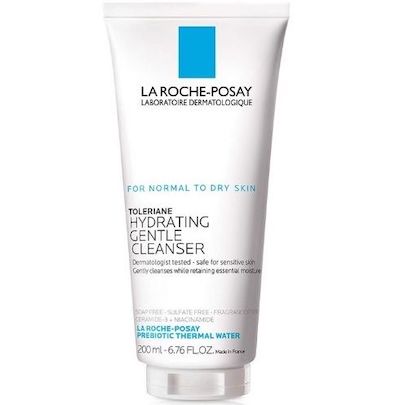 The Toleriane Hydrating Gentle Cleanser is an extremely gentle, milky cleanser that will help remove the day off your skin without irritating it or drying it out.
It contains hydrating and healing ingredients such as niacinamide, panthenol, and propanediol, and it is suitable for dry, sensitive, irritated, and rosacea-prone skin.
It can be used once or twice a day, and half a pump is usually enough to cover the entire face and neck.
La Roche Posay – Toleriane Purifying Foaming Cleanser – $15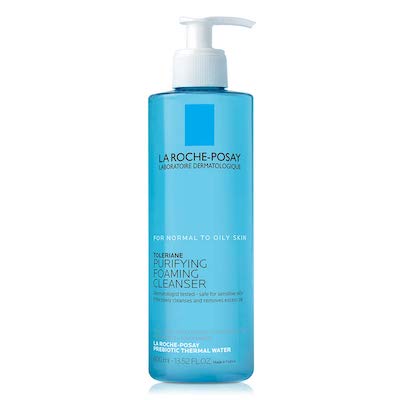 The Toleriane Purifying Foaming Cleanser also belongs to the Toleriane line created specifically for sensitive skin types; however, due to its gel texture, this cleanser is more suitable for sensitive, rosacea-prone skins that are also oily and are dealing with pustular or cystic acne.
It contains ceramides that will prevent skin barrier disruption as well as hydrating glycerin and soothing niacinamide along with mild surfactants that will leave your skin cleansed and feeling fresh.
Paula's Choice – Redness Relief 1% BHA – $30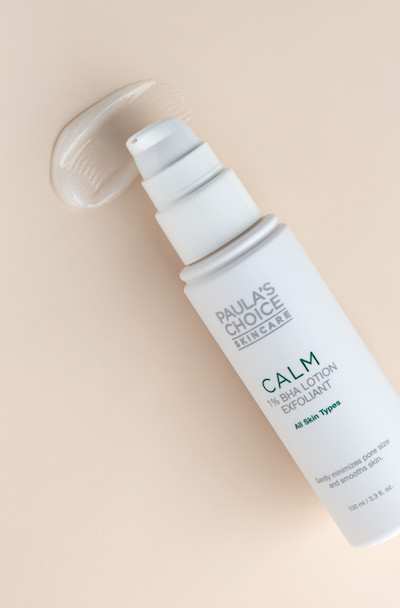 This is a great product that I would recommend if your skin is rosacea-prone but it also feels dry, tight, and irritated while also breaking out.
The Paula's Choice Redness Relief 1% BHA is a mild exfoliating product that contains the necessary percentage of salicylic acid to be effective against minor breakouts without irritating your skin.
It's formulated with skin-soothing plant extracts, including allantoin, oat and licorice extract, and green tea, to calm redness for overly reactive skin and soothe irritation caused by harsh products.
However, as with all products that contain exfoliating acids or enzymes, it is best to use it only 2-3 times a week and no more than that.
Paula's Choice – 10% Azelaic Acid Booster – $36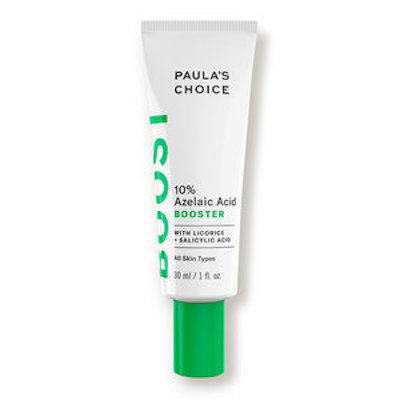 The Paula's Choice 10% Azelaic Acid Booster booster contains salicylic acid, an exfoliating acid. However, the star in the composition is azelaic acid.
Azelaic Acid is an ingredient that has shown to have a significant impact on the skin and certain skin concerns, including diminishing the appearance of skin blemishes, help fade post-acne redness, pigmentation, and other discoloration, refine the skin's surface, and reveal a brighter and more even complexion among other actions.
This product is best for people who are dealing with post-inflammatory redness. It can also help hyperpigmentation, but it has done wonders for my post-acne redness, and I can't recommend it enough.
It's also super gentle on the skin, and it's safe for use during pregnancy and rosacea-prone skins. H
However, if you do not feel comfortable with the salicylic acid, you can also try The Ordinary's 10% Azelaic Acid, which is a silicone-based option to help with moisture retention and softening the skin.
Bioderma – Sensibio Mask – $20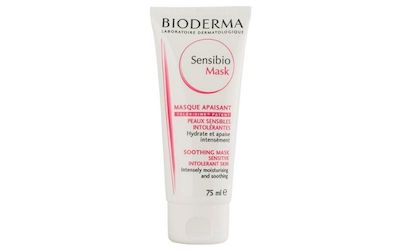 The Sensibio Mask is a soothing and calming product that can be used as a mask or a daily moisturizer.
It is more suitable for rosacea-prone skin that is also on the dry side as some oily and acne-prone skins may find it a bit too rich for their taste.
It contains pretty much the same ingredients as the Bioderma Sensibio Light Cream, with the majority of ingredients being focused on hydration, moisturizing, and replenishing a compromised skin barrier.
La Roche Posay – Cicaplast Baume B5 – $15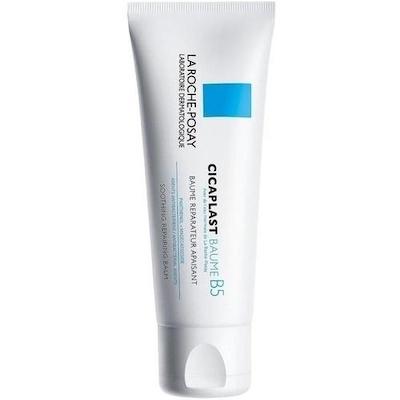 The La Roche Posay Cicaplast Baume B5 is my holy grail product for irritated, sensitive, rosacea, and acne-prone skin that burns and tingles from anything else.
I started using this product when I first started using tretinoin, which made my skin peel, burn, and feel tight all the time.
Luckily, the Cicaplast Baume was giving me much-needed relief from the constant irritation caused by tretinoin.
As soon as I apply this balm, my skin feels immediately better, and although thick and occlusive, it doesn't have a single ingredient that can clog your pores and cause new breakouts.
This product contains zinc, a known anti-acne ingredient, barrier-repairing panthenol, brightening niacinamide, hydrating hyaluronic acid, and soothing Centella Asiatica.
It is a little bit greasy; therefore, If that's something you personally don't like, you can use it as a night treatment before going to bed so that you won't have to deal with the greasiness during the day.
Eucerin – Soothing Care Combination Skin – $23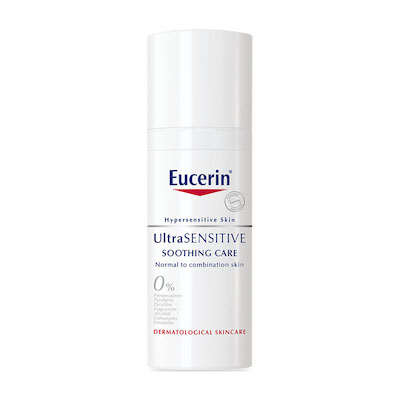 The Ultra-Sensitive Soothing Care cream is part of Eucerin's range for hypersensitive skin prone to redness, rosacea, and irritations.
The light emulsion targets three common hypersensitivity signs, including a weakened skin barrier, hyper-reactivity, and irritation.
It is free from alcohol, perfume, and other fragrant components that are often the ones to blame for triggering skin reactions.
Besides that, it contains squalane to moisturize and strengthen the skin barrier and arginine, which is an antioxidant ingredient that allows other ingredients to penetrate into the skin slowly and avoid triggering irritations.
Paula's Choice – Super-Light Wrinkle Defense SPF 30 – $33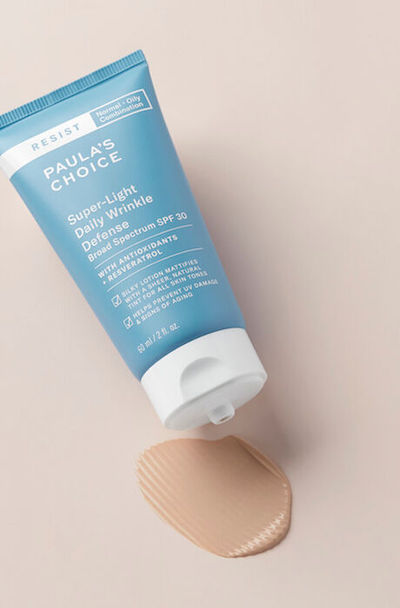 Paula's Choice Super-Light Wrinkle Defense SPF 30 is a mineral-based sunscreen that contains zinc oxide and titanium dioxide as the main active ingredients.
Besides that, it also contains a few other antioxidants, including resveratrol, bisabolol, and EGCG, which is one of the active parts of green tea believed to be responsible for its many health and skin benefits, including soothing and calming inflamed skin.
The product has a matte finish, and it will help control excess oiliness throughout the day. Additionally, it is also tinted, and it will help neutralize redness and flushing, and it can be worn on its own or under makeup to help keep a matte base.
La Roche Posay – Anthelios Mineral Zinc Oxide SPF 50 – $33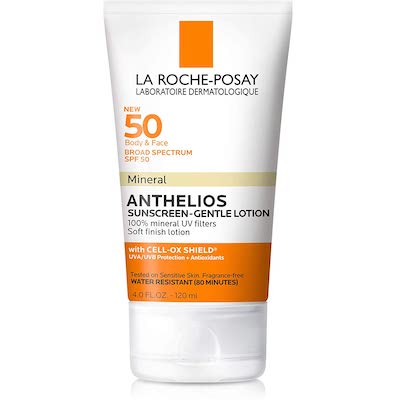 The Anthelios Mineral Zinc Oxide SPF 50 is a mineral sunscreen that contains zinc oxide and titanium dioxide as the main UV filters, making it suitable for sensitive, redness-prone, and acne-prone skin.
The product also contains Senna Alata, which is a good source of flavonoid compounds such as quercimeritrin, scutellarein, and rutin, all of which help defend the skin's surface against damage from airborne pollutants and other sources of environmental stress.
It has a very lightweight, watery consistency, and although it can leave some white cast, this is not as bad as some titanium dioxide-based sunscreens.
It is suitable for drier skin types; however, it's non-comedogenic, so oily and acne-prone skins may like it, too.
Skinceuticals – Sheer Physical UV Defense SPF 50 – $66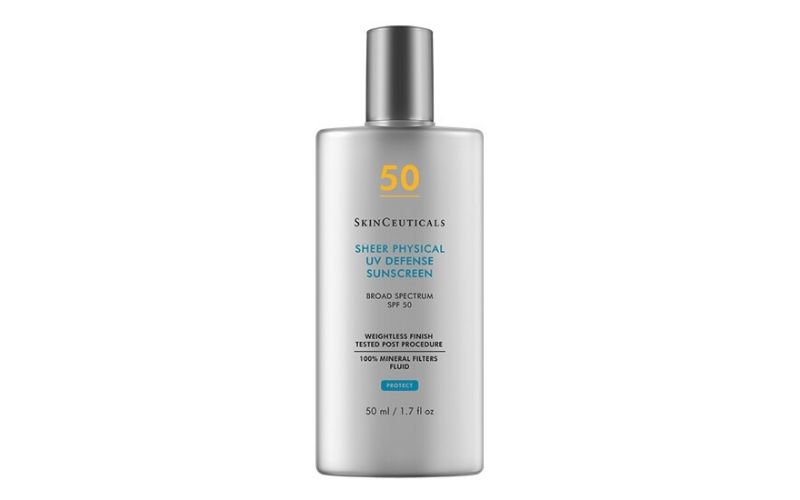 Skinceuticals Sheer Physical UV Defense SPF 50 is a transparent mineral sunscreen fluid containing zinc oxide and titanium dioxide as the main UV filters, making it suitable for sensitive skin and the skin around the eyes.
Although lightweight and non-greasy, this is a product leaning towards dry skin types; however, it can be used by combo and oily skins, too, if you don't mind blotting throughout the day.
It is a little pricey; however, you get 125 ml (4.2 fl. oz) for $66, which can last you up to 2 months with regular application. This is quite good, considering pretty much any decent sunscreen out there is in the $30+ range.
---
Frequently Asked Questions About Acne Rosacea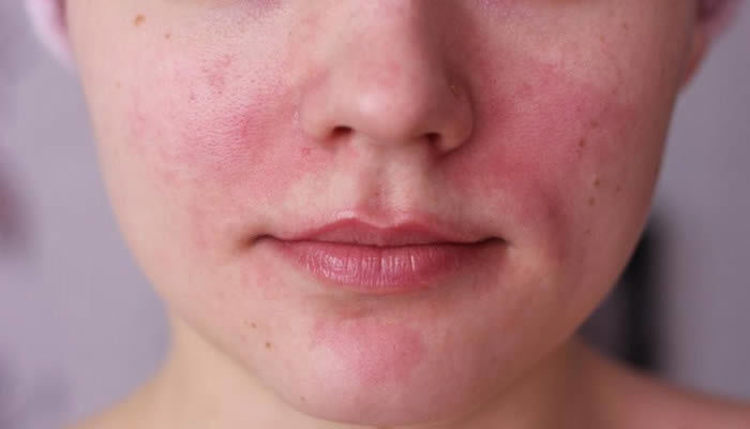 Below, I will answer a few of the most frequently asked questions regarding rosacea.
What Is The Main Cause Of Rosacea?
The exact cause of rosacea is unknown; however, given the higher incidence in people of North European descent, it is hypothesized that there is an underlying genetic cause.
At this time, rosacea is thought to result from a combination of immune system dysregulation, abnormal neurological and vascular signaling, and an imbalance of microorganisms on the skin.
How Do You Clear Up Rosacea?
A dermatologist can help determine the proper course of treatment, which may include low-dose oral antibiotics, topical medicines such as sulfur or finacea gel, or different topical medicines with sulfa antibiotics or Oracea, which is low-dose doxycycline that can be taken topically or orally.
In addition to prescription treatments, there are over-the-counter products that soothe and mask redness, combat acne bumps from papulopustular rosacea, minimize swelling, and help repair the compromised skin barrier that often leads to dryness, irritation, and discomfort.
What Foods Trigger Rosacea?
Dermatologists frequently recommend dietary modification to patients with rosacea. These recommendations often consist of avoiding "trigger" foods and beverages.
Many patients relate rosacea flares with spicy foods, hot drinks, and alcohol.
In a survey that consisted of more than 400 rosacea patients, 78% said they had to alter their diet to avoid rosacea flare-ups.
Of this group, a whopping 95% reported a subsequent reduction in flare-ups.
Three-quarters of respondents said that they were affected by spices of some sort. In particular, hot sauces affected 54% of those surveyed, while cayenne pepper affected 47% and red pepper affected 37%.
In contrast, white pepper affected only 17% of the respondents.
Beyond hot spiced chocolate was reported as a rosacea trigger by 23%.
Besides food and spices, wine has also long been known to trigger rosacea flare-ups, and this particular survey confirmed the link, with 52% of respondents confirming its reputation.
Other irritating beverages included hard liquor (42 %), hot coffee (33%), hot tea (30%), and beer (30%).
SIDE NOTE: If you are currently dealing with or know someone who's dealing with rosacea, check out Lex Gillies, a rosacea-centered blogger who offers great tips and a variety of products to help ease discomfort and keep rosacea under control.
My name is Simone and I am a certified skin specialist. I created this website to teach my readers how to take great care of their skin and I also like to occasionally share my honest opinions on skincare products I've tried. You can learn more about me here.
The Acne Solution: Your Ultimate Guide To Flawless Complexion
An extensive, no-nonsense course showing you how to never have acne again, from a licensed Esthetician specializing in oily/acne-prone skin.