I always like to say that less is more in skincare, especially when dealing with acne.
Trust me; you don't need a lot of products to deal with this condition. You only need a few decent ones that work for you and help you achieve your skin goals.
One of the five products I swear by are serums, and they are a big part of my skincare routine and the skincare routines I recommend for my clients.
I don't use toners. I don't believe in essences and I hate layering two or three different serums at one go.
I believe that one is enough, and that's all you need.
Therefore, in this article, I will recommend the five best anti-acne serums I love and know have helped many people dealing with this condition.
I will explain all of them in great detail, pay special attention to the active ingredients, and teach you how to use them for outstanding results that will also help you save money. Here are…
The 5 Best Anti-Acne Serums For Best Results (Reviewed Below)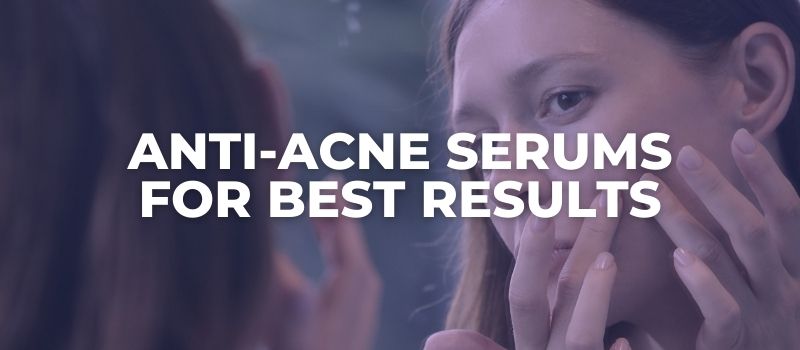 NB:
What if I told you I can show you how to never have acne again?
If you have acne and want it gone
,
read this message
.
iS CLINICAL – Active Serum – $138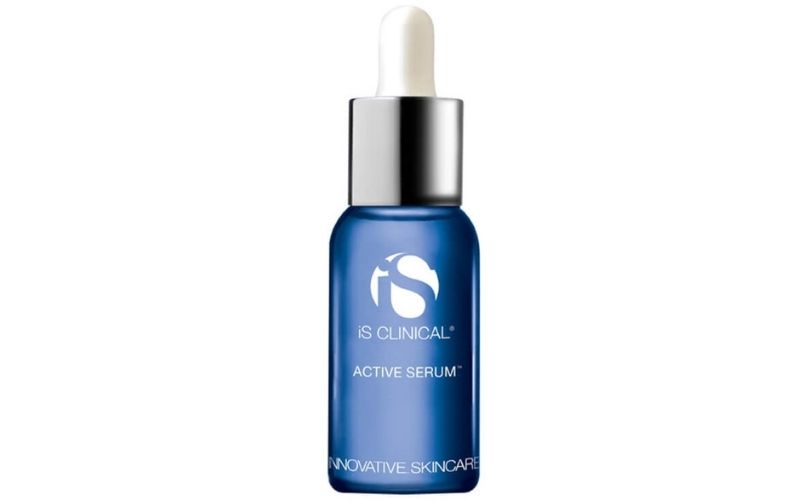 iS CLINICAL Active Serum is a very lightweight serum that feels identical to water, and it is packed with active ingredients that target multiple skin concerns and conditions.
There is quite an assortment here, starting with Arbutin and mushroom extract, which are ingredients that minimize the appearance of uneven skin tone and brighten post-inflammatory hyperpigmentation.
Moving forward, the serum contains White Willow Bark Extract, which is essentially salicylic acid that deeply cleanses the pores and dissolves all the gunk inside there, causing acne breakouts.
Additionally, it contains sugar cane extract derived from the tropical grass sugarcane. It is used as a natural exfoliant and a humectant that helps the skin attract and retain moisture.
And lastly, there is Bilberry extract, which is one of the best sources of antioxidant compounds that help strengthen the skin, even out the skin tone, and soothe redness due to their calming properties.
This serum has quite a few good things to unpack, but there are also three things that I personally don't like.
The first thing I don't like is the price; however, I can justify this because the serum is so potent that you won't need to use more than a few drops of it in the evenings.
Using a few drops will make this 30ml serum last you 3-5 months, which is not that bad given the beneficial ingredients it has to offer.
Besides that, this is an exfoliating serum, so I definitely don't recommend using it daily. Therefore, using it 3-4 times a week can easily prolong the product to last you up to 5 months, which comes down to around $27 a month.
The other thing I don't like is the content of alcohol denat, which contributes to the strong medicinal scent and can be a little drying on the skin; therefore, you must compensate with a good moisturizer.
And lastly, we have menthol, which is below the 1% line, but it is an ingredient that can be sensitizing to the skin.
All in all, this is a good product that is worth trying if you want to splurge; however, keep an eye on potential dryness and irritation so that you can either minimize use or give it a break.
SkinCeuticals – Retexturing Activator – $82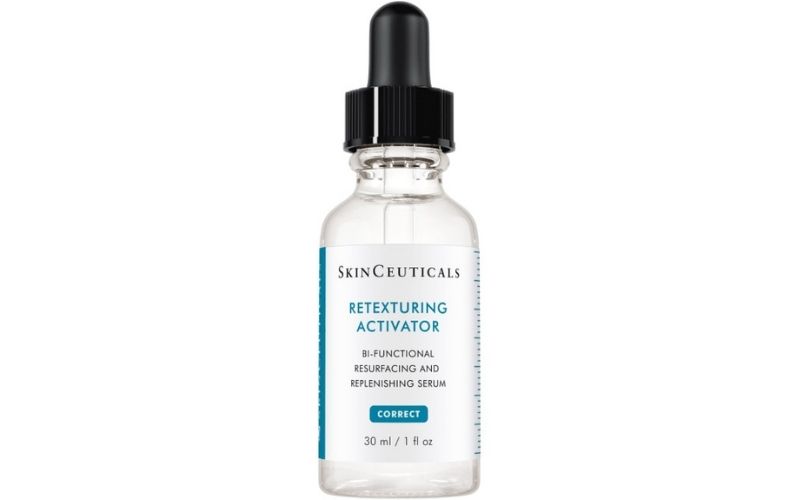 SkinCeuticals Retexturing Activator is a lightweight serum that helps replenish and reinforce the skin's barrier for a healthier, more radiant complexion.
The star of the show in the Retexturing Activator is an ingredient called Hydroxyethyl Urea, which has a similar moisturizing ability to glycerin, but it is more cosmetically pleasing, feels nicer on the skin, and is non-sticky, unlike glycerin that, although efficient, can be tacky and sticky.
Hydroxyethyl Urea is that ingredient that gives a nice and moist feeling on the skin, but besides its moisturizing properties, it also has the ability to gently exfoliate the skin.
SkinCeuticals claims that Hydroxyethyl Urea can exfoliate the skin as efficiently as 20% of glycolic acid can; however, due to the lack of research on this, I am not going to take their word for it.
Besides that, using 20% glycolic acid on the skin is wildly strong and potentially dangerous as this strength is used by estheticians and dermatologists during professional peels.
Anyway, Hydroxyethyl Urea does have some exfoliating properties because this serum leaves the skin looking even and more uniform without applying other exfoliating products; therefore, this tells me that it does, in fact, exfoliate the skin.
Besides that, this serum is oil-free, super lightweight, absorbs quickly, and it is a good option for oily, acne-prone, and sensitive skins that can't tolerate stronger exfoliating components.
I've also read some reviews by people that have eczema-prone skin but are still able to use this product without any issue.
However, if you have a condition like this, it is best to consult with a professional because not every skin has the same tolerance, even if it's prone to the same condition.
Besides Hydroxyethyl Urea, the Retexturing Activator also contains small amounts of glycerin for texture, black tea ferment that is packed with antioxidants and helps brighten the skin, as well as good old hyaluronic acid, which is a humectant that helps the skin bind and hold onto water.
It is a little pricey; however, it comes in a decent 30ml size, and given that you only need a few drops every 2-3 days, it will certainly last you for months.
SkinCeuticals recommends daily use of this product; however, since it works as an exfoliator, using it 2-3 or even 4 times a week is enough.
SkinCeuticals – Blemish + Age Defense Serum – $92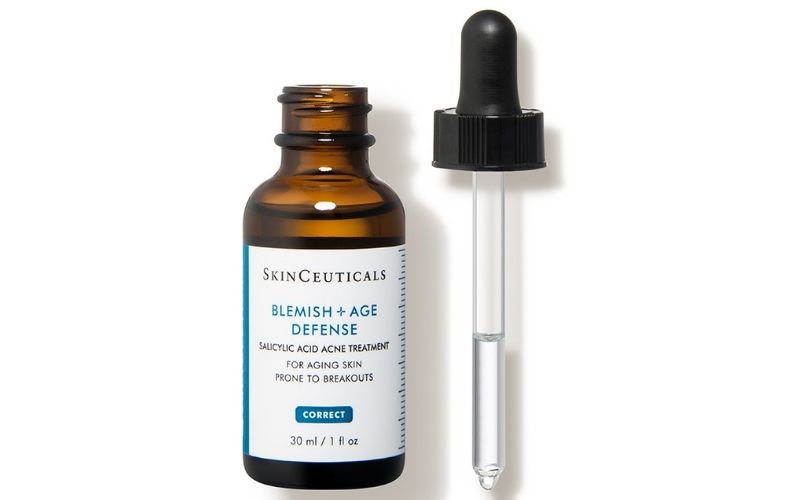 The second SkinCeuticals product on my list is the Blemish + Age Defense Serum, which is a targeted treatment for people that want to treat both acne and signs of aging.
Now, common stereotypes portray acne as a struggle that happens mostly in your teenage years. This is partly true given that hormonal changes are arguably most intense throughout puberty.
However, acne affects almost 30% of adult men and over 50% of adult women, which means it has no problem whatsoever appearing well into your 30s, 40s, and even 50s.
I know women in their 50s that still regularly experience breakouts when they change their skincare routine or eat certain trigger foods.
So the Blemish + Age Defense Serum is just that – a product designed for mature skins that are still dealing with unwanted breakouts.
The serum combines 2% dioic acid with an optimal alpha + beta-hydroxy acid formulation that helps to exfoliate the pores and dissolve the gunk that's causing them to become clogged while also improving the appearance of fine lines, uneven skin tone, and skin texture.
Dioic acid is an effective and highly tolerated ingredient that reduces hyperpigmentation.
It has been tested on 96 women with melasma, and during these studies, it has shown decent brightening results and no irritation compared to hydroquinone, which is an extremely efficient brightening agent but unfortunately cannot be tolerated by everyone.
Although further research is definitely needed, for now, dioic acid remains a very promising ingredient in skincare, and we will probably see more of it in the future.
Besides that, the Blemish + Age Defense Serum contains both salicylic acid and capryloyl salicylic acid, which is known as an LHA – a gentler derivative of salicylic acid that essentially helps promote cell turnover via targeted exfoliation without the potential irritation salicylic acid can deliver.
And lastly, the serum contains 3.5% glycolic acid, a super low yet efficient concentration that can be well tolerated by sensitive skin types and coarser skins alike.
Glycolic acid is the chief exfoliator that helps slough off the built-up layer of dead skin cells and promotes a more uniform, even, and glowing complexion.
The Blemish + Age Defense Serum comes in a standard, 30ml bottle, and it costs $92. This is a little bit pricey, but consider that it can last you anywhere from 3-5 months.
Given that it's an exfoliating serum, you won't need to use it daily, and you only need a few drops to cover the entire face and neck.
The Ordinary – Granactive Retinoid 2% Emulsion – $10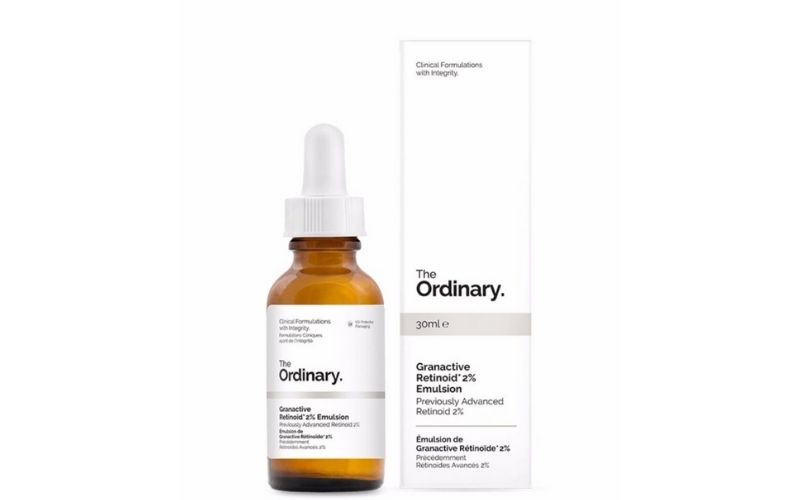 The Ordinary's Granactive Retinoid 2% Emulsion is a gentle, oil-free formula that delivers a potent anti-aging and anti-acne powerhouse into your skin.
The Hydroxypinacolone Retinoate (HPR), which is the main active ingredient in this product, is an advanced form of retinoid, a non-prescription ester all-trans retinoic acid.
This means that The Ordinary's Granactive Retinoid 2% Emulsion is a more gentle version of prescription retinoids that is also very effective but way less irritating than prescription strengths.
However, no matter how gentle it is, retinol speeds up the cellular turnover, which means there will be shedding, peeling, and potential irritations that can be mild to moderate when starting out.
Therefore, when starting to incorporate any product that contains retinols, you need to also have a good moisturizer in your skincare routine to help soothe irritations and moisturize the skin to prevent dryness.
Lastly, you also need to use a broad-spectrum, high SPF in the morning to prevent sunburn and skin damage.
La Roche Posay – Effaclar Duo Dual Action – $30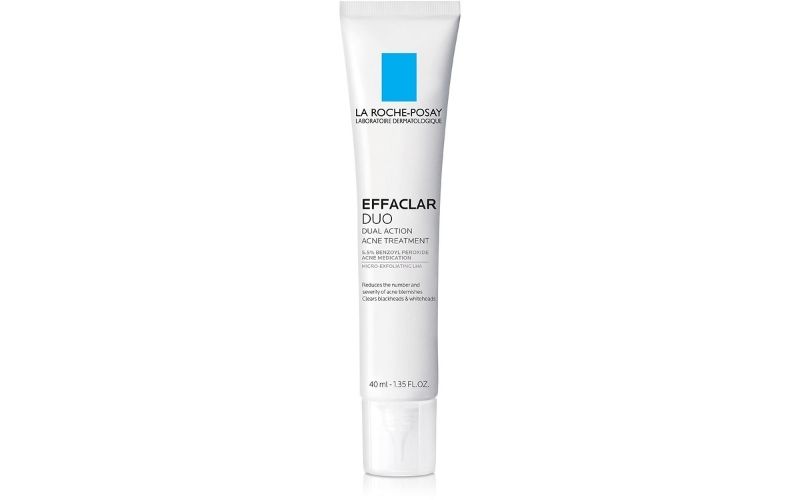 La Roche Posay Effaclar Duo Dual Action Acne Treatment is a serum treatment with a thicker consistency that can be used on its own or followed up with a moisturizer.
This product contains micronized benzoyl peroxide with 5.5% strength and capryloyl salicylic acid, which we already discussed above.
Benzoyl peroxide is a potent antibacterial agent that efficiently attacks the overgrowth of the acne-causing bacteria inside the pore by infusing the pore with oxygen.
It has a bad rep on the skincare market, especially because some people claim that it can promote free radicals and accelerate skin aging; however, it is still the most efficient over-the-counter acne treatment and just a step lower than prescription tretinoin.
Benzoyl peroxide isn't meant to be a constant part of your skincare routine. It is meant to be used to help get rid of acne, and once this happens, there's no need for you to continue to use it unless it's for occasional maintenance.
Once you get it over with, you can safely cut it out of your skincare routine and focus on regular exfoliation and a good skincare routine to help you maintain healthy skin.
Benzoyl peroxide can also be drying to the skin; therefore, it is important to use a good, non-comedogenic moisturizer to help you combat dryness and irritation.
Sunscreen in the morning is also a must because your skin will most likely become more sensitive while using benzoyl peroxide.
My name is Simone and I am a certified skin specialist. I created this website to teach my readers how to take great care of their skin and I also like to occasionally share my honest opinions on skincare products I've tried. You can learn more about me here.
The Acne Solution: Your Ultimate Guide To Flawless Complexion
An extensive, no-nonsense course showing you how to never have acne again, from a licensed Esthetician specializing in oily/acne-prone skin.