While you can totally find many decent budget-friendly products to target various skin concerns, there is one category where splurging is justified: the anti-aging category.
High-end anti-aging products usually contain a well-researched and most often patented active ingredient developed by some high-end brands such as SkinCeuticals, iS CLINICAL, SkinMedica, etc.
Alongside the "smart" active, your skin is also likely to benefit from a combination of other ingredients that boost the effectiveness of the main active and usually target other skin concerns, too.
High-end products also come in nicer, more aesthetically pleasing packaging; they have a nicer texture and tend to have a mild fragrance to seal the entire experience.
All this affects the final price, so when you think about it, high-end anti-aging products are usually worth the money because you are getting a new and uniquely developed active but also other ingredients that will improve your skin without the need of using multiple products.
That's not to say there aren't expensive anti-aging products that are not worth the money, like La Mer or Charlotte Tilbury's Magic Cream, which is why you need to know what you're paying for.
So, if you have been on the hunt for a luxurious anti-aging potion but don't know where to start, here is a list of the ten best high-end skincare products for mature skin that are well worth the splurge.
SkinCeuticals – Glycolic 10 Renew Overnight
SkinCeuticals – Retinol 1.0
SkinCeuticals – B3 Metacell Renewal
SkinCeuticals – Triple Lipid Restore 2:4:2
Sunday Riley – Good Genes Lactic Acid Treatment
SkinMedica – Age Defense Retinol Complex
iS Clinical – Reparative Moisture Emulsion
AnteAGE® – MD System
Neocutis – LUMIÈRE® Illuminating Eye Cream
Elemis – Pro-Collagen Eye Renewal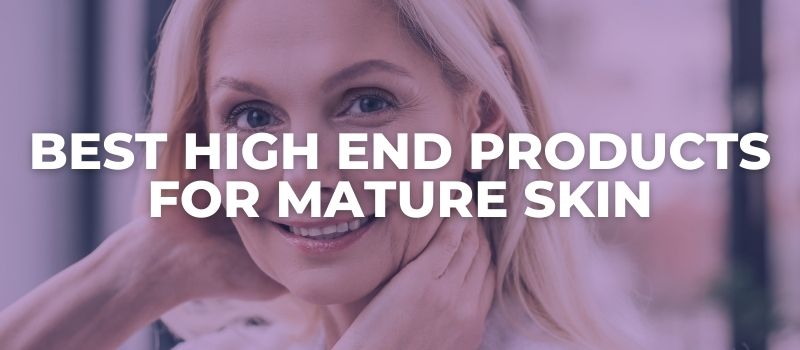 NB:
What if I told you I can show you how to never have acne again?
If you have acne and want it gone
,
read this message
.
SkinCeuticals – Glycolic 10 Renew Overnight – $80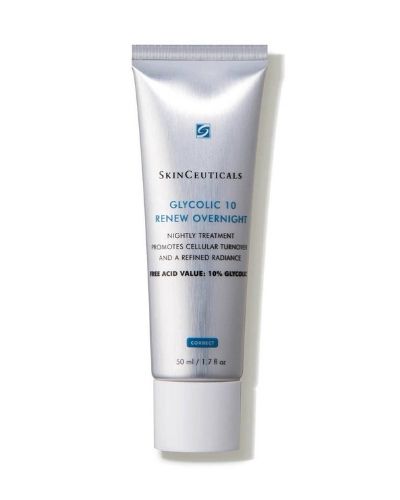 The Glycolic 10 Overnight Renewal is a corrective night cream that delivers 10% glycolic acid into your skin to help promote a more radiant, even, and uniform complexion.
This is suitable for more sensitive skin because it comes in a cream/emulsion type of consistency that doesn't act as aggressively as some liquid formulas that contain such a strong percentage of glycolic acid.
Still, it would be best to use it only a few times a week to prevent potential irritation or side effects while your skin is getting used to the potent acid.
Additionally, make sure to always follow it up with sunscreen in the morning to prevent sunburns and never use it alongside retinol.
Best for all skin types, including sensitive skin.
RELATED: Best Products to Even Out your Skin Tone.
SkinCeuticals – Retinol 1.0 – $88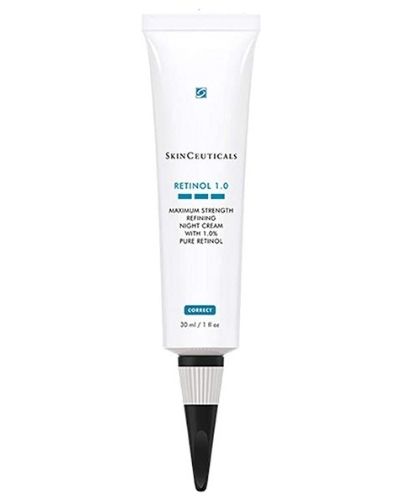 SkinCeuticals Retinol 1.0 is the strongest from their retinol range and is an ideal product for more hearty and resilient skin types dealing with problematic, sun-damaged, and uneven skin.
The purpose of this product is to promote peeling and cellular turnover to help skin cells travel to the surface of the skin faster and shed rapidly to achieve a smoother, healthier, clear, and evened-out complexion.
Besides that, the product also contains a blend of bisabolol, a soothing antioxidant derived from the chamomile plant, as well as propanediol and Boswella Serrata extract, a known anti-inflammatory agent that helps improve skin elasticity and visibly diminish wrinkle depth.
SkinCeuticals – B3 Metacell Renewal – $115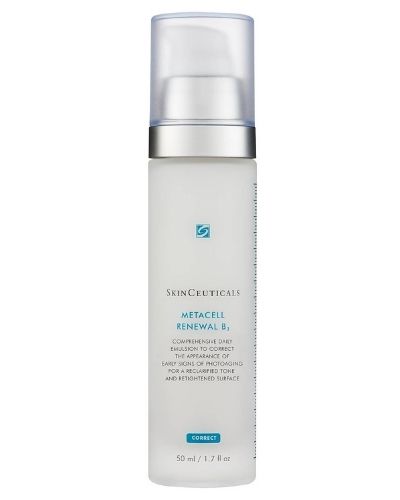 The B3 Metacell Renewal is a patented emulsion formulated with 5% niacinamide, firming tripeptide concentrate, and 15% pure glycerin to address early signs of aging such as expression lines, sun damage, and age spots.
The emulsion also contains propanediol, an ingredient that enhances product absorption, but it also helps with hydration and leaves a smooth, dewy finish on the skin.
Besides that, the B3 Metacell Renewal also contains a few different silicone types that help create a seal on the skin's surface to prevent loss of moisture; therefore, it can be used as a moisturizer for oily skin types.
SkinCeuticals – Triple Lipid Restore 2:4:2 – $130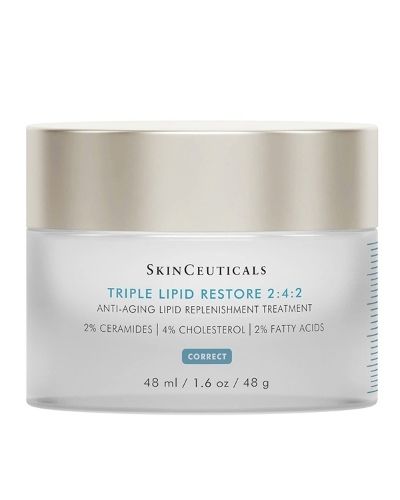 Triple Lipid Restore 2:4:2 is an anti-aging cream that contains the optimal lipid ratio of 2% pure ceramides 1 and 3, 4% natural cholesterol, and 2% fatty acids, which nourishes the skin while simultaneously correcting signs of aging.
The unique lipid correction cream will also strengthen the skin barrier and encourage the skin to repair itself from damage, be it caused by an allergen, an external pathogen, damaging UV rays, excessive dryness, or the natural aging process.
Triple Lipid Restore 2:4:2 has a creamy, fast-absorbing texture, and the moisturizer gives an instant radiance as soon as applied to the skin.
It is a great product for dry, mature skin, but it can also be used as post-procedure aftercare or when starting retinol to prevent the initial irritation and flakiness that's often associated with it.
Best for dry/mature/sensitive skin.
RELATED: Best Skincare Products for Dry and Flaky Skin.
Sunday Riley – Good Genes Lactic Acid Treatment – $85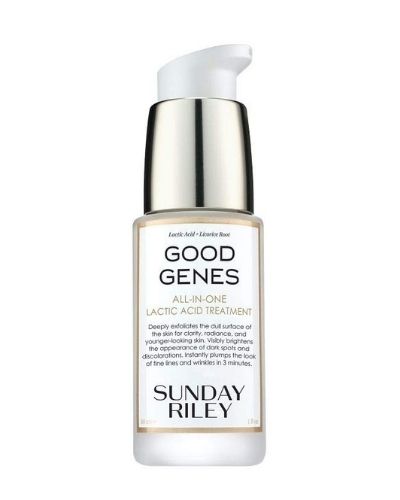 Sunday Riley's Good Genes Lactic Acid Treatment is a very mild and gentle lactic acid serum with a thicker consistency to hydrate, nourish, and soften the skin.
Besides the exfoliating and softening properties of lactic acid, the serum is also infused with soothing and barrier-repairing licorice extract as well as calming aloe vera extract to prevent irritation and minimize redness.
The serum is a great addition to the skincare regimen of someone dealing with dullness, uneven skin tone, rough texture, and mild hyperpigmentation alongside experiencing signs of aging.
SkinMedica – Age Defense Retinol Complex 1.0 – $93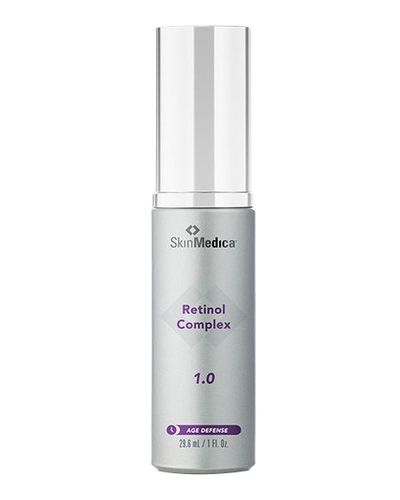 SkinMedica's Age Defense Retinol Complex 1.0 is a moisturizing retinol that contains heavier lipids such as soja oil, squalane, and a couple of fatty alcohols that help soften the skin.
It's also the strongest of SkinMedica's retinols, which means you can potentially experience some shedding in the beginning, but due to the moisturizing and nourishing ingredients, this will likely be very insignificant.
Besides that, the formula also contains barrier-strengthening niacinamide, antioxidant bisabolol, as well as palmitoyl tripeptide-8, which is a soothing ingredient obtained by the reaction of palmitic acid and tripeptide-8.
Best for dry/mature skin.
RELATED: Can You Mix Retinol with Niacinamide?
iS Clinical – Reparative Moisture Emulsion – $95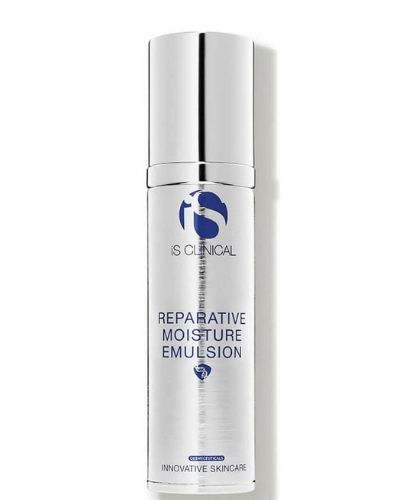 iS CLINICAL's Reparative Moisture Emulsion is a very lightweight moisturizer that smooths, rehydrates, and plumps dry and parched skin.
The emulsion contains a blend of pharmaceutical-grade botanicals, peptides, marine extracts, and antioxidants to help keep your skin smooth while fighting signs of aging, neutralizing free radical damage, and bringing back youth and radiance.
The product contains so-called extremozymes taken from the word extremophiles, which describes plants or organisms that live in the most hostile living conditions on the planet.
Any organism living in these extreme conditions must have developed unusual survival mechanisms; therefore, their enzymes are harvested for use in advanced anti-aging skincare.
Besides "extremozymes," the Reparative Moisture Emulsion also contains copper tripeptides that help stimulate collagen production by stimulating fibroblast activity, as well as superoxide dismutase, which is one of the most powerful antioxidants naturally found in the body that helps repair free radical damage and inflammation.
Best for all skin types, including oily and acne-prone skin.
AnteAGE® – MD System – $280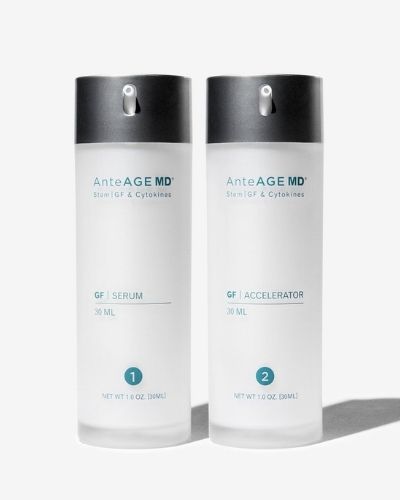 AnteAGE® MD System is a system of a serum and accelerator containing growth factors to help stimulate the fibroblast cells into producing more collagen and improve skin aging symptoms such as fine lines, wrinkles, age spots, uneven texture, dullness, and sun damage.
Besides that, the treatment system also contains anti-inflammatory benefits with a healing effect on the skin that helps instantly soothe red and irritated skin from acne or professional procedures such as laser, microneedling, and other ablative treatments.
The GF Serum contains barrier-strengthening, brightening, and oil-balancing ingredients such as niacinamide and salicylic acid alongside potent antioxidants and collagen-boosting ingredients such as carnosine and peptides.
The GF Accelerator, on the other hand, has an even higher concentration of potent antioxidants, including bakuchiol, Tremella Fuciformis Sporocarp (mushroom) extract, thioctic acid, and ubiquinone.
The treatment is also slightly heavier than the serum, with a combination of emollients that dry skins may find super beneficial.
However, the star collagen-boosting and anti-aging ingredient of both products is Human Bone Marrow Stem Cell Conditioned Media, which is a rich source of autologous cytokines and is used for tissue regeneration in clinical medicine.
Human Stem Cell Conditioned Media has shown many positive effects on the skin through trials, including improved moisture content, decreased size and depth of wrinkles, decreased roughness and texture on the skin, and improved hyperpigmentation and redness.
Neocutis – LUMIÈRE® Illuminating Eye Cream – $97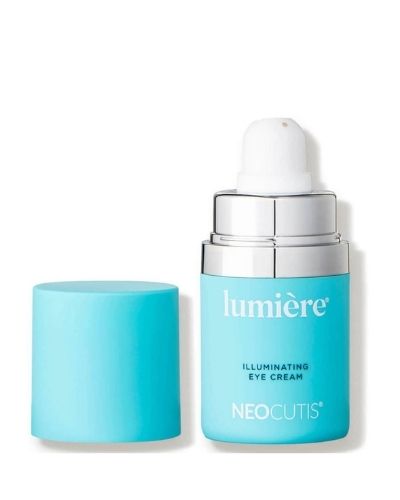 Neocutis LUMIÈRE® Illuminating Eye Cream is a creamy and gentle eye moisturizer that aims to restore clarity and youthful vitality to the tired, dehydrated, and aging area around the eyes.
The formula contains an advanced complex of growth factors that boost the ability of skin cells to repair themselves rapidly and revitalize the skin, increasing firmness and reducing wrinkles.
Besides that, vitamin C and bisabolol infuse the moisturizer with antioxidant properties to help improve uneven skin tone due to sun and free radical damage.
Lastly, the product also contains hyaluronic acid to plump and hydrate the skin while matrix proteins efficiently restructure sagging skin and help increase tightness, making it appear more youthful and uniform.
Elemis – Pro-Collagen Eye Renewal – $105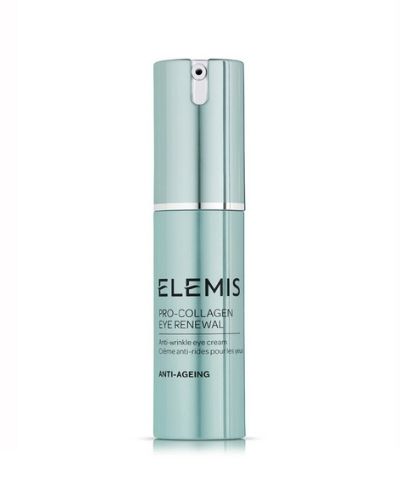 Elemis is a brand I first started working with at the beginning of my career, and although they base their products on essential oils, it's always been a dear brand to me, especially if I'm recommending it to someone who doesn't have an issue with fragrance.
All Elemis products smell absolutely divine, and their various lines are mostly focused on targeting skin aging.
The Elemis Pro-Collagen Eye Renewal is a rich and creamy moisturizer for under and around the eyes that contains soothing, emollient, and antioxidant ingredients to hydrate the skin and improve the appearance of fine lines and wrinkles.
One prominent ingredient is Horsetail extract, which is a plant rich in silicic acid, an ingredient that helps strengthen connective tissues and fight free radical damage due to its antioxidant properties.
My name is Simone and I am a certified skin specialist. I created this website to teach my readers how to take great care of their skin and I also like to occasionally share my honest opinions on skincare products I've tried. You can learn more about me here.
The Acne Solution: Your Ultimate Guide To Flawless Complexion
An extensive, no-nonsense course showing you how to never have acne again, from a licensed Esthetician specializing in oily/acne-prone skin.