An esthetician without her beauty tools is like a pot without a lid.
While I have tried many beauty devices throughout the years of being an aesthetician, I am always excited about trying something new and different.
Therefore, I was ecstatic when a FOREO representative contacted me and asked me to review one of their products.
You've heard of FOREO, right? It's the Swedish tech and beauty brand whose silicone cleansing brush dominates your Instagram feed.
And since, much like the company itself, I am also very passionate about technology and its potential to make our lives better, I immediately knew I would try anything they offered me.
So we settled on the UFO Mini 2, a cute little combination of tech and skincare that got me excited from the second I saw it.
I have been testing the UFO Mini 2 for nearly two weeks now, and in this article, I will give you my detailed review of my experience with the device.
So, as always, let's start from the beginning by explaining a little bit more about the device itself.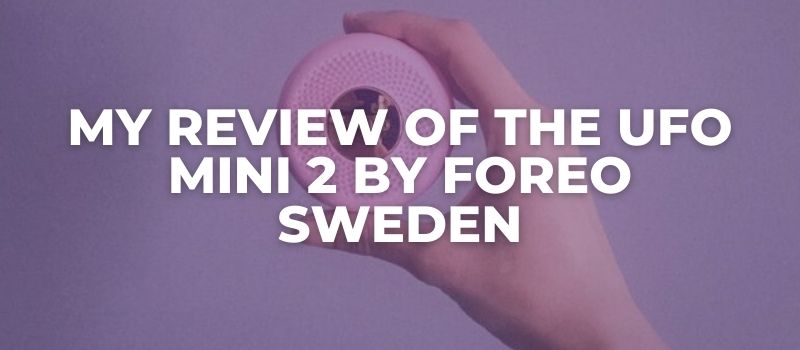 NB:
What if I told you I can show you how to never have acne again?
If you have acne and want it gone
,
read this message
.
What Is UFO Mini 2?
The UFO Mini 2 is a thermal smart mask treatment device designed to deliver optimum results by combining advanced technology with exclusive Korean mask formulas all while giving you that luxurious spa experience in no longer than 90 seconds.
It's super quick, convenient, and designed to help you pamper yourself and transform your complexion while not wasting too much of your precious time.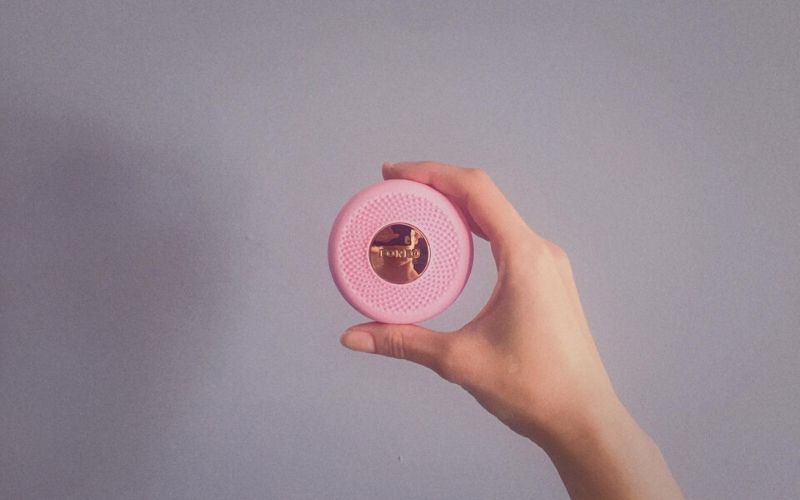 How Does UFO Mini 2 Work?
UFO Mini 2 is powered by the ultra-fast Thermo-Therapy and a full-spectrum of eight LED lights that offer an efficient and super-effective masking experience inside the comfort of your own home.
Made to work in tandem with FOREO's activated sheet masks, the thermo-therapy is essentially a heating feature that helps soften the skin and open the pores to absorb the essence of the activated sheet mask while boosting your complexion with its LEDs that glow red and green throughout the treatment.
Additionally, the T-sonic pulsations work together to boost the effects and absorption of each mask while also giving you a gentle and pleasant facial massage.
Using the UFO Mini 2 is very simple. All you need to do is secure the mask to your device, turn it on, and glide it across your face for a complete smart facial treatment within seconds.
However, before you're able to do that, you need to adjust everything required in the FOREO mobile app, so let's explain a little more about that in the following paragraph.
Navigating The FOREO For You Mobile App
Once you download and start the FOREO For You mobile app, you will be asked to create an account and confirm it via email.
Once you do that, you can move on to step 2 which is registering your UFO Mini 2 device by submitting some relevant information like the date and proof of purchase.
I was a bit weirded out by this in the beginning, however, I realized this was being done so that they can activate your warranty, which as you see below lasts for two years from the day of registering the device.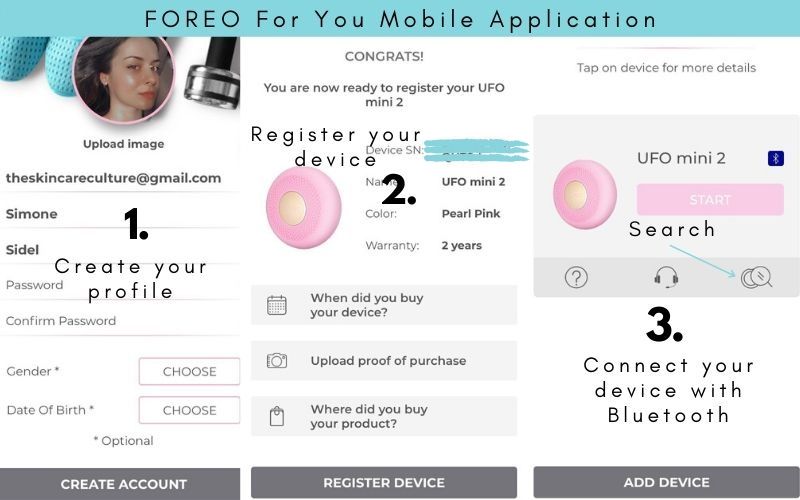 The third and final step is to connect your device through Bluetooth and click the "Search" icon showed on the screenshot with an arrow.
You are now set and can move on to the next step which is adjusting the UFO Mini 2 device in place.
Adjusting The UFO Mini 2 In Place
Now before connecting the UFO Mini 2 device with the mobile app, you need to adjust and secure the mask in place.
Here's a short step by step on how to do it: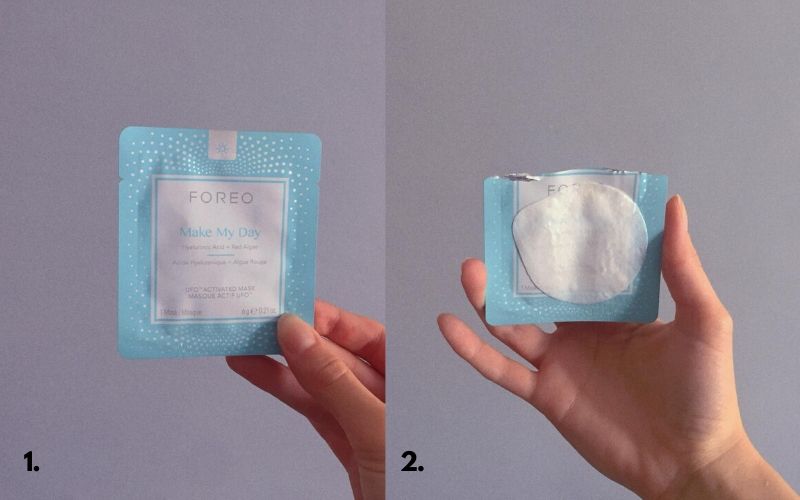 When I took the first glance at the UFO Mini 2 without seeing the masks, I just assumed that there is a standard sheet mask inside the package.
At first, I thought I need to place the sheet mask on my face and glide the device across it, which didn't really make sense but then I realized that the masks aren't a standard, full-face sheet mask but they are cut out to fit the device, instead.
Also, don't throw the package of the mask just yet as you will need to scan the barcode later.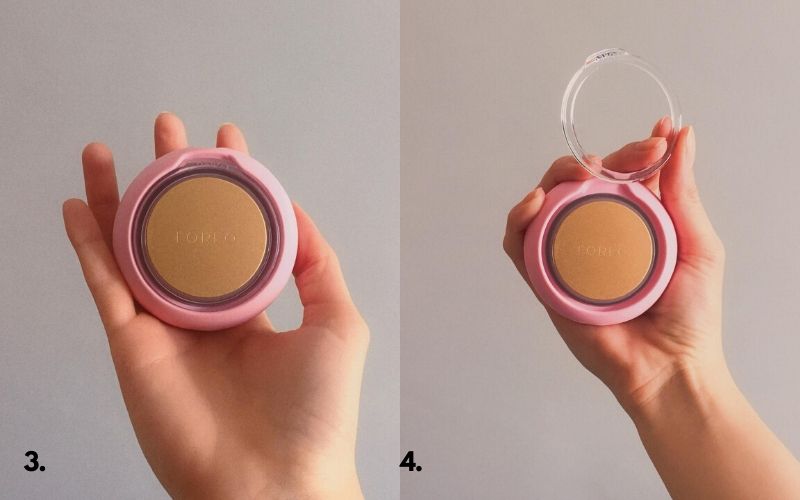 Then you need to lift the plastic attachment ring off the device and free up space for the mask to fit inside the crevice.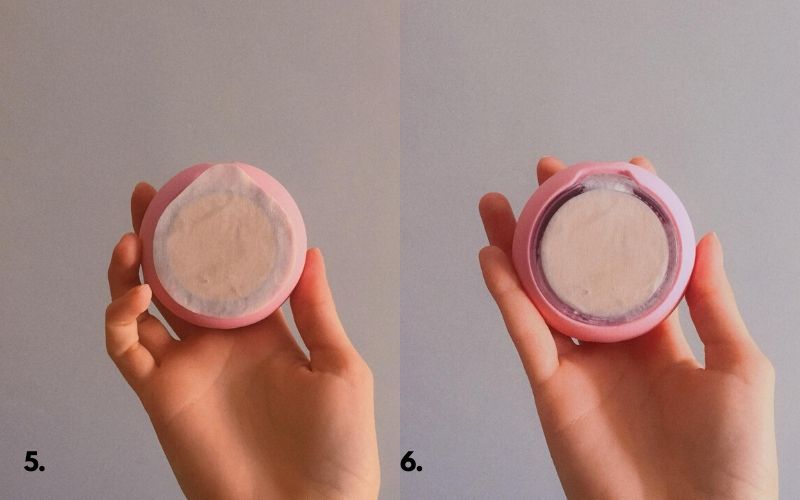 Place the mask on the device and lock it in place with the plastic attachment ring.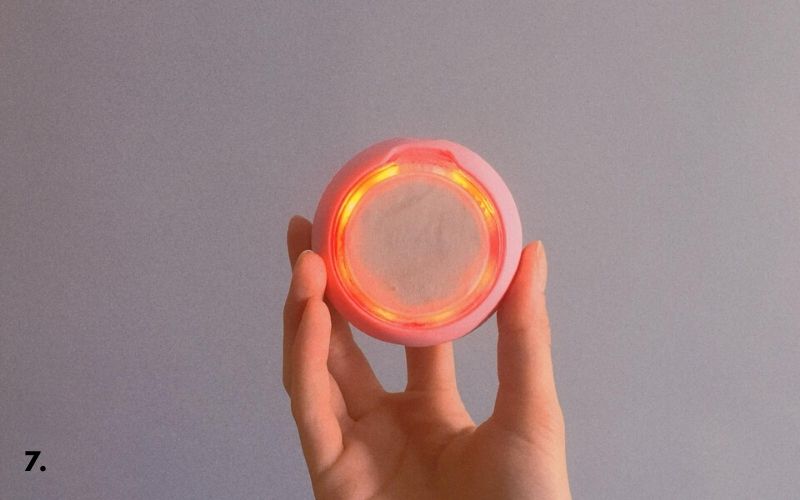 Voilà! Your UFO Mini 2 is now ready to illuminate your complexion. It looks so much better than I imagined it! Ten points for being sleek as hell, FOREO.
Now, take a look at how to connect the UFO Mini 2 device with the mobile app and enjoy your facial treatment.
Connecting The UFO Mini 2 Device With The Mobile App
Once your UFO Mini 2 is on and glowing, you need to turn on the Bluetooth on your mobile. The device will then connect with the app and you can tap on the mask you want to use at that moment.
Now, remember when I told you not to throw the package of the mask away? I hope you listened.
Once you select your preferred mask, the app will then ask you to scan the barcode on the back of the package.
As soon as you do that, the app will remind you to secure the mask, which you already did above, and ask you to hit the "Start" button on the bottom.
Explaining the treatments
Here's each step of the 90-second treatment with the UFO Mini 2 device explained.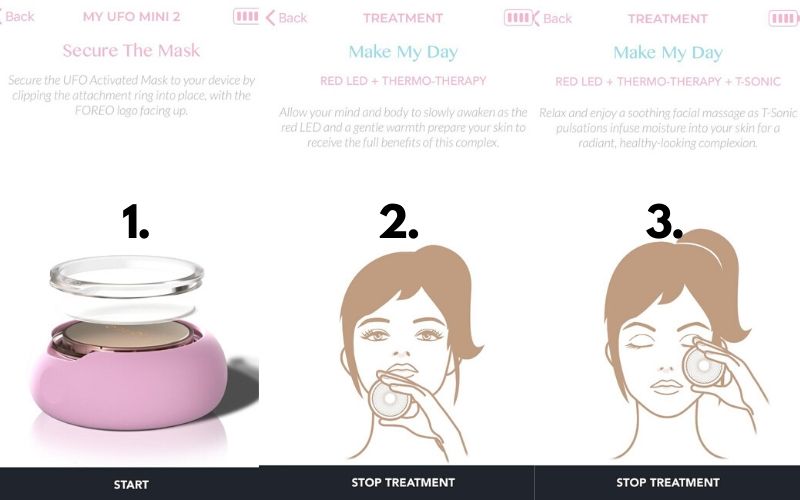 Step 1: Secure the mask and start your treatment
Step 2: The device will start to gently warm up while the red LED light glows and helps the essence of the mask penetrate the skin.
Step 3: After a few seconds, you will feel the smooth t-sonic pulsations on your skin along with the pleasant warmth and red glow.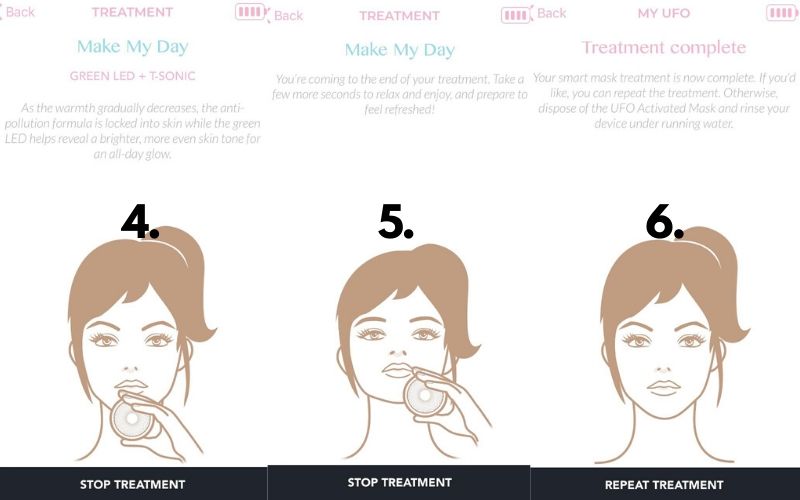 Step 4: The red LED glow will then swiftly switch to a bright green glow and the warmth will gradually start to decrease.
Step 5: The green LED glow is still on and your skin will surely feel slightly more refreshed at this point due to the natural cooling sensation the material of the UFO Mini 2 gives.
Step 6: Your 90-second treatment is now finished, however, you can easily repeat the treatment by clicking the button at the bottom and scanning the barcode of the same mask sachet one more time.
In fact, I was re-scanning it up to three times on a daily basis so I don't know if you can go over that number but you can definitely use the same barcode up to three times.
Using The UFO Mini 2 With Different Wavelengths
Besides having your programmed treatment of 90-seconds, you can also click the little gear above the mask options and access an array of different wavelengths that all have a unique function on the skin.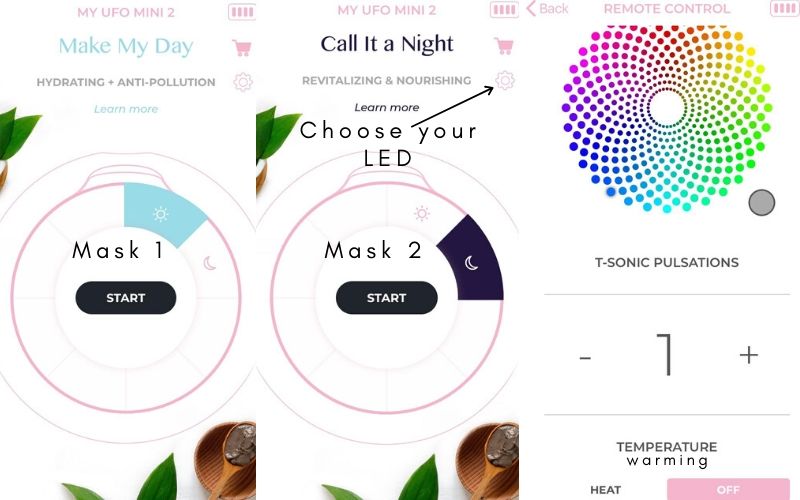 Besides choosing a color you want to use for your treatment, you can also select the plus (+) button to enable the t-sonic pulsations that massage your skin. You can also enable or disable the warming feature with a single click.
Now, let's explain a little about the different effects LED wavelengths have on our skin.
Red LED – Or the anti-aging color has the ability to stimulate the production and repair of collagen and elastin in the skin and make the skin appear firmer and the existing wrinkles less prominent.
Blue LED – My favorite color in facial devices due to its ability to help destroy the acne-causing bacteria. Now the blue light alone won't get rid of acne, however, when combined with other targeted treatments, it has shown the potential to destroy the harmful bacteria.
Green LED – The color that works to even out dull skin tones, brighten a dull complexion, and have an effect on other skin discolorations.
White LED – I never used the white LED because I am strongly biased towards the blue and purple, however, it is said that this is the one that penetrates deepest into the skin to activate the skin's renewal system and promote a rejuvenating effect.
Purple LED – My second favorite light is a combination of red and blue and it aims to boost radiance on the skin, soothe inflammation, and accelerate healing.
Orange LED – Works to reverse sun damage in the skin and revitalize the complexion with a healthy glow.
Yellow LED – Yellow LED works great for rosacea-prone skin and it also helps soothe redness and inflammation, however, if you have rosacea, avoid using the UFO Mini 2 with the heating function for a prolonged time.
Cyan LED – Another combo of blue and green light, cyan LED helps soothe inflammation, calm stressed skin, and even reduce the size of broken capillaries visible on the surface of the skin.
UFO-Activated Masks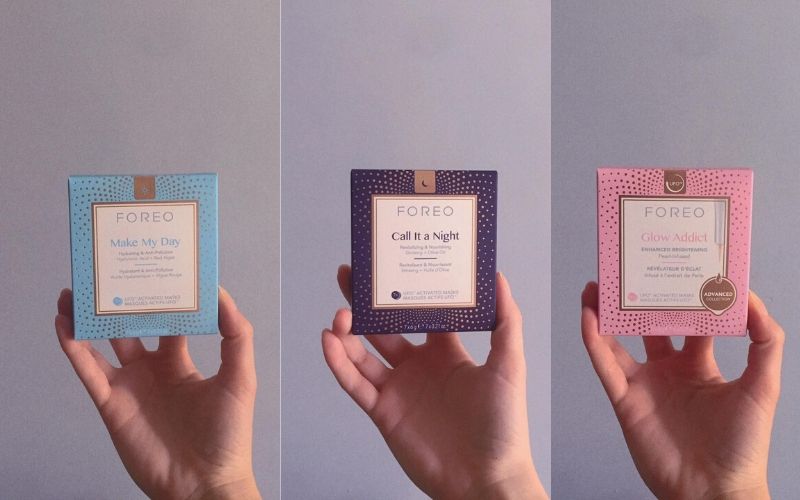 The UFO-Activated masks are mini sheet masks in the shape of a round circle to fit perfectly over the gold disc with the FOREO logo.
They have quite the range of different masks and each pack except the "Make My Day" and "Call It A Night" consists of 6 single-use sheet masks.
The "Make My Day" and "Call It A Night" are the OG masks that contain 7 single-use sheet masks in each pack. These are the ones I've used and loved so far, however, I am eyeing a few more for my next purchase.
In fact, FOREO has different bundle offers where you can benefit from a discount by buying an assortment of mask packs.
Final Thoughts On UFO Mini 2 by FOREO
As I already said above, I love beauty devices and I often use them on myself and clients. That is not to say beauty devices are a necessity in your skincare regimen.
They are a nice luxurious pleasure that helps the skin in many different ways depending on the device, however, it is entirely up to you whether you should purchase a beauty device or not.
I personally love them, I love technology and I truly believe that it can improve our skin and lives in general, so I am happy to say that I enjoyed using my UFO Mini 2 by FOREO Sweden for the past couple of weeks and this little fella will surely have a place in my daily skincare regimen.
On that note, I would like to thank FOREO for getting in touch and sending this lovely device for me to test.
Check out the UFO Mini 2 by FOREO Sweden.
I hope you enjoyed reading and found my review of the UFO Mini 2 by FOREO Sweden helpful. Also, let me know if you've tried the UFO Mini 2 and how did it work for you. I read and engage with all my comments, so let's chat below!
My name is Simone and I am a certified skin specialist. I created this website to teach my readers how to take great care of their skin and I also like to occasionally share my honest opinions on skincare products I've tried. You can learn more about me here.
The Acne Solution: Your Ultimate Guide To Flawless Complexion
An extensive, no-nonsense course showing you how to never have acne again, from a licensed Esthetician specializing in oily/acne-prone skin.