After seeing my review on the F-Balm by Drunk Elephant, a fellow skincare lover recommended me to try the Lala Retro Whipped cream and give my thoughts on it.
As someone with oily/acne-prone skin, I was a little hesitant due to the several problematic ingredients it contains, however, I figured it would be a perfect way to test it and see whether these ingredients truly deserve the bad rep they have.
So after using it for about three weeks, here is my Drunk Elephant Lala Retro Whipped Cream review.
TLDR Review Summary: While I was hoping that the study about Isopropyl isostearate might be bogus, it turned out to be the case with my oily/acne-prone skin; therefore, I cannot recommend the Lala Retro Whip for anyone that is currently dealing with acne.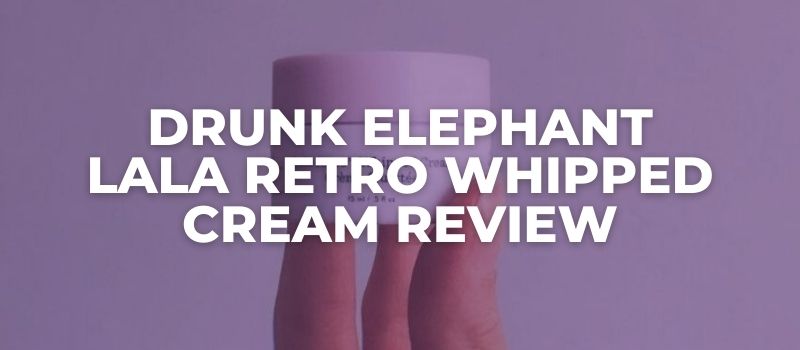 NB:
I can show you how to never have acne again.
If you have acne and want it gone
,
read this message
.
What Is The Lala Retro Whipped Cream?
Lala Retro Whipped Cream is a facial moisturizer based on a blend of six African oils: Marula, Mongongo, Ximenia, Baobab, Kalahari, melon, and passion fruit oil.
It is intended to be the nourishing rescuer dry skins need, therefore, it isn't a product that's super popular amongst the oily skin squad.
Additionally, it is formulated at an ideal pH level of 5.5, which is the perfect pH for healthy and happy skin, and it comes in an airtight container that prevents oxygen from messing up the formulation.
This is a huge plus, so I love that Drunk Elephant is setting an example for beauty brands out there. Let's hope that more of them will listen and implement this standard with their own products.
The Ingredients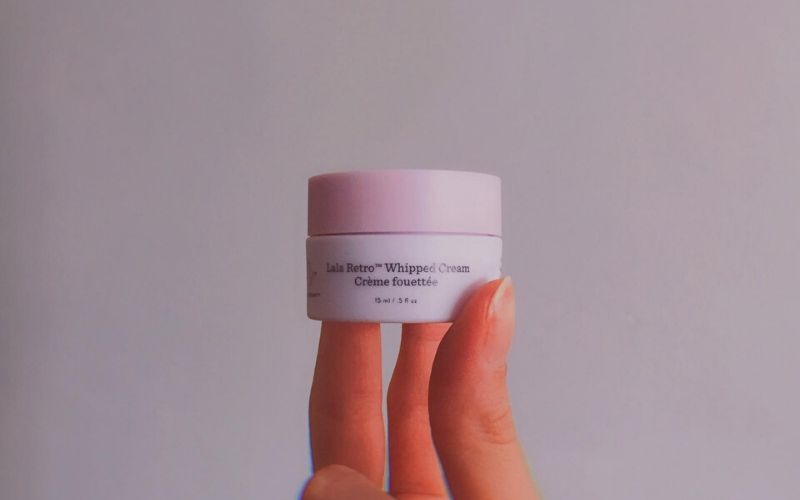 So, as we already mentioned above, Lala Retro Whip is based on a blend of 6 African oils that are playing an important role in moisturizing the skin and feeding dry skin with the needed nourishment it usually lacks.
It also contains a small molecular salt of hyaluronic acid which is an excellent humectant suitable for all skin types.
However, the Lala Retro Whipped cream has a few ingredients that have been marked as "comedogenic", meaning they have the potential to clog the pores and are not recommendable for people with oily/acne-prone skin.
I went through several studies done on these ingredients and this is what I found.
Isopropyl Isostearate
Isopropyl Isostearate is an oily liquid that softens the skin. It is the ester of isopropyl alcohol and isostearic acid and it is described as a highly emollient substance that allows products to spread easily.
However, isopropyl isostearate is bad news for oily skin types as it has a high comedogenicity rating. It's marked as a 5 on the comedogenic scale, which is the highest rating. Dang, this thing is even higher than coconut oil.
The data presented in a study was gathered from using skin from a rabbit's ear to test this substance and it showed positive in the essay, meaning it isn't safe for acne-prone skin.
Now, the rabbit's ears and our own skin obviously aren't the same thing and in fact, the skin on the rabbit's ears is much more sensitive than the human skin.
Therefore, this study may potentially be flawed, so you should always resort to understanding your skin even when it doesn't agree with something that you're using.
Glyceryl Stearate SE
This is a widely used oily ingredient that can magically blend with water. It is also called self-emulsifying and this is what the SE in the name stands for.
It is a good emollient in cosmetics products and is often used for the softening effect it has on the skin.
Glyceryl Stearate SE is also deemed as a moderately comedogenic ingredient with a rating of 3 on a scale from 1-5.
Palmitic Acid
Palmitic acid is a fatty acid naturally found in our skin that has more than one function in cosmetic products. It can be used as a cleansing agent or as a nice emollient to soften the skin.
The thing is that palmitic acid is found to be mildly comedogenic with a rating of 2. Do I think this is something you need to worry about?
Probably not, but I still want to throw it out there so that you can avoid it if you think your skin will benefit from doing so.
Stearic Acid
Stearic acid is another fatty acid that's widely used in cosmetic products as an emulsifier that helps oil and water mix together as well as an emollient that has a softening effect on the skin.
Stearic acid may be produced synthetically or derived from animal fat and it can be useful in strengthening the skin barrier and preventing transepidermal moisture loss.
However, stearic acid has also been found to have the ability to be a bit too much for oily skin types and has been given a rating of 3 on the comedogenicity scale.
This means that it can potentially clog the pores and cause the formation of acne.
Tocopherol
Tocopherol or commonly known as vitamin E is one of the most well-known antioxidants that occur naturally in human skin but can decrease due to constant environmental exposure.
There are eight basic forms of the entire fat-soluble vitamin E molecule, which are either synthetically or naturally derived. The most typical forms are d-alpha-tocopherol, d-alpha-tocopherol acetate, dl-alpha tocopherol, and dl-alpha-tocopherol acetate.
The "d" prefix in front of the "alpha" indicates that the product was derived from natural sources, such as vegetable oils or wheat germ; the "dl" prefix indicates that the vitamin was created from a synthetic base.
Both synthetically produced and naturally-derived forms of vitamin E have powerful antioxidant activity, however, research has shown that natural forms are slightly more effective from the two.
It is also widely recommended that vitamin E can help scars and although popular, this statement isn't backed by science as research has shown that not only this isn't effective, but it can actually make matters worse in some cases.
Additionally, tocopherol is a heavier substance that, depending on where it is on the ingredient list, can potentially clog the pores and cause acne formation.
The Consistency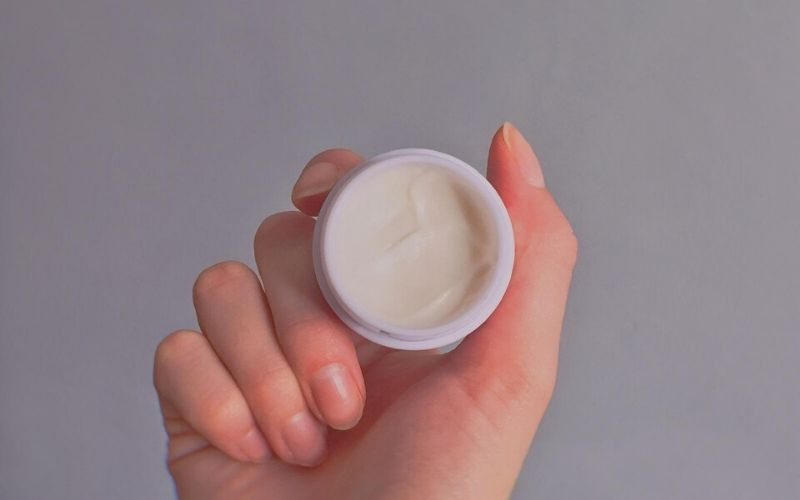 The Lala Retro Whipped Cream has a luxurious and whipped texture much as its name describes it and it doesn't feel overpowering on the skin.
However, it does appear a little greasy and if your skin is on the oily side, it is unlikely that it will fully absorb the texture, so you will end up with a visible layer on your face.
Dry skins, on the other hand, will soak up the airy blend without any suffocating feeling and will surely experience that lovely, nourishing, and moisturizing feeling.
Additionally, this may not work for anyone who lives in a hot climate (like myself) or tends to sweat a lot on the face.
Scent
The Lala Retro Whipped cream has no added fragrance, however, the moisturizer does have a slight scent that I can't really recognize but it's not super overpowering.
It smells a little weird, like some heavy oil if I had to put a name to it, but nothing too bad.
The Performance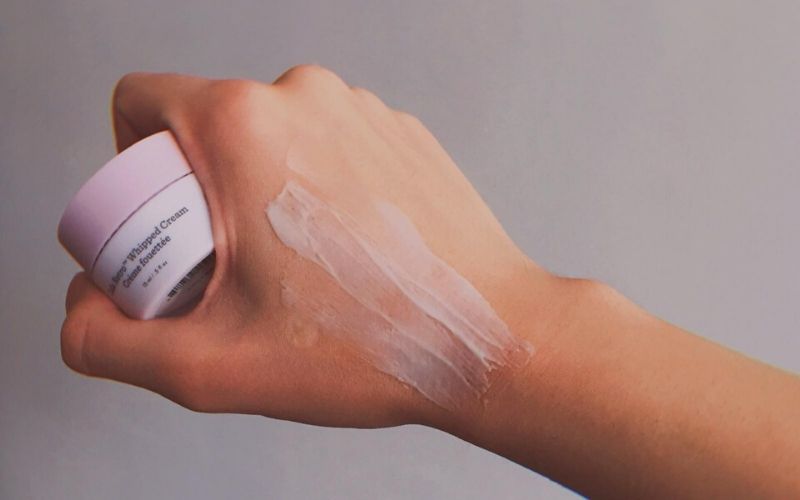 Now here comes my experience with using the Lala Retro Whipped Cream.
Right off the bat, I am going to tell you that this moisturizer broke me out.
I started using it immediately once I got it and I was applying it right after my niacinamide by the Inkey List and Marine Hyaluronics by The Ordinary both morning and evening.
There were no issues for the first week or so, but I wasn't all too pleased with how greasy it was leaving my skin.
I also didn't like the fact that my skin looked super oily in the morning unlike after using my F-Balm that makes my skin looking supple and healthy when I wake up.
However, mid-second week of using the Lala Retro Whipped Cream and all hell started breaking loose on my skin. It first started with a pimple here and there on my forehead, which I thought nothing of.
But then it started spreading towards my right temple and soon it came down to my cheeks where I had to deal with several massive cysts.
My right cheek is always much more prone to breakouts because I also tend to sleep on that side but this time both my cheeks were having solid red bumps.
I also started noticing small, pus-filled pimples around my nose and there was also a big papule (red pimple without pus) on the tip of my nose.
I immediately knew what the problem is because the only thing I changed into my routine was starting to use this moisturizer as well as the B-Hydra serum by Drunk Elephant, which I don't think was the problem.
As always, I made my husband test it out because he's got dry skin and I want to see how a product performs for both dry and oily skin and he happened to like it.
Additionally, he doesn't have any skin concerns and acne has never been a problem of his, so he did tolerate the Lala Retro Whipped Cream pretty well and he actually liked it. It's his moisturizer now.
While I was hoping that the study about Isopropyl isostearate might be bogus, it turned out to be the case with my oily/acne-prone skin, therefore I cannot recommend the Lala Retro Whip for anyone that is currently dealing with acne.
Dry skins go ahead, go wild with it, but oily skins prone to breakouts should definitely stay away from it and opt for something less clogging, instead.
Lala Retro Whip Pros:
Excellent moisturizer for dry skin
Has a mild scent
Doesn't have added fragrance
Contains six super-moisturizing oils
Lala Retro Whip Cons:
Not the best option for oily/acne-prone skins
Expensive
Contains clogging ingredients
Feels greasy on the skin
Where To Buy Lala Retro Whipped Cream?
You can buy the Lala Retro Whipped Cream on the following websites:
---
---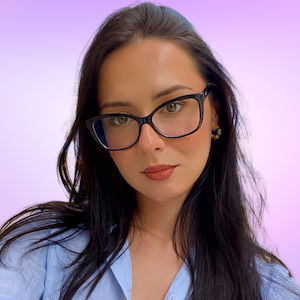 My name is Simone and I am a certified skin specialist. I created this website to teach my readers how to take great care of their skin and I also like to occasionally share my honest opinions on skincare products I've tried. You can learn more about me here.
The Acne Solution: Your Ultimate Guide To Flawless Complexion
An extensive, no-nonsense course showing you how to never have acne again, from a licensed Esthetician specializing in oily/acne-prone skin.