As someone with excessively oily, acne-prone skin, I practically grew up thinking, "what do I need a moisturizer for?".
This thinking continued until I started studying to become a skin specialist and I was astonished to find out how much a moisturizer can actually help my acne-prone skin.
Therefore, I became something of a devotee and started applying a moisturizer religiously morning and evening. But that didn't solve my skin issues because of a few things I was doing wrong.
I was using a moisturizer that wasn't suitable for my skin type

I was using the moisturizer in a wrong way
So in today's article, I will explain what you should look for in face moisturizers, the different types of moisturizers, as well as give you a list of…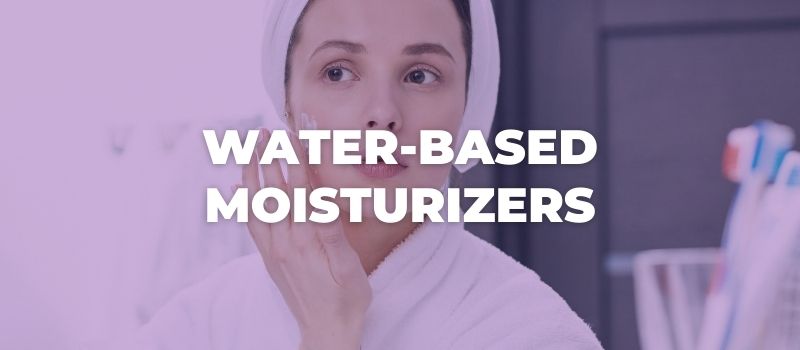 NB:
What if I told you I can show you how to never have acne again?
If you have acne and want it gone
,
read this message
.
The 5 Best Water-Based Moisturizers For Acne-Prone Skin (Reviewed)
[ninja_tables id="7123″]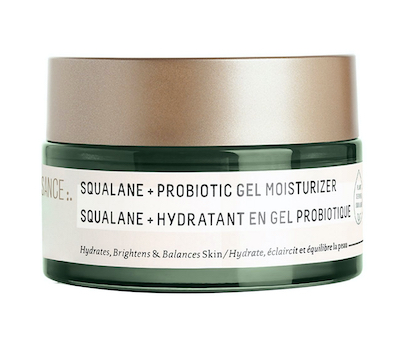 The Squalane + Probiotic Gel moisturizer by Biossance, although pricey, is an excellent moisturizer that contains ingredients to help hydrate and replenish the skin while soothing any existing redness.
It contains a nice blend of humectants, ceramides, and emollients that may be a bit overpowering for oily skins during the day, however, it is a great nighttime moisturizer your skin will certainly love waking up to.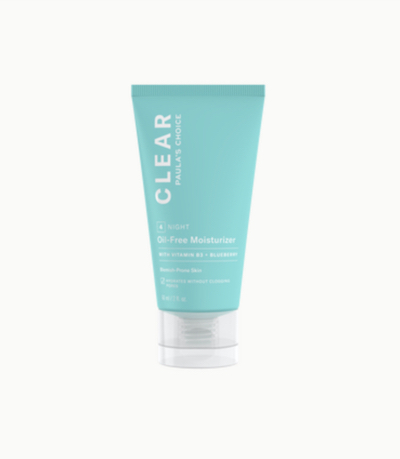 The Paula's Choice oil-free lightweight face moisturizer is a hit amongst people with oily/acne-prone skins, myself included.
This is what I typically use in my morning routine as it gives my skin that lightweight hydration without making it look or feel greasy throughout the day,
It has a nice blend of humectants, emollients, and antioxidants as well as soothing and anti-redness ingredients that are super-beneficial for inflammatory conditions such as acne.
I combine it with my RESIST Wrinkle Defense SPF 30 during the day and this combo is a dream for oily/acne-prone skin.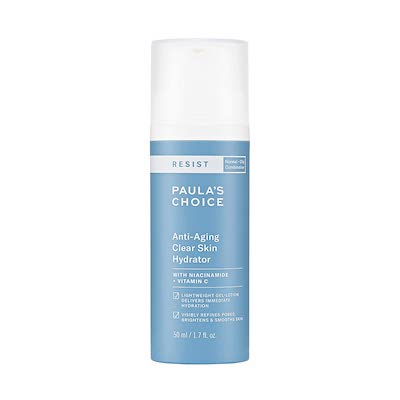 This unique anti-aging gel-lotion moisturizer is the nighttime equivalent of the Oil-Free lightweight moisturizer I mentioned above.
It is certainly not necessary that you have them both in your routine, but I like them both and I've found a nice dose of balance by incorporating them in my routine.
This hydrating moisturizer is also packed with humectants, emollients, antioxidants, as well as cell-communicating ingredients that help fade post-breakout marks and promote younger-looking skin.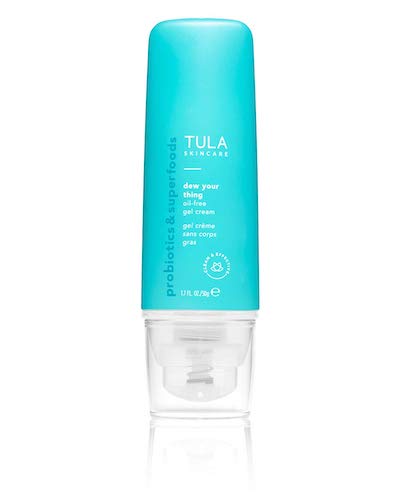 I saw the Tula Aqua Infusion gel-cream moisturizer on my Insta feed where a fellow skincare lover was using it as a part of her nighttime routine and I decided to buy it after checking the ingredients.
The moisturizer works for both dry and oily skin types as it has fantastic hydrating and nourishing ingredients, but it might not be enough on its own for very dry skins.
It has a weightless, oil-free texture and it has several mildly exfoliating ingredients, which at first I thought I might have a problem with as I prefer my exfoliating actives in a toner, but I didn't encounter any issue with them here.
Additionally, the only thing I didn't like about it was that it contains some fragrance but it's at the very bottom so if your skin is not usually sensitive, you shouldn't be having an issue with it.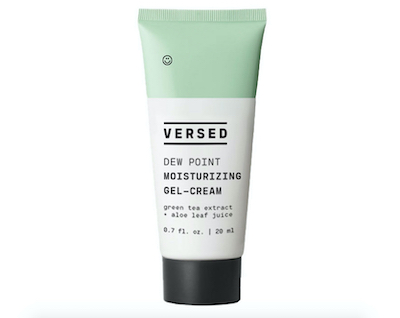 The Versed Skin Dew Point Moisturizing Gel Cream is an affordable, no-fuss, straight-to-the-point moisturizer that does exactly what it says it does – it makes your skin look dewy.
It is packed with hydrating and nourishing ingredients as well as some soothing and anti-inflammatory ingredients that might be especially beneficial for acne-prone skins.
The moisturizer has a nice, lightweight texture that absorbs into the skin easily and keeps the moisture where it should be – deep into the skin.
---
Why Do You Need a Moisturizer?
You need a moisturizer for your skin to remain supple, lubricated, and maintain a stronger barrier to protect you from exogenous substances and excessive water loss.
The main function of the skin is to protect your body from external aggressors. In order to do this, the skin relies on its barrier that is located in the outermost layer of the epidermis, called the stratum corneum.
This layer is composed of corneocytes which we also know as dead skin cells and these cells lie embedded in organized lipid domains.
Now the dead skin cells are indispensable in the skin's healthy ecosystem even though they may technically be considered dead because they contain no nuclei (the living part of the cell).
The dead skin cells are part of what is called the Natural Moisturizing Factors or NMFs and these are what allows the skin cells to hold on to water and maintain optimal hydration levels within the outermost layers of the epidermis.
However, the dead skin cells shed and fall off naturally through a process known as desquamation, but without water, the corneocytes are unable to shed and they accumulate which then gets the stratum corneum disorganized.
This leads to flaky skin and dull complexion but it can also lead to acne breakouts because the accumulated dead skin cells can contribute to the clogging of pores and the formation of acne.
Furthermore, the lack of moisture in the skin will trigger the sebaceous glands to produce more oil in order to compensate for what's missing, but unfortunately, this may also contribute to excessively oily skin and the formation of blackheads, whiteheads, and acne breakouts.
So, all this tells us that we need to give our skin sufficient moisturization so that it can function properly and look healthy.
What Should You Look For In a Face Moisturizer?
A good moisturizer should contain:
Humectants
Humectants are water-loving ingredients that draw moisture into the stratum corneum, the top layer of the skin, whether from the environment or from the deeper layers of the skin.
These help the skin cells to stay hydrated.
Some most popular humectants used in skincare products are:
Hyaluronic acid (Sodium hyaluronate) – a sugar molecule produced in the body and found in the skin, joints, and connective tissues that keeps the tissues hydrated and lubricated.
Glycerin/Glycerol – a sweet-tasting, clear liquid that also occurs naturally in the body but it can be derived from coconut, soy, or palm.
Propylene glycol – a colorless synthetic liquid that's often used in foods and drinks besides cosmetics
Urea – a colorless organic compound that's part of the skin's Natural Moisturizing Factors (NMFs) and it helps maintain hydration.
Emollients
Emollients that are found in moisturizers serve as ingredients that soften the skin and make it feel smooth and nourished.
They are also occlusive agents meaning they provide a layer of a protective barrier that helps prevent moisture loss from the skin.
Some most popular emollients found in skincare products are:
Dimethicone – a silicone that calms irritation, minimizes redness and protects the skin from further damage.
Stearyl/Cetearyl alcohol – often used to help soften, soothe, and heal the skin as well as thicken and stabilize cosmetic products.
Cetyl alcohol – a great and commonly found ingredient in skincare products used to soften and smooth the scales of the skin and help reduce rough, flaky skin.
Ceramides
Ceramides are lipids (fats) that are naturally found in high concentrations in the uppermost layers of the skin.
They makeup over 50% of the skin's composition and play a vital role in determining how the skin handles potential exogenous threats including natural environmental aggressors, usage of drying products, and the natural aging process.
Ceramides help form the skin barrier and they help the skin retain moisture. Without the proper ratio of ceramides, the skin's barrier can become compromised which will then lead to dryness, itching, irritation, etc.
A very popular ceramide found in skincare products is squalane, which is a lipid found naturally in the oils produced by our sebaceous glands.
Is Water-Based Moisturizer Good For Dry Skin?
Water-based can be good for dry skin, however, they might not be enough depending on the severity of the dryness.
Dry skin types will surely benefit from richer and thicker moisturizers that are more oil-based.
Is Water-Based Moisturizer Good For Dehydrated Skin?
Yes! Water-based moisturizers are exactly what dehydrated skin needs.
Unlike having a dry skin type that lacks oil and needs thicker and heavier creams, having dehydrated skin means that your skin is lacking water, and this is something that can be replenished by using a water-based moisturizer. \
My name is Simone and I am a certified skin specialist. I created this website to teach my readers how to take great care of their skin and I also like to occasionally share my honest opinions on skincare products I've tried. You can learn more about me here.
The Acne Solution: Your Ultimate Guide To Flawless Complexion
An extensive, no-nonsense course showing you how to never have acne again, from a licensed Esthetician specializing in oily/acne-prone skin.