It's been a while since I've compared Paula's Choice to a more budget-friendly option that does the same thing.
Now, we all know that Paula is the queen of going the extra mile and adding more than one beneficial ingredient in her products, which is why her products lean on the pricier side. But we all love an affordable option that will give us smooth and glowy skin.
Having already used and reviewed the Inkey List AHA Serum, I decided to purchase Paula's Choice gel exfoliator and see how the two AHAs perform next to each other.
This is my Inkey List vs. Paula's Choice AHA comparison, so let's jump right in: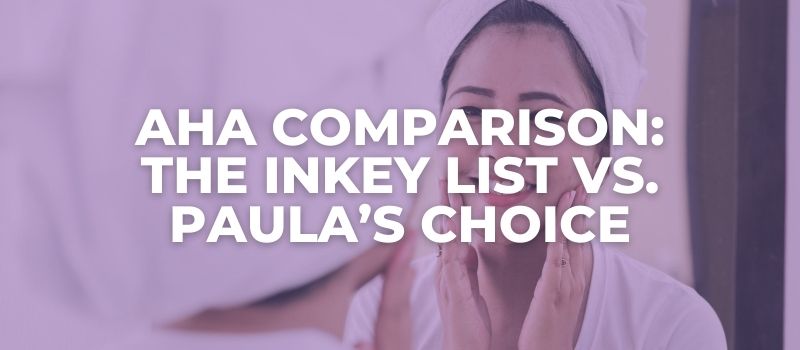 NB:
I can show you how to never have acne again.
If you have acne and want it gone
,
read this message
.
What Is The Inkey List Alpha Hydroxy Acid Serum?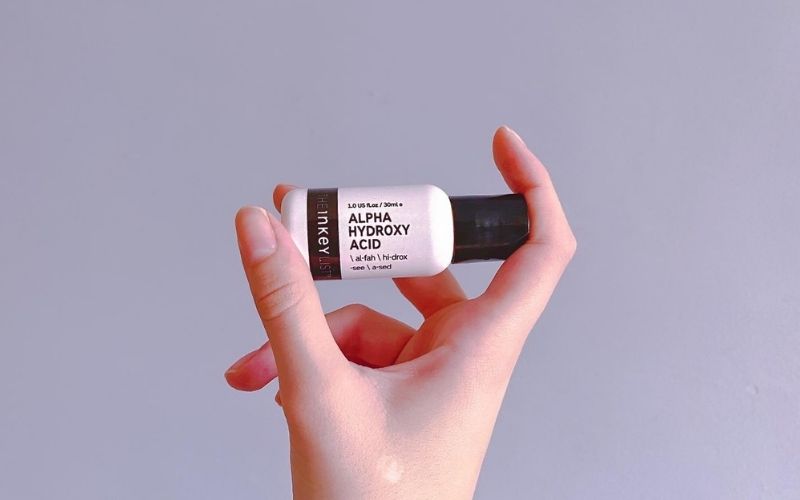 The Inkey List Alpha Hydroxy Acid is a serum intended to be used a few times a week to help break down the proteins that hold dead skin cells together and encourage them to shed.
Doing this will reveal a smoother and glowier complexion and over time can also help improve hyperpigmentation left from old acne, sun damage, etc.
Ingredients
The Inkey List Alpha Hydroxy Acid serum has a pretty short and straightforward ingredient list. Here are the two star ingredients of the product:
10% Fruit Acid
This serum stars 10% AHAs derived from natural sources such as food and plant – including bilberry, lemon, and orange extract as well as a sugar cane extract (glycolic acid).
These work to gently exfoliate the skin and leave it smooth, soft, and bright by increasing cellular turnover and addressing several skin concerns at once.
1% Low Molecular Hyaluronic Acid
They've also added 1% Low Molecular Hyaluronic Acid in here which adds on to the hydration levels as well as makes sure the serum isn't irritating for the skin.
Due to its low molecular weight, this type of hyaluronic acid has the ability to penetrate the skin at a quicker rate than other hydrating ingredients.
Consistency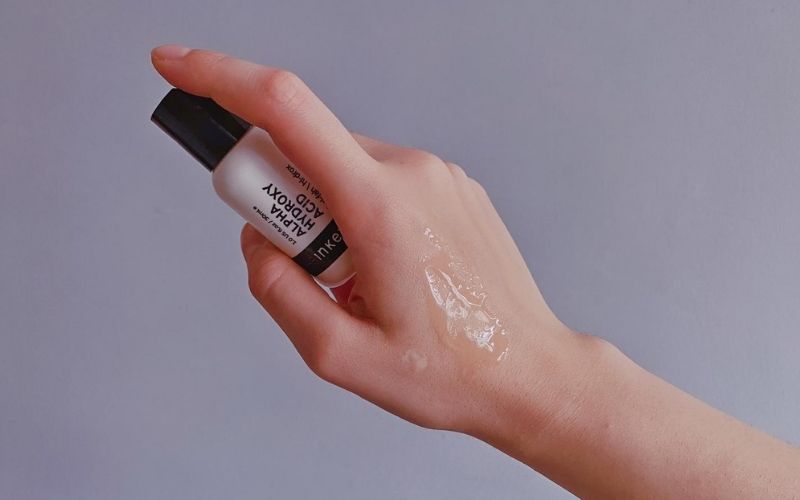 The Alpha Hydroxy Acid serum has a super lightweight consistency which allows it to spread easily on the skin and also absorb quickly. It's not oily and it doesn't leave a greasy layer on the surface of the skin.
I would highly recommend you use it on damp skin as it can absorb very quickly and using it on dry skin will lead to patchy and non-consistent application.
Scent
The serum has a very faint medicinal scent which completely disappears once it's applied to the skin.
Performance
The first time I used the Inkey List AHA serum, I experienced a slight redness and a tingling sensation typical when using a low pH AHA.
My skin pretty much got used to it after several uses, and this is something I no longer experience.
However, be careful of this reaction. If the tingling doesn't stop after the first 10-15 minutes and the redness doesn't subside even slightly, you should definitely wash it off, apply a moisturizer and give it a try another time.
This usually happens when your skin barrier is damaged or an allergic reaction to the product.
Before trying it again, make sure your skin barrier is recovered and patch test it behind your ear for any unwanted reaction.
Anyhow, I always notice my pores looking smaller and my overall complexion looking damp, glowy, and hydrated the morning after using this product.
I usually use it about 2 times a week (always in the evenings).
TIL – Alpha Hydroxy Acid Serum Pros:
Affordable ($11)
Gentle on the skin
Good for oily/acne-prone skin
It has a simple and straightforward ingredient list
No artificial fragrance
A good amount of product (30ml)
TIL – Alpha Hydroxy Acid Serum Cons:
None, I liked everything about it
What Is Paula's Choice 8% AHA Gel Exfoliant?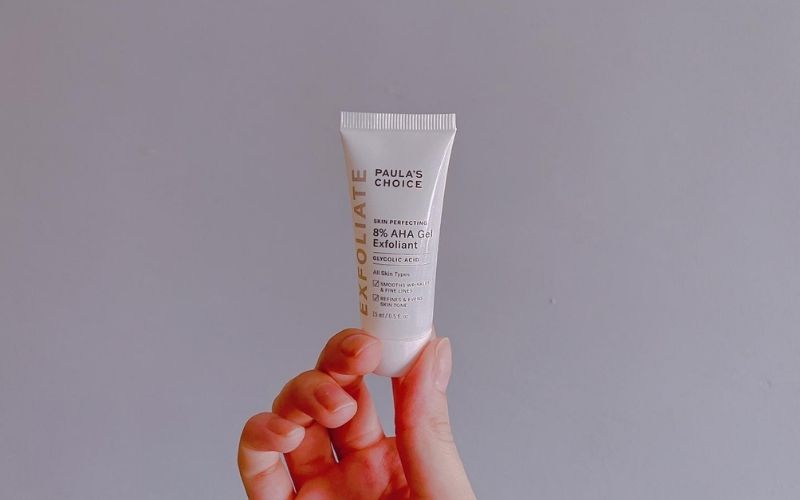 Paula's Choice 8% AHA is a gel exfoliant that also helps break down the proteins that hold dead skin cells together and encourage them to shed.
This will smooth out the appearance of wrinkles and texture on the skin as well as improve hyperpigmentation, sun damage, and uneven skin tone.
Ingredients
Paula's Choice exfoliants are known for containing many other soothing and calming ingredients to help minimize the risk of any potential irritation or sensitive reaction during the exfoliation process.
Here are a few ingredients in this product that stand out:
8% Glycolic acid
Glycolic acid is a naturally occurring alpha-hydroxy acid, commonly derived from sugar cane found in fruit juices (for example, orange and grape. It has the lowest molecular weight, meaning it penetrates the skin the easiest (which also makes its potential for irritancy a bit higher).
This acid is particularly beneficial for targeting hyperpigmented spots, uneven skin tone, fine lines, wrinkles, texture, and some studies suggest that it also works for breakouts.
Chamomilla Recutita Matricaria Flower Extract
Chamomile extract is incredibly soothing for the skin and useful to have in this particular formulation as it can help minimize redness.
Camellia Oleifera Leaf Extract
In other words – green tea extract. It's a great natural antioxidant that can provide some anti-aging benefits but overall great for soothing the skin and helping it heal.
Panthenol
A provitamin of B5 thas has humectant-like abilities and helps retain moisture into the skin to prevent transepidermal water loss and dehydration.
Panthenol is also incredibly soothing and can be safely used on burns or other wounds to help speed up healing.
Sodium hyaluronate
Paula's Choice AHA gel exfoliant, much like the Inkey List alpha hydroxy acid serum, also contains hyaluronic acid, a powerful humectant with unmatched water-holding capacity.
Consistency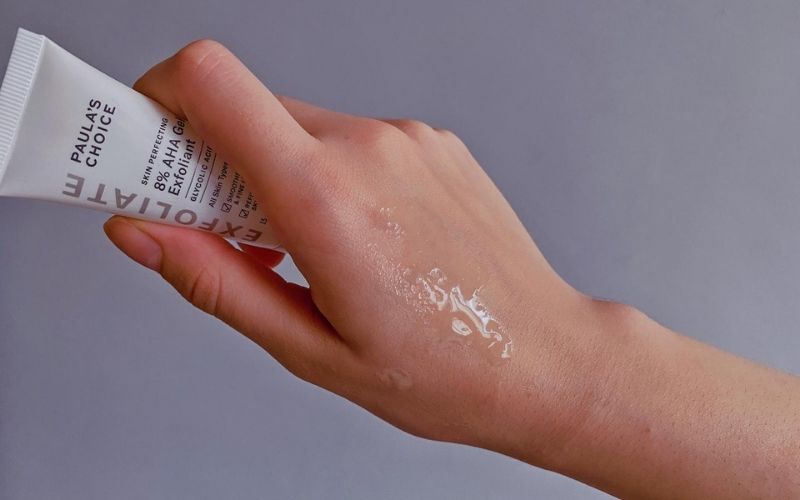 A little goes a long way with this product. It feels like slimy water and spreads across the skin really easily. It's also best to be used on damp skin as this way you will require much less product.
Using it on damp skin will also help the product feel less sticky when it dries out.
Scent
This one smells a little chemically and although there isn't any added fragrance to the formula, there is still a slightly nasty scent.
Luckily it goes away quickly.
Performance
I love using this product because it is gentler and more suitable for skin that is more reactive to chemical exfoliants. I still wouldn't recommend using it if you have a compromised skin barrier because it can create an unnecessary discomfort.
When I first used this product, I didn't experience even the slightest irritation or redness. So much so that I was wondering if it's going to do anything for me.
After a few minutes, it did start to tingle a little bit, but this quickly went away. My oily/acne-prone skin got along with it perfectly and I particularly enjoyed the subtle glow this gives me in the morning and the way it refines my pores.
I don't use it as often as I would like to because I am constantly testing new products, but since I purchased a few travel-sized versions, I always make sure to pack them up if I am going somewhere for a few days.
You can use it up to 3-4 times a week but more than that is unnecessary.
I can't speak about pigmentation because I usually deal with post-inflammatory redness after my pimple heals and pigmentation isn't something I personally have an issue with.
However, I am confident that due to the superb ingredient list, this will surely help you if that's your concern.
That said, this product didn't help my post-inflammatory redness, so if you are after something that can help you with that, it's best if you check out azelaic acid, instead.
I also cannot speak about wrinkles because apart from a single line I can only notice when I use my zoom-in mirror – I don't have any yet, so I primarily tested this product to see how it works with oily/acne-prone skin.
PC – 8% AHA Gel Exfoliant Pros:
A little goes a long way which means good value for money
Gentle on the skin
It contains a bunch of soothing and beneficial ingredients
Suitable for sensitive and reactive skin
You can get the travel size (15ml) and use it for longer than a month
PC – 8% AHA Gel Exfoliant Cons:
Pricey ($30)
Expensive for European customers (€35 = $39)
Related Questions:
Here are a couple of other related AHA questions:
Is AHA Good For Oily Skin?
Yes, AHA is good for both oily skin and acne-prone skin as it helps loosen and remove the dead skin cells that are sometimes contributing to clogged pores and the formation of acne.
Continued use may also prevent future clogs from forming.
Is It Okay To Use AHA Every Day?
No, you don't have to use an AHA every day as this can potentially result in over-exfoliating over a prolonged period of time.
Over-exfoliating can lead to an impaired skin barrier, moisture loss, dehydration, irritations, and bacteria invasion that can trigger or worsen other inflammatory conditions such as acne.
Using AHA 2-3 times a week is the ideal way to go.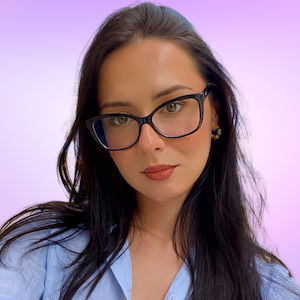 My name is Simone and I am a certified skin specialist. I created this website to teach my readers how to take great care of their skin and I also like to occasionally share my honest opinions on skincare products I've tried. You can learn more about me here.
The Acne Solution: Your Ultimate Guide To Flawless Complexion
An extensive, no-nonsense course showing you how to never have acne again, from a licensed Esthetician specializing in oily/acne-prone skin.