Exfoliating is one of the most important steps in a good skincare routine.
It's the process of removing the built-up layers of dead skin cells mainly prevents them from clogging the pores and causing breakouts.
Besides that, regular exfoliation can help reveal a healthier and more unified complexion, eliminate hyperpigmentation, improve sun damage, and improve the depth of expression lines and wrinkles, making them less prominent.
However, if you have sensitive skin, you probably know that exfoliation can come with a few irritating side effects, including redness, itchiness, tightness, tingling, and burning (in more severe cases).
But this doesn't mean that exfoliation is to blame.
In this article, I will give you a list of the five best exfoliating products for sensitive skin, but I will also help you understand what may be causing your sensitive skin in the first place and how you can help it.
And without any further ado, here are…
5 Great Exfoliators For Sensitive Skin (Reviewed Below)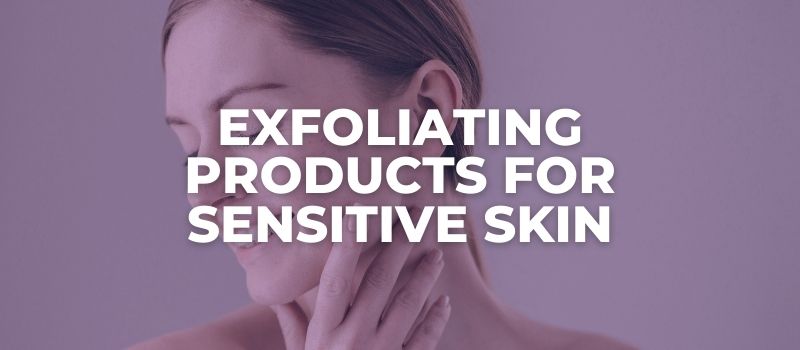 NB:
I can show you how to never have acne again.
If you have acne and want it gone
,
read this message
.
[ninja_tables id="7411″]
Paula's Choice – Redness Relief 1% BHA – $30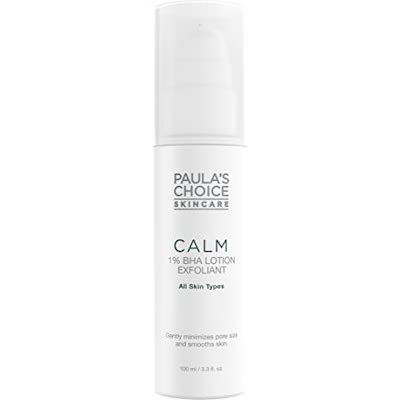 This is a great product that I would recommend if your skin feels dry, tight, irritated but is still breaking out.
The Paula's Choice Redness Relief 1% BHA is a mild exfoliating product that contains the necessary percentage of salicylic acid to be effective against minor breakouts without irritating your skin.
This won't get rid of severe and persistent acne; however, it is enough to keep it under control if your skin is super sensitive and won't accept other, stronger products.
It's formulated with skin-soothing plant extracts, including allantoin, oat and licorice extract, and green tea, to calm redness for overly reactive skin and soothe irritation caused by harsh products.
It's so mild that it can even be used on rosacea-prone skin.
Paula's Choice – 8% AHA Gel Exfoliant – $30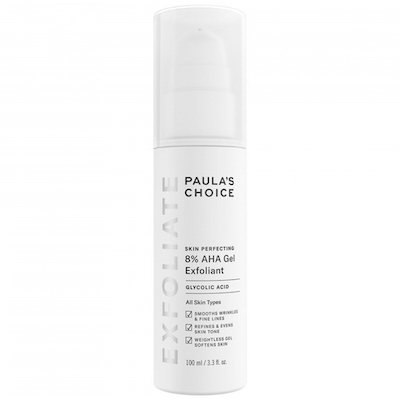 The 8% AHA Gel Exfoliant is a very gentle exfoliating product that helps break down the proteins that hold dead skin cells together and encourage them to shed naturally.
This will smooth out the appearance of wrinkles and texture on the skin as well as improve hyperpigmentation, sun damage, and uneven skin tone.
The product isn't very suitable for acne, and you will surely need more if you are dealing with persistent and severe acne. However, it is a great product for dry, sensitive, and mature skin types.
It contains 8% glycolic acid and a bunch of soothing ingredients such as chamomile and green tea extracts, hyaluronic acid, and panthenol.
RELATED: Paula's Choice – 8% AHA Gel Exfoliant Review
Paula's Choice – 10% Azelaic Acid Booster – $36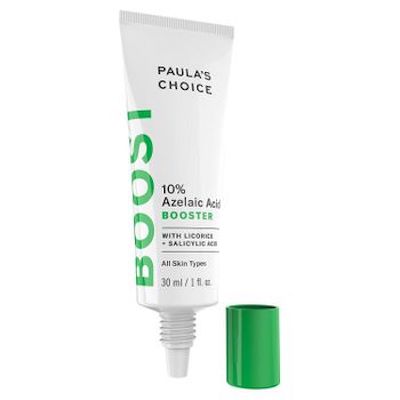 The Paula's Choice 10% Azelaic Acid Booster is not technically an exfoliator but a booster containing salicylic acid, an exfoliating acid. However, the star in the composition is azelaic acid.
Azelaic Acid is an ingredient that has shown to have a significant impact on the skin and certain skin concerns, including diminishing the appearance of skin blemishes, help fade post-acne redness, pigmentation, and other discoloration, refine the skin's surface, and reveal a brighter and more even complexion among other actions.
This product is best for people who are dealing with post-inflammatory redness. It can also help hyperpigmentation, but it has done wonders for my post-acne redness, and I can't recommend it enough.
It's also super gentle on the skin, and it's safe for use during pregnancy and rosacea-prone skins.
RELATED: Azelaic Acid Review: The Ordinary vs. Paula's Choice (Which One Is Better?)
The Inkey List – Alpha Hydroxy Acid Serum – $11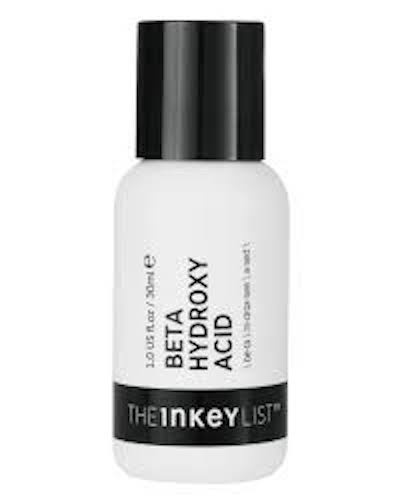 The Inkey List Alpha Hydroxy Acid is a serum designed to be used a few times a week to help break down the proteins that hold dead skin cells together and encourage them to shed naturally.
This serum has a pretty short and straightforward ingredient list. It contains 10% AHAs derived from natural sources such as food and plants, including bilberry, lemon, and orange extract, as well as sugar cane extract that produces glycolic acid.
Besides that, it also contains hyaluronic acid to hydrate and plump up the skin.
The serum is suitable for sensitive skin types, and although mild to moderate tingling may occur the first few times of using it, this quickly subsides after a few minutes.
RELATED: The Inkey List – Alpha Hydroxy Acid Serum Review
The Ordinary – Lactic Acid 5% – $7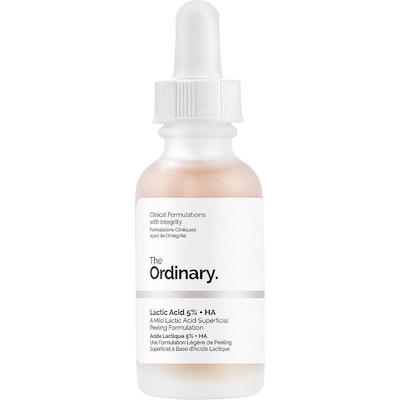 The Ordinary's Lactic Acid 5% is a gentle product especially compatible for use on sensitive skin.
Lactic acid is a mild exfoliating acid, but besides that, it is also a humectant that helps attract moisture into the upper layers of the skin.
This product isn't very suitable for acne because it's simply too mild to make any significant difference; however, it may help calm the redness that's caused by acne.
On the other hand, it's more suitable for dry, dehydrated, and very sensitive skin types, and it can be used 3-4 times a week.
---
What You Need To Know About Sensitive Skin
Sensitive skin is an extremely rare skin type, but it is a frequent skin condition.
Only a small percentage of people are actually born with sensitive skin, which is something that shows very early on in life.
People born with sensitive skin as a skin type often experience irritations even while washing their skin with tap water.
They also experience sensitivity and discomfort to both indoor and outdoor temperatures.
However, in people that don't have sensitive skin from birth, the chances are that something led to the sensitivity to occur.
This can often be associated with the usage of various cosmetic products that are not necessarily accepted well by the skin.
Sometimes the products are too harsh (which is often the case with products designed to fight acne), but other times the skin simply won't accept a product, and it will eventually start to rebel against it as a way of letting you know there's something wrong there.
This can be a single ingredient inside a single product that's causing sensitivity and disrupting the skin's normal function, or it can be several products at once. Therefore…
Before labeling your skin as "sensitive," make sure you are not doing something to contribute to the sensitivity your skin expresses.
One very useful thing that you can do is start by cutting off the products you suspect may be causing your sensitivity.
These products are usually the ones that make your skin react immediately after you apply them, so it's best to start there.
Another useful thing to do is think about when did your skin start exhibiting sensitivity. This will help you connect which products you were using at the time, and it may help you figure out what started causing your skin's sensitivity.
Exfoliating Sensitive Skin FAQs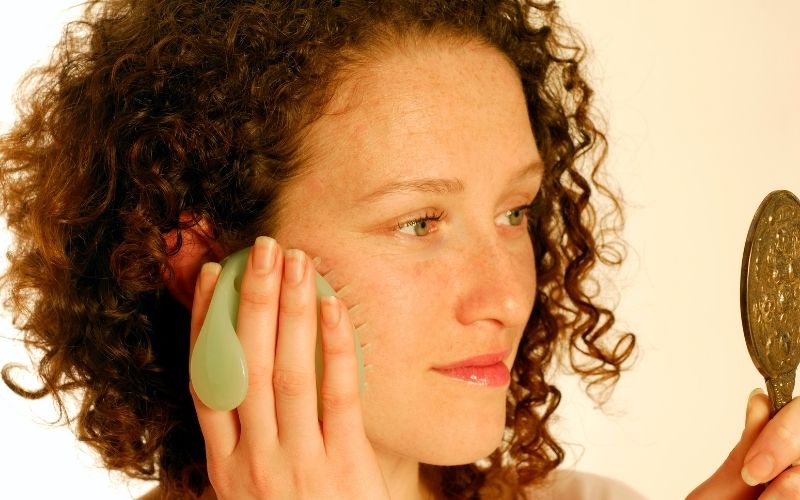 Below, I will answer a few of the most frequently asked questions regarding exfoliation and sensitive skin.
Does Sensitive Skin Need Exfoliating?
Yes! All skin types and conditions benefit from regular exfoliation, including sensitive skin.
If your skin is dry, dehydrated, and sensitive, you can use something like lactic acid to help hydrate it while also removing the layers of dead skin cells that make the skin appear dull and lifeless.
On the other hand, if your skin is oily and you are dealing with acne, you are more likely to benefit from an oil-soluble ingredient such as salicylic acid that can clear the pores from the inside out and dissolve the gunk that's causing the breakouts.
If your skin is also sensitive, don't go overboard with exfoliation and do it only 2-3 times a week.
What Happens If You Don't Exfoliate?
This depends entirely on your skin type and potential skin concerns that can arise from it.
For example, if your skin is oily and you don't exfoliate – this can lead to enlarged pores and breakouts.
If your skin is dry and you don't exfoliate – this can also lead to enlarged pores and a dull-looking complexion.
How To Exfoliate Sensitive Skin At Home?
To safely exfoliate sensitive skin at home, you should only use mild chemical exfoliators and apply them no more than 2-3 times a week.
On the other hand, when dealing with sensitive skin, you need to avoid scrubbing or using other physical methods of exfoliation such as towels, sponges, sugar, coffee granules, oats, etc.
The harsh mechanical scrubbing will irritate your skin further and lead to redness, more irritation, and more sensitivity.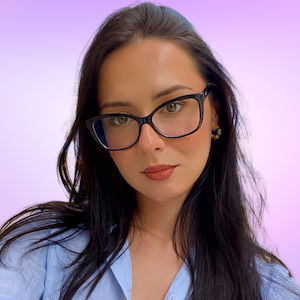 My name is Simone and I am a certified skin specialist. I created this website to teach my readers how to take great care of their skin and I also like to occasionally share my honest opinions on skincare products I've tried. You can learn more about me here.
The Acne Solution: Your Ultimate Guide To Flawless Complexion
An extensive, no-nonsense course showing you how to never have acne again, from a licensed Esthetician specializing in oily/acne-prone skin.