Dry and flaky skin could be the result of more than one factor, including changes in temperature, hot water, harsh and drying cosmetics, some medication, and excess of dead skin cells that have accumulated on the surface.
To relieve the symptoms of excessively dry and flaky skin, the first thing you have to do is avoid the things that trigger it, if this is possible.
But besides that, the two most efficient skincare products you can incorporate into your routine to combat dry and flaky skin are exfoliating products and moisturizers.
Therefore, in this article, I will give you a list of 13 best products for dry and flaky skin that will help reveal a healthy and glowing complexion from underneath.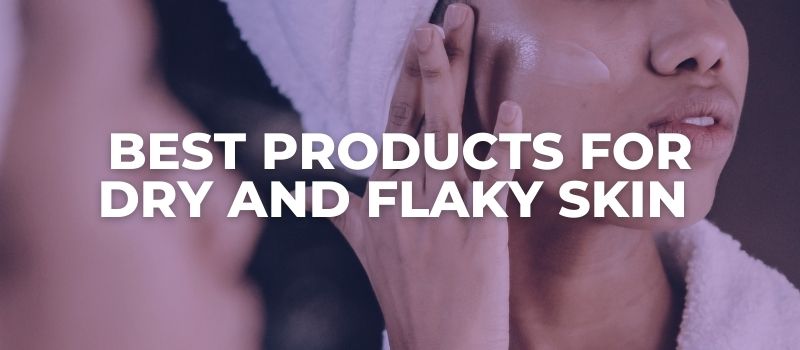 The Ordinary – Lactic Acid 5% – $7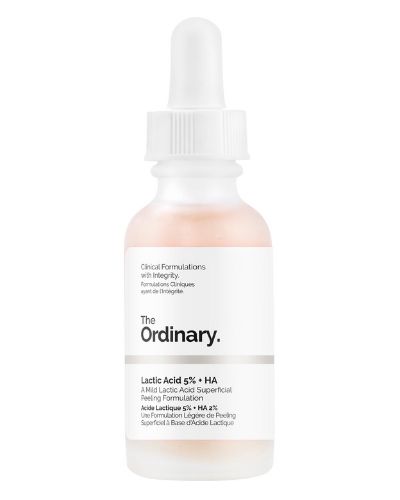 The Lactic Acid 5% by The Ordinary is a great serum for dry, flaky, and sensitive skins.
Lactic acid molecules are large and don't penetrate deeper into the pores, which is why this component works better on the skin's surface to dissolve the protein bonds that hold dead skin cells together and encourage them to shed.
Lactic acid is also a humectant, which means it has the ability to hydrate the skin and make it look smooth and plump.
The Ordinary also has a 10% Lactic Acid; however, this one isn't that good because it's very sticky and can be a little irritating.
If you are a beginner who just wants to get rid of dryness, flakiness, and some skin texture, stick to the 5% one.
Best for dry/dehydrated/sensitive skin.
RELATED: Best Exfoliators for Sensitive Skin.
Paula's Choice – 8% AHA Gel Exfoliant – $30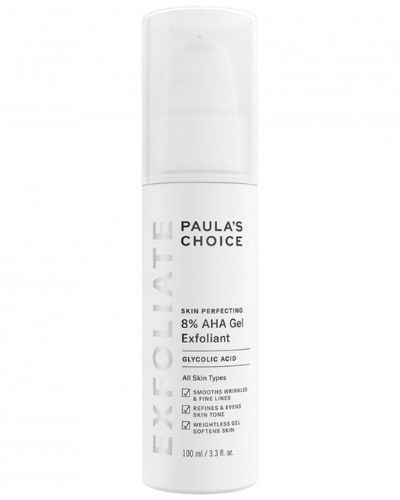 The 8% AHA Gel Exfoliant is a very gentle exfoliating product that helps break down the proteins that hold dead skin cells together and encourage them to shed naturally. 
This will smooth out the appearance of wrinkles and texture on the skin as well as improve hyperpigmentation, sun damage, and uneven skin tone. 
It contains 8% glycolic acid and other soothing ingredients such as chamomile and green tea extracts, hyaluronic acid, and panthenol, and it can be used as an evening treatment up to three times a week.
Best for dry/mature/acne-prone skin.
RELATED: Paula's Choice – 8% AHA Gel Exfoliant Review
Paula's Choice – Daily Smoothing Treatment 5% AHA – $33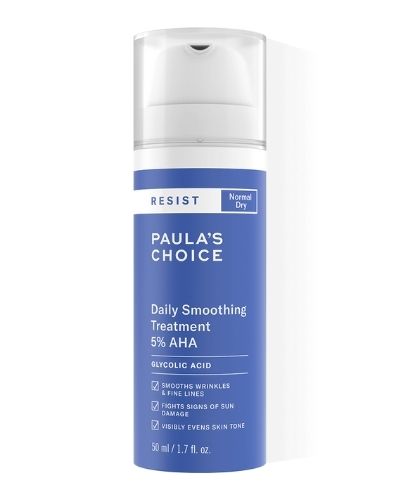 Paula's Choice Daily Smoothing Treatment with 5% AHA is a daily chemical exfoliant containing 5% glycolic acid and 0.5% salicylic acid.
This product is ideal for dry, sensitive skin types that don't necessarily enjoy strong acids and harsh exfoliating products but still want a little something-something that will deliver good anti-aging results and keep pores unclogged.
Best for dry/sensitive/mature skin.
DefenAge Skincare – 2-Minute Reveal Mask – $52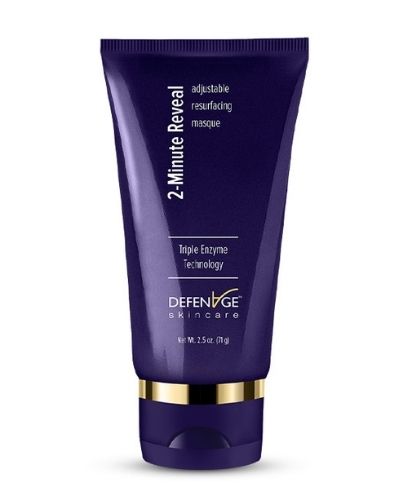 The DefenAge 2-Minute Reveal Mask is a beautiful, anti-aging mask that contains a blend of sugar crystals and papaya, pumpkin, and pomegranate enzymes that increase cell renewal and can be a gentler alternative to acid exfoliation.
Besides that, the enzyme mask also contains triglycerides and squalane, which are skin lipids important for skin's health, as well as lactic acid for its humectant and hydrating properties. 
It should be applied to the skin for 2-5 minutes a few times a week for best results.
Best for dry/dull/mature skin.
RELATED: DefenAge 2-Minute Reveal Mask Review.
Renée Rouleau – Ultra Gentle Smoothing Serum – $49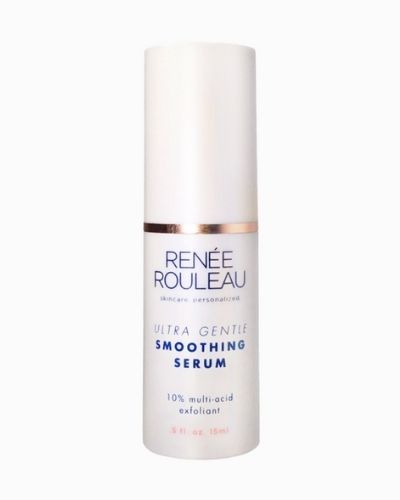 Ultra Gentle Smoothing Serum by Renée Rouleau is a treatment with a lightweight texture that contains  7% lactic acid paired with 3% glycolic acid to address several skin concerns with very minimal invasion.
With lactic acid's non-irritating working mechanism, you get rid of dullness, flakiness, and hyperpigmentation without hurting your skin barrier.
On the other hand, glycolic acid polishes the skin and diminishes wrinkles as well as mild to moderate acne.
The soothing blend of aloe and allantoin keeps the skin calm and free of redness and irritation.
To top it up, the formula is also free of fragrance and alcohol and the perfect AHA serum for sensitive skin.
Best for dry/mature/sensitive skin.
Biossance – Squalane + 10% Lactic Acid Resurfacing Serum – $62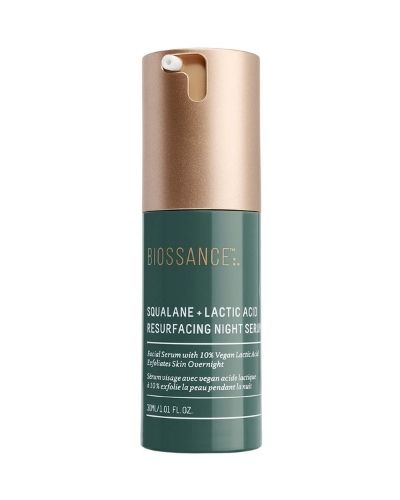 Biossance's Squalane + Lactic Acid Resurfacing Serum is one of the first products that always comes to mind when I'm thinking of something mild, gentle, and effective.
This night serum gives dry skin exactly what it needs. With lactic acid's incredibly gentle exfoliation, you get rid of those dry and flaky patches while, thanks to squalane, your skin remains soft and moisturized.
Best for dry/mature/sensitive skin.
StriVectin – Lactic Acid Nightly Retexturizing Serum – $79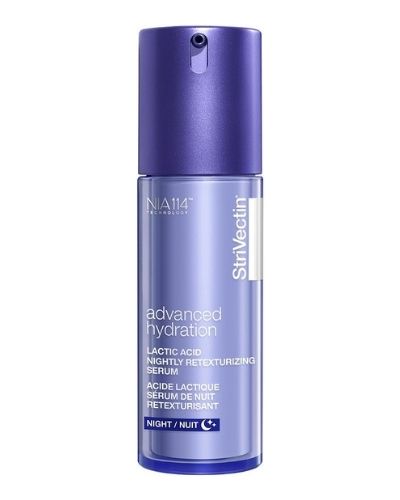 StriVectin's Lactic Acid Nightly Retexturizing Serum offers a little more than just exfoliation for dryness and flakiness.
This serum has a thicker consistency due to the oils and emollients it contains and works to soften the skin and minimize rough and bumpy texture.
Besides that, the retexturizing serum also contains lactic acid to gently dissolve and encourage dead skin cells to shed as well as triglycerides, which are an important component of a strong and functioning skin barrier.
Best for dry/mature/textured skin.
RELATED: Best Serums for Textured Skin.
Neostrata – Ultra Moisturizing Face Cream – $52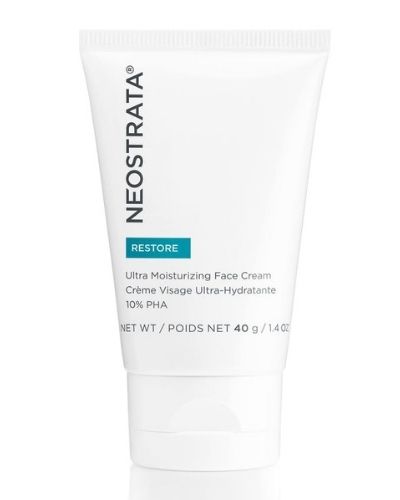 Neostrata Ultra Moisturizing Face Cream is a daily moisturizer designed to target the signs of aging along with dryness, flakiness, and skin texture.
The PHA moisturizer contains 10% gluconolactone topped with vitamin E for its free radical scavenging benefits.
The combination helps with wrinkles, sun damage, dark spots, uneven texture, uneven skin tone, and dullness due to the buildup of dead skin cells.
The cream smooths and softens the skin. And it has botanical oils rich in fatty acids to moisturize and improve the skin barrier's function.
Best for mature/dry/flaky/textured skin
PCA SKIN – Hydrating Serum – $92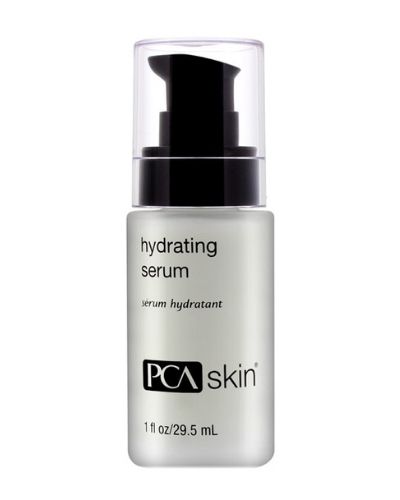 PCA Skin Hydrating Serum is designed to hydrate the skin, plump it up and reduce the visibility of fine lines.
It contains mildly exfoliating and hydrating ingredients such as gluconolactone, which is a gentle PHA alongside hyaluronic acid, and other humectants like sodium PCA and provitamin B5 to replenish thirsty skin.
If you are already using a hyaluronic acid serum, this one is definitely an upgrade with added antioxidant benefits. It'll increase the water content in the skin and is perfect for any type of skin that's dehydrated.
The only downside is that it's quite pricey, but if you want to splurge, it will definitely be worth it.
Best for all skin types, including oily and acne-prone.
SkinCeuticals – Triple Lipid Restore 2:4:2 – $130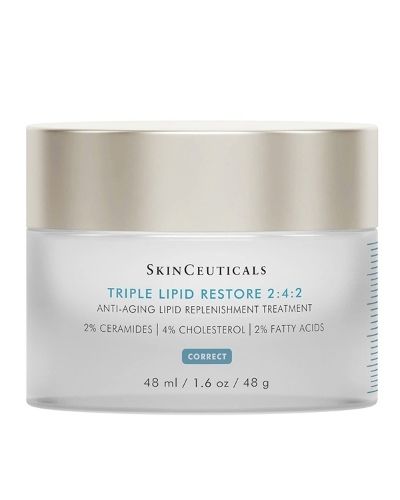 Triple Lipid Restore 2:4:2 is an anti-aging cream that contains the optimal lipid ratio of 2% pure ceramides 1 and 3, 4% natural cholesterol, and 2% fatty acids, which aims to nourish the skin while simultaneously correcting signs of aging.
The unique lipid correction cream will also strengthen the skin barrier and encourage the skin to repair itself from damage, be it caused by an allergen, an external pathogen, damaging UV rays, excessive dryness, or the natural aging process.
Triple Lipid Restore 2:4:2 has a creamy, fast-absorbing texture, and the moisturizer gives an instant radiance as soon as applied to the skin.
It is a great product for dry, mature skin, but it can also be used as post-procedure aftercare or when starting retinol to prevent the initial irritation and flakiness that's often associated with it.
Best for dry/mature/sensitive skin.
RELATED: Best Anti-Aging Skincare Routine.
Paula's Choice – Youth-Extending SPF 50 – $33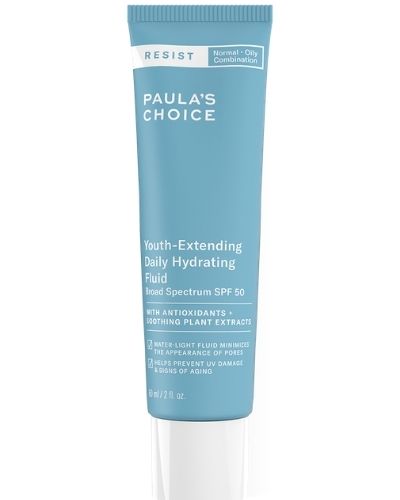 The Youth-Extending Daily Hydrating Fluid SPF 50 is a Paula's Choice bestseller for a few good reasons. 
It's a hydrating and lightweight sunscreen that's suitable for anyone with dry, dehydrated, combo, sensitive, and aging skin, and it has a high sun protection factor.
Besides that, it doesn't leave a white cast, it sits well under makeup, and it's easy to reapply during the day. It also leaves your skin glowy and beautiful.
It may be a little confusing because the packaging says it's made for oily skin, but I have excessively oily skin, and this product made me look like a grease ball immediately after application, so I'm going to give it a big fat no.
Best for dry/combo/mature skin.
Anthelios Mineral Ultra-Light Fluid SPF 50 – $34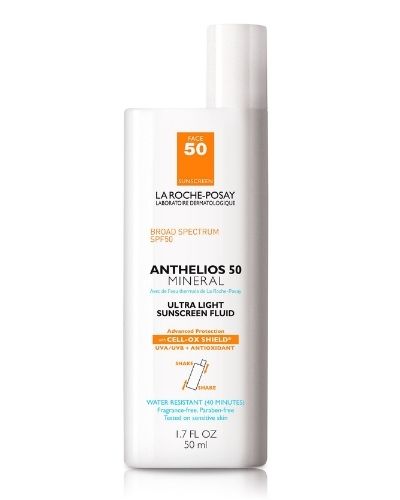 The Anthelios Mineral Ultra-Light Fluid SPF 50 is a high-protection, 100% mineral sunscreen that relies on zinc oxide and titanium dioxide for broad-spectrum UV protection. 
Mineral sunscreens such as this one may be a better option for anyone with extremely sensitive skin who doesn't tolerate chemical filters.
The Mineral Ultra-Light Fluid SPF 50 doesn't contain oil, but it has emollients that soften the skin, making it very suitable for dry, sensitive skin.
Best for dry/mature/sensitive skin.
RELATED: Best La Roche-Posay Sunscreens for Acne-Prone Skin.
EltaMD UV Clear – Broad-Spectrum SPF 46 – $37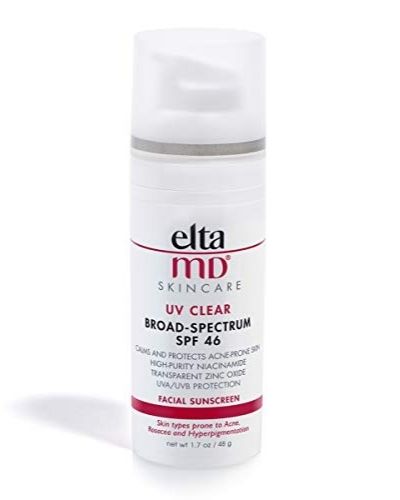 EltaMD's UV Clear Broad-Spectrum SPF 46 is another sunscreen that's often marketed towards oily folks, but yet again, it is way too greasy for someone as oily as me.
Which is why I highly recommend it for anyone who is dealing with sensitive and irritated skin due to excess dryness.
It contains a blend of mineral and chemical UV filters and barrier-strengthening niacinamide alongside a few emollients that soften and plump the skin.
Best for dry/mature/sensitive/acne-prone skin (if you are not excessively oily).
RELATED: EltaMD UV Clear Broad-Spectrum SPF 46 Review.
My name is Simone and I am a certified skin specialist. I created this website to teach my readers how to take great care of their skin and I also like to occasionally share my honest opinions on skincare products I've tried. You can learn more about me here.
The Acne Solution: Your Ultimate Guide To Flawless Complexion
A practical no-nonsense course showing you how to never have acne again, from a licensed Esthetician specializing in oily/acne-prone skin.