Acne is an inflammatory skin condition usually most common with teenagers and young adults; however, this doesn't exclude it from randomly popping up while you're well into your thirties, forties, and even fifties.
Acne has the potential to be extremely severe while in your teenage years due to excess sebum production caused by raging hormones; however, this is a very rare occurrence as you age, and acne in your forties and fifties is usually mild and non-threatening.
However, this doesn't mean acne should be ignored. It's always best to play it safe by choosing products that won't clog your pores and contribute to more intense breakouts.
Luckily, there are many of these, and in this article, I will give you a list of…
The 12 Best Anti-Aging Products For Acne-Prone Skin (Reviewed Below)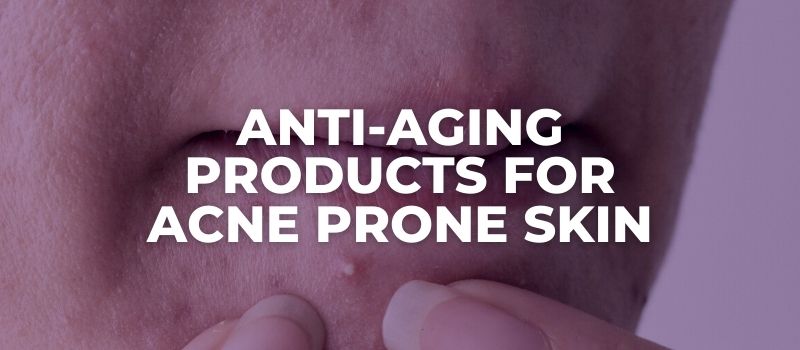 NB:
What if I told you I can show you how to never have acne again?
If you have acne and want it gone
,
read this message
.
[ninja_tables id="6763″]
iS CLINICAL – Cleansing Complex – $44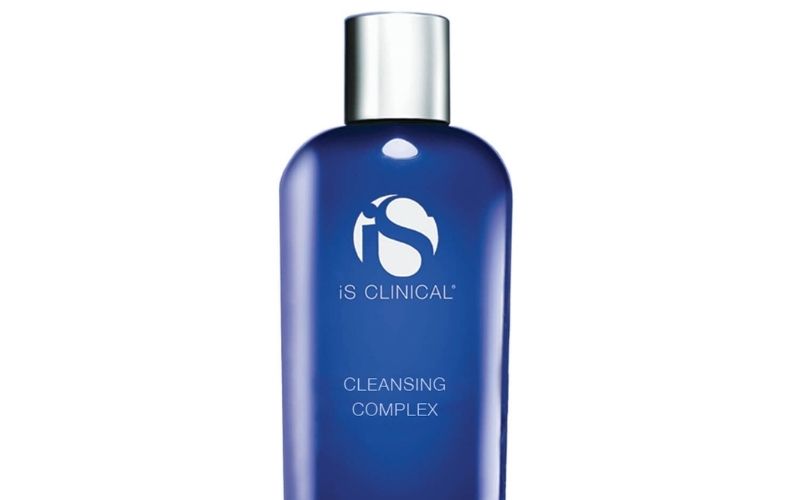 The iS CLINICAL Cleansing Complex is one of the best anti-aging cleansers for acne-prone skin.
The cleanser contains salicylic acid, which is the golden standard for acne-prone skin as it has the ability to cut through the superficial oil and clear clogs inside the pores that are causing breakouts.
Besides salicylic acid, the Cleansing Complex also contains chamomile extract, which is a soothing agent, and Centella Asiatica, which has shown promising antioxidant activity on the skin through various studies.
Additionally, the Cleansing Complex also contains sugarcane extract, which can be exfoliating, but it is also a handy moisturizing ingredient used as a humectant to help the skin attract moisture and hold onto it.
Furthermore, the cleanser contains vitamin C, which can effectively fade superficial hyperpigmentation and dark spots left from old acne, sun damage, etc.
However, because this is an exfoliating cleanser, it means that it shouldn't be used daily, even less so twice a day, so $44 is worth it since it's going to last you for a long time with controlled use of no more than several times a week.
Skinceuticals – LHA Cleansing Gel – $41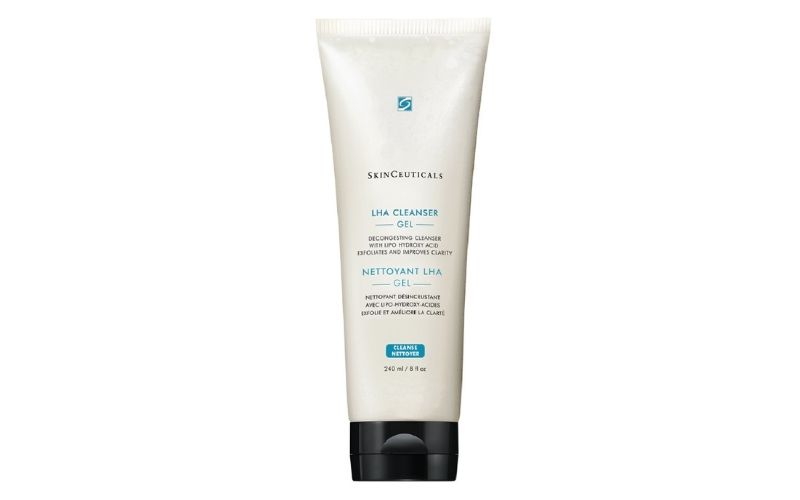 The Skinceuticals LHA Cleansing Gel is another great cleanser for aging and problematic skin.
This thick gel contains a 12% concentration of active ingredients combining lipo-hydroxy, glycolic, and salicylic acids to lift away dirt, excess oil, and any impurities that are clogging the pores and causing breakouts.
Glycolic acid is a great anti-aging ingredient that will leave your complexion smooth, glowing, and hydrated after using the cleanser.
However, since this is an exfoliating cleanser, it is best to use it no more than a few times a week, in the evenings.
It's also a pricey product; however, you get 240 ml (8 fl. oz) of it for $41, and this can last you for a year if you don't use it daily.
The only thing I personally don't like about it is that it contains menthol, which can be quite sensitizing for the skin, and this is yet another reason why I don't recommend using this cleanser daily.
La Roche Posay – Effaclar Purifying Foaming Gel Cleanser – $20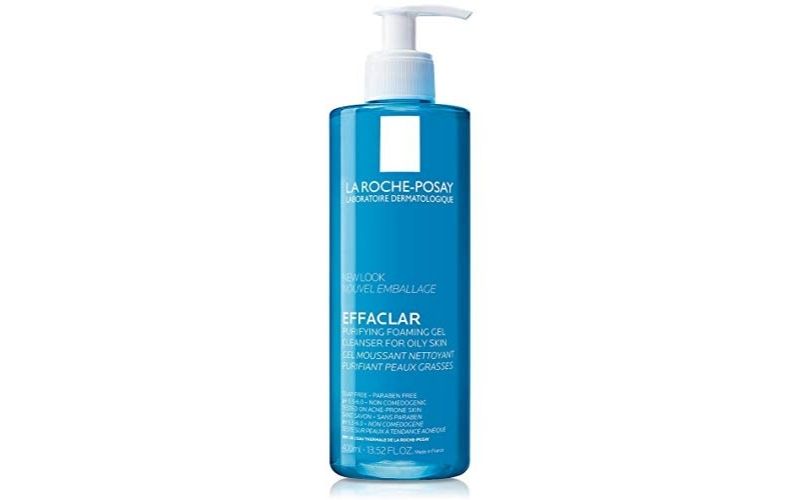 This is a very simple, daily cleanser that you can use as a replacement for your exfoliating cleansers on days when you're not using them.
The Effaclar Purifying Foaming Gel Cleanser is more intended for oily skin types that can be a little overdrying if your skin isn't oily, so the best thing to do is use just a little more than a pea-sized amount instead of using a lot of it.
This is a good dupe for the Skinceuticals Simply Clean Cleanser for oily skin that costs $35.
Paula's Choice – 2% BHA Liquid Exfoliant – $30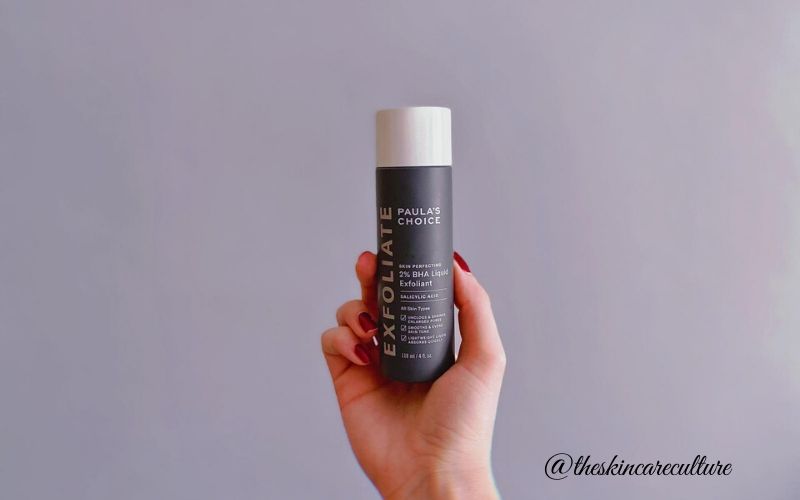 The Paula's Choice 2% BHA Liquid Exfoliant is a good exfoliating product that contains salicylic acid to help clear out the gunk from inside the pores and calm redness and irritation as well as prevent future breakouts.
I like this product because the consistency is slightly oily, which means it's not your usual drying salicylic acid product that will leave your skin dull and thirsty, which will only make the fine lines and wrinkles more prominent.
It gives a nice glow to the complexion while also hydrating the skin and fighting off pesky breakouts. However, you should still use leave-on exfoliating products no more than 2-3 times a week and not every day.
RELATED: Paula's Choice BHA Comparison Products
Paula's Choice – Redness Relief 1% BHA Lotion – $30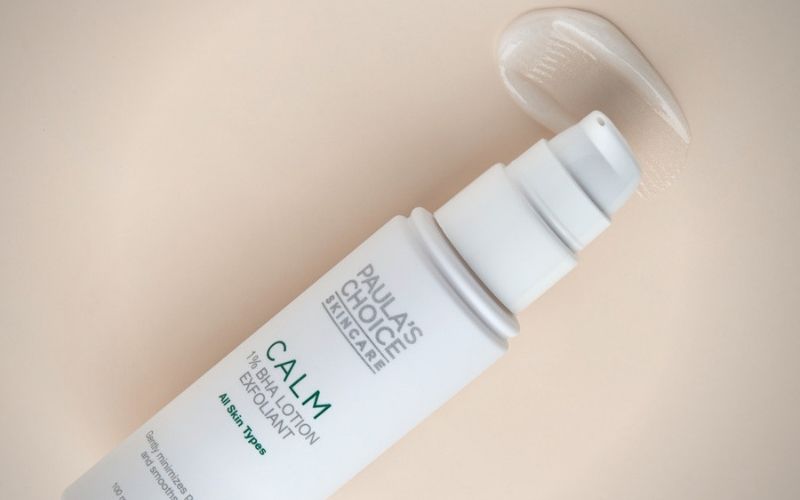 This is a great product that I would recommend if your skin feels dry, tight, irritated but is still breaking out.
The Paula's Choice Redness Relief 1% BHA is a mild exfoliating product that contains the necessary percentage of salicylic acid to be effective against minor breakouts without irritating your skin.
It's formulated with skin-soothing plant extracts, including allantoin, oat and licorice extract, and green tea, to calm redness for overly reactive skin and soothe irritation caused by harsh products.
It's so mild that it can even be used on rosacea-prone skin.
NIOD – Non Acid Acid Precursor 15% – $50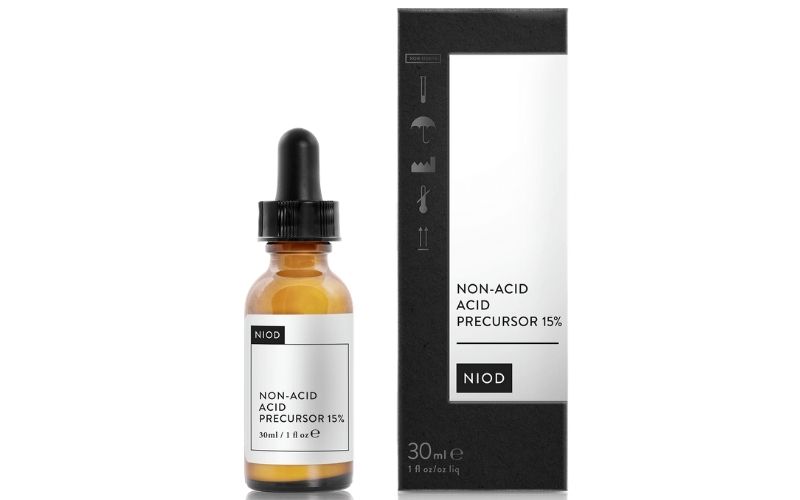 NIOD's Non-Acid Acid Precursor (NAAP) 15% is a non-acidic alternative to exfoliating acids like AHA and BHA.
NAAP exfoliates the skin without causing any irritation by using friendly bacteria, peptides, and amino acids.
The product has a cream-serum texture, and it feels comfortable on the skin without being drying or irritating; however, a slight tingling sensation can be felt when using it for the very first few times until your skin gets used to the product.
It's a great product for both aging and acne-prone skin, and it is best suited for beginners that have never played with acids before or just someone that wants to give exfoliating acids a break and try something new.
NIOD – Copper Amino Isolate Serum 2:1 – $87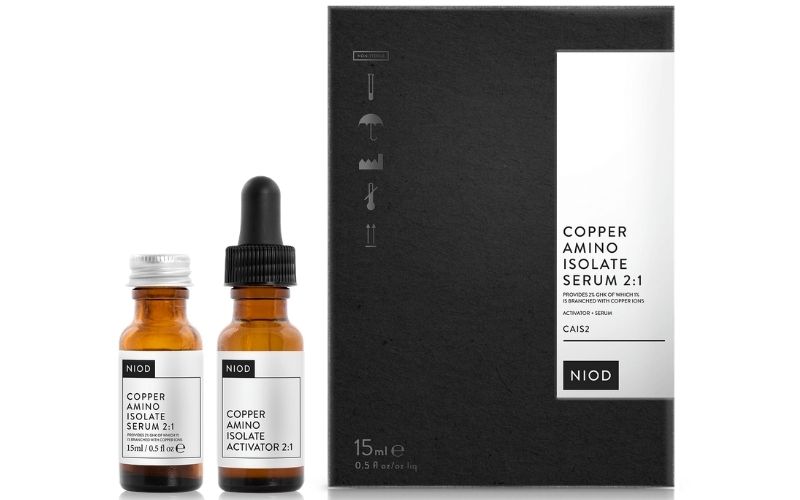 NIOD's Copper Amino Isolate Serum (CAIS 2) is one of those products that does it all, and for $87 for a 30 ml bottle, you would expect it to.
The serum is intended to tackle various skin concerns, including texture, hyperpigmentation, sagging, enlarged pores, and keep the skin in a prolonged, heightened state of repair that strengthens it and enables it to repair itself more efficiently.
It is recommended to be used twice daily; however, you can get away with using it only once in the mornings or evenings as you prefer.
One of the most important things to do after applying the CAIS 2 is to let it act on the skin for 30 seconds to a minute before applying the rest of your products.
Naturium – Niacinamide 12% + Zinc 2% – $16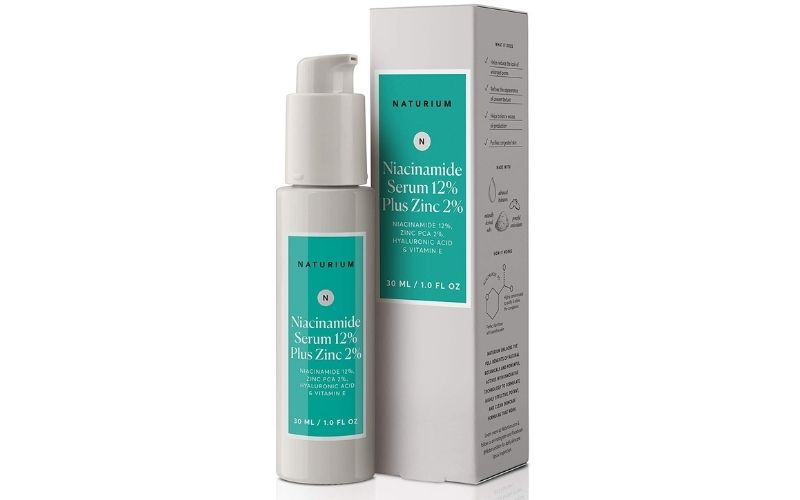 Susan Yara's brand Naturium started with a little controversy; however, we all knew she was going to come through with great products, despite the initial drama.
This Niacinamide 12% + Zinc 2% serum is no exception, and it's the perfect addition to the skincare regimen of anyone who wishes to have a brightening, hydrating, and anti-acne agent all packed in one sleek bottle at an affordable price.
Many people swear by it and go as far as saying that this product replaced their holy grail, which was The Ordinary's Niacinamide + Zinc serum.
Unfortunately, as of December 2020, I have not yet tried this product because it's still not available in Europe; however, I am really looking forward to getting it once it becomes available for purchase here.
RELATED: The Ordinary vs. The Inkey List Niacinamide Comparison
The Ordinary – Granactive Retinoid 2% Emulsion – $10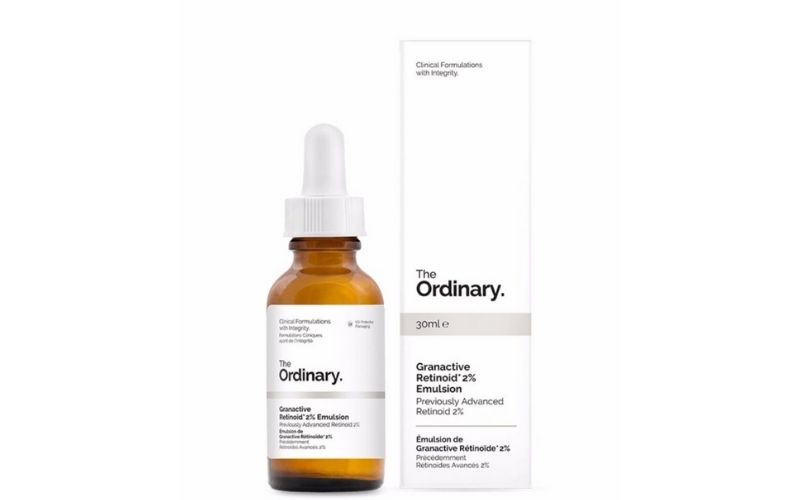 The Ordinary's Granactive Retinoid 2% Emulsion is a gentle, oil-free formula that delivers a potent anti-aging and anti-acne powerhouse into your skin.
The Hydroxypinacolone Retinoate (HPR), which is the main active ingredient in this product, is an advanced form of retinoid, which is a non-prescription ester of all-trans retinoic acid.
This means that The Ordinary's Granactive Retinoid 2% Emulsion is a more gentle version of prescription retinoids that is also very effective but way less irritating.
However, when starting any product that contains retinols, you need to follow it up with a gentle moisturizer to help prevent peeling and irritations and a broad-spectrum, high SPF in the morning to prevent sunburn and skin damage.
Paula's Choice – Super-Light Wrinkle Defense SPF 30 – $33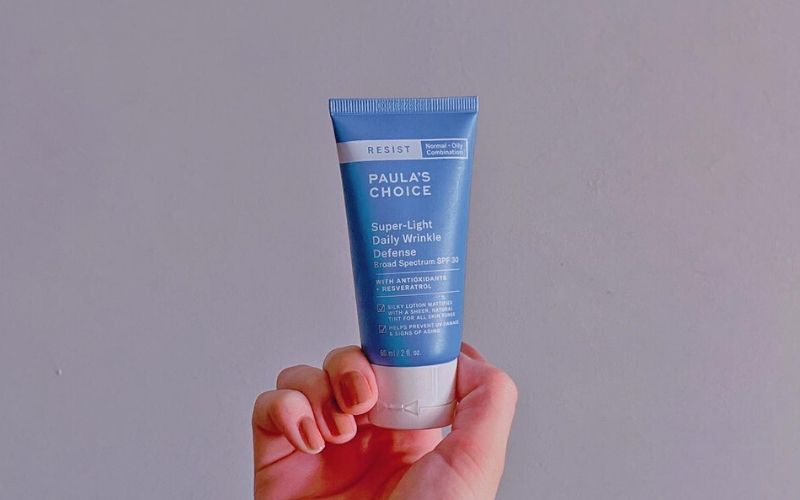 Paula's Choice Super-Light Wrinkle Defense SPF 30 is a mineral-based sunscreen that contains zinc oxide and titanium dioxide as the main active ingredients.
Besides that, it also contains a few other antioxidants, including resveratrol, bisabolol, and EGCG, which is one of the active parts of green tea believed to be responsible for its many health and skin benefits.
The product has a matte finish, and it will help control excess oiliness throughout the day. Additionally, it is also tinted, and it can be worn on its own or under makeup to help keep a matte base.
EltaMD – UV Clear Facial Sunscreen SPF 46 – $36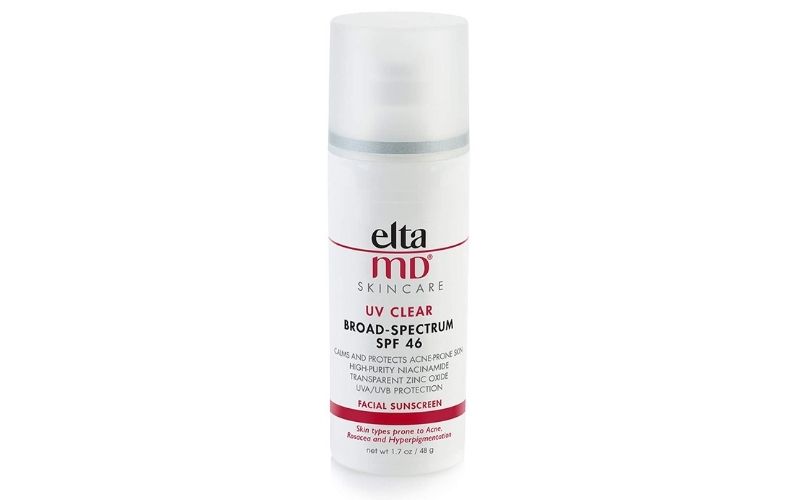 The EltaMD UV Clear Facial Sunscreen SPF 46 is great for oily skin types prone to acne breakouts.
It contains both zinc oxide, which is a mineral UV filter, and octinoxate, which is a chemical UV filter that's suitable to be used on sensitive skin.
Besides the product being an efficient UVA/UVB protector, it also contains ingredients such as niacinamide, which can balance out excess oil production on the skin and brighten dark spots and discoloration, as well as hyaluronic acid to hydrate and plump the skin.
Skinceuticals – Sheer Physical UV Defense SPF 50 – $66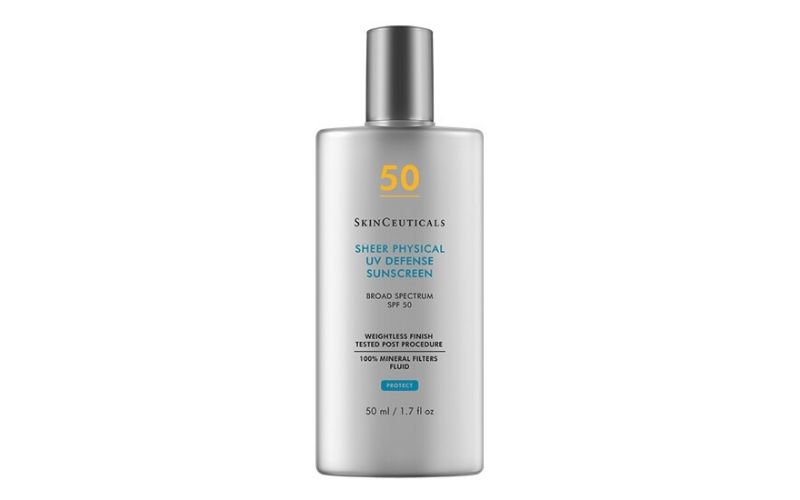 Skinceuticals Sheer Physical UV Defense SPF 50 is a transparent mineral sunscreen fluid containing zinc oxide and titanium dioxide as the main UV filters, making it suitable for sensitive skin and the skin around the eyes.
Although lightweight and non-greasy, this is a product leaning towards dry skin types; however, it can be used by combo and oily skins, too, if you don't mind blotting throughout the day.
It is a little pricey; however, you get 125 ml (4.2 fl. oz) for $66, which can last you up to 2 months with regular application. This is quite good, considering pretty much any decent sunscreen out there is in the $30+ range.
---
Anti-Aging Skincare For Acne-Prone Skin FAQs
Here are some of the most frequently asked questions regarding anti-aging skin care for acne-prone skin:
What Is The Best Skincare Line For Anti-Aging And Acne?
A few of the best skincare lines for both anti-aging and acne-prone skin are:
Skinceuticals
iS Clinical
Zo Skin Health
La Roche Posay
Paula's Choice
Is Salicylic Acid Anti-Aging?
Salicylic acid isn't an anti-aging ingredient, and it doesn't have much effect on aging.
However, when using salicylic acid, it's best to opt for products that contain other hydrating ingredients as SA on its own can be drying and prolonged dryness is something that can potentially accelerate skin aging over time.
How Do You Fight Acne And Wrinkles?
You can help improve both acne and wrinkles by regularly exfoliating your skin, using hydrating products, and protecting your skin from harmful UV rays.
My name is Simone and I am a certified skin specialist. I created this website to teach my readers how to take great care of their skin and I also like to occasionally share my honest opinions on skincare products I've tried. You can learn more about me here.
The Acne Solution: Your Ultimate Guide To Flawless Complexion
An extensive, no-nonsense course showing you how to never have acne again, from a licensed Esthetician specializing in oily/acne-prone skin.