This article is a continuation of my newest series, where I give product recommendations for different skin concerns from one famous brand.
In my last Paula's Choice Recommendations article, I talked about the best products for acne-prone skin.
So, since acne and hyperpigmentation go hand in hand, I decided to focus on treatments for what's left once acne has finally healed.
So here are my recommendations of the 10 best Paula's Choice products for hyperpigmentation: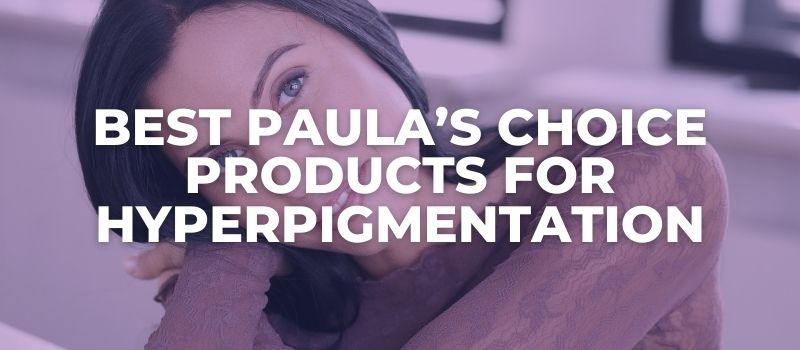 NB:
What if I told you I can show you how to never have acne again?
If you have acne and want it gone
,
read this message
.
SKIN PERFECTING – 8% AHA Lotion Exfoliant – $30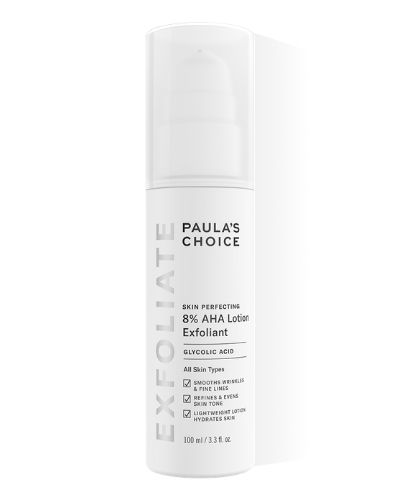 The 8% AHA Lotion Exfoliant is a very gentle exfoliating product that helps break down the proteins that hold dead skin cells together and encourage them to shed naturally.
This will smooth out the appearance of uneven skin tone and hyperpigmentation left from sun damage or inflammatory conditions such as acne.
It contains 8% glycolic acid and many calming ingredients such as chamomile and green tea extracts, repairing panthenol, hydrating hyaluronic acid, and soothing licorice extract.
Best for normal/dry/combo/oily skin.
RELATED: Paula's Choice – 8% AHA Gel Exfoliant Review
RESIST – Advanced Smoothing Treatment 10% AHA – $37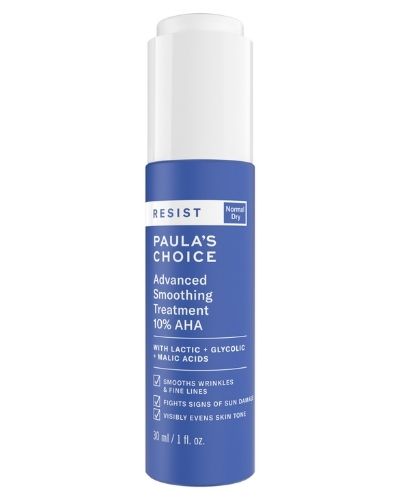 Paula's Choice Advanced Smoothing Treatment with 10% AHA is a chemical exfoliant composed of four alpha hydroxy acids, including glycolic, lactic, malic, and tartaric acid, to gently exfoliate the skin's surface as well as 0.5% salicylic acid that works deeper inside the pores.
The treatment serum is formulated to deliver good anti-aging results, help even out the skin tone, keep pores unclogged, and brighten stubborn hyperpigmentation.
Best for dry/mature/sun-damaged skin and stubborn hyperpigmentation.
10% Azelaic Acid Booster – $36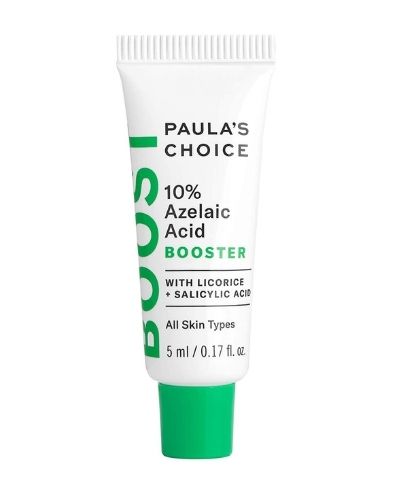 The 10% Azelaic Acid is a booster product containing a mild percentage of salicylic acid, an exfoliating acid as well as azelaic acid, which has shown to have a significant impact on the skin and certain skin concerns.
Some skin concerns that can be treated with azelaic acid, include blemishes, post-acne redness, hyperpigmentation, and other discoloration, texture, and dull, tired complexion.
This product is best for people who are dealing with post-inflammatory redness and mild hyperpigmentation. It's also super gentle on the skin, and it's safe for use during pregnancy and rosacea-prone skins.
RELATED: Azelaic Acid Review: The Ordinary vs. Paula's Choice (Which One Is Better?)
C15 Super Booster – $49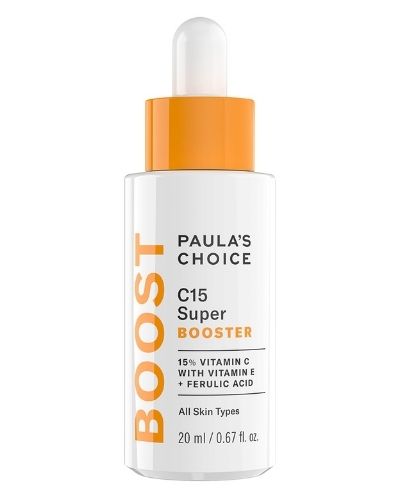 C15 Super Booster is a serum that contains 15% vitamin C that works to brighten hyperpigmentation, even out uneven skin tone, reduce the appearance of fine lines, and most importantly – improve sun damage on the skin.
Besides vitamin C, the booster also contains vitamin E, a good emollient, ferulic acid with excellent antioxidant properties to fight against free-radical damage, and peptides to help restore skin plumpness, radiance, and bounciness.
Best for dry/mature/sun-damaged and hyperpigmented skin.
CLINICAL – Niacinamide 20% Treatment – $48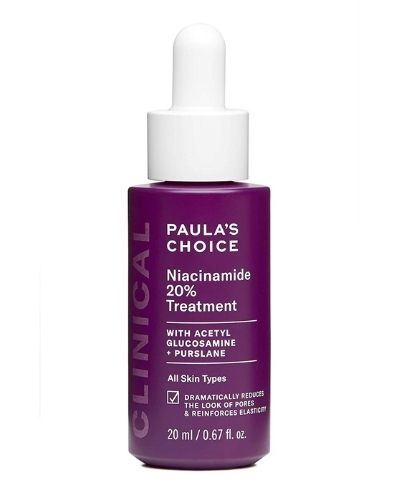 Paula's Choice Niacinamide 20% serum is a high-strength niacinamide treatment that can minimize the look of enlarged pores, smoothen rough bumps caused by inflammation, and even out the skin tone especially when it comes to brightening hyperpigmentation left from old acne.
Although it is marketed as a treatment that can be used twice a day, this is a strong niacinamide percentage because this particular ingredient has been proven to be effective in as little as 4%.
Therefore, there is no need for it to be used twice a day; however, if it's a part of your standard regimen and you don't use many other actives, you may very well use a few drops of it once a day.
Besides niacinamide, the serum also contains other hydrating ingredients such as glycerin and panthenol, as well as Paula's signature soothing ingredients such as licorice root extract, green tea extract, Japanese camellia extract, allantoin, etc.
Best for all skin types, including acne-prone and sensitive skin.
CLINICAL – Discoloration Repair Serum – $46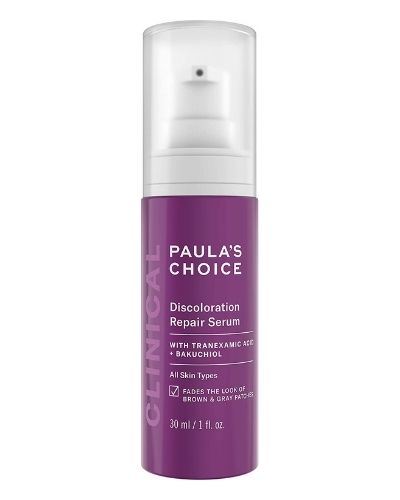 Discoloration Repair Serum is a potent treatment that targets brown and gray spots or patches on the skin by using a tranexamic complex with bakuchiol and niacinamide.
Bakuchiol is often dubbed as the natural, pregnancy-safe alternative to retinol, but the studies behind these claims are weak.
However, it has been proven that bakuchiol has some antioxidant properties that help fight against free radical damage.
On the other hand, both tranexamic acid and niacinamide are decent tyrosinase inhibitors that can help reduce and correct hyperpigmentation.
Niacinamide is also a barrier-repairing ingredient that helps strengthen the skin barrier, aiding it to deal better with future inflammation.
Best for all skin types, including sensitive skin.
CLINICAL – 1% Retinol Serum – $58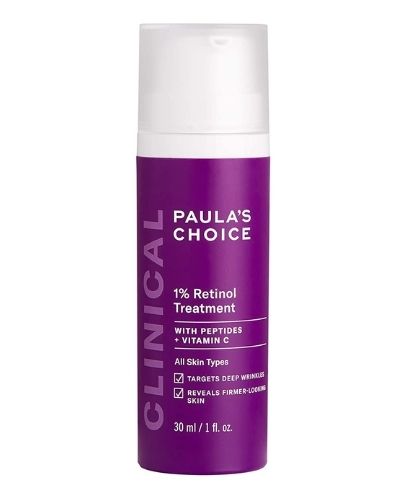 1% Retinol Serum from the CLINICAL line is a lightweight, creamy serum that contains the highest percentage of retinol that you can get over the counter.
The retinol in this formula is encapsulated, which means it will refine pore size, diminish the appearance of wrinkles, fine lines, uneven skin tone, and even more stubborn hyperpigmentation.
However, it will be released into the skin over time to prevent irritation and excessive shedding.
Besides that, the formula contains nourishing licorice and oat extracts and other soothing plant extracts to calm and soothe the skin, as well as hyaluronic acid to keep it hydrated.
The 1% Retinol Serum is an excellent product if you are looking to bump up the strength of your retinol. This is not the best beginner product, so if you've never used retinols before, look into something milder first.
Best for dry/combo/oily/sun-damaged/hyperpigmented skin that's used to retinol.
RESIST – Intensive Wrinkle Repair Retinol Serum – $42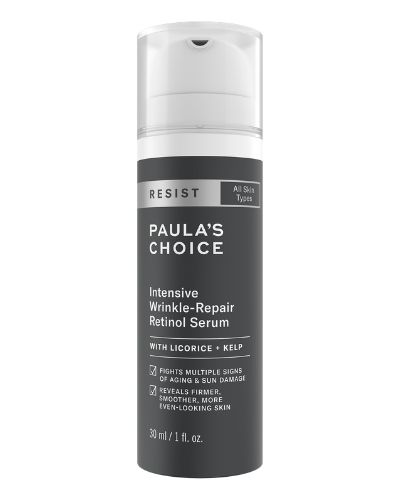 The Intensive Wrinkle Repair Retinol Serum is a part of Paula's RESIST line, which focuses on products for acne-prone skin.
It is a silky, lightweight serum that contains a mid-strength retinol concentration of 0.1%, which is a good starting option for retinol newbies.
The serum aims to even out skin texture, soften fine lines, provide hydration, and brighten hyperpigmentation for a more radiant and uniform look.
Besides retinol, the Intensive Wrinkle Repair Serum also contains softening emollients, triglycerides, antioxidants, soothing, and restoring ingredients.
SKIN BALANCING – Antioxidant Concentrate Retinol Serum – $36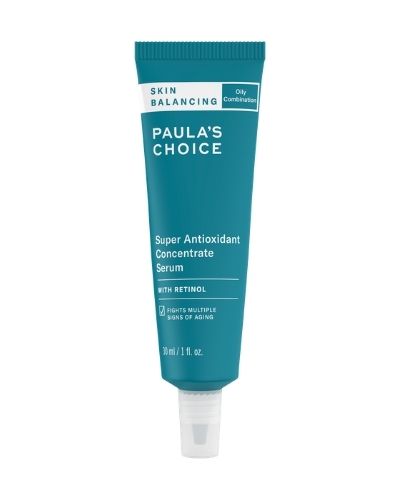 Antioxidant Concentrate Retinol Serum is a part of Paula's SKIN BALANCING line, which focuses primarily on oily and acne-prone skin, unlike the RESIST line that leans more towards drier, acne-prone skins.
The Antioxidant Concentrate has a beautiful, lightweight texture with a silky finish and a formula rich in antioxidants and 0.03% retinol to help soothe the skin, unclog congested pores, and improve the appearance of wrinkles, uneven skin tone, and hyperpigmentation.
However, as it often happens, I have a little bit of an issue with the brand's marketing as it says this product can be applied twice a day, which I definitely don't recommend as it can still be too much for some skin.
Therefore, stick to applying it once a day, ideally in the evenings, and follow it up with high SPF in the morning.
Best for oily/acne-prone skin.
SKIN PERFECTING – 25% AHA + 2% BHA Exfoliant Peel – $39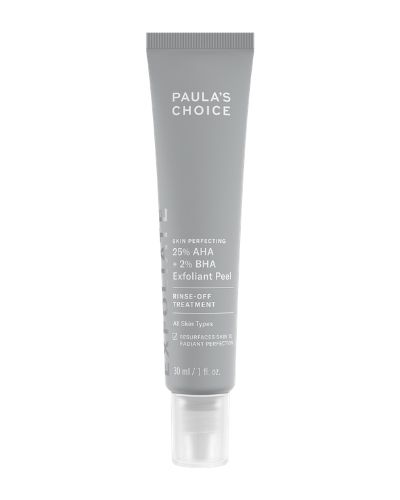 The 25% AHA + 2% BHA Exfoliant Peel is a multi-acid, rinse-off exfoliating treatment that dramatically resurfaces skin to visibly smooth wrinkles, refine rough, bumpy texture brighten the skin tone & unclog congested pores.
The concentrated gel-serum contains 2% salicylic acid in addition to a potent AHA blend of 8.4% glycolic, 7% lactic, 5% mandelic, 2.5% malic, and 2% tartaric acid, and it can be used once a week, ideally on evenings when you are not using other potent actives such as retinol or anti-acne medication.
Best for dry/mature/combo/oily/acne-prone skin.
My name is Simone and I am a certified skin specialist. I created this website to teach my readers how to take great care of their skin and I also like to occasionally share my honest opinions on skincare products I've tried. You can learn more about me here.
The Acne Solution: Your Ultimate Guide To Flawless Complexion
An extensive, no-nonsense course showing you how to never have acne again, from a licensed Esthetician specializing in oily/acne-prone skin.