CeraVe is an affordable, drugstore brand that has products for every skin type and skin concern, including a good range of products for acne-prone skin.
What I personally like about the brand is that they take a minimal approach with their formulations and their products often have a straightforward ingredient list.
A few of the most popular and best-selling products are the CeraVe moisturizers and lotions and these have a place on pretty much any skincare enthusiast's bathroom shelf.
However, even though they are constantly promoted by dermatologists, skincare professionals, and even huge social media influencers, there are some products that can potentially cause issues for acne-prone skins.
Therefore, to make sure you avoid that, here is a list of the 8 best products for acne-prone skin by CeraVe as well as an explanation on how to use them and when to avoid them.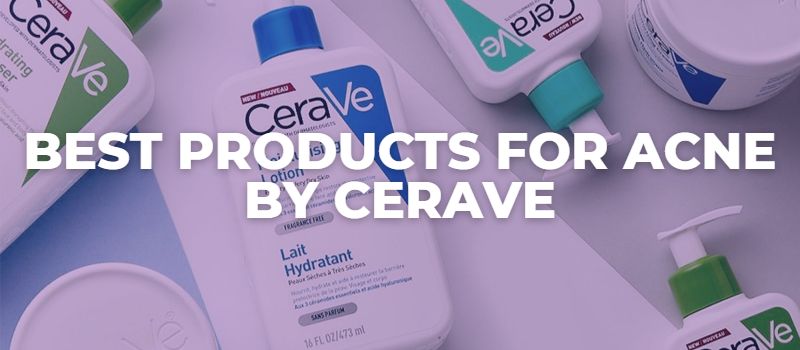 NB:
What if I told you I can show you how to never have acne again?
If you have acne and want it gone
,
read this message
.
Acne Control Cleanser with 2% Salicylic Acid – $12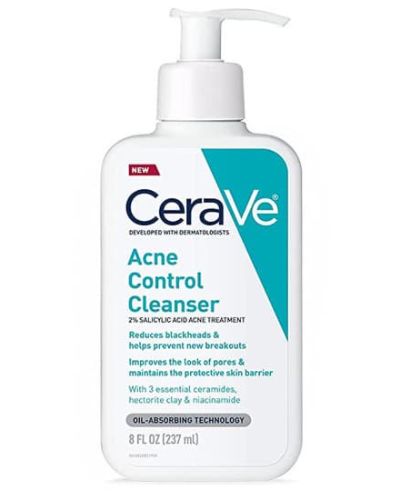 The Acne Control Cleanser with 2% Salicylic Acid is one of the brand's newest launches.
The product is ideal for gentle exfoliation of dead skin cells that could be clogging your pores and contributing to acne.
Salicylic acid is an oil-soluble ingredient that can cut through the superficial skin oil and travel deeper into the pores to dissolve the gunk and debris and unclog them from within.
Besides that, the foaming cleanser also contains hyaluronic acid to help retain moisture into the skin and not dehydrate it too much while cleansing, alongside barrier-repairing ceramides and soothing niacinamide to further help reduce acne and balance out oil production.
However, even though all these are great ingredients, unfortunately, they won't do that much in a cleanser because they work better when left on the skin for a longer period of time.
Which is why it's always better to use them in a leave-on product such as a toner or a serum and give them time to act, but if you are on a budget and you don't have the time or the need for a full regimen, this cleanser may get the job done.
Still, since the cleanser contains 2% salicylic acid, it should not be used daily as this can contribute to over-exfoliation and irritation. It's best to use it 2-4 times a week, in the evenings.
Best for oily, acne-prone skin.
RELATED: Best Cleansers for Acne-Prone Skin.
Foaming Facial Cleanser – $15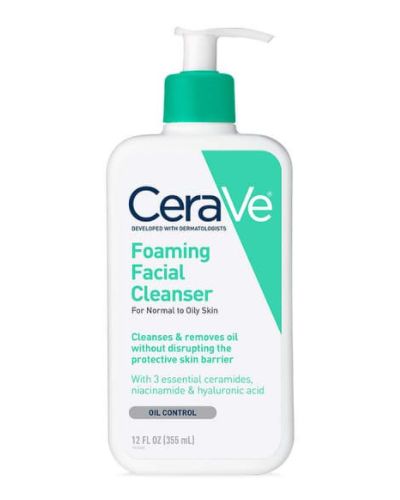 The Foaming Facial Cleanser is one of the simplest, most efficient cleansers in the market for combo, oily, and acne-prone skin.
The cleanser doesn't contain any direct acne-fighting actives such as salicylic acid or benzoyl peroxide, however, it is still efficient in removing the daily dirt and debris accumulated on the surface of the skin.
Besides that, it also contains barrier-strengthening and nourishing ceramides, hydrating hyaluronic acid, and brightening, oil-balancing niacinamide.
It can be used once or twice a day, as needed.
Best for combo, oily, acne-prone skin.
Acne Foaming Cream Cleanser – $15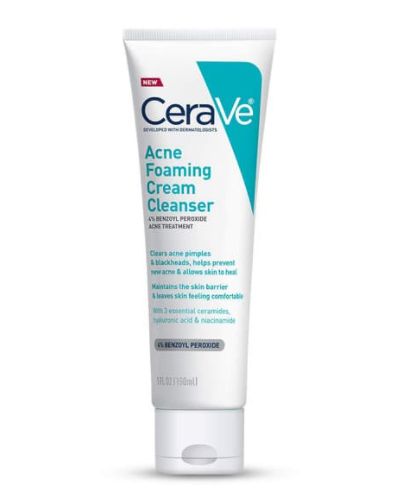 The Acne Foaming Cream Cleanser is a facial cleanser that contains benzoyl peroxide.
Benzoyl peroxide is a chief antibacterial agent found in many products intended to neutralize the acne-causing bacteria and prevent it from spreading and triggering the immune system to cause inflammation.
The formula also features hyaluronic acid to help retain draw moisture into the skin as well as barrier-strengthening niacinamide to provide you with soothing benefits, while helping your skin heal.
The Foaming Cream Cleanser is particularly good for more severe acne and sensitive skin as it can be used as short contact therapy.
However, given that the benzoyl peroxide strength in this product is 4%, it is quite efficient but it may be too strong for daily use.
Therefore, try to incorporate it into your evening routine 2-3 times a week and keep it on the skin for no longer than 60 seconds.
Always make sure to follow it up with a hydrating moisturizer as it can potentially dry out your skin in the beginning.
Best for oily, sensitive, acne-prone skin.
RELATED: Can You Mix Benzoyl Peroxide with Salicylic Acid?
Salicylic Acid Acne Control Gel – $20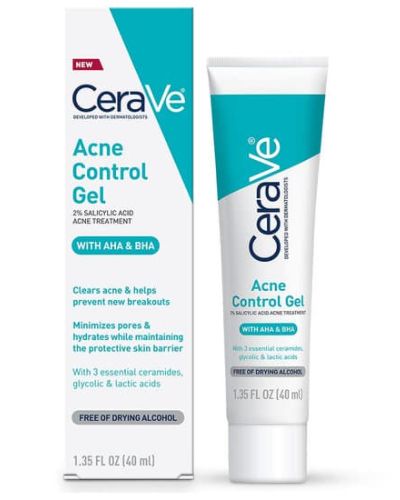 The Acne Control Gel is another product of CeraVe's newest launch and this is a lightweight, hydrating, full-face acne treatment that contains glycolic and lactic AHAs plus the BHA salicylic acid.
The mild yet effective exfoliating formula can help clear acne, prevent new blemishes from forming, and minimize the look of enlarged pores while also improving skin texture and hyperpigmentation thanks to the AHAs that work on the surface of the skin.
Besides that, the Acne Control Gel also replenishes the skin's protective barrier with CeraVe's proprietary three essential ceramides, calms and brightens the skin with niacinamide, helps the skin look noticeably clearer, and maintains healthy skin with daily use.
Best for all skin types, and can also be used as a spot treatment.
RELATED: Best Serums for Textured Skin.
Resurfacing Retinol Serum – $16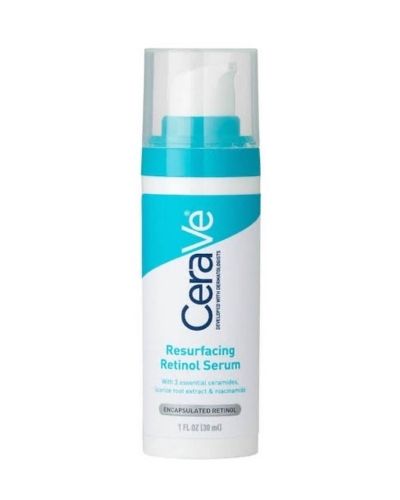 The Resurfacing Retinol Serum by CeraVe is a quite decent product given its price.
This product can help you get rid of post-acne scarring, but due to several ingredients such as niacinamide and propanediol, it can also work on balancing oil production, soothing, and hydrating the skin while also strengthening the skin barrier.
On the other hand, it contains one problematic and potentially clogging ingredient at the bottom of the list called Isopropyl Myristate, a heavy emollient ingredient usually found in cream-based tretinoin.
It works as a penetration enhancer, and although it can usually cause some breakouts, the concentration in this particular product is very mild, so the chances of having an adverse effect are very small.
Which is why I would advise you to try the Resurfacing Retinol Serum if your skin is on the dry side but try to avoid it if your skin is very oily.
Best for all skin types, including sensitive, acne-prone skin.
RELATED: Best Retinols With Niacinamide.
PM Facial Moisturizing Lotion – $13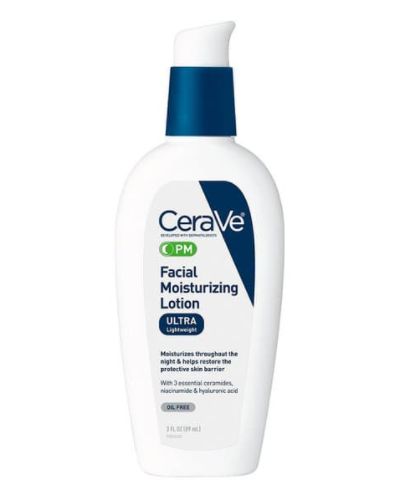 The PM Facial Moisturizing Lotion is a soothing rich cream made to calm irritated skin and provide a splash of moisture for all skin types.
The moisturizer contains beneficial ingredients such as hydrating hyaluronic acid, barrier-strengthening ceramides, brightening and soothing niacinamide alongside silicones that help create a layer on the surface of the skin and slow down transepidermal water loss and fatty alcohols to help soften dehydrated, rough, and sensitive skin.
The moisturizer, although non-comedogenic, is quite heavy, which is why oily skins should use it with caution or at least as an evening treatment to get the most benefits out of it.
Best for all skin types, but oily skins may find it too greasy.
SA Lotion For Rough & Bumpy Skin – $19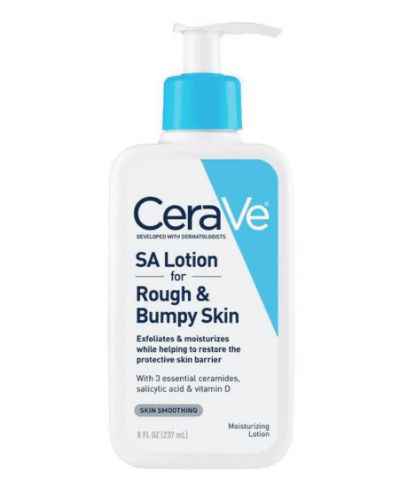 The SA Lotion for Rough and Bumpy skin is a lightweight moisturizer that exfoliates, moisturizers, and helps restore the protective skin barrier.
It contains exfoliating agents such as salicylic acid to dissolve the gunk inside the pores, as well as lactic acid to soften and smooth rough skin.
Besides that, it also contains CeraVe's signature three essential ceramides that help fortify the skin barrier and help it retain moisture better.
The gentle, non-irritating formula is free of fragrance and alcohol and can be used on all skins, including sensitive skin that deals with body breakouts.
However, it may not be the best option for facial acne due to its high content of potentially clogging stearates, heavy emollients, and mineral oil.
That said, the product is ideal for body acne, excessive dryness, rough skin texture, and conditions such as keratosis pilaris.
Best for dry, rough, sensitive skin with keratosis pilaris and acne.
RELATED: Best Products for Keratosis Pilaris.
Ultra-Light Moisturizing Lotion SPF 30 – $15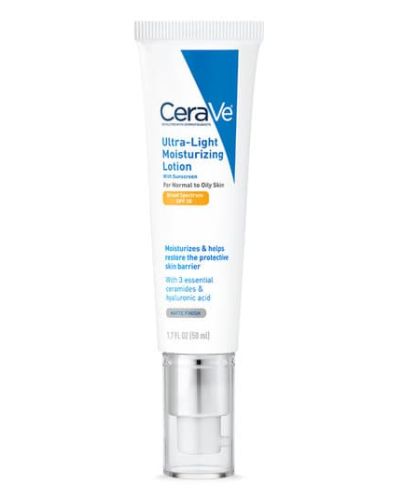 The Ultra-Light Moisturizing Lotion SPF 30 is an affordable daily moisturizer with SPF to protect the skin from UV damage.
Although suitable for oily and acne-prone skin, this moisturizer isn't mattifying and it can leave quite a bit of a greasy layer behind.
That said, it's all chemical sunscreen with a few chemical filters as active ingredients, including avobenzone, homosalate, octisalate, octocrylene.
Despite the chemical filters, this moisturizer shouldn't sting the eyes as it's created for sensitive and irritated skin in mind.
Besides the main actives, the moisturizing lotion also contains hydrating hyaluronic acid, barrier-repairing ceramides, and soothing niacinamide.
As I already mentioned, it's a great moisturizing sunscreen but it leaves a greasy layer, therefore, you will definitely need to set it with powder, or otherwise, it's likely that you won't appreciate it, especially if you have excessively oily skin.
Best for dry, acne-prone skin.
My name is Simone and I am a certified skin specialist. I created this website to teach my readers how to take great care of their skin and I also like to occasionally share my honest opinions on skincare products I've tried. You can learn more about me here.
The Acne Solution: Your Ultimate Guide To Flawless Complexion
An extensive, no-nonsense course showing you how to never have acne again, from a licensed Esthetician specializing in oily/acne-prone skin.