CeraVe is an affordable, drugstore brand that has products for every skin type and skin concern, including a good range of products for acne-prone skin.
What I personally like about the brand is that they take a minimal approach with their formulations and their products often have a short but straightforward ingredient list.
A few of the most popular and best-selling products are the CeraVe moisturizers and lotions and these have a place on pretty much any skincare enthusiast's bathroom shelf.
However, even though they are constantly promoted by dermatologists worldwide…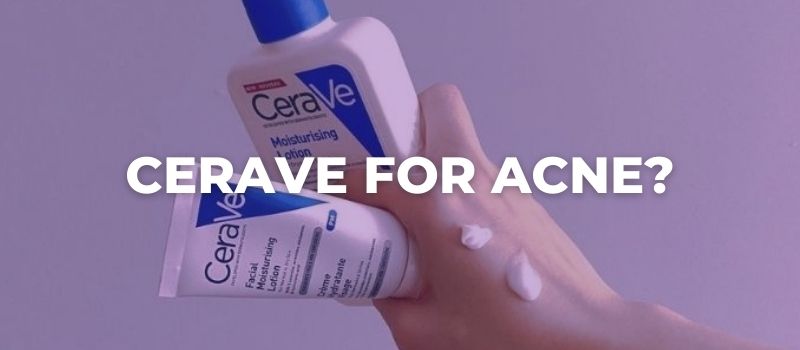 NB:
What if I told you I can show you how to never have acne again?
If you have acne and want it gone
,
read this message
.
Is CeraVe Really Good For Acne?
Yes, several CeraVe products can help you get rid of acne, however, the best-selling moisturizers are not the product to go for when trying to treat this particular concern.
Both the CeraVe cream and lotion for normal to dry skin are often portrayed as this neutral moisturizer that can be used by every skin type even though the label clearly says it's intended for dry skin.
These moisturizers contain a few ingredients that can trigger breakouts if your skin is already prone to it.
The lotion (which has a lighter texture) contains an ingredient called Polyglyceryl-3 Diisostearate which is a natural emulsifier that brings a soft and powdery feel to the formula.
The ingredient itself is very gentle and you can often find it in products intended for sensitive and baby skin.
But bear in mind that both sensitive and baby skin have either impaired or non-active sebaceous glands to produce enough oil, therefore, these skin types have the least chance of breaking out from this particular ingredient.
This is not the case when it comes to oily/acne-prone skin because in this case, the sebaceous glands are over-active, and Polyglyceryl-3 Diisostearate can become a potential problem.
And before you come and tell me that you have sensitive and oily skin, stop.
Your skin is most likely sensitized, which is different than sensitive skin.
A very small percentage of people are actually born with sensitive skin and most of us create this problem for ourselves by sensitizing our skin with a variety of cosmetic products.
Furthermore, the CeraVe moisturizer contains tocopherol which is a fat-soluble antioxidant but some studies suggest that this particular form of vitamin C and E together can be problematic for oily and acne-prone skin, especially when using oil and cream-based products.
Tocopherol is almost everywhere and you will find it in any skincare product out there, so if you have stubborn acne, it's worth digging a little deeper and experimenting with products that don't contain this ingredient to try to figure out whether it's the one causing you an issue.
And finally, besides these two, the CeraVe moisturizer is chock-full of various emollients that might comfort your skin for a while, but can potentially cause you an issue after some time, the way they did for me.
I was enjoying the CeraVe moisturizers for some time back when my skin was sensitized and damaged from all the harsh treatments I was using for acne, however, after about a month of diligent use, I started experiencing more and more breakouts.
I quickly realized that the CeraVe moisturizers make break me out and I stopped using them. Instead, I replaced them for La Roche Posay's Cicaplast Baume as my skin still craved nourishment, and, soon enough, the breakouts stopped, and my skin got back to normal.
Why Do So Many Dermatologists Recommend CeraVe?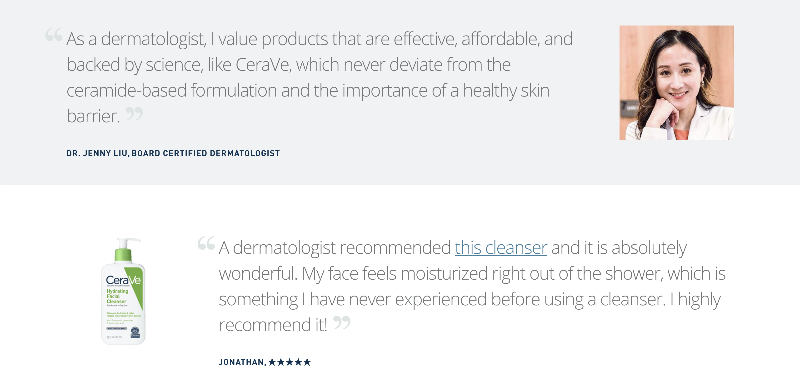 CeraVe has particularly compatible products for tretinoin and Accutane users, which is why these products are recommended by every dermatologist.
When you go to a dermatologist, their job is to help you get rid of your issue quickly and efficiently, which is why people often come out of a derm's office with prescriptions and a treatment plan to help ease the side effects medication can create most of the times.
So if your derm puts you on a course of combined medication, they are very likely to advise you to bring your skincare routine to a minimum and use products that have the least chance of exacerbating your side effects.
Drugs targeted for treating acne are notorious for being drying to the skin, therefore, your derm wants to make sure you are receiving a good amount of moisturization through skincare products, and CeraVe is one of the brands that deliver just that – no fluff, just results.
This is why dermatologists recommend CeraVe.
However, if you are not using any medication that can potentially dry out your skin, the wrong selection of products can most definitely cause excess oiliness and even a CeraVe product can clog your pores and cause your skin to break out, no matter how good it is.
This is definitely something you should take into consideration when deciding on your next CeraVe purchase. If you've learned about the brand from someone else, make sure to dig a little deeper and try to figure out whether their particular skin concerns are matching yours and what are they doing to address it.
Little you may know, they might be going through a course of medication that alters how their skin behaves on a molecular level and these products are working for them but they might be a disaster for you, even if you happen to have the same skin concern.
My 2 Favourite CeraVe Products For Oily/Acne-Prine
Here are a few products that can help you improve your acne concern:
This is a particularly good cleanser for more severe acne and sensitized skin as it can be used as short contact therapy.
Given the strength is 4%, it is quite a strong product that shouldn't be used daily, therefore, try to incorporate it into your evening routine 2-3 times a week and keep it on the skin for no longer than 60 seconds.
Always make sure to follow it up with a hydrating moisturizer as it can potentially dry out your skin in the beginning.
The resurfacing retinol serum is a quite decent product given its price.
This product can help you get rid of post-acne scarring, but due to several ingredients such as niacinamide and propanediol, it can also work on balancing oil production, soothing, and hydrating the skin while also strengthening the skin barrier.
On the other hand, it does contain one problematic and potentially clogging ingredient at the bottom of the list called Isopropyl Myristate, which is a heavy emollient ingredient usually found in cream-based tretinoin.
It works as a penetration enhancer and although it can usually cause some breakouts, the concentration in this particular product is very mild so the chances of having an adverse effect are very small.
My name is Simone and I am a certified skin specialist. I created this website to teach my readers how to take great care of their skin and I also like to occasionally share my honest opinions on skincare products I've tried. You can learn more about me here.
The Acne Solution: Your Ultimate Guide To Flawless Complexion
An extensive, no-nonsense course showing you how to never have acne again, from a licensed Esthetician specializing in oily/acne-prone skin.