Yes, you can mix niacinamide with retinol, and in fact, doing so will put your skin on the fast track for impressive results.
Niacinamide and retinol are two ingredients that often raise doubts about whether they can be safely used in combination with other actives.
That is because both actives can be strong and cause unwanted reactions, so the chances are that people who have sensitive skin or those who've had unpleasant reactions from products will be extra careful before applying a power combo like this on their skin.
And while you can totally use niacinamide and retinol together, you still need to be aware that potential side effects may occur.
Therefore, in this article, we will talk about the benefits and risks of using niacinamide and retinol together as well as how to properly combine these two actives for best results and no unwanted reactions.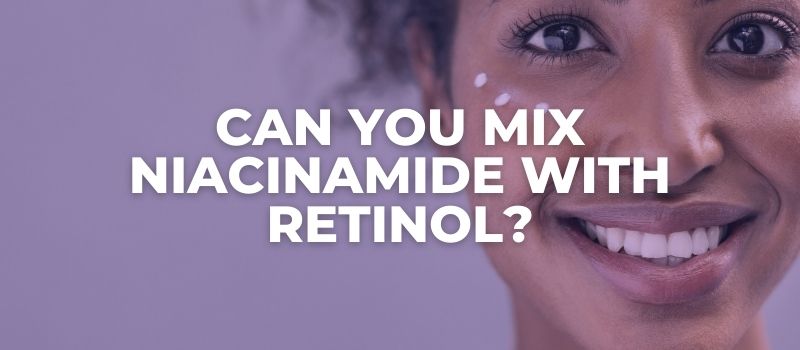 NB:
I can show you how to never have acne again.
If you have acne and want it gone
,
read this message
.
Benefits of Using Niacinamide With Retinol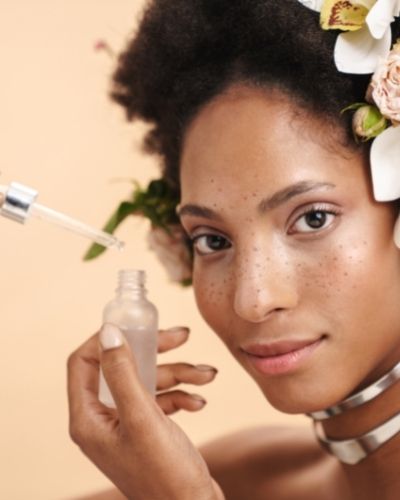 Here are just a few benefits of using niacinamide with retinol:
Getting rid of acne and tightening enlarged pores
Niacinamide helps stimulate the skin's natural production of beneficial fatty acids and ceramides, reinforcing retinol's ability to improve the look of the skin's surface.
Each works in different ways to normalize pore function, which helps skin double down on oil control and minimize enlarged pores.
Retinol also increases cellular turnover, which means the cells will shed faster than normal, and clogs inside the pore will eventually come to the surface and shed.
This means that due to the rapid shedding, there will be fewer and fewer clogged pores and less pimple formation.
Fading hyperpigmentation
Niacinamide inhibits melanosome transfer from melanocytes (pigment-producing cells) to keratinocytes (skin cells), which means it will stop the uneven deposition of pigment on a cellular level and eventually help brighten the already existing hyperpigmentation on the surface of the skin.
On the other hand, retinol will help induce desquamation, which is the natural shedding process, and shed existing pigmentation. This will eventually lead to a more even and uniform skin tone.
Smoothing out skin texture
Both niacinamide and retinol can undoubtedly make the skin smoother and refine uneven texture.
Niacinamide does this by strengthening the skin barrier and helping the skin retain moisture, which will result in a smoother and more plump look.
On the other hand, retinol will help neutralize free radicals and help boost the production of elastin and collagen, which will result in improved elasticity and suppleness.
But besides that, retinol will help shed skin cells faster, which will reveal a brighter, smoother, and more even layer of skin.
Strengthening the skin barrier
One of the most useful properties of niacinamide is the ability to improve epidermal barrier function by reducing trans-epidermal water loss and increasing the skin's resistance to potentially harmful pathogens.
Once your skin barrier is strengthened, your skin will deal with issues such as redness and hyperpigmentation with ease and will also become more resilient and resistant to irritation.
Retinol, on the other hand, can thicken and strengthen the skin barrier by stimulating the production of healthy skin cells.
Risks of Using Niacinamide With Retinol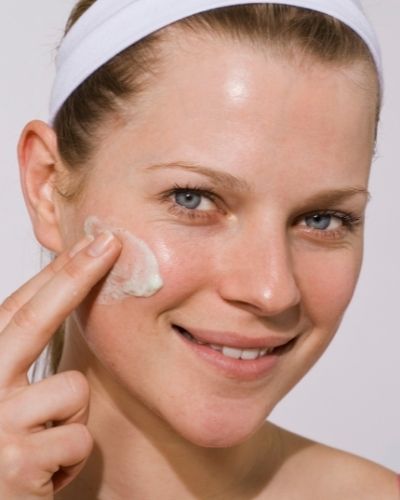 Here are a few things you should watch out for when using niacinamide and retinol:
Irritation
Irritation is likely to happen when using niacinamide with retinol, and that can be more due to the retinol than niacinamide, but using both actives in one routine can potentially worsen the issue.
Although an anti-aging powerhouse and the solution for various skin concerns, retinol is dreaded by many due to the irritation that comes with it during the adjustment period.
Even if you are an experienced retinol user, you are likely familiar with having to be extra careful when upping the percentage or increasing usage.
Niacinamide, on the other hand, can also make matters worse for some skins, and this can happen due to reasons such as:
using a separate and highly concentrated product (anything higher than 5% is considered high concentration)
overusing the product (using niacinamide twice a day is definitely too much)
not moisturizing enough
not using sunscreen, etc.
Therefore, if you want to use niacinamide and retinol together, try to avoid doing these things to minimize the risk of irritation.
Peeling
Peeling is what usually happens while your skin is getting used to retinol, which is why introducing a separate niacinamide product isn't a good idea during this time, as both actives can increase peeling and discomfort.
When starting retinol, it's best to keep your routine as simple as possible and use retinols that contain niacinamide if you want the benefits of both actives.
Intolerance
You may have to tone it down slightly if your skin cannot take this potent combo and becomes way too irritated.
Consider using lower strength retinol or niacinamide, or simply using both products in different routines (for example, niacinamide in the morning and retinol in the evening) or on different days.
7 Best Retinols With Niacinamide
Here is a list of 7 best retinols that contain niacinamide:
CeraVe – Resurfacing Retinol Serum – $16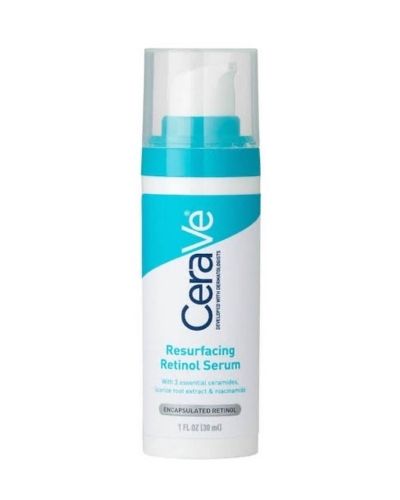 The Resurfacing Retinol Serum by CeraVe is a quite decent product given its price.
It's good for all skin types but best for dry skin that tends to experience acne breakouts and scarring such as hyperpigmentation and texture.
The formula contains three essential ceramides that help repair a damaged skin barrier as well as soothing licorice extract besides brightening niacinamide and retinol.
Best affordable/dry/acne-prone skin with post-inflammatory scarring.
Alastin Skincare – Renewal Retinol 0.25 – $55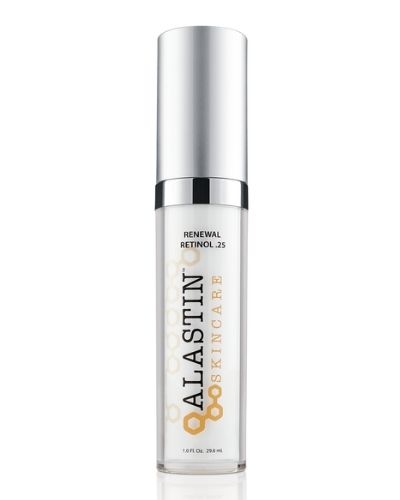 Alastin Renewal Retinol 0.25 is beginner-friendly retinol that helps improve the skin's elasticity, tone, and texture.
It contains encapsulated retinol, which means the active ingredient will be released slowly into the skin and won't cause irritation.
Besides that, the product also contains ceramides and niacinamide that help strengthen and repair the skin barrier, as well as antioxidants that help neutralize free-radical damage, and oat extract, which is a powerful soothing and calming ingredient that prevents irritation.
Best for all skin types and retinol beginners.
SkinMedica – Age Defense Retinol Complex 0.5 – $78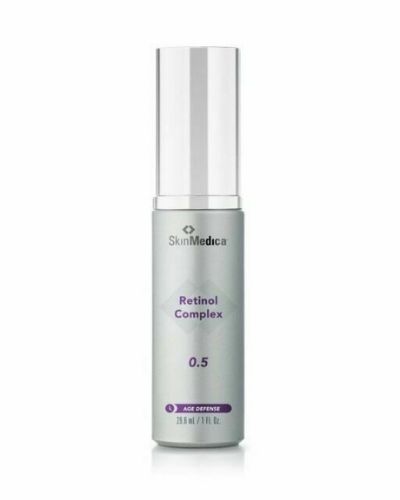 SkinMedica's Age Defense Retinol Complex 0.5 is very similar to Alastin's Retinol, with a few additions of heavier lipids such as soja oil, squalane, and a couple of fatty alcohols that help soften the skin.
It's also a little bit stronger, which means you can potentially experience some shedding in the beginning, but due to the moisturizing and nourishing ingredients, this will likely be very insignificant.
Besides that, the formula also contains barrier-strengthening niacinamide, antioxidant bisabolol, as well as palmitoyl tripeptide-8, which is a soothing ingredient obtained by the reaction of palmitic acid and tripeptide-8.
Best for dry skin/retinol beginners.
Jan Marini – Age Intervention Duality – $95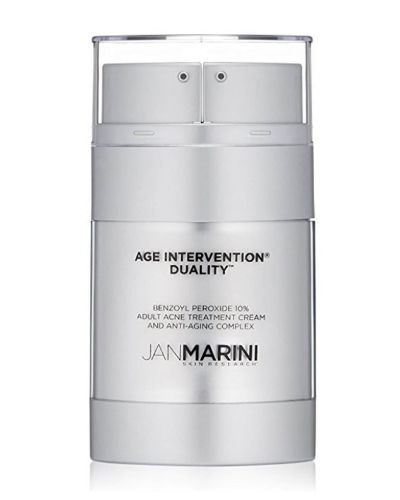 Jan Marini's Age Intervention Duality is a retinol/benzoyl peroxide cream that addresses mild to moderate acne while simultaneously minimizing the appearance of fine lines.
It has a dual chamber dispensing bottle that combines 10% ultra-micronized benzoyl peroxide and highly concentrated all-trans-retinol.
But besides that, the formula also contains soothing green tea extract, anti-aging peptides, hydrating and moisturizing ingredients such as hyaluronic acid and shea butter, as well as antioxidants to eliminate skin damage induced by free radicals.
However, due to the highly concentrated active ingredients, you should avoid overusing the Age Intervention Duality as this can cause some irritation and peeling.
Best for dry/oily/acne-prone skin.
Osmosis MD – Renew Advanced Retinal Serum – $96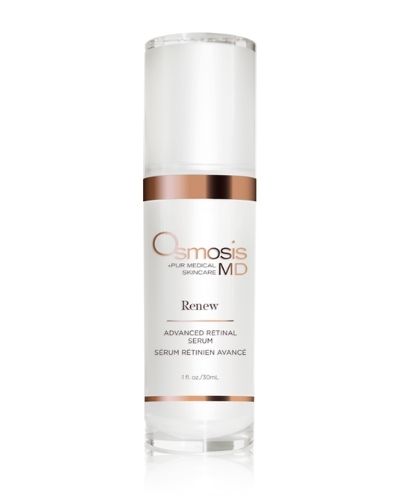 Using the highest potency of Osmosis's liposomal retinaldehyde, Renew offers sun-safe, barrier protecting, DNA preserving technology to stimulate collagen production and restore suppleness and elasticity to the skin.
The Renew Advanced Retinal Serum is designed to increase nutrient delivery to the skin enhanced by a pharmaceutical-grade delivery system that delivers 9 collagen stimulators and 7 potent antioxidants far beyond the surface layers to create real, lasting changes.
And the best thing of all is that it can be used both mornings and evenings as it is completely UV-safe.
PCA Skin – Intensive Clarity Treatment 0.5% Pure Retinol – $111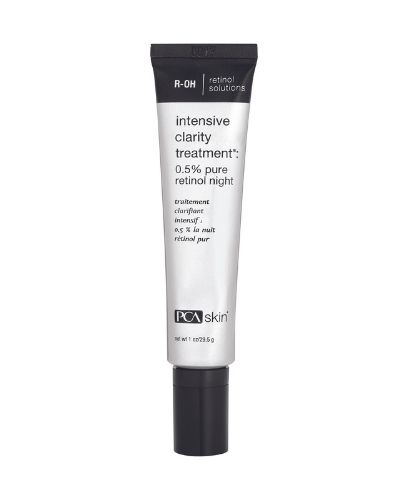 PCA Skin Intensive Clarity Treatment is designed for acne-prone skin and uses 0.5% pure retinol as well as 2% salicylic acid to exfoliate the skin and clear out the pores from clogging gunk.
Besides that, the treatment also contains barrier-repairing and brightening niacinamide as well as emollients to prevent dryness and antioxidants to fight against free radical damage.
Best for dry/oily/acne-prone skin.
SENTÉ – Intensive Bio Complete Cream – $125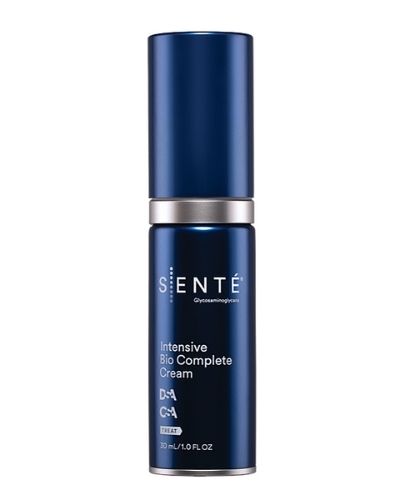 SENTÉ Skincare Intensive Bio Complete Cream is a retinol product containing a .5% true, time-released retinol with two of Sente Skincare's patented Glycosaminoglycans (GAGs): DSA (Dermatan Sulfate Analog) & CSA (Chondroitin Sulfate Analog).
Combining both the retinol with the unique, patented GAGs can do wonders for the skin since retinol acts as a vehicle to push the glycosaminoglycans deeper into the skin.
Additional benefits due to the GAGs in the serum are the hydrating and soothing effect on the skin to help combat some of the retinol side effects, like irritation and flaking.
Best for dry/mature skin.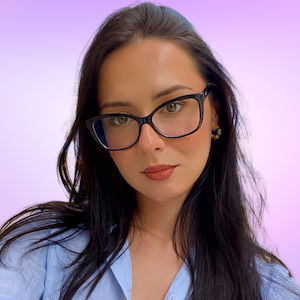 My name is Simone and I am a certified skin specialist. I created this website to teach my readers how to take great care of their skin and I also like to occasionally share my honest opinions on skincare products I've tried. You can learn more about me here.
The Acne Solution: Your Ultimate Guide To Flawless Complexion
An extensive, no-nonsense course showing you how to never have acne again, from a licensed Esthetician specializing in oily/acne-prone skin.