I've had a mixed experience with La Roche-Posay due to past skin issues caused by some of their products.
However, my perspective changed after using the Effaclar H Cleansing Cream and Cicaplast Baume B5, which significantly improved my dehydrated and acne-prone skin.
This review will focus on the Cicaplast Baume B5, a product I've consistently used since 2020 and has helped restore my skin from dehydration, frequent breakouts, irritation, and redness to its normal, healthy state.
I'll share how this product works for my skin type, how it helped calm my acne, what sets it apart, and how to use it effectively for the best results.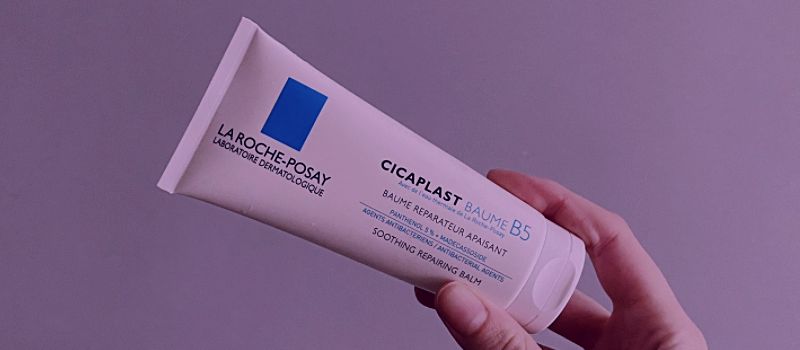 NB:
What if I told you I can show you how to never have acne again?
If you have acne and want it gone
,
read this message
.
What is La Roche-Posay Cicaplast Baume B5?
La Roche-Posay's Cicaplast Baume B5 is a multi-purpose soothing cream that can be used on cracked, chapped, dry, and irritated skin to help hydrate and soothe.
It's suitable for both adults and children and can be used on all areas of the face and body.
Additionally, the Cicaplast Baume B5 can also be used to soothe inflammatory skin conditions and reactions such as allergies, bug bites, cuts, itching, and redness.
Ingredients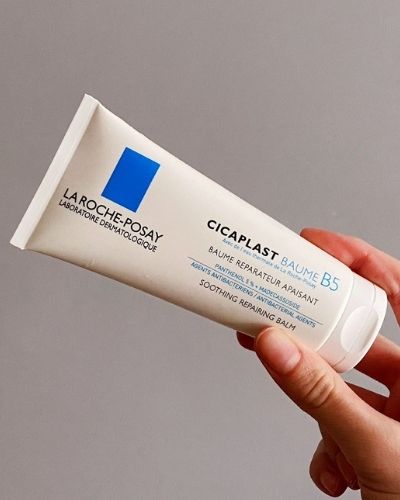 This thick balm contains many soothing, repairing, and moisturizing ingredients.
Some of the main ones include softening shea butter, hydrating glycerin, nourishing magnesium, and Madecassoside, which is one of the four main compounds in the plant extract Centella Asiatica, an incredibly soothing and repairing agent that helps strengthen the skin barrier.
Additionally, Cicaplast Baume B5 also contains a couple of acne-fighting ingredients, including zinc and panthenol, which is a soothing and barrier-repairing component that strengthens the skin barrier, helping it fight off pathogens and overgrowth of the acne-causing bacteria.
The Cicaplast Baume B5 is also non-comedogenic, and although it's quite thick and heavy, there aren't known acne triggers in its formula that will clog your pores and cause your skin to break out.
Scent
The Cicaplast Baume B5 doesn't have added fragrance or other fragrant components such as essential oils, and it doesn't have any scent.
Consistency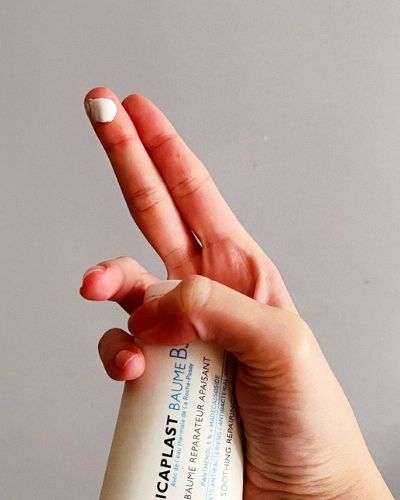 The Cicaplast Baume B5 has the consistency of a thick, creamy balm.
How to Use The Cicaplast Baume B5?
La Roche-Posay's Cicaplast Baume B5 isn't a regular moisturizer, therefore, if you try to rub it into the skin the way you would do a typical moisturizer, chances are that you are not going to like this product.
Instead, the right way to use the Cicaplast Baume B5 is by warming a pea-sized amount of product between your fingertips and pressing it into the skin rather than rubbing it around.
This will help the balm settle and absorb into the skin instead of sitting on the surface and leaving white streaks behind.
How Does The Cicaplast Baume B5 Work on Acne-Prone Skin?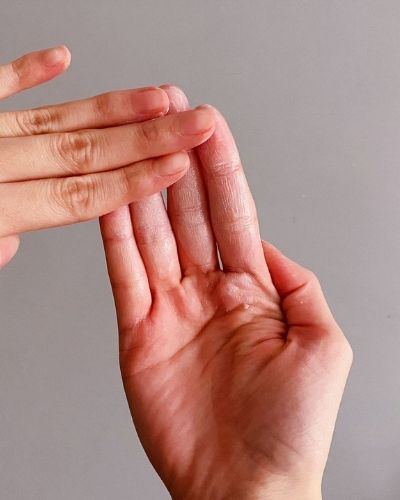 I just want to reiterate my previous point by saying that the Cicaplast Baume B5 is not a moisturizer, and it shouldn't be used as such because you will probably hate its consistency and not get the best results from it.
The way I like to use it is by warming it up between my fingertips first and pressing it onto areas of my face and neck.
Once I have most of the areas covered, I will continue doing a movement referred to as "press and release" or "press and lift" technique.
This technique involves applying a moisturizer by gently pressing it into your skin with your fingertips, then lifting your fingers and repeating the process.
This wave-like motion helps the product penetrate deeper into the skin, improving hydration and absorption. It's also beneficial for circulation and can give your skin a plumper, more radiant look.
Once I'm done, I also like to do a quick lymphatic drainage massage when I don't use any actives under the balm. This is very important because you don't want to move your actives around as this will give you uneven coverage.
That said, the Cicaplast Baume B5 does exactly what it says it does, and it's always pleasant to see a product actually delivering its claims.
I started using the Cicaplast Baume B5 when my skin wasn't in a great place and was experiencing extreme dehydration, dryness, peeling, and irritation due to starting tretinoin.
I have since stopped using tretinoin because I didn't have much luck with it, but the Cicaplast Baume B5 was definitely the product that helped eliminate my tretinoin-induced side effects in the beginning.
Also, besides the Effaclar H Cleansing Cream, it was the only other product that didn't burn my face.
I used to apply the Cicaplast Baume B5 before bed, 20-30 minutes after applying tretinoin, and I would feel immediate relief from dryness and irritation.
Cicaplast Baume B5 also helped strengthen my skin barrier and even helped smooth out rough skin texture caused by excessive dehydration.
It also helped soothe inflammation, and my purge-induced pimples always looked slightly better in the morning after I used the Cicaplast Baume B5 the previous evening.
That said, even though I stopped using tretinoin after about 3-4 months of starting it, I continued using the Cicaplast Baume B5 daily, and I even use it as a weekly mask by applying more than I usually would and sleeping in it.
Kind of like slugging, but instead of Vaseline or Aquaphor, I use the Cicaplast Baume B5, and my skin looks super glowy, hydrated, and plump when I wake up in the morning after masking with this product.
Lastly, I also like to use it as an eye mask, and I apply it on my under eyes, eyelids, and even on my lashes because it's so gentle it doesn't sting the eyes even when I get very close.
I have tried so many products during my journey as an esthetician, and I can't say that any other product does that, as most will cause slight to moderate and even severe eye irritation.
Even the eye creams I sometimes use can sting and burn a little as they usually contain constricting ingredients such as caffeine. I also never apply eye creams on my eyelids, but I don't have a problem doing this with Cicaplast Baume B5.
All that said, there's one claim I disagree with, and that is Cicaplast Baume B5 not being greasy, according to La Roche-Posay's website.
Yes, this isn't a greasy oil or a petroleum-based product, but it does leave the skin very moisturized and glowy, which is why, as someone with oily skin, I only use it in the evenings to avoid shine during the day.
This claim isn't necessarily incorrect; however, I know that folks with oily skin expect a velvety or a slightly matte finish when we read a product is "non-greasy," and this one definitely leaves a glowy layer on the skin.
Cicaplast Baume B5 Pros:
Affordable and easily accessible.
Soothing.
Hydrating.
Moisturizing.
Softening.
Helps strengthen the skin barrier.
Non-comedogenic and actually beneficial for acne due to containing zinc.
Can be used as a face mask.
Delivers instant relief to irritated skin.
Cicaplast Baume B5 Cons:
Leaves a shiny layer on the skin.
How to Use Cicaplast Baume B5 for Acne?
The Cicaplast Baume B5 isn't an acne treatment; however, it can soothe active pimples due to containing zinc, an anti-inflammatory and anti-acne component.
To soothe the severity of a pimple, apply Cicaplast Baume B5 as a spot treatment on clean and dry skin and leave it overnight.
When you wake up in the morning, chances are that your pimple will be less red, swollen, and inflamed.
On the other hand, you can also use the Cicaplast Baume B5 over an active spot treatment, such as a product containing benzoyl peroxide, an oxidizing agent that infuses the pores with oxygen to destroy the airless environment the acne-causing bacteria need to survive.
After applying your benzoyl peroxide treatment on clean and dry skin and letting it fully absorb and dry, apply a thicker layer of the Cicaplast Baume B5 to help soothe active inflammation while a targeted ingredient is fighting the root of the pimple.
However, that said, let's not forget that the Cicaplast Baume B5 isn't an acne treatment, and while it can soothe symptoms of acne, such as redness, inflammation, and irritation, it won't address the root of the issue, which is a clogged pore.
To minimize acne and maintain clear skin, you have to have a complete skincare routine consisting of a cleanser, an acne treatment such as salicylic acid, benzoyl peroxide or a retinoid, a moisturizer, and sunscreen.
Additionally, many times, acne is the result of prolonged internal inflammation caused by overconsumption of highly inflammatory foods and hormonal imbalances.
Therefore, if you have been dealing with severe acne for a long time, it might be a good idea to consider making significant dietary and lifestyle changes.
On the other hand, if you need a customized skincare routine that's perfectly suited to your unique skin type, current skin condition, and primary concerns, I'm here to help!
As a certified esthetician and an acne specialist, I have the expertise to curate a skincare regimen that targets your specific needs.
With a friendly and understanding approach, I aim to make your skincare journey as comfortable and rewarding as possible.
So, don't hesitate to reach out to me and schedule a consultation during which we can discuss your concerns and work together to get your skin to a healthy and clear stage.
Where to Buy La Roche-Posay Cicaplast Baume B5?
La Roche Posay's Cicaplast Baume B5 is easily available in most drugstores or pharmacies.
However, the LRP Cicaplast Baume B5 can also be purchased from sites like:
My name is Simone and I am a certified skin specialist. I created this website to teach my readers how to take great care of their skin and I also like to occasionally share my honest opinions on skincare products I've tried. You can learn more about me here.
The Acne Solution: Your Ultimate Guide To Flawless Complexion
An extensive, no-nonsense course showing you how to never have acne again, from a licensed Esthetician specializing in oily/acne-prone skin.