COSRX is a Korean skincare brand that acquired a cult following from all over the world thanks to YouTubers like James Welsh and Hyram that constantly rave about K-beauty on their channels.
I've already mentioned COSRX here on my website. It is one brand that I genuinely like and trust because they are famous for consistently sticking to their simple philosophy, which is being an ingredient-oriented brand aiming to create efficient products with a minimum amount of ingredients.
I've already reviewed several of their products, including the Snail Mucin Essence, which didn't work for my skin type, however, that's not to say that the product is bad.
Therefore, today, I will be reviewing another one of the products that I have been testing recently and have gathered my thoughts on.
This is my COSRX Oil-Free Ultra-Moisturizing Lotion review.
TLDR: This moisturizer has great ingredients but it didn't really work for me. I found it a bit sticky and it even made my skin greasy when I try to apply more product.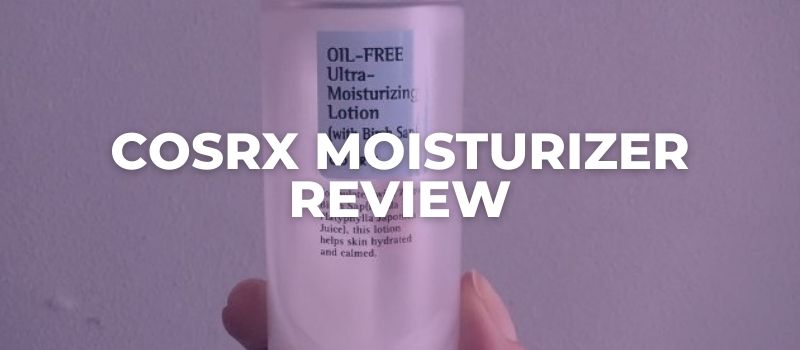 NB:
What if I told you I can show you how to never have acne again?
If you have acne and want it gone
,
read this message
.
What Is Birch Sap?
Betula Platyphylla Japonica Juice or Birch Sap is the first ingredient in the Oil-Free Ultra-Moisturizing Lotion. This ingredient hails from Korea, where it's often used to replace the good ol' Aqua (Water) found in cosmetic products.
Birch Sap is an incredibly lightweight, yet hydrating ingredient that is easily tolerated by all skin types, including sensitive skins. It is prized for its ability to reduce inflammation, purify, and hydrate the skin.
Birch Sap is harvested from trees once a year and it contains amino acids, minerals, enzymes, antioxidants, and vitamins, all of which are super beneficial for the skin, therefore, it's not a surprise that you can often find this ingredient in anything from toners, essences, serums, and moisturizers.
While we still don't know a heck of a lot about Birch Sap, it is safe to say that it is a very promising ingredient that we might just find more and more often in beauty products.
Additionally, besides being beneficial for the skin, birch sap has been used traditionally in medicine to treat lung, kidney, and stomach problems.
Oil-Free Ultra-Moisturizing Lotion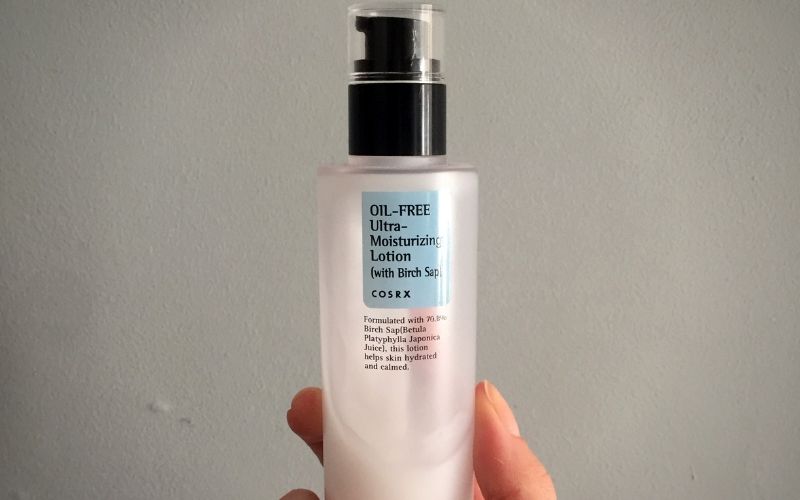 The COSRX Oil-Free Ultra-Moisturizing Lotion can be used by both oily skin types as a finishing moisturizer as well as dry skin types as a thicker emulsion before the final moisturizer.
Let's dig a little bit deeper into its composition.
Ingredients
"Betula Platyphylla Japonica Juice, Butylene Glycol, Glycerin, Dimethicone, Betaine, Cetearyl Alcohol, 1,2-Hexanediol, Cetearyl Olivate, Sorbitan Olivate, Hydroxyethyl Acrylate/Sodium Acryloyldimethyl Taurate Copolymer, Ethylhexyglycerin, Citrus Medica Limonum (Lemon) Peel Oil, Allantoin, Panthenol, Xanthan Gum, Sodium Lactate, Sodium Hyaluronate, Ethyl Hexanediol, Melaleuca Alternifolia (Tea Tree) Leaf Oil"
The ingredient list is relatively short and pretty much straight to the point.
The Oil-Free Ultra-Moisturizing Lotion contains a nice blend of humectant ingredients such as glycerin, butylene glycol, and sodium hyaluronate, as well as moisturizing ingredients such as allantoin, panthenol, Cetearyl Alcohol, Cetearyl olivate, and even targeted ingredients like tea tree leaf oil that have antibacterial and antimicrobial properties to tackle concerns such as inflammation and acne breakouts.
There are a lot of nice and beneficial ingredients in this lightweight emulsion/moisturizer type of product. Therefore, it can be used by both oily and dry skin types for different purposes.
Consistency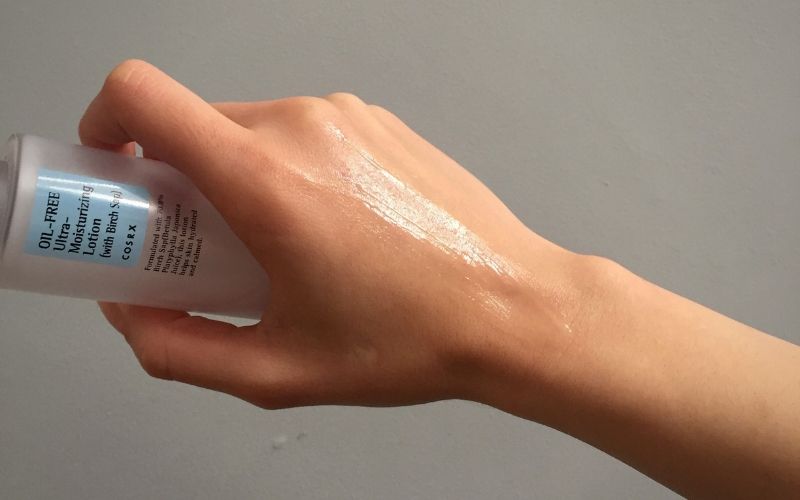 The Oil-Free Ultra-Moisturizing Lotion has a gel/cream consistency. It looks somewhat like lotion or an emulsion but it is a little bit more consistent than that.
Once you start spreading it on your skin, the consistency turns into a watery gel and it delivers that cooling sensation and glowy/wet look we all strive to have.
It is very easily absorbed by the skin and it turns matte once it dries out.
Scent
I don't like heavy fragrance in my skincare, however, one of the reasons I like COSRX products is because of the fresh, herbal scent their products typically come with.
As with the Low pH Good Morning Cleansing Gel, the Oil-Free Ultra-Moisturizing Lotion comes with that fresh and herbal scent I can recognize as tea-tree plus something else I can't quite identify.
COSRX products don't have added fragrance, but the ingredients are what gives the formulation that nice, signature scent.
Perhaps someone will complain about the scent, however, I am not even slightly bothered by it. It feels quite fresh on my face and it's not overpowering. On the other hand, it disappears quite quickly so you won't have to suffer through it for a long time.
Performance
I wasn't all that impressed by this moisturizer for several reasons.
First, my skin doesn't get along with silicones, and dimethicone (which is silicone) is the fourth ingredient in this product.
Silicones are super moisturizing and are relatively easy to tolerate, however, not every skin is the same, so you might like it or you might dread it.
I don't dread it, I just don't get along with it.
Anyhow, I was using this product for about five months, but I think I was using it at the wrong time of the year. It's definitely not enough for my skin as the last moisturizer during wintertime.
My skin is oily but I still prefer thicker moisturizers (like Drunk Elephant's F-Balm for example), especially during the winter months.
Perhaps it can pass as an okay summer moisturizer. However, you will probably still need some preparation like a hydrating toner, an essence, or a serum before applying it on the skin.
I just feel like this moisturizer doesn't work well on its own.
What I appreciated was that it didn't break me out as many other moisturizers do, so that alone made me rely on using it for a long time in order to gather my opinions on it.
Also, I've noticed that a little goes a long way with this one, and if I try to apply more than the usual half a pump for the entire face it kind of makes my skin more sticky and greasy than hydrated, which is a little annoying.
The only thing I like is that it's safe for acne-prone skins as it has soothing ingredients that can actually calm inflammation, however, don't rely on it to heal your acne and always use an exfoliator in your routine if you are dealing with acne.
That being said, while I will say that it is an okay moisturizer, I sure as hell wouldn't go as far as calling it an "Ultra-Moisturizing" product and you definitely need to play around with this product in order to figure out what works for you and how you may use it.
COSRX Oil-Free Ultra-Moisturizing Loton Pros:
Can be used as a thicker essence or a lightweight moisturizer
Relatively good price for the amount of product
Contains clean, hydrating, and soothing ingredients
COSRX Oil-Free Ultra-Moisturizing Lotion Cons:
Not enough as a final moisturizer in winter
Some people might find the herbal scent overpowering
If you are sensitive to silicones opt for something else
It can make your skin greasy if you put a lot of product
It may leave your skin sticky
Where To Buy COSRX Oil-Free Ultra-Moisturizing Lotion?
You can purchase the COSRX Oil-Free Ultra-Moisturizing Lotion on several websites at different prices, so pay attention to getting the best bargain when buying.
---
Final Thoughts
I don't know guys, I am struggling with this one.
I remember liking it the first week I was trying it out and then everything just went to hell with it.
I still think it has clean and great ingredients, it just didn't really work for me, for whatever reason. I found it a bit sticky and it even made my skin greasy when I try to apply more product.
Anyhow, what do you think of my COSRX Oil-Free Ultra-Moisturizing Lotion review? Have you tried this product? Did you like it? Or did you hate it? Let me know in the comments below!
My name is Simone and I am a certified skin specialist. I created this website to teach my readers how to take great care of their skin and I also like to occasionally share my honest opinions on skincare products I've tried. You can learn more about me here.
The Acne Solution: Your Ultimate Guide To Flawless Complexion
An extensive, no-nonsense course showing you how to never have acne again, from a licensed Esthetician specializing in oily/acne-prone skin.