Drunk Elephant is a brand that has been around the corner for a while, however, truth be told, I've never thought of trying their products.
Not because there was something I didn't like about them particularly, but because my face was covered in severe cysts until about two years ago so I was extra careful with the things I was going to apply on my skin.
Anyhow, it took me a long time to adjust and start using new products, but I finally decided to experiment a little while still trying to be extra careful about the products I intend to try.
After all this time, I finally decided to give Drunk Elephant a chance and after reading OmgBart's review on his blog, I was certain that the F-balm was going to be my first ever Drunk Elephant product.
TLDR Review Summary: I will surely continue using this and might even repurchase if I don't come across something better by then. It's an excellent product for both oily skins as a moisturizer and dry skins as a leave-on mask. It's surely worth checking it out.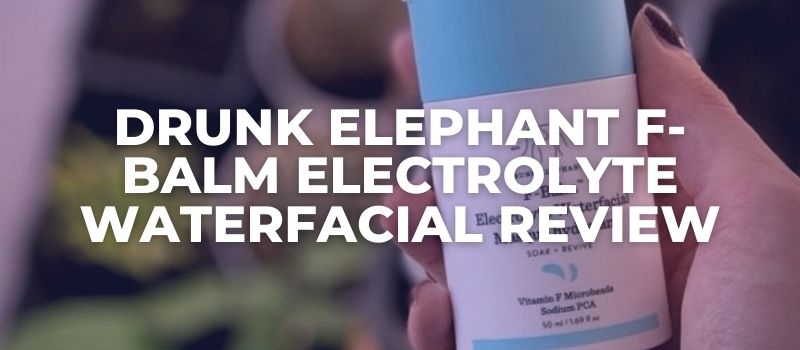 NB:
I can show you how to never have acne again.
If you have acne and want it gone
,
read this message
.
What Is Vitamin F?
The truth is that vitamin F isn't actually a vitamin but this name is used to represent a combination of two essential fatty acids.
Vitamin F is what we know as a combination of linoleic acid, an Omega-6 and alpha-linoleic acid, an Omega-3.
The dream team of the two fatty acids provides many benefits for the skin, including softening, hydrating, replenishing, and antioxidant properties the skin absolutely craves.
These two can also help nourish skins dealing with topical conditions such as atopic dermatitis (which is the most common type of eczema) and even mild to severe psoriasis.
Vitamin F is also essential for our overall health. However, the kicker is that our bodies can't produce vitamin F on their own; therefore, this is why we need to eat things like plant oils (olive, corn, flaxseed, etc.), nuts, seeds, almonds, egg yolks, salmon, etc.
These fatty acids are then converted to other fats that are essential to the body as they help reduce inflammation, control sugar, as well as maintain overall mental health, folks.
F-Balm Electrolyte Waterfacial Masque Hydratant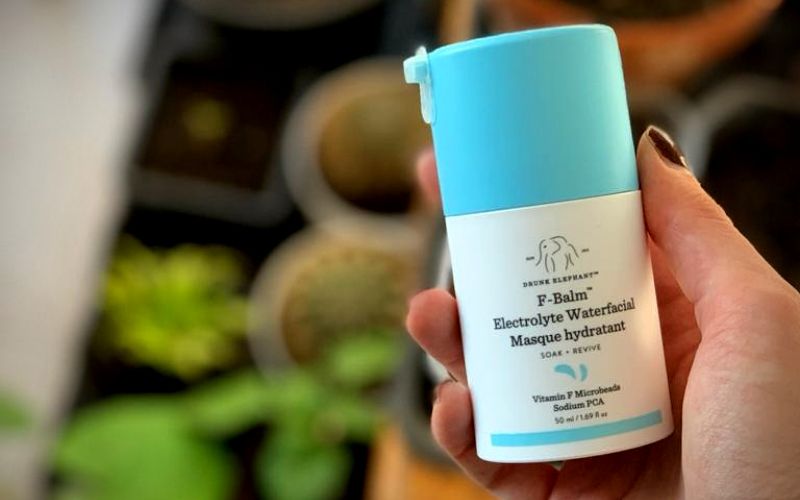 So, as I already mentioned above, I was basically influenced to buy this product after reading OmgBart's review. Although this never really happens, he presented this balm in a way that truly made me believe it's the one for me.
Well, I wasn't wrong, and I am glad I was influenced into buying because it actually turned out to be a suitable match for my oily/acne-prone skin.
Let's dig a little deeper.
Ingredients
The ingredient list is longer than I typically prefer in a product; however, the balm has a nice blend of "there's something for everyone here" and I will break down some of the ingredients for you.
Good old squalane is a multitasking lubricant and a substance that exists in our natural sebum.
Squalane exists to lubricate, plump, moisturize, and protect our skin from premature aging such as wrinkles and fine lines caused by dryness.
Therefore, people with dry skin that lack oil can truly benefit from having squalane in their moisturizers, but oily skins such as myself can also enjoy that nice layer of lubrication without the risk of breaking out.
Propanediol is a skin conditioning agent with humectant properties, meaning that it can attract moisture from the atmosphere and right into the skin.
It can also enhance the absorption of other ingredients and is responsible for leaving that smooth and dewy finish on the skin. Additionally, Propanediol is a very well-tolerated ingredient and it is not likely to cause sensitivity or potential irritations.
Niacinamide is my favorite ingredient in skincare products right after salicylic acid.
Also known as vitamin B3, niacinamide is a water-soluble vitamin that works excellently with every possible ingredient in skincare products.
Niacinamide is just that chick that gets along with everyone, boys and girls, and nobody ever has a bad word to say about her.
Besides being an excellent antioxidant, niacinamide can also visibly refine enlarged pores due to its ability to balance sebum production.
Furthermore, niacinamide can improve uneven skin tone and dullness. It can have a brightening effect on the complexion, it can fade dark marks and patches, it can strengthen the skin barrier, you name it, niacinamide does it, boo.
Check out my full guide on niacinamide, and then check out my comparison review between two very affordable niacinamide serums.
This is an olive-oil-derived ingredient that is chemically modified to be water-soluble while also keeping the original properties of olive oil.
It is a great emollient and obviously less heavy and greasy than your standard bottled olive oil (which people also rub on their skin, for whatever reason the internet convinces them to).
Let me get it out of the way from the beginning – this is not the same as coconut oil.
If you've been on my blog before, you probably know that I absolutely despise the idea of coconut oil being used as a face moisturizer and I've written articles on that matter before, click here for three reasons you shouldn't use coconut oil on your face if you're new.
But, coconut alkanes is a substance obtained from the complete reduction and hydrogenation of a mixture of fatty acids derived from coconut oil.
Because it went through hydrogenation, the oil is completely reduced, so you are getting excellent emollient properties without the possible clogging and whatnot that comes with using coconut oil from a jar (again, don't be that person).
Consistency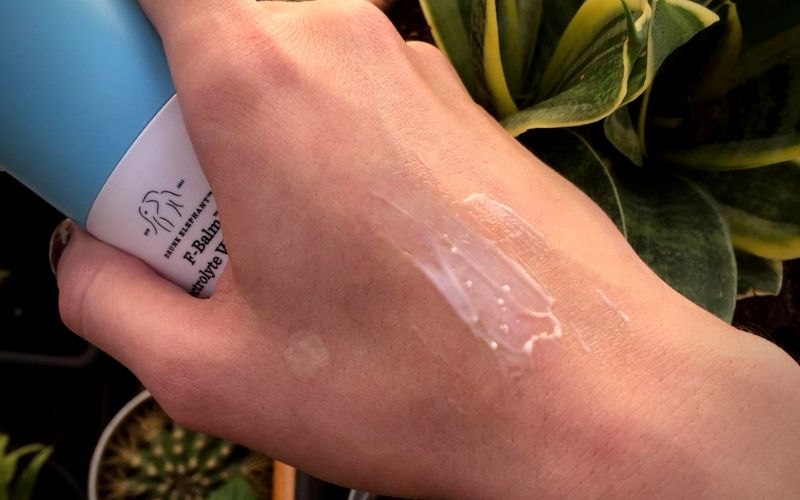 The moisturizer (I know it's supposed to be a mask but I use it as a moisturizer and I'm calling it a moisturizer) has a thick, creamy texture. It also has these interesting grains that burst when in contact with the skin, making the cream feel very soft.
Once it's applied to the skin, the formula gets a little bit more slippery, but nothing too crazy.
It's almost like a combination of cream and a gel, but the cream is more dominant than the gel, however, you can still notice the gel. Do you feel me?
It doesn't leave an overly greasy layer on the skin as an oil would, but it's there, it's noticeable, especially for someone with oily skin, you will definitely notice that layer of something on your skin.
Scent
When dispensed, the formula smells like one of those not sexy or attractive, fragrance-free lotions you get at the drugstore, but I appreciate the fact it doesn't contain added fragrance.
I like it and it goes away shortly after it's applied, so no harm done really.
Performance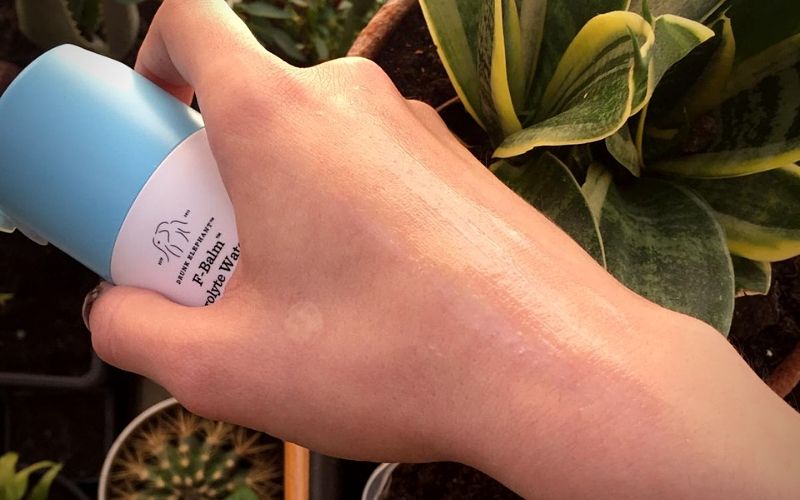 So as I already said, I use this product as a moisturizer instead of as a mask. If I were to use it as a mask and apply 4-5 pumps as per the instructions on the package, I am sure I'd wake up a greasy mess in the morning.
But I like using it as a moisturizer as spreadability is quite decent and I manage to cover my entire face, under the eyes, and eyelids with one full pump.
I don't typically apply moisturizers on my neck because I tend to break out much more than I do on my face these days, so I just stay away from it. However, I would probably cover the full face and neck with one and a half pumps.
This is great because I know the product will last me for a long time.
I use it as the last step in my evening routine and I enjoy the bouncy, hydrated, and nourished look I see when I take the first-morning glance in my bathroom mirror.
On the other hand, when using it as part of my morning routine, I follow it up with Paula's Choice Wrinkle Defense SPF 30, which gives me that slightly matte finish and these two enjoy working together, and they balance each other out.
In any case, I will surely continue using this and might even repurchase if I don't come across something better by then. It's an excellent product for both oily skins as a moisturizer and dry skins as a leave-on mask.
It's surely worth checking it out.
F-Balm Electrolyte Waterfacial Pros
Suitable for both oily and dry skins
It can last for a long time
Provides the skin with sufficient nourishment and hydration
Works great with other products
It doesn't leave an all too oily residue like standard thick moisturizers
Cute, airtight packaging (I'm not too fond of moisturizers in jars)
F-Balm Electrolyte Waterfacial Cons
Where to Buy?
You can purchase Drunk Elephant's F-Balm on the following sites:
---
---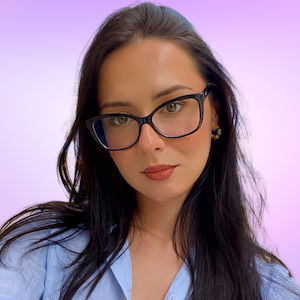 My name is Simone and I am a certified skin specialist. I created this website to teach my readers how to take great care of their skin and I also like to occasionally share my honest opinions on skincare products I've tried. You can learn more about me here.
The Acne Solution: Your Ultimate Guide To Flawless Complexion
An extensive, no-nonsense course showing you how to never have acne again, from a licensed Esthetician specializing in oily/acne-prone skin.