Founded by scientist Danne Montague-King, DMK is a brand that takes a different approach to traditional skincare products that contain harsh, aggressive ingredients to treat common skin woes and utilizes gentle enzymes to repair the skin barrier and remove imperfections.
Each product of the brand can exclusively be purchased through a certified DMK professional due to the potent actives they contain and the variety of ways they can be used to meet every skin's individual needs.
I was recommended a few DMK products by a colleague esthetician and decided to review them here on my website to help people understand the brand better and give more information on some of their most popular products for oily skin and acne.
That said, the product I will review in this DMK series is the Actrol Powder, a product that can be used in both your skincare and makeup routine and works to soothe inflammation, minimize the severity of pimples, control excess oil, and provide a matte effect on the skin over liquid makeup products.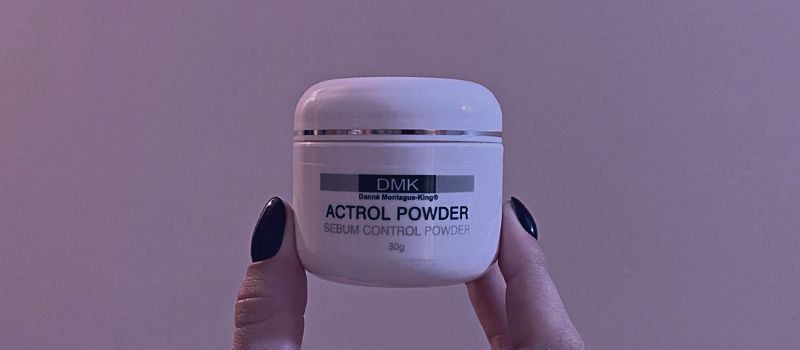 NB:
What if I told you I can show you how to never have acne again?
If you have acne and want it gone
,
read this message
.
What is DMK Actrol Powder?
The official DMK website describes Actrol Powder as a product specifically formulated to absorb excess oil throughout the day without dehydrating the skin, as well as provide an antibacterial seal on the skin's surface to reduce inflammation, prevent infection, and accelerate healing.
The website also says Actrol Powder is suitable for oily, acne-prone, and sensitive skin and can be used as a part of your skincare or makeup routine.
Ingredients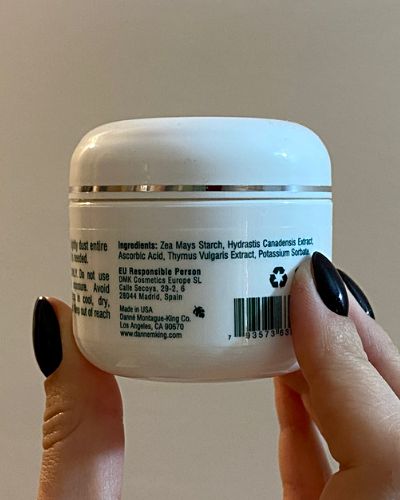 Actrol Powder has a short, straight-to-the-point ingredient list that only consists of six ingredients.
Now, the reason I find this exciting is that I've been noticing how modern setting powders are made with a ton of ingredients in them, especially clogging ingredients, as brands attempt to keep up with trends, especially the natural and glowy look that has been in demand for the past couple of years, which might make these products suitable for normal or dry skin types, but another demographic who is dealing with excessively oily and acne-prone skin will definitely find them useless or even harmful.
That said, the Actrol Powder contains a few excellent ingredients, which may I say are much better than any store-bought setting powder.
Starting with the first ingredient, corn starch, I must say this is the best one you can find in any powder compared to standard mica or silica.
Corn starch is a white to yellowish floury powder that provides a pleasant feel on the skin and has a mattifying effect when applied over liquid complexion products; and spreads easily without leaving a chalky, white finish.
It's also non-comedogenic, unlike mica, which is an ingredient found in almost every powder on the market, yet it is highly comedogenic and can even exacerbate the irritation and redness of existing pimples.
Additionally, Actrol Powder also contains orange root extract, an ingredient with healing properties, and a known skin-soother that's particularly good for inflamed pimples, as well as ulcers, rashes, abrasions, and all types of swelling and inflammation.
Furthermore, Actrol Powder also contains thyme extract, an antioxidant and antiseptic ingredient that reduces inflammation, as well as chloroxylenol, an antibacterial agent used to neutralize gram-negative and gram-positive bacteria, like C. acnes, the acne-causing bacteria that lingers on our skin and inside our pores.
Finally, Actrol Powder also contains vitamin C, which acts as a free radical scavenger and stimulates collagen while suppressing the excess melanin production and evening out uneven skin tone.
All in all, Actrol Powder is conveniently called "magic dust" by reviewers due to its ability to control oil production and acne flare-ups while also being an excellent setting powder over liquid complexion products.
Scent
Actrol Powder has a very mild scent of corn starch out of all ingredients. It does have one added fragrant component, limonene, which is usually added to products containing vitamin C to mask the bad smell this ingredient carries on its own.
However, although present on the ingredient list, I can't smell anything citrusy but a mild scent of starch that's not noticeable when applying the powder to the face, only when I focus on identifying it by smelling it.
Consistency
Actrol Powder is a finely milled powder that's super lightweight, unlike some heavier setting powders, like the Laura Mercier Translucent Loose Powder (which, by the way, always causes me to break out due to the clogging emollients and oils it contains.)
Performance
Actrol Powder is a DMK product I've wanted to try for a while now; however, it's frequently out of stock, which is why it's one of the latest products I introduced into my beauty routine.
However, although I've only used it a few times at the time of writing this review, my impressions are definitely positive due to a couple of different factors.
First is the fact that Actrol Powder is the only powder that actually keeps my excess oil at bay all day long. I typically wear makeup for about 7-8 hours a day, and while I usually have to touch it up multiple times with other powders, I have not yet had to do that with Actrol Powder.
Now, it's fair to say that it is currently winter where I am, and although I live in a hot and humid climate, my skin does become somewhat less oily during the colder months of the year than it is in summer.
However, even with that considered, I still have to touch up when using regular setting powders, no matter the time of the year, and the fact that I don't have to do that with Actrol Powder is incredibly impressive to me.
After dusting a little bit of Actrol Powder over my makeup in the morning, my skin instantly turns matte and remains that way until the evening.
The second reason why I like Actrol Powder is that it can be used as both part of your makeup and skincare routine and is exceptionally efficient as a spot treatment.
Now, I have never tried a powder-based spot treatment, as I usually turn to my trusted benzoyl peroxide to keep rogue pimples at bay; however, Actrol Powder is an incredibly impressive spot treatment that minimizes the size and severity of a pimple after only a couple of hours of dabbing it over the inflamed area.
Not overnight, not over a couple of days, but over a couple of hours, which is mindblowing.
When first trying it out, I picked up a small amount of the powder on a cotton ball and dabbed it on one pimple on my jawline and another on my temple. A few hours into my work, I was shocked to see that the pimples were almost gone, which is something a spot treatment has never done for me that quickly.
And the best thing about it is that you can use it as the last step of your skincare routine without the fear of the powder "not absorbing properly," which is typically the case with active toners and serums that should be used before heavier moisturizers so that they work better.
The Actrol Powder will sit comfortably over all your skincare and makeup products and can be applied as the last step in your beauty routine to help reduce shine and soothe inflamed pimples.
Now, since this is both a skincare and a makeup product, you don't want to contaminate it by dipping a dirty powder brush right into the pan because you will also use this product on clean skin to calm redness and acne, and needless to say, makeup and acne are not a great combination on most occasions, so a contaminated product isn't the best one to use over an inflamed area, either.
Therefore, no matter whether you're using Actrol Powder as part of your skincare or makeup routine, you always want to pick up a little bit of product with a clean spoon and pour it out into the lid of the container.
Then, grab a clean cotton ball and apply it over your skin instead of using any (potentially dirty) brush or beauty blender.
This is the best way to use Actrol Powder and ensure the product doesn't become contaminated with any external tools.
Where to Buy the DMK Actrol Powder?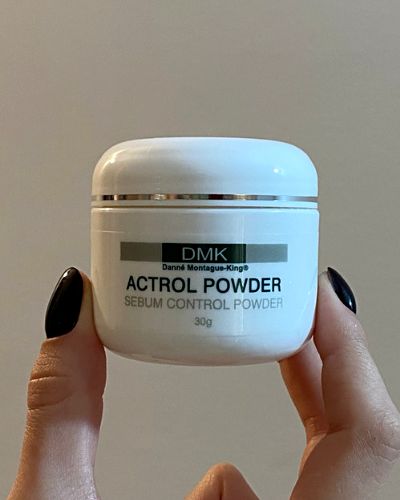 DMK products are carried exclusively by estheticians and can't be bought online.
Therefore, the best way to purchase DMK products is to search for a certified provider in your area or close to your location and set up an appointment for a consultation.
If you can't find a certified provider in your area, you can at least look for somewhere close, and request an online consultation, given the provider is offering that as an option. They can then have the products shipped to you.
---
More DMK Skincare reviews:
My name is Simone and I am a certified skin specialist. I created this website to teach my readers how to take great care of their skin and I also like to occasionally share my honest opinions on skincare products I've tried. You can learn more about me here.
The Acne Solution: Your Ultimate Guide To Flawless Complexion
An extensive, no-nonsense course showing you how to never have acne again, from a licensed Esthetician specializing in oily/acne-prone skin.