DMK is a brand that takes a different approach to traditional skincare products and utilizes the benefits of gentle enzymes to repair the skin barrier and improve common skin concerns.
Each product can exclusively be purchased through a certified DMK professional due to their potent actives and the variety of ways they can be implemented into a skincare routine to meet every skin's individual needs.
I was recommended a few DMK products by a colleague esthetician and decided to review them here on my website to help people understand the brand better and give more information on some of their most popular products for oily skin and acne.
That said, the product I will review in this DMK series is the Herb & Mineral Moisture Spray, a hydrating toner/mist that hydrates the skin, balances out its pH, restores the acid mantle after cleansing, and delivers an antibacterial cocktail that will soothe inflammatory conditions like acne.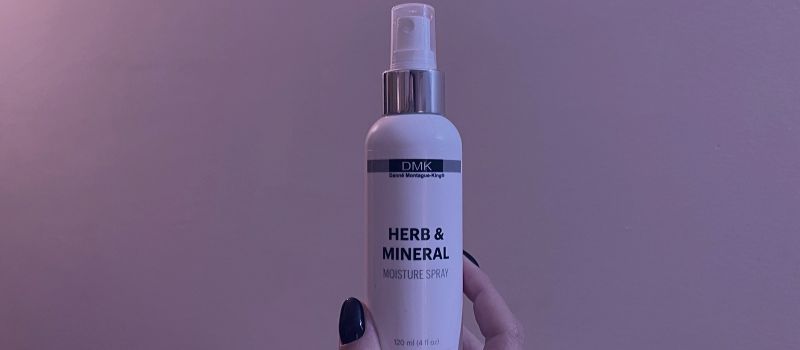 NB:
What if I told you I can show you how to never have acne again?
If you have acne and want it gone
,
read this message
.
What is DMK Herb & Mineral Moisture Spray?
The official DMK website describes Herb & Mineral Moisture Spray as a polarized spray containing over 98% cold water-soaked herbs that aid in transepidermal delivery, infusing many vitamins, minerals, trace elements, and water into the skin.
The mist/toner is also described as the vehicle that carries essential nutrients into the skin and is suitable for all skin types, including oily and acne-prone skin.
Ingredients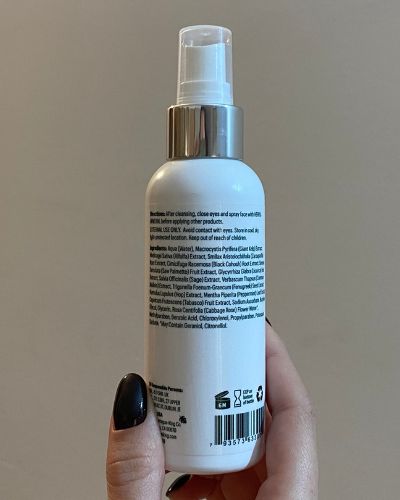 Herb & Mineral Moisture Spray is a hydrating mist that balances out the skin's pH while also delivering a cocktail of hydrating, soothing, antioxidant, and antibacterial agents to the skin.
As such, we have a potent concoction that consists of hydrating glycerin, antioxidant and brightening black cohosh, also known as snakeroot extract, soothing sage extract, calming licorice, and a few antibacterial components, including peppermint, alfalfa, and sabal extracts.
All these ingredients are responsible for normalizing the skin's acid mantle after it's been stripped by a cleanser or hard water while also working an individual action based on the benefits each plant extract provides.
Scent
Herb & Mineral Moisture Spray has an intense herbal and fresh scent that, at first whiff, almost resembles alcohol due to its intensity; however, after reading and re-reading the ingredient list multiple times, I realized it doesn't contain any alcohol, so the scent is a bit confusing to me.
Now, I don't mind mild to moderate scents, and as long as it's not giving me a headache or lingers for too long, I wouldn't have a problem with it.
However, the Herb & Mineral Moisture Spray has a way too intense scent that bugged me quite a bit, and although it doesn't linger for as long as I'd feared it would, I'm definitely not a fan, and this is probably the reason why it's my least favorite DMK product from the bunch that I've been trying out recently.
Consistency
Lightweight and watery, the Herb & Mineral Moisture Spray absorbs quickly into the skin and leaves a naturally hydrated surface that isn't matte but isn't glowy either, so it's something in between the two and most closely resembles clean but not stripped and dried out skin.
Performance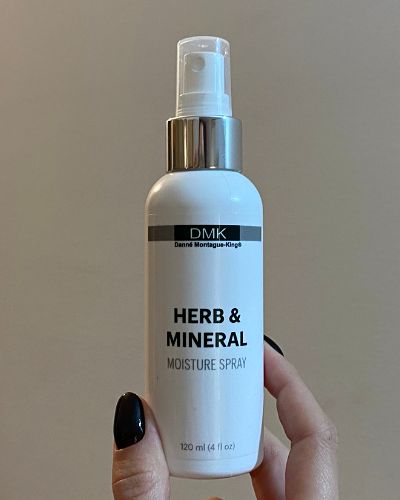 Truth be told, my colleague esthetician who recommended the DMK products originally suggested another mist from the brand; however, I chose the Herb & Mineral one due to liking the ingredients and thinking this was the one that was going to be the most suitable for my skin.
Now, I've been using the mist for nearly five months at the time of writing this review; however, it remains my least favorite DMK product.
The number one reason why I wouldn't say I like the Herb & Mineral Moisture Spray is the product's strong scent. I like herbal and fresh scents as long as they're mild, but this product has too intense of a scent for my taste.
The second reason why I'm not too crazy about the mist is that I can't actually use it as a mist and spray it directly onto my face because it burns my eyes.
Instead, I spray a few spritzes of the product in the palms of my hands and press it into my cheeks, chin, and forehead, avoiding the eye area due to the burning sensation it gives me.
The third reason the Herb & Mineral Moisture Spray isn't my favorite is the burning sensation it sometimes gives me when my skin barrier is slightly compromised.
One example is I recently switched to more potent retinol, and my skin started getting slightly irritated, and I also experienced mild peeling around my mouth.
Now, this is a normal side effect that occurs when you're first starting or moving to a more potent retinol, and it's something called retinization, or the phase where your skin is getting used to the new retinol.
And while I generally tend to go easy on my skin and avoid other actives when changing a retinol, I didn't expect the Herb & Mineral Moisture Spray to give me an intense burning sensation.
As soon as I applied it to my skin the evening after I noticed the first side effects of retinization, my skin turned red and was extremely uncomfortable. There was an intense burning sensation all over, but especially close to my orbital bone, where I tend to apply retinol to prevent lines around the eyes.
Now, I understand that this product might not mix well with retinol or may not be the best for sensitive skin; however, this was enough to deter me from wanting to use it while getting used to new retinol.
With all that said, the spray is hydrating, and I quite like it when my skin is normal, as it leaves a nice and natural finish that makes my skin look hydrated and not matte and flat or glowy and greasy.
However, I will definitely pause using it for a little while until I'm sure my skin has taken to the retinol well, and the Herb & Mineral Mineral Spray won't give me such an intense reaction again.
With all that said, since DMK's philosophy is using products that are formulated to work together and complement one another instead of mixing and matching products from different brands, my retinol (which is from another brand) definitely played a significant role in the reaction I experienced; however, I am still willing to prioritize it and continue using it due to its benefits and drop the mist instead, or maybe find something gentler and more soothing for the time being.
So, if your esthetician advises you to use the Herb & Mineral Moisture Spray, it will likely work for you because your esthetician knows your skin and what's best for it at that time.
However, while this product worked for me for some time, and I liked its hydrating effects on my skin despite the strong scent and burning my eyes, I am still indifferent towards it, and it's not something that truly blew my mind, unlike a couple of other DMK products, particularly the Super Serum and Actrol Powder.
So, I am not sure whether I will be repurchasing it, but I will go through the bottle once my skin adapts to the new retinol and gets back to normal, and probably decide what I want to do when I finish it, although for now, the answer is likely no.
Where to Buy DMK Herb & Mineral Mist?
DMK products are carried exclusively by estheticians and can't be bought online.
Therefore, the best way to purchase DMK products is to search for a certified provider in your area or close to your location and set up an appointment for a consultation.
If you can't find a certified provider in your area, you can at least look for somewhere close, and request an online consultation, given the provider is offering that as an option. They can then have the products shipped to you.
---
More DMK Skincare reviews:
My name is Simone and I am a certified skin specialist. I created this website to teach my readers how to take great care of their skin and I also like to occasionally share my honest opinions on skincare products I've tried. You can learn more about me here.
The Acne Solution: Your Ultimate Guide To Flawless Complexion
An extensive, no-nonsense course showing you how to never have acne again, from a licensed Esthetician specializing in oily/acne-prone skin.