DMK is a skincare line founded by Danne Montague-King, a scientist that takes a different approach to traditional skincare products that contain harsh, aggressive ingredients to treat common skin woes and utilizes gentle enzymes to repair the skin barrier and remove imperfections.
Each product of the brand can exclusively be purchased through a certified DMK professional due to the potent actives they all contain and the variety of ways they can be used to meet every skin's individual needs.
I was recommended a few DMK products by a colleague esthetician and decided to review them here on my website to help people understand the brand better and give more information on some of their most popular products for oily skin and acne.
That said, the product I will review in this DMK series is the Super Serum, a powerhouse product that's actually a newer addition to the family and a combination of two DMK bestsellers: Beta Gel and Direct Delivery Vitamin C.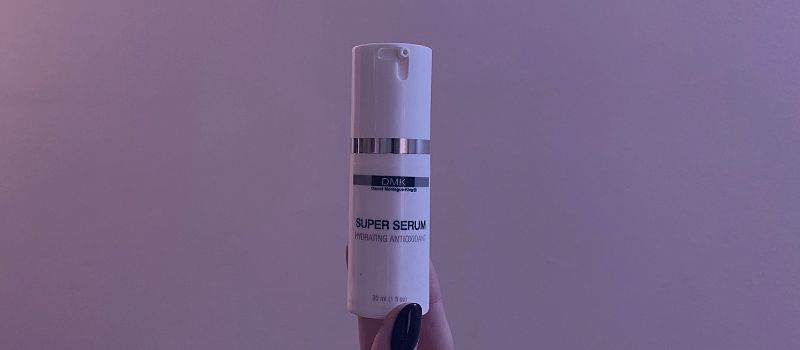 NB:
I can show you how to never have acne again.
If you have acne and want it gone
,
read this message
.
What is DMK Super Serum?
The official DMK website describes the Super Serum as a superb combination of beta-glucan and vitamin C that stimulates the Langerhans cells of the skin's immune system and the fibroblast cells to repair a compromised skin barrier and produce healthy collagen and elastin.
The description also says that the Super Serum will help reduce swelling, redness, inflammation, hyperpigmentation, fine lines, and wrinkles, making it suitable for all skin types and conditions.
Ingredients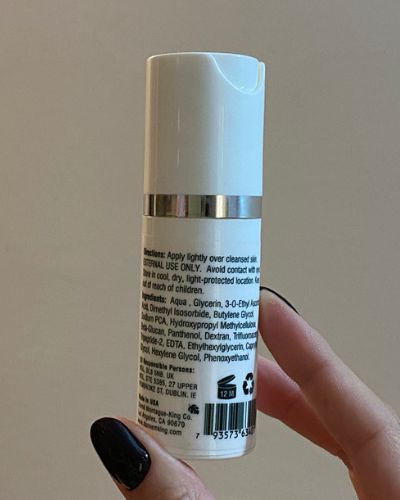 Although the ingredient list of the Super Serum is relatively short and consists of sixteen ingredients, there's a lot to unpack here, so let's get into it.
The Super Serum contains quite a few hydrating ingredients like glycerin, butylene glycol, caprylyl glycol, and sodium PCA, a sodium salt of pyroglutamic acid and a naturally occurring component of human skin that's part of the "natural moisturizing factors" (NMF) that maintain a healthy epidermis. Sodium PCA is very hygroscopic, attracting moisture from the air and leaving the skin plump, supple, and hydrated.
Additionally, the Super Serum also contains soothing panthenol and beta-glucan, which is a big molecule composed of many smaller sugar molecules (called polysaccharides) that lock hydration in the skin and prevent moisture loss.
Furthermore, beta-glucans can also deeply penetrate the epidermis and effectively plump fine lines and wrinkles, despite their large molecular size.
Beta-glucan is the main component of DMK's superstar Beta Gel, which is a product you've probably heard of and maybe even seen photos of the absolute miracles it performs on damaged skin, starting from inflammation, irritation, acne, and even obliterating huge scars that you get post-surgery, scrapes, scratches, and even burns.
But that's not all, and as I already mentioned above, the Super Serum is a combination of two DMK bestsellers, one being Beta Gel and the other one being Direct Delivery Vitamin C, which is an antioxidant serum that helps repair a damaged skin barrier, and inhibit issues like hyperpigmentation, uneven skin tone, and rough texture.
Finally, the Super Serum also contains an ingredient called Trifluoroacetyl Tripeptide-2, a three-amino-acid peptide that works by inhibiting the production of progerin, a cell-aging accelerator protein, and bringing back cell activity to a 20-year-old young cell level while also visibly increasing elasticity, firmness and reducing skin-sagging.
So, the Super Serum is a product that definitely earns its name due to all the goodies it contains.
Scent
The Super Serum doesn't contain added fragrance or fragrant components, and as such, it doesn't have any scent, making it suitable for even the most sensitive and allergy-prone skin.
Consistency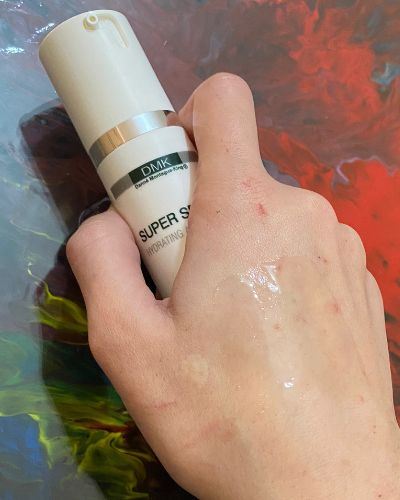 The Super Serum has a lightweight gel consistency that spreads easily on the skin and leaves a naturally glowy (not greasy) finish once fully absorbed.
Performance
I was initially interested in DMK's bestseller Beta Gel; however, my colleague esthetician who recommended these products said she has something even better – the Super Serum.
At first, I was a bit wary of the vitamin C addition to the serum because I have had countless issues with products that contain this antioxidant before, as my skin simply doesn't want to take to it and always finds a way to rebel against it, even though the product seems to be working for some time.
However, I've been using the DMK Super Serum for about four months at the time of writing this review (December 2022), and I am yet to experience any vitamin C-related issues like stinging, redness, and breaking out.
And I will be honest here and say that if there's a product that has ever left me speechless in my years of testing and trying an embarrassing amount of skincare products, it has to be this one.
I have so much to say about it, but it can all be summarized in simple words: YOU HAVE TO HAVE THIS!
The Super Serum is a product that calmed all the redness from previous pimples on my cheeks. Mind you; this is post-inflammatory erythema that can last for years because the condition is caused by a broken blood vessel under the skin, which can take an incredibly long time to recover.
Additionally, the Super Serum provides that instant action of soothing any new pimple, no matter how big and inflamed it is, and although I am typically wary of products that offer a quick action, as I am looking for long-term results and not quick results, using this product only made things better with time, besides the instant soothing action.
The Super Serum also leaves my skin hydrated and glowy, but not greasy glowy, which I usually get from a heavy moisturizer, but hydrated glowy, with refined pores and a smoothened texture, which is something you get from a healthy skin barrier.
Also, the tiny, almost invisible hyperpigmented spot I used to see on my cheek while looking in my magnifying mirror completely disappeared after a little while of using the Super Serum. In fact, I can't tell you how long it took because I don't even know; I just noticed it's gone. It could've been a week or a month, but the important thing is that it's completely faded.
Additionally, besides using it on my face, I also use the Super Serum on small areas of my body, such as the back of my hands, where I usually get scrapes or scratches, courtesy of my cat's love for me, and they disappear within days, as opposed to taking weeks to heal and fade fully.
Finally, the Super Serum also sits well under makeup and doesn't make my complexion products pill or ball up, but it does make my skin look healthier and more radiant in natural light.
So, if you are ever going to buy a DMK product, or you've heard about this serum but aren't really sure about it, I cannot recommend it enough as it is truly something that will change your skin for the better, and you will see improvements after the very first use.
However, that said, the Super Serum is definitely a pricey pleasure, so while I tend to use it twice a day on most days, I apply a very thin layer on my skin to make it last longer, but it still provides me with satisfactory results.
One full pump is enough for my face, and you don't need anything more than that as it would be a waste of product without necessarily experiencing more benefits quicker.
The Super Serum cost me €100, but it's been lasting me nearly five months now, which brings it down to about €20 a month, a relatively reasonable price for something that has become an essential step in my skincare routine and has improved my skin in so many ways, including making it stronger and healthier besides refining aesthetic issues like active acne, bumps, texture, and scarring.
So, if you've been on the hunt for a product that does it all and plays well with other products in your skincare routine, the Super Serum is definitely one to consider.
Where to Buy the DMK Super Serum?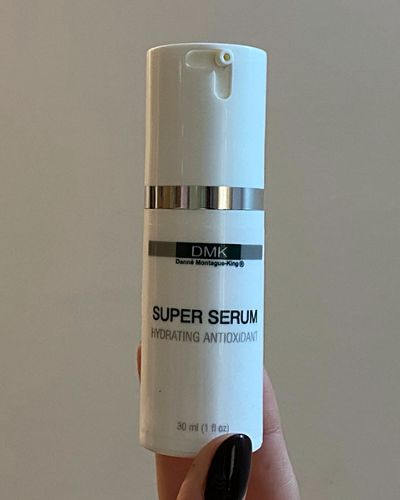 As mentioned above, DMK products are carried exclusively by estheticians and can't be bought online.
Therefore, the best way to purchase it is to search for a DMK provider in your area or close to your location and set up an appointment for a consultation.
If you can't find a certified provider in your area, you can at least look for somewhere close, and request an online consultation, given the provider is offering that as an option. They can then have the products shipped to you.
DMK products are widely available in the US; however, if you're in Europe and your country is a member of the European Union, you will probably have an easier time finding a provider.
On the other hand, if your country is not a member of the European Union, there are certified DMK providers in Serbia, Norway, and Ukraine, which is how you can get them easier.
---
More DMK Skincare reviews: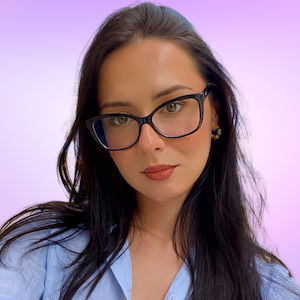 My name is Simone and I am a certified skin specialist. I created this website to teach my readers how to take great care of their skin and I also like to occasionally share my honest opinions on skincare products I've tried. You can learn more about me here.
The Acne Solution: Your Ultimate Guide To Flawless Complexion
An extensive, no-nonsense course showing you how to never have acne again, from a licensed Esthetician specializing in oily/acne-prone skin.