There are many common factors that could cause dry skin around the mouth.
Due to being constantly exposed to environmental aggressors, the facial skin could become sensitive and react to extremes of temperatures or sudden weather changes.
But besides that, excessively dry skin around the mouth could be caused by conditions such as perioral dermatitis, allergies, contact irritants, eczema, psoriasis, etc.
While getting to the root of the issue and cutting it out is essentially the permanent way to get rid of this condition, there are a few other useful things that you can do to relieve dryness and discomfort.
In this article, I will share six tips on how to get rid of dry skin around the mouth, as well as recommend five products that will help you relieve discomfort.
Let's start with the first and most important thing: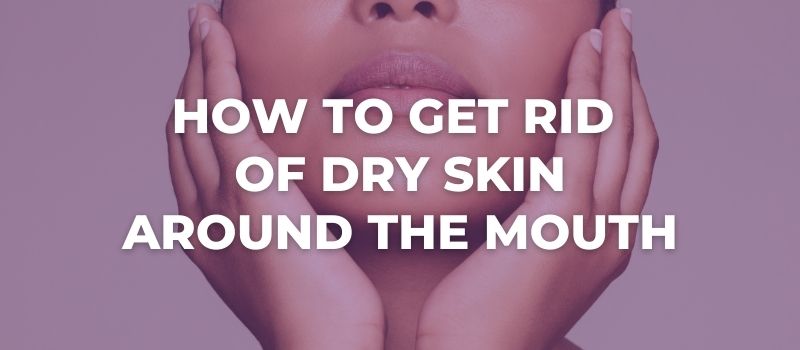 NB:
What if I told you I can show you how to never have acne again?
If you have acne and want it gone
,
read this message
.
Use a Gentle Cleanser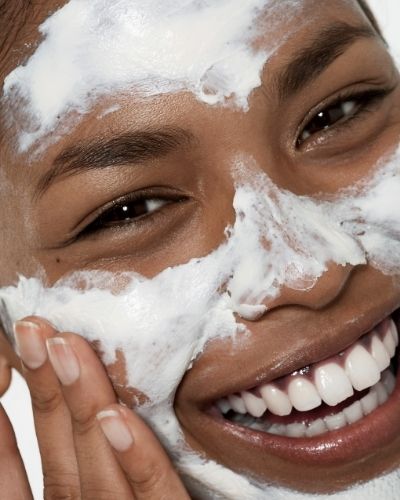 Most cleansers have an alkaline base. This is due to the surfactants they contain that are intended to remove dust, grime, dirt, pollution, and everything that stuck onto your skin throughout the day.
And while these surfactants are efficient in removing all the bad stuff, they also remove all the good stuff, such as our natural oil and sweat that sit on the surface of our skin to create a barrier from the external world.
When this barrier is affected, the skin will start to show signs of dryness and irritation.
Which is why you should consider getting a very gentle cleanser that you're going to use once or twice a day, depending on your skin's needs.
When choosing a cleanser off the shelf, look into the ingredient list and search for repairing and barrier-strengthening ingredients such as niacinamide, ceramides, hyaluronic acid, etc.
On the other hand, avoid using cleansers that contain alcohol denat, witch hazel (Hamamelis Virginiana), too much fragrance, and actives such as hydroxy acids.
Use a Mild Exfoliator
Dry skin could also be caused by the accumulation of dead skin cells on the surface.
Which is why exfoliating with a gentle product that contains hydroxy acids such as lactic or mandelic could help reveal a new layer of smoother, brighter, and healthier skin.
However, be careful not to over-exfoliate your skin as this may also cause issues such as dehydration and irritation.
Using a gentle exfoliator 2-3 times a week can help balance, hydrate, and nourish the skin as well as prevent dead skin cells from accumulating and making the skin appear dry, dull, and coarse.
Moisturize Properly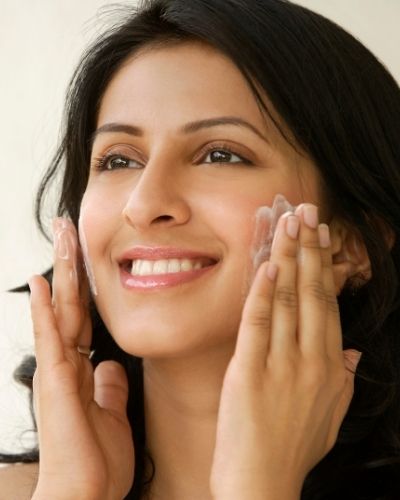 Moisturizing sounds like something you can't mess up. And it partly is.
However, there is a technique that will help you get the most out of a moisturizer, instead of just slapping it on your skin and receiving no benefits from it.
When applying your moisturizer, make sure to apply no more than a nickel-sized amount and layer it on damp skin only.
When applying a moisturizer on damp skin, you create an occlusive layer on the surface that will keep all the moisture into the skin.
Applying a moisturizer on dry skin is useless because you create an occlusive layer on an already dry surface.
This means that your skin isn't moisturized, there is no moisture underneath, you just have an extra layer of greasy product on the surface of your skin.
Apply a Nourishing Treatment
Applying an extra nourishing treatment such as a sleeping mask before going to bed could further help relieve dryness around the mouth.
When choosing a nourishing treatment, avoid getting something that contains exfoliating ingredients or drying alcohols, and opt for something that contains calming, soothing, and nourishing ingredients instead, like this lovely Cica Sleeping Mask by Laneige.
Be Diligent With Your Sunscreen
Sunscreen is a must in every skincare routine, but it's especially important if you are using exfoliating treatments.
These can make your skin more sensitive to the sun and increase your chances of experiencing sunburn.
But besides that, skin dryness could, in some cases, be triggered by extreme heat, which is yet another reason you should always protect your skin with sunscreen.
Get To The Root Of The Issue
As I already mentioned above, excess dryness could be caused by many factors. This is why you should consider getting to the root of the issue to deal with it permanently.
A good place to start is to think of some changes you made recently that could've triggered dryness.
This could be a simple change such as switching your regular laundry conditioner or taking a course of antibiotics, or changing a skincare (or makeup) product.
Once you come up with an answer, try cutting the culprit out of your routine and see whether your concern improves.
5 Best Products To Get Rid Of Dry Skin Around The Mouth
Below you will find the five best products for dry skin around the mouth:
La Roche Posay – Toleriane Hydrating Gentle Cleanser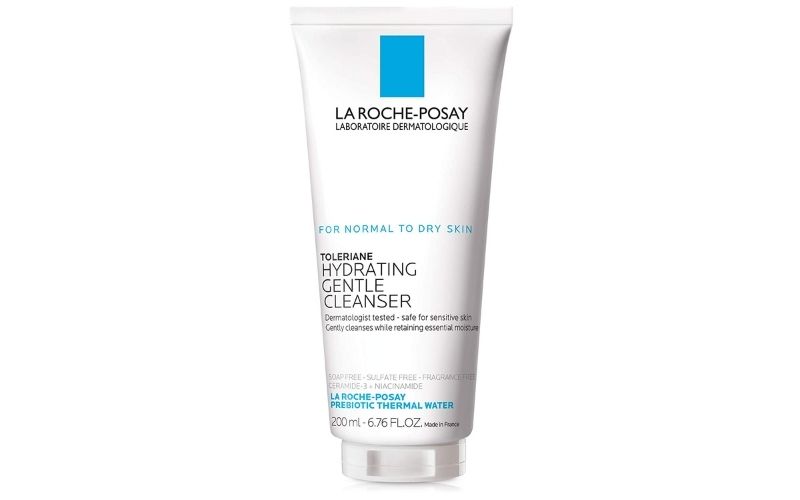 The Hydrating Gentle Cleanser from La Roche Posay's Toleriane range is an excellent cleanser for everyone that struggles with dry and irritated skin.
Besides that, it can be used as a first cleanser to remove makeup as it is extremely gentle and won't sting the eyes.
The Hydrating Gentle Cleanser contains LRP's exclusive Prebiotic Thermal Water as well as skin-replenishing ceramides, hydrating glycerin, and soothing niacinamide.
It has a milky texture that glides on the skin without causing any friction and transforms into a soothing lather when in contact with water.
Biossance – Squalane + Lactic Acid Serum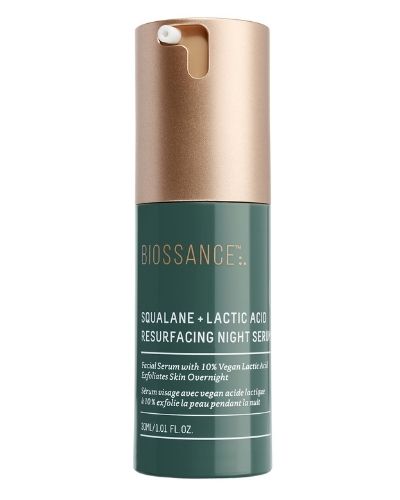 The Squalane + Lactic Acid Resurfacing Serum by Biossance is everything a person with dry, dehydrated, and rough skin needs in an exfoliating product.
It's gentle, contains nourishing ingredients, and it works to brighten the complexion, strengthen the skin barrier, and gently exfoliate rough and dry skin.
The serum contains a combination of lipids, including squalane and triglycerides, which are important for a healthy and strong skin barrier.
It also contains lactic acid, which is the gentlest alpha hydroxy acid that doesn't only exfoliate the dead skin cells but it also softens and hydrates the skin.
While this product is suitable for very sensitive skin, it may not be the best option for someone with inflamed acne as you will probably need something stronger like salicylic acid or mandelic acid instead.
La Roche Posay – Cicaplast Baume B5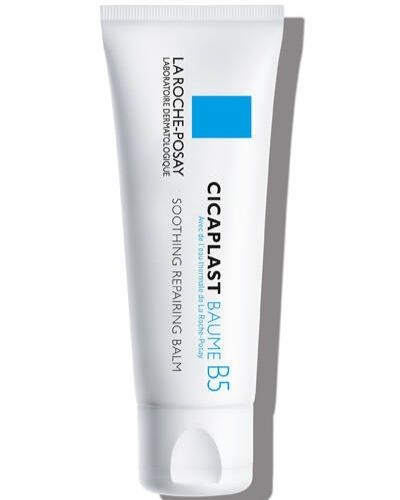 I will never stop recommending the Cicaplast Baume B5 to anyone who is dealing with irritations, dryness, dehydration, a compromised skin barrier, and even acne.
This balm can be used as a treatment to remedy dry areas and as a moisturizer if you have dry skin overall.
It contains a plethora of soothing, calming, repairing, and replenishing ingredients, including zinc, panthenol, propanediol, shea butter, etc.
It is especially great for skin that's getting used to irritating treatments such as prescription-strength retinoids, as well as skin that has been through an intense procedure such as microneedling or laser.
It's also great for skin that's dealing with contact dermatitis or irritation from frequent soaping.
Caudalie – Moisturizing Mask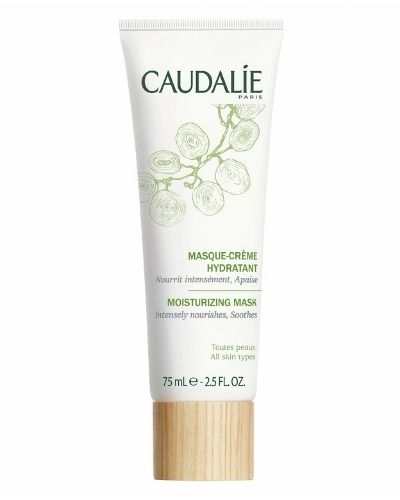 The Caudalie Moisturizing Mask is a product that you can use as an extra treatment for dry skin around the mouth.
It's definitely not a must, but it contains nourishing ingredients such as grapeseed oil, squalane, and fatty alcohols that could help if you leave it on for longer.
It is quite heavy, so you will likely only be able to use it in the evenings.
This is a good product for dry skin; therefore, it's best to stay away from it if you are dealing with oily and acne-prone skin.
It also contains some fragrant components and essential oils, so if that's a problem for your skin, it's better to stick to the Cicaplast Baume B5.
Paula's Choice – Skin Restoring Moisturizer SPF50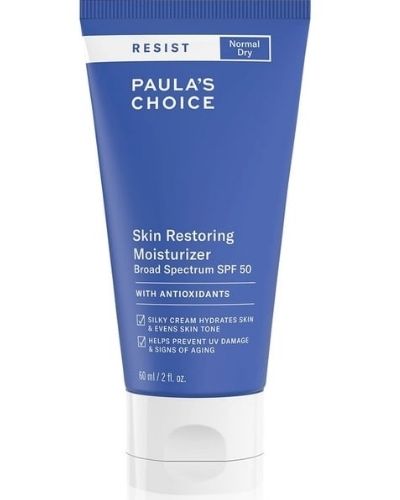 The Skin Restoring Moisturizer is a lightweight, antioxidant-rich hydrator that contains superstar ingredients like niacinamide, shea butter, and licorice to brighten, balance, and moisturize the skin.
It also has SPF 50, and it doesn't leave a white cast as some standard sunscreens do. It's great for dry and mature skin.
My name is Simone and I am a certified skin specialist. I created this website to teach my readers how to take great care of their skin and I also like to occasionally share my honest opinions on skincare products I've tried. You can learn more about me here.
The Acne Solution: Your Ultimate Guide To Flawless Complexion
An extensive, no-nonsense course showing you how to never have acne again, from a licensed Esthetician specializing in oily/acne-prone skin.