If you've been following me on Twitter or have been on my website before, you'd probably know that I rave about La Roche-Posay's Cicaplast Baume B5 every chance I get.
I don't even hide the fact that this is my favorite product in my entire skincare routine, and so many people that have tried it on my recommendation have come back to say how much they love it too.
The Cicaplast Baume B5 is great for all skin types, including oily and acne-prone skin, but it's especially beneficial for those dealing with irritations, sensitivity, a compromised skin barrier, psoriasis, eczema, etc.
So, naturally, when I heard that La Roche-Posay was coming out with a gel version of the Cicaplast Baume, I was very curious to try it.
And, of course, I have some thoughts, which is why, in this article, I will compare the Cicaplast Baume B5 vs. Cicaplast Gel B5 and give my opinion on which one of these products is better.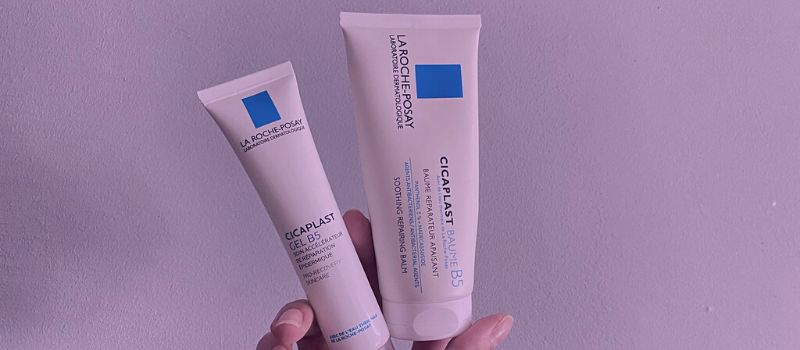 NB:
What if I told you I can show you how to never have acne again?
If you have acne and want it gone
,
read this message
.
La Roche-Posay – Cicaplast Baume B5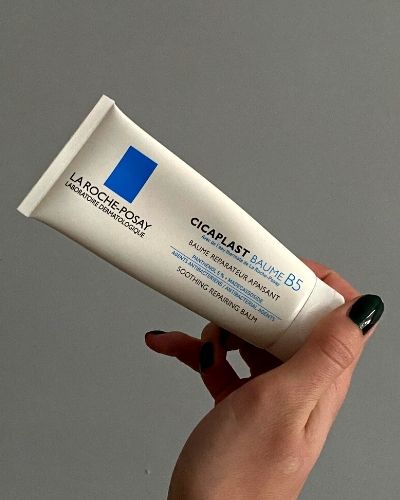 La Roche Posay's Cicaplast Baume B5 is a multi-purpose soothing cream that can be used on cracked, chapped, dry, and irritated skin to help hydrate and soothe.
It's suitable for adults and children and can be used on all areas of the face and body.
Ingredients
This thick balm contains many soothing, repairing, and moisturizing ingredients.
Some of the main ones include softening shea butter, hydrating glycerin, soothing and repairing panthenol, nourishing magnesium, anti-inflammatory zinc, as well as Madecassoside, which is one of the four main compounds in the plant extract Centella Asiatica, an incredibly soothing and repairing agent that helps strengthen the skin barrier.
The Cicaplast Baume B5 is also non-comedogenic, and although it's quite thick and heavy, it doesn't contain a single ingredient that can clog your pores and cause your skin to break out.
Scent
The Cicaplast Baume B5 doesn't have added fragrance or other fragrant components such as essential oils, and it doesn't have any scent.
Consistency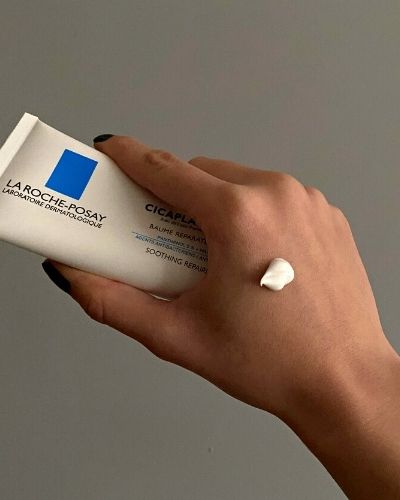 The Cicaplast Baume B5 has the consistency of a thick, creamy balm.
Therefore, before applying it to your face, you need to warm it up between your fingertips until it starts to melt. Otherwise, spreading it around won't be easy since it has a thicker consistency than a regular moisturizer.
Performance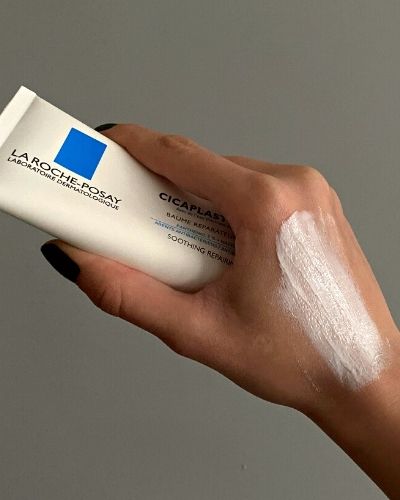 So the first thing I have to say about this product is that the Cicaplast Baume B5 is not a moisturizer, and it shouldn't be used as such because you will probably hate its consistency and not get the best results from it.
I like to use it by warming it up between my fingertips first and pressing it into the skin in various areas of the face and neck.
Once I have most of the areas covered, I will start rubbing it around very gently to spread the product onto the areas that aren't covered.
I also like to do a quick lymphatic drainage massage when I don't use any actives under the balm. This is very important because you don't want to move your actives around as this will give you uneven coverage.
That said, the Cicaplast Baume B5 does exactly what it says it does, and it's always pleasant to see a product actually delivering its claims.
I started using the Cicaplast Baume B5 when my skin was experiencing extreme dehydration, dryness, peeling, and irritation due to starting tretinoin.
I have since stopped using tretinoin because I didn't have much luck with it, but the Cicaplast Baume B5 was the product that helped eliminate my tretinoin-induced side effects in the beginning.
I used to apply the Cicaplast Baume B5 before bed, 20-30 minutes after applying tretinoin, and I would feel immediate relief from dryness and irritation.
Cicaplast Baume B5 also helped strengthen my skin barrier and even helped smooth out rough skin texture caused by excessive dehydration.
It also helped soothe inflammation, and my purge-induced pimples always looked slightly better in the morning after using the Cicaplast Baume B5 the previous evening.
I also never stopped using it even after stopping tretinoin, and I even use it as a weekly mask by applying much more than I usually would and sleeping in it.
Kind of like slugging, but instead of Vaseline or Aquaphor, I use the Cicaplast Baume B5, and my skin looks glowy and feels silky smooth when I wake up in the morning after masking with this product.
All that said, there's one claim I disagree with, and that is Cicaplast Baume B5 not being greasy, according to La Roche Posay's website.
Yes, this isn't a greasy oil or a petroleum-based product, but it does leave the skin very moisturized and glowy, which is why as someone with oily skin, I only use it in the evenings to avoid shine during the day.
This claim isn't necessarily incorrect; however, I know that folks with oily skin expect a velvety or a slightly matte finish when we read a product is "non-greasy," and this one definitely leaves a glowy layer on the skin.
La Roche-Posay – Cicaplast Gel B5
The Cicaplast Gel B5 is supposed to be similar to the Cicaplast Baume B5 in terms of performance and ingredients.
However, there are a few key differences between the two, including the ingredients in both products, their consistency, and their performance.
Ingredients
The Cicaplast Gel B5 has a much simpler and straight-to-the-point ingredient list when compared to the Cicaplast Baume B5.
It contains the main soothing and softening ingredients such as copper gluconate, panthenol, zinc, and madecassoside, as well as hydrating hyaluronic acid to help the skin attract and retain moisture.
However, one of the key ingredients missing in the Cicaplast Gel B5 is Shea butter, which is present in the Cicaplast Baume B5.
This was a bit of a disappointment for me because I felt that the Cicaplast Gel B5 didn't provide the same level of intense hydration that the Cicaplast Baume B5 did (more on this under the "performance" paragraph below.)
Scent
The Cicaplast Gel B5 doesn't contain fragrance or other fragrant components and has no scent.
Consistency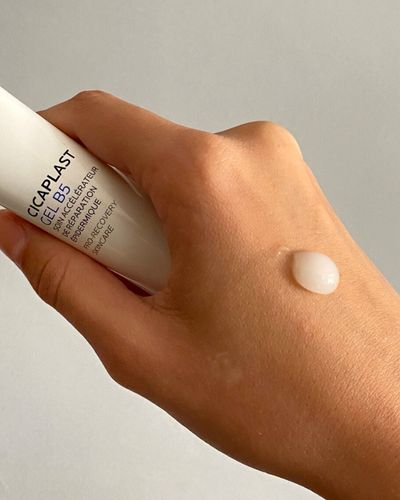 The Cicaplast Gel B5 has a silicone gel formula that allows it to spread on the skin easily and create an occlusive barrier to prevent trans-epidermal moisture loss and encourage skin healing.
Performance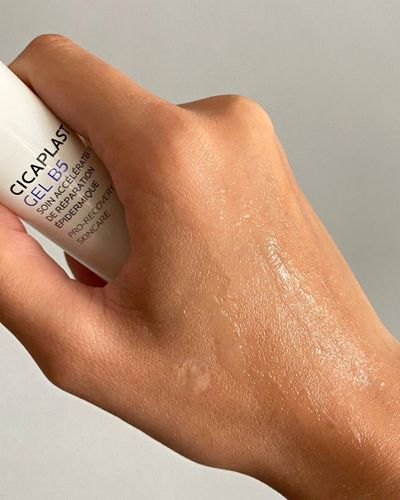 Since I've been using the Cicaplast Baume B5 for over two years at this point, naturally, I was curious about the gel version of my favorite product, and I immediately wanted to try it.
However, the Cicaplast Gel B5 wasn't what I expected it to be, and I didn't enjoy using this product for several reasons.
The first thing I didn't like about it right off the bat was its consistency. It reminded me of the Supergoop Unseen Sunscreen, which I have a full review of, but the gist was that it left a very oily finish on my skin that was hard to ignore.
Well, the Cicaplast Gel B5 has the same silicone-y consistency that, yes, spreads on the skin with ease but also leaves a silicone layer on the surface that makes my skin extremely oily.
Due to that same issue, the product slides off the skin, and I don't think that I'm getting any benefits from it. In fact, my skin feels suffocated under it, even though its consistency is much lighter compared to the Cicaplast Baume B5.
Cicaplast Baume B5 softens my skin and makes it look glowy and smooth, while the Cicaplast Gel B5 only exacerbates my texture and makes my pores look enormous.
I only used this product a couple of times and combined it with a few different products in my skincare routine to see whether I could make it work by using something else, but I stopped giving it a chance because it just wasn't doing anything good for my skin.
With that said, I don't think the Cicaplast Gel B5 is a bad product because it has excellent ingredients, and it will probably work for some people (just like Supergoop's Unseen Sunscreen, judging by the 9000+ positive reviews on Amazon.)
However, if you are someone with excessively oily and acne-prone skin, I don't think you will like this product because it will just slide off your skin and exacerbate issues such as texture and enlarged pores.
Cicaplast Baume B5 vs. Cicaplast Gel B5: Which One is Better?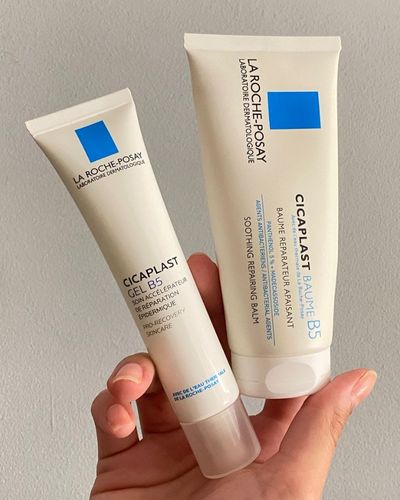 So, in conclusion, I much prefer the Cicaplast Baume B5 over the Cicaplast Gel B5 because it doesn't slide off my face, it doesn't leave an excessively oily residue, and it actually does something to help my skin feel softer and look smoother.
On the other hand, the Cicaplast Gel B5 is a light silicone gel that does spread easily and leaves a barrier on the skin to prevent moisture loss, but it also makes my face look and feel extremely oily, and it does nothing to improve the overall appearance of my skin.
If you are trying to decide between the two, I would definitely go with the Cicaplast Baume B5 because it's a much more effective product, in my opinion. The Cicaplast Baume B5 is also cheaper than the Cicaplast Gel B5, so starting there is a good idea if you're on a budget.
Lastly, the Cicaplast Baume B5 is much easier to find, and while the Cicaplast Gel B5 is available across European pharmacies and online stores, it was a bit difficult for me to find US places where you can buy it from. I only found it on the Walmart website, unlike the Cicaplast Baume that can be purchased on Amazon, Ulta, and pretty much anywhere else.
My name is Simone and I am a certified skin specialist. I created this website to teach my readers how to take great care of their skin and I also like to occasionally share my honest opinions on skincare products I've tried. You can learn more about me here.
The Acne Solution: Your Ultimate Guide To Flawless Complexion
An extensive, no-nonsense course showing you how to never have acne again, from a licensed Esthetician specializing in oily/acne-prone skin.