Hyperpigmentation is a type of discoloration that happens due to high melanin production and uneven distribution through the epidermal layers.
Melanin gives the complexion a naturally lighter or darker color depending on hereditary factors, but its presence also depends on photo-induced melanogenesis.
A few main causes of hyperpigmentation include a genetic predisposition, UV exposure, hormonal imbalance, pregnancy, and inflammatory conditions such as acne, atopic dermatitis, and impetigo.
Hyperpigmentation can arise in all skin types after inflammation or injury; however, it affects darker skin tones most frequently.
And while hyperpigmentation isn't fun to deal with, there is a wide variety of safe and effective treatments for it, including topical agents, chemical peels, laser, and light therapy.
In this article, I will give you my recommendations of the eight best serums for hyperpigmentation in dark skin.
Some of these products are excellent for active acne, too, while others are more suitable for dry skin that's dealing with pigmentation caused by other factors such as UV exposure.
I also made sure to find different options, and I listed both affordable and high-end products for your convenience.
Let's start with the most affordable product on the list: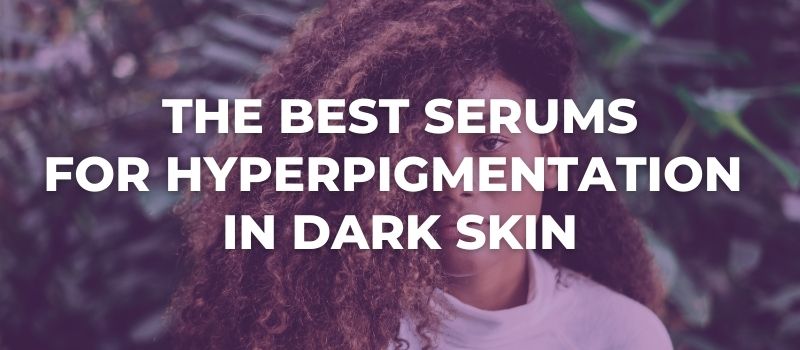 NB:
What if I told you I can show you how to never have acne again?
If you have acne and want it gone
,
read this message
.
CeraVe – Retinol Serum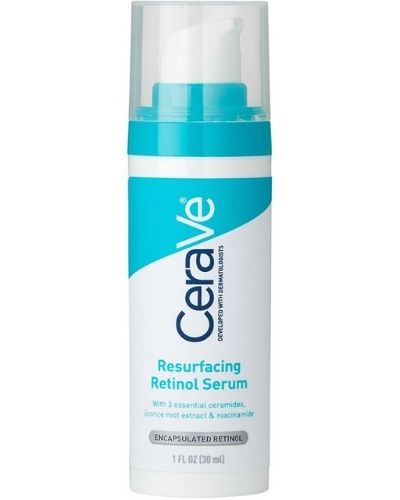 The Retinol Serum by CeraVe is a great and affordable over-the-counter brightening serum.
It contains:
barrier-strengthening ingredients such as niacinamide and ceramides
antioxidants such as licorice root that help scavenge free radicals
emollients that soften the skin
and humectants that help retain moisture into the skin
The product's main active ingredient is encapsulated retinol, which means it's slow release, and it's more tolerable and non-irritating to the skin.
This product is great for dry skin types looking for a simple brightening serum.
While it could also work for oily and acne-prone skin types, the product contains a few emollients that could be an issue, especially for acne-prone skin.
Ingredients such as Cetearyl alcohol and isopropyl myristate, which are present in this product, could cause clogging in some skins.
Naturium – Alpha Arbutin 2% Serum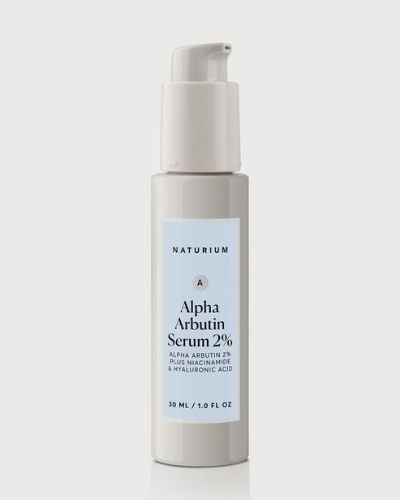 Naturium's Alpha Arbutin 2% Serum is another impressive option with arbutin — or in this case, alpha-arbutin, an even more stable version of the dermatologist-loved bearberry extract.
With a boost of brightening and barrier-strengthening benefits from niacinamide, this formula promises to fade dark spots (especially ones that resulted from inflammation).
Besides that, it also contains a form of hyaluronic acid which is a humectant that helps retain moisture into the skin, as well as Tremella Fuciformis Sporocarp Extract, also known as snow mushroom, which is a rich source of polysaccharides and has shown an ability to help hydrate the skin by binding moisture to its surface.
Lastly, the Alpha Arbutin 2% Serum contains panthenol, also known as provitamin B5, which is one of my favorite ingredients that helps to calm, repair, and soothe irritated skin.
The Alpha Arbutin 2% Serum is suitable for dry, oily, and acne-prone skin dealing with uneven skin tone and hyperpigmentation.
Topicals – FADED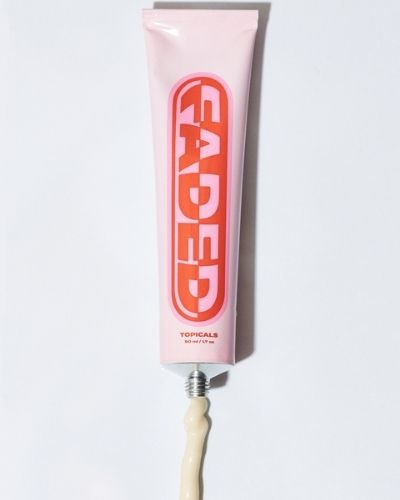 FADED by Topicals is a popular gel serum that fades hyperpigmentation spots, evens out uneven skin tone, smoothes coarse texture, and brightens the skin.
It contains several ingredients that are proven tyrosinase inhibitors, meaning they will actually prevent the uneven formation of melanin.
Some of these include tranexamic acid, alpha arbutin, glutathione, and kojic acid.
Besides these, there are also a few other brightening ingredients, including niacinamide, azelaic acid, and turmeric root extract, as well as antioxidants such as bisabolol, allantoin, and licorice root extract.
While FADED is recommended for use on hyperpigmentation left from acne, there are a few ingredients I personally am not too sure about.
There is jojoba seed oil, squalane, and coconut oil, and these few ingredients could potentially cause an issue for some acne-prone skins.
I know many people use it on active acne without an issue, but that doesn't mean everyone can. It's a great brightening product, but I would suggest you look out for new breakouts and discontinue use if they start occurring.
La Roche Posay – Glycolic B5 Serum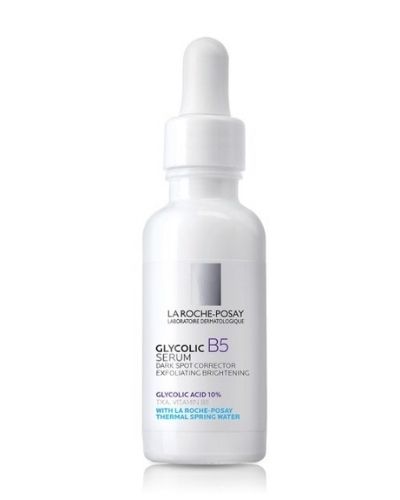 La Roche Posay's Glycolic B5 Serum is an excellent treatment for hyperpigmentation that you can use to exfoliate your skin and even out your complexion.
It contains 10% glycolic acid, a powerful alpha hydroxy acid that works on the skin's surface to shed dead and dull skin cells away.
Besides that, it also contains brightening tranexamic acid, kojic acid, and vitamin B5, which also refines skin texture.
All that said, this product is quite strong, and it also contains alcohol denat and fragrance. These aren't necessarily harmful to the skin, but they could be dehydrating and sensitizing (especially for people that have allergies to fragrance).
It's certainly not a product that you should use daily; therefore, consider using it no more than twice or three times a week (in the evenings) and always apply sunscreen in the morning.
Allies Of Skin – Prebiotics & Niacinamide Booster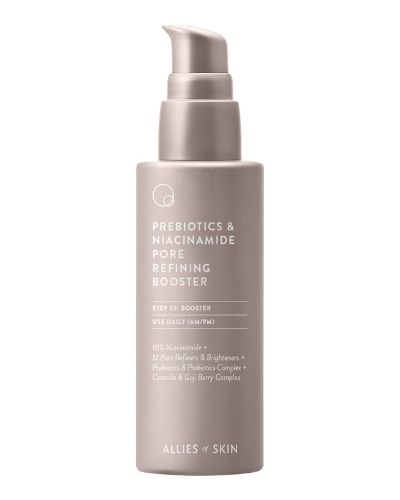 Allies Of Skin is a high-end brand famous for creating skincare products that contain a bunch of actives in one to target many skin concerns.
I am especially impressed by their Prebiotics and Niacinamide Booster that contains all sorts of beneficial ingredients that help to strengthen the skin barrier and improve its function.
First, we have brightening niacinamide, licorice root extract, glutathione, and goji berry extract.
Next, we have calming and antioxidant ingredients, including bisabolol, green tea leaf extract, Centella Asiatica, resveratrol, and adenosine.
Lastly, we have prebiotics and probiotics that help balance out the skin microbiome and improve its function.
This product is on the pricier side; however, it's truly one that is well-rounded if you are dealing with oily, acne-prone skin with uneven tone, dullness, and texture.
A little tip with using it is to apply very little and use it only once a day or once every couple of days. This way, the product will last longer, and you will be getting the most out of it without irritating your skin.
Allies Of Skin – Mandelic Pigmentation Corrector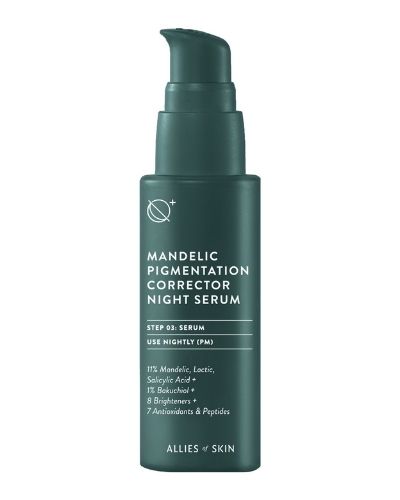 Another winner from Allies Of Skin is the Mandelic Pigmentation Corrector serum.
This product has a blend of AHAs, BHAs, antioxidants, and peptides, so not only does it help tackle pigmentation through exfoliation, but it will also help with your skin texture and blemishes too.
The key ingredient is the alpha-hydroxy acid, known as mandelic acid, which is suitable for those with darker skin tones and sensitive skin due to its larger molecular size.
Besides that, the product has an addition of lactic acid, which is another alpha hydroxy acid and a humectant that helps hydrate the skin, as well as salicylic acid, which is a gentle and anti-inflammatory beta hydroxy acid that's very useful for clearing blackheads and acne.
Same as the previously-mentioned product by Allies Of Skin, you should use this no more than a few times a week (in the evenings) and follow it up with sunscreen in the morning.
RELATED: The complete guide to using salicylic acid in your skincare routine.
Vivant Skincare – 15% Mandelic Acid Serum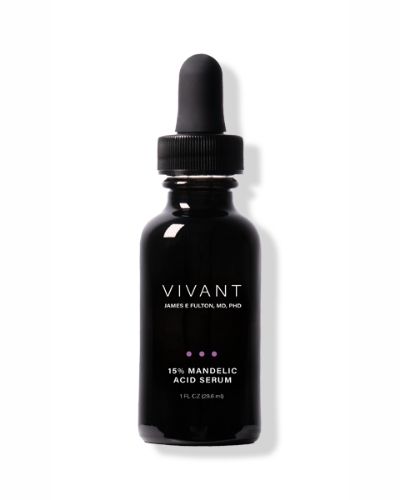 Vivant's Mandelic Acid Serum 15% is a gentle exfoliating serum that contains a blend of mandelic and lactic acid – two AHAs that work to gently exfoliate the dead skin cells, unclog pores, soothe inflammation, and hydrate the skin.
Besides that, this wonder-serum also contains urea which is an organic compound that has hydrating properties and also works very well in combination with AHAs as well as niacinamide and inositol, which are both parts of the vitamin B family known for their anti-inflammatory and brightening properties.
This is a great product to target dryness, dehydration, acne, and hyperpigmentation.
RELATED: The complete guide to using lactic acid in your skincare routine.
Biologique Recherche – Lotion P50 PIGM 400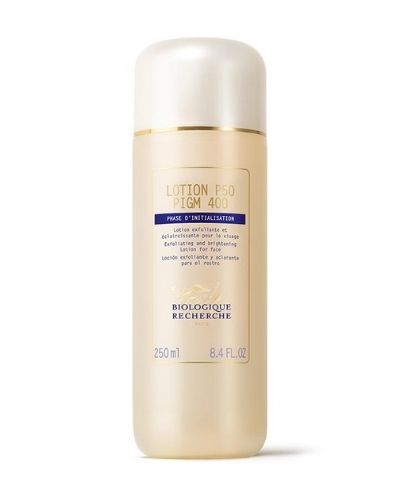 Lotion P50 PIGM400 by Biologique Recherche is a multifunctional lotion that provides a chemical exfoliation, regulates excess oil, and evens out the skin tone and texture.
The PIGM 400 has added brightening ingredients and is more suitable for someone who is dealing with hyperpigmentation from acne, wounds, sun-induced damage, aging, hormones, etc.
The lotion contains brightening niacinamide, a combo of hydroxy acids, including lactic, mandelic, salicylic, and gluconolactone (which is a gentle polyhydroxy acid), as well as ascorbic acid, which is one of the best treatments for sun-induced skin damage (usually those random pigmented areas that appear with age).
The PIGM 400 is a bit tricky to get a hold of as it's not available in stores or major retailers. In the US, you can only purchase from select retailers like RescueSpa, Vicki Morav, and Aida Bicaj.
Alternatively, you can Google search Lotion P50 PIGM400 and your city's name to see if any spas in your area sell it.
My name is Simone and I am a certified skin specialist. I created this website to teach my readers how to take great care of their skin and I also like to occasionally share my honest opinions on skincare products I've tried. You can learn more about me here.
The Acne Solution: Your Ultimate Guide To Flawless Complexion
An extensive, no-nonsense course showing you how to never have acne again, from a licensed Esthetician specializing in oily/acne-prone skin.