Need help choosing a niacinamide serum?
I don't keep it a secret that niacinamide is my second favorite ingredient (right after salicylic acid), and that's due to the reason this ingredient has helped with so many of my skin issues.
In this article, you will find a list of the 10 best *affordable* niacinamide serums, as well as answers to some frequently asked questions about niacinamide.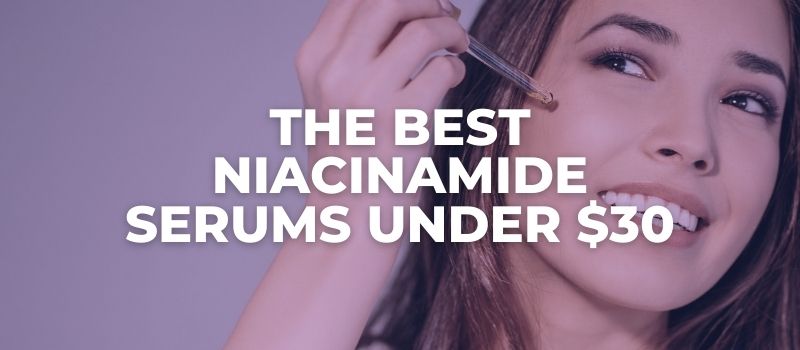 NB:
I can show you how to never have acne again.
If you have acne and want it gone
,
read this message
.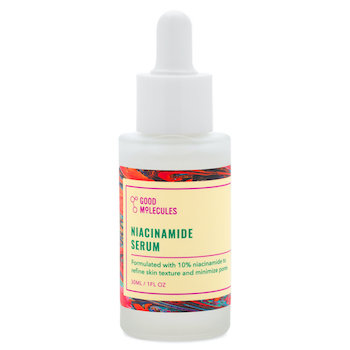 The Good Molecules 10% Niacinamide serum is a simple and efficient serum that you can easily implement in your skincare routine and watch it transform your skin.
It is formulated with about sixteen ingredients which is a relatively short ingredient list and it contains a healthy variety of humectants, antioxidants, and silicones to moisturize the skin.
Due to containing tocopherol which is quite high on the ingredient list, the Good Molecules Niacinamide can be a beneficial product for dry skins, too, however, if you have acne, you may wanna look for something else that contains zinc.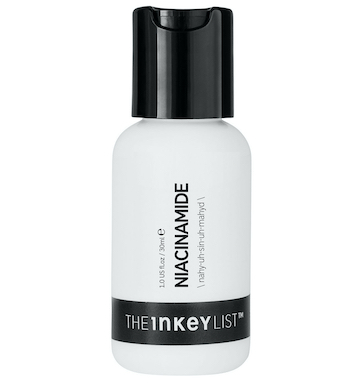 The Inkey List Niacinamide is one of my favorite niacinamide products and I've written a review on it before, comparing its performance to The Ordinary's Niacinamide. So, make sure to check the full review.
Besides containing niacinamide as the main ingredient, the Inkey List serum also contains plenty of other hydrating and moisturizing ingredients including hyaluronic acid, allantoin, propanediol, glycolipids, etc.
It's an excellent product for those that have dry skin, oily skin, and even acne-prone.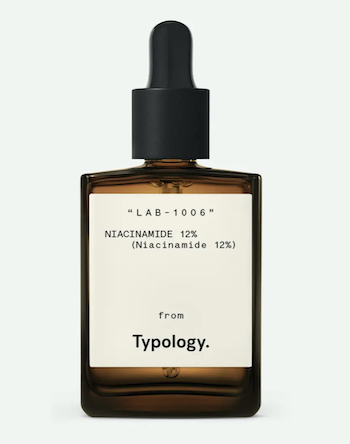 Typology is the new cool, ultra-chic skincare brand on the market. They come from France, so you can understand why the packaging and just everything about them looks so sophisticated.
I love this Niacinamide serum by Typology. It is formulated with only ten ingredients and all of them are intended to hydrate, soothe, refine, and brighten the skin.
The only issue I have with it is that it's ridiculously small for the price and for $13, you only receive 15ml. As someone who would literally swim in niacinamide if given the chance, this is far from enough for me.
However, they did come up with a niacinamide toner, which I intend on buying and reviewing, so stay tuned for that.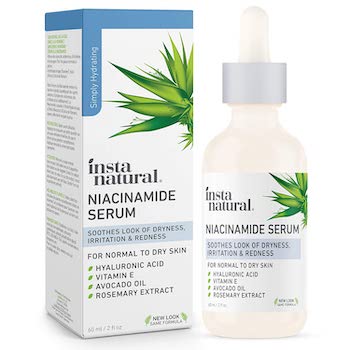 Here is one niacinamide serum I personally did not like, but dry skin folks will certainly enjoy having it in their skincare routine.
The 5% Niacinamide serum by Insta Natural is formulated with supporting oils and super moisturizing ingredients such as avocado oil, lavender oil, olive oil, vitamin E oil, etc.
So, if you are someone with dry skin that wants to refine their pores a little bit but not overdry their skin with using some of the other niacinamide serums here, this one might be the one for you.
If you are on the oily side and you have acne, this is definitely not the best option for you, so avoid trying it.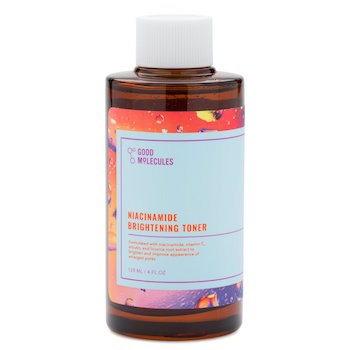 The Good Molecules niacinamide toner can be used to boost the strength of their niacinamide serum that I already mentioned above because this is only formulated with 3% niacinamide.
You can either use it in that way or you can slowly introduce the toner into your skincare routine and see how your skin agrees with niacinamide.
If you are someone with very sensitive, dry skin, but you also want to refine your pores a little bit, this may be an excellent addition to your skincare routine.
On the other hand, oily folks can also benefit from this toner because it contains super-hydrating but non-clogging ingredients.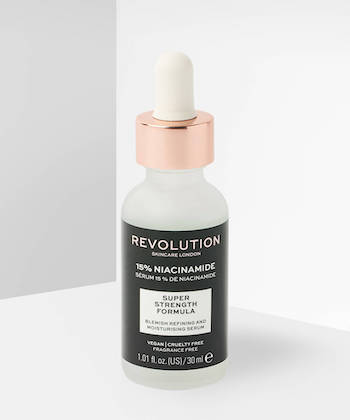 This is hands-down one of the best niacinamide serums for anyone who has excessively oily, acne-prone skin.
And I hate to say this, but although Revolution Beauty literally ripped off The Ordinary on this one, they came up with a better product.
The Ordinary's Niacinamide serum contains 10% niacinamide while the Revolution Beauty contains 15%. On the other hand, both products contain 1% Zinc PCA.
This is very good news for my acne-prone folks cause both niacinamide and zinc will definitely help improve your blemishes. It's basically a combo you can't go wrong with.
Also, I really like the Revolution Beauty Niacinamide serum because TO's is infamous for foaming and pilling while this one doesn't do that.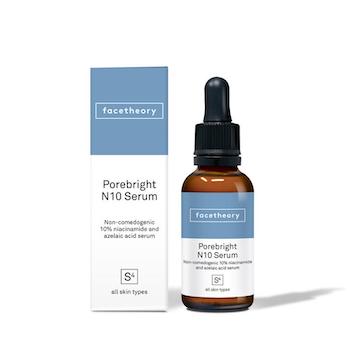 Face Theory is a new English skincare brand that prides itself on using clean ingredients to formulate their products.
So far, I am really impressed with this. It is a light serum that contains three of my favorite ingredients in skincare.
It has 10% niacinamide, azelaic acid, and salicylic acid and the three of them work great to diminish blemishes, soothe redness and inflammation, and hydrate the skin.
Additionally, it contains sodium lactate and sodium hyaluronate which are naturally moisturizing factors.
If you have active acne, redness, inflammation, superficial dehydration, and excessive oiliness underneath, you won't go wrong with this serum.
You can use this serum on a daily basis or if you are already using other exfoliants, you can implement it into your skincare routine twice or three times a week.
If you have sensitive skin that is also oily, dehydrated, and acne-prone, I definitely recommend that you drop whatever you are doing and start using this daily.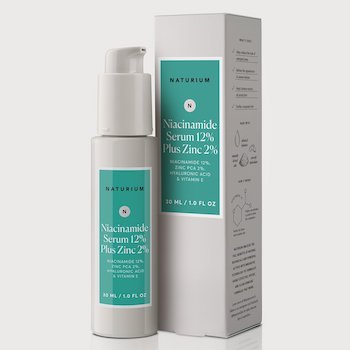 This is the only product on this list that I haven't tried and I absolutely can't wait for Naturium to come to Europe so I can get my hands on it as quickly as I can.
I already messaged them on Instagram and they said they are coming soon and boy am I on the lookout these days!
Anyhow, move the Susan Yara drama aside, Naturium really has some great products.
I am not an over-the-counter retinol lover personally, so I wouldn't trust them with that particular product, but the Niacinamide serum looks absolutely amazing.
It has niacinamide, zinc, propanediol, sodium hyaluronate (the concentrated version of hyaluronic acid), and plenty of other hydrating and moisturizing ingredients.
This also looks great for acne-prone skins according to the ingredients and I just can't wait to get my hands on it.
If you live in the US and have tried this product, please share your opinions in the comment below, I'd love to read about your experience with using it!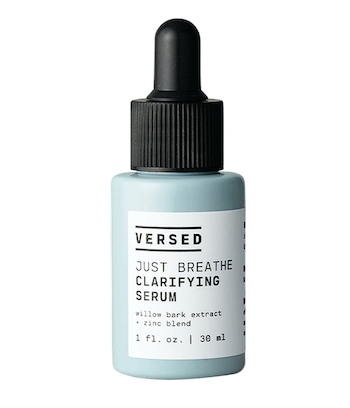 Another good product for acne-prone skins is VERSED Just Breathe Clarifying Serum.
This product has a simple and straight-to-the-point ingredient list, contains niacinamide, zinc, salicylic acid, a bunch of humectants, and other moisturizing and soothing ingredients.
It's a good product to be used as a treatment every now and again or you can even incorporate it in your daily routine. Now, I didn't religiously test this one and it didn't really blow my mind, but I like it so that's why I included it in this list.
If you feel like experimenting, you should give it a chance but if you've found something that already works for you, stick to it because this is not a mindblowing product.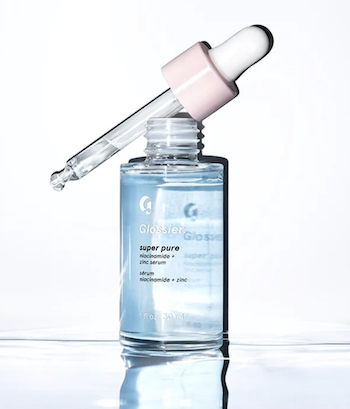 Glossier's Super Pure Niacinamide + Zinc serum is an excellent product if you feel like treating yourself to e boujie niacinamide serum from a pricey brand.
Compared to the rest of the products listed here, this isn't anything different, but it does contain great ingredients including niacinamide, glycerin, propanediol, zinc PCA, and honeysuckle flower extract which is a good antioxidant with skin-soothing properties.
It's safe for oily, acne-prone skins, and dry skin may like it, too.
---
---
What Is Niacinamide?
Otherwise known as vitamin B3, niacinamide is one of the most potent anti-inflammatory ingredients in skincare.
This ingredient is also known as nicotinic acid and it is a form of vitamin B3 that's an essential nutrient for your body. So essential, in fact, that a B3 deficiency can lead to disorders of the skin, kidneys, and even brain.
While topically applied niacinamide won't do pretty much anything for your kidneys and brain function, it is one hell of an ingredient to prevent serious disorders of your skin.
What Does Niacinamide Do To Your Skin?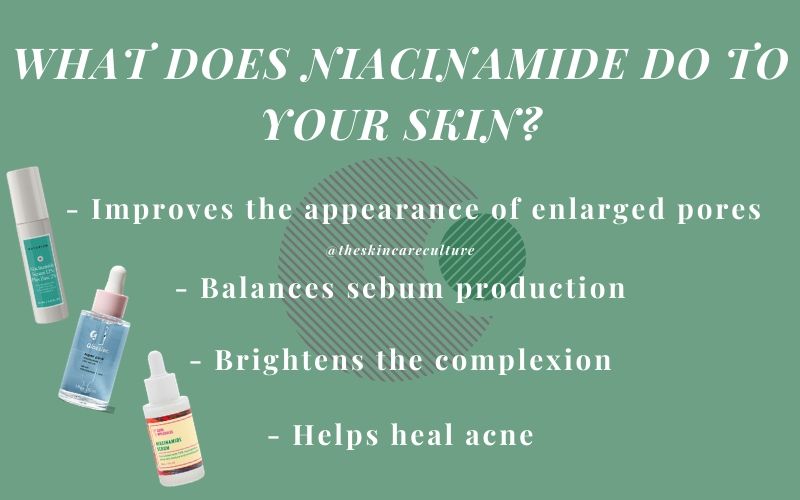 Niacinamide is a very effective skin-restoring ingredient that offers a plethora of benefits for both aging and blemish-prone skin.
Niacinamide helps tackle all sorts of blemishes on the skin due to its powerful anti-inflammatory properties that can suppress the skin's inflammatory responses and help calm redness, sores, inflammatory acne, etc.
Additionally, niacinamide is famous for its brightening properties and many people use it to fade mild hyperpigmentation that can sometimes be the result of acne or sun damage.
Moreover, niacinamide is a very hydrating ingredient that has a lot to offer when it comes to both oily and dry, mature skin types.
The benefits of moisture retention are extremely useful for oily skins because sufficient hydration will regulate the amount of oil the sebaceous glands produce and prevent them from going into overdrive, thus potentially creating skin concerns like acne, enlarged pores, etc.
This further helps improve the appearance of enlarged pores, dullness, and a weakened skin surface.
So, niacinamide does a hell of a lot for the skin, and it can be beneficial for every skin type and pretty much any skin concern.
Niacinamide can also mitigate and to some extent, help visibly repair damage from UV light and offset other sources of environmental attack, including the negative impact of various types of airborne pollutants.
Unlike many other beneficial ingredients, niacinamide is stable in the presence of heat and light.
How Long Does Niacinamide Take To Work?
Niacinamide starts to work as soon as you apply it to the skin, but it can take up to three weeks to show visible results of improvement.
That doesn't exclude the fact that you will most probably start seeing improvements in your skin after a few days, given that niacinamide is the right fit for your skin type and your particular skin needs.
However, it may take up to three weeks for the full results to be seen and if niacinamide works well with your skin, you are definitely going to love the change.
Can You Use Niacinamide Every Day?
Niacinamide is the least harmful ingredient in skincare and you can absolutely use it every day, both in your morning and evening routine.
That being said, although being one of the least harmful ingredients, niacinamide can still potentially cause irritation if you happen to be allergic to it or you use it in excess on dry skin.
Niacinamide is known to be the holy grail for oily skins and although dry skin can benefit from it, too, dry skins should definitely not use niacinamide twice a day.
What Can You Not Mix With Niacinamide?
If you stopped to read this, you have probably heard that you cannot use niacinamide with vitamin C because they cancel each other out.
Well, this couldn't be further from the truth.
Niacinamide is one of those ingredients that can be mixed with anything, and it works especially well with other ingredients that have the potential to cause skin irritation because of its excellent soothing properties.
In simple words, if you would normally have a mild irritation from vitamin C when you pair it up with niacinamide, it is likely that you will be able to tolerate vitamin C much better.
When used together, niacinamide and vitamin C become even more of a powerhouse.
This duo will help give you an even better chance at achieving a radiant, smooth, even, younger-looking complexion.
The research this misconception is based on was conducted in the 1960s; the forms of niacinamide and vitamin C used in this study were not stabilized—although niacinamide itself is very stable.
The base of the formula used in this study was also far different than today's sophisticated skincare formulas.
Today, cosmetic chemists know how to combine niacinamide and vitamin C in the ideal base formulas that enhance their compatibility.
Additionally, brands like Dermatica that are famous for their prescription-strength tretinoins also frequently prescribe niacinamide in their tretinoin so that the irritation can be tolerated much better.
So, yeah, niacinamide can be used with any other ingredient and work extremely well to address multiple skin concerns.
---
---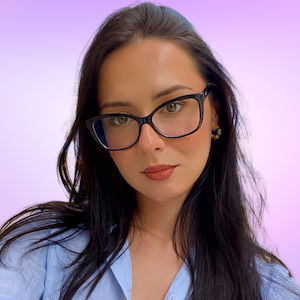 My name is Simone and I am a certified skin specialist. I created this website to teach my readers how to take great care of their skin and I also like to occasionally share my honest opinions on skincare products I've tried. You can learn more about me here.
The Acne Solution: Your Ultimate Guide To Flawless Complexion
An extensive, no-nonsense course showing you how to never have acne again, from a licensed Esthetician specializing in oily/acne-prone skin.