If you are struggling with acne scars, you may wonder if microneedling is a good option.
This procedure has become increasingly popular in recent years, and for a good reason – it can provide some fantastic results after only a couple of treatments.
But is microneedling safe to do while on Accutane?
In this article, I will talk about the benefits and side effects of microneedling while on Accutane.
Can You do Microneedling While on Accutane?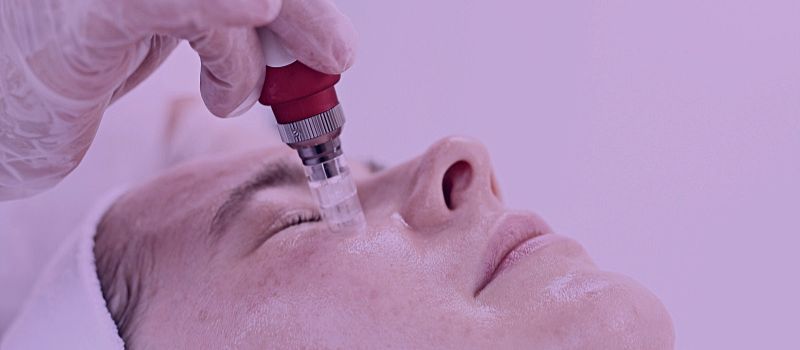 NB:
What if I told you I can show you how to never have acne again?
If you have acne and want it gone
,
read this message
.
No, microneedling isn't the best treatment to do while on Accutane and should be avoided for a few reasons:
Skin Damage
Microneedling is an intense treatment that consists of using a pen-like tool with very fine needles to puncture the skin.
This means that after doing microneedling, your skin will enter a repair mode where the fibroblast cells will produce more collagen to fill up the microchannels and heal the puncture wounds.
If you are on Accutane, your skin is already freaking out due to the lack of sebum to lubricate it and relieve dryness, which means the skin is already in an abnormal and stressed state, and the added trauma of microneedling could cause it to start overproducing collagen, which in extreme cases can lead to the formation of keloids.
Additionally, your skin is likely already very sensitive from taking Accutane, and doing an intense treatment such as microneedling will bring so much trauma and prolong the healing process.
Therefore, the skin might take longer than that to get back to normal instead of healing after 1-2 days, which is the expected downtime after microneedling.
This will expose you to longer downtime, and you will have to be extra careful with your skincare, your lifestyle habits, sun exposure, etc., for a few extra days.
Acne and Inflammation
If you are already taking Accutane, the chances are that you are still dealing with active breakouts.
And active breakouts happen to be the main contraindication that would prevent you from having a microneedling treatment.
Why?
Because microneedling can worsen acne and inflammation, which is something you definitely don't want when you are already taking a medication that fights against that.
Additionally, poking holes through active acne full of puss and bacteria and dragging all that debris over other areas will only help spread the infection.
Cost
The third reason why microneedling isn't the best treatment while on Accutane is the cost.
Microneedling is a costly treatment and, depending on your location, prices can go anywhere from $150 to $300+.
This is why you want to go through with your course of medication and get rid of active acne first so that you won't have to continue to throw money while still breaking out and getting fresh scars.
The best thing to do before having a microneedling treatment is to finish Accutane, wait for the skin to become a bit strengthened and get back to normal, and only then meet a professional for a consultation.
How Long After Accutane Can You do Microneedling?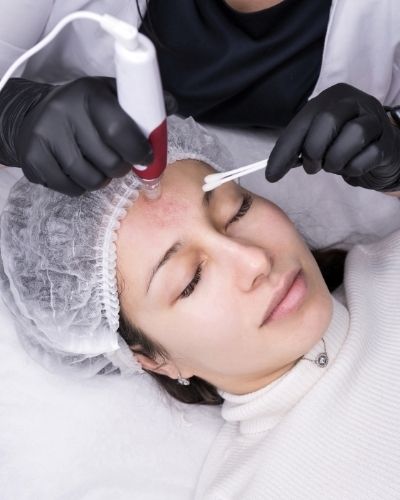 This is a tricky question with no definitive answer because how long after Accutane can you do microneedling depends entirely on how well your skin heals, recovers, and repairs itself.
Some professionals can recommend microneedling as soon as three months after finishing Accutane, while others would want to wait up to a year after Accutane.
I would say that microneedling six months after Accutane should be fine, given that you have a good skincare regimen that helps keep your skin clear and healthy.
Remember that after finishing Accutane, you need to not only give your skin time to balance itself out but also wait a little bit and see how your new skincare routine works for you.
There's no point in starting microneedling immediately after Accutane when your skin is probably still not ready or strengthened enough for this kind of trauma, but your skincare routine may also not be the right one for you, and you might have to make a few adjustments here and there to help your skin recover.
Because your skin is likely to change after Accutane, you also need to adjust your skincare routine accordingly. It's unlikely that you would be able to continue slathering Aquaphor or Vaseline the way you might have done while on Accutane and not break out.
Therefore, you should start thinking about going to the next step and treating acne scars once you have a strong skin barrier and clear and healthy skin that functions properly and is prepared to deal with such an intense treatment as microneedling.
When's The Best Time to do Microneedling?
Microneedling is a treatment that should be done in winter to avoid unnecessary discomfort, irritation, and even scarring from sun exposure, sweating, friction, and heat.
It's also highly recommended to rest for at least 24 hours after microneedling and avoid exposing yourself to environmental pathogens.
Lastly, avoid doing strenuous exercise 24-48 hours after microneedling as this could also cause redness, sweating, and discomfort.
How to Stop Itching After Microneedling?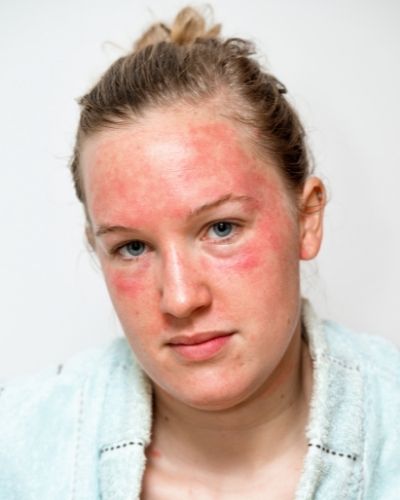 Your skin will feel warm and tight and look red for one to three days after microneedling.
Experiencing an itching sensation after microneedling is also very common, which is why during this time, you should use a delicate cleanser such as SkinCeuticals Soothing Cleanser and a soothing moisturizer such as the Cicaplast Baume B5.
What Not to Use After Microneedling?
Avoid using hydrocortisone creams as these are often recommended to soothe irritation and calm itching; however, steroid creams are notorious for causing withdrawal symptoms which can be pretty intense and usually appear as persisting redness, eczema-like skin conditions, more itching, and irritation.
The worst part about these symptoms is that they can last for a long time, so using steroid creams to soothe an itch that would go away after a day or two after microneedling is just not worth it.
Additionally, stay away from hyaluronic acid and vitamin C serums, as these are usually applied during microneedling. Using them on raw, irritated skin after the treatment will prolong the healing process and lead to irritation.
Lastly, avoid using exfoliating acids and retinoids on your skin for at least a few days to a week after microneedling.
My name is Simone and I am a certified skin specialist. I created this website to teach my readers how to take great care of their skin and I also like to occasionally share my honest opinions on skincare products I've tried. You can learn more about me here.
The Acne Solution: Your Ultimate Guide To Flawless Complexion
An extensive, no-nonsense course showing you how to never have acne again, from a licensed Esthetician specializing in oily/acne-prone skin.