I was a committed lover of The Ordinary, and most of their products used to be my holy grails up until about a year ago.
However, since I got stuck in quarantine and started growing my blog, I also started experimenting with other brands so that I can write reviews on various other products, and I fell off the "one-active-per-product" thing which is what most products by The Ordinary are.
And while I still have a couple of staples that I always get back to, I no longer have space to fit everything they have in my routine.
But luckily, I have tried almost every product from this brand, and I've compiled a list of the ones that are amongst my favorites.
Therefore, here are my recommendations of the best products for acne-prone skin by The Ordinary: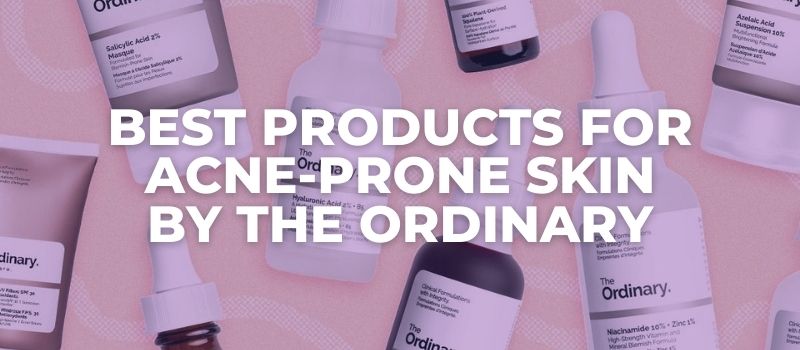 NB:
What if I told you I can show you how to never have acne again?
If you have acne and want it gone
,
read this message
.
Niacinamide 10% + Zinc 1% – $6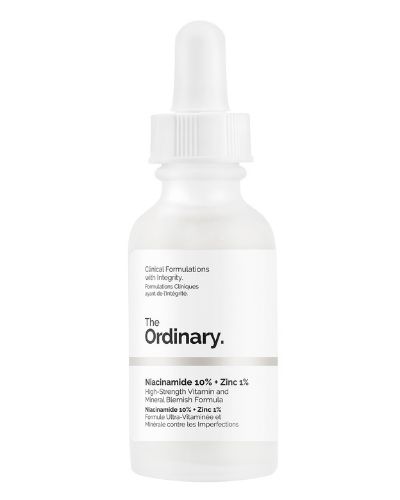 Niacinamide 10% + Zinc 1% is one of the most popular products by The Ordinary and for a few good reasons.
It has worked wonders for so many people, and it is especially loved by oily and acne-prone skin due to the two main active ingredients.
As we already know, Niacinamide is an incredibly beneficial ingredient for every skin type and can also tackle multiple concerns, including hyperpigmentation, redness, texture, excess oil, and acne.
On the other hand, zinc is an incredible mineral that helps soothe and repair the skin, which is why it's exceptionally good for inflammatory conditions such as acne.
Therefore, it's not hard to see why the Niacinamide 10% + Zinc 1% is loved by many.
This product can help balance out excess oil production, soothe irritation, improve hyperpigmentation and texture, and most importantly – get rid of mild breakouts when accompanied by other acne-fighting ingredients.
Best for oily/acne-prone skin.
RELATED: Best Niacinamide Serums Under $30.
Lactic Acid 5% + HA – $7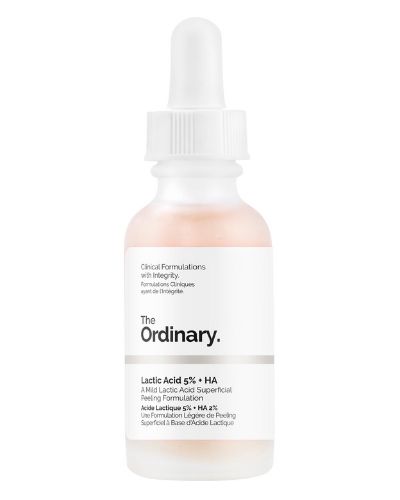 The Ordinary's Lactic Acid 5% is a gentle product especially compatible for use on sensitive skin.
Lactic acid is a mild exfoliating acid, but it is also a humectant that helps attract moisture into the upper layers of the skin.
This product won't help get rid of acne because it's too mild to make any significant difference; however, it may help calm the redness caused by acne and hydrate the skin.
It's suitable for dry, dehydrated, and very sensitive skin types, and it can be used 3-4 times a week.
Best for normal/dry/sensitive skin.
RELATED: Best Exfoliators For Sensitive Skin.
Mandelic Acid 10% + HA – $7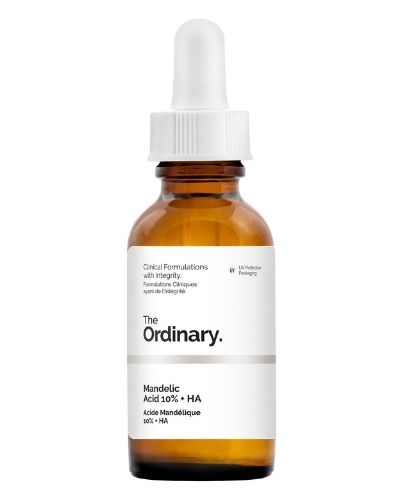 Mandelic Acid 10% + HA is an excellent serum for more stubborn breakouts as it has a stronger concentration of an exfoliating acid.
Mandelic acid is an AHA naturally found in bitter almonds, and it has a larger molecular weight than other AHAs, meaning it is gentler than glycolic acid and will calm breakouts without irritating the skin.
The Ordinary's Mandelic Acid serum also contains hyaluronic acid to deliver a dollop of hydration to the skin, and it's most suitable for dry skin types that are prone to breakouts.
The product is quite oily, so it may not be the best option for excessively oily skin dealing with blackheads and acne.
Best for dry/acne-prone skin.
RELATED: The Complete Guide To Mandelic Acid.
Hyaluronic Acid 2% + B5 – $7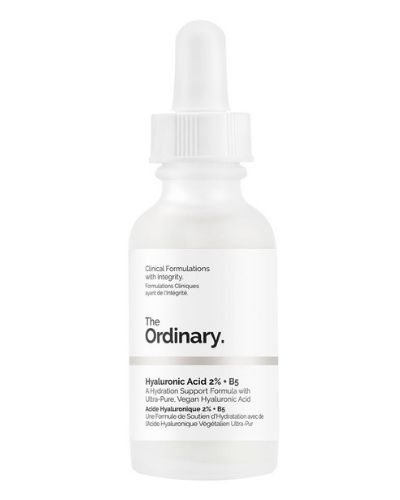 Hyaluronic Acid 2% + B5 is The Ordinary's superstar and continuous bestseller that features three types of hyaluronic acid with different molecular weights (low, medium, and high).
These varying molecular weights are what allow the molecules to penetrate your skin at different depths.
Besides, this product is also infused with pro-vitamin B5 (Panthenol), a powerful humectant that can attract and retain moisture and help heal dry and damaged areas.
However, even though hyaluronic acid seems like an innocent ingredient that can do no wrong, this is not the case, and you should still be careful when using it.
First of all, you need to make sure your skin is damp when using hyaluronic acid because using it on dry skin will only cause it to dry out more.
Next, you only need to use a drop or two and press it into damp skin instead of rubbing it around.
And lastly, you should use hyaluronic acid once a day or once every two days because using it twice a day can definitely be too much.
Most skincare products in the market contain hyaluronic acid, which means you probably get it from another product, too, so you don't need it in excess amounts.
But besides that, our bodies have an enzyme called hyaluronidase that breaks down hyaluronic acid every 48-72 hours, meaning you don't need to apply this ingredient more frequently than that.
Marine Hyaluronics – $7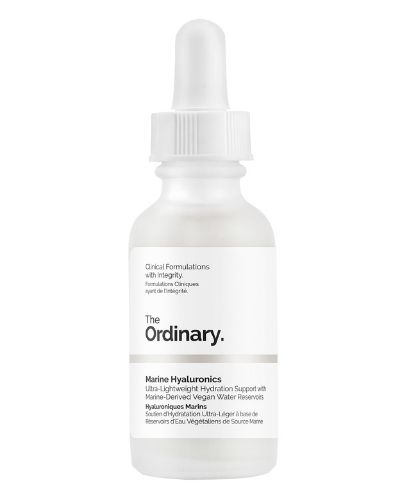 The Marine Hyaluronics serum is the lightweight alternative to Hyaluronic Acid 2% + B5. However, besides the fact that the products are similar, there's no hyaluronic acid present in Marine Hyaluronics.
Instead, this formula uses lightweight marine derivatives like red, green, and blue algae that attract and bind with water, much like hyaluronic acid; however, these are significantly lighter.
The total concentration of active ingredients in this formula is a whopping 23%.
Marine Hyaluronics is also much lighter than Hyaluronic Acid 2% + B5 and feels like water compared to the gooey and tacky consistency of the latter, which is why some people prefer the lighter version.
Best for oily/acne-prone skin.
Azelaic Acid Suspension 10% – $8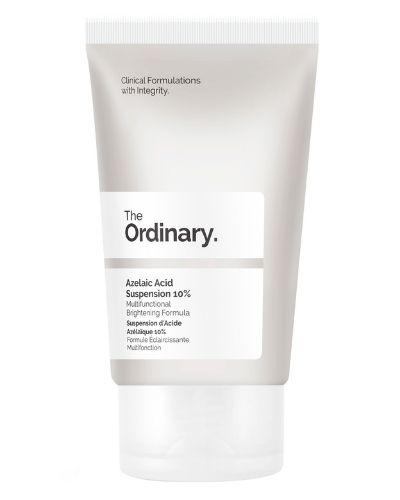 The Azelaic Acid Suspension 10% is a hit for many but a miss for some.
It is a great product for oily, acne, and rosacea-prone skin, as well as for someone who is dealing with post-inflammatory redness due to previously having acne or contact dermatitis flare-ups.
However, since it's a suspension, this product is filled with silicones. Silicones aren't necessarily bad in skincare and are an affordable ingredient that's easy to formulate with and helps slow down transepidermal water loss.
But the issue with these types of products is that they will pill and ball on the skin's surface and generally don't sit well under other cosmetic products such as sunscreens and makeup.
So if you are using the Azelaic Acid Suspension 10% as the last step of your evening routine, chances are you are going to like it, but if you want to use azelaic acid in the morning, it's best to opt for something with more elegant texture such as the Paula's Choice 10% Azelaic Acid Booster ($36).
I actually have a comparison review between the two azelaic acid products, so check it out if you are interested.
AHA 30% + BHA 2% Peeling Solution – $8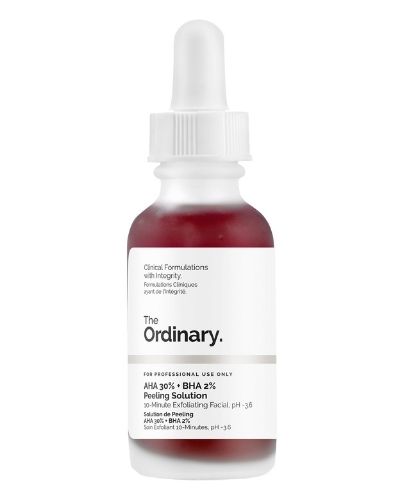 The Peeling Solution is a potent treatment intended to be done once every week or two weeks, and it has a high content of exfoliating acids that tackle multiple skin concerns.
It contains 30% alpha-hydroxy acids that work to exfoliate the surface of your skin and gently dissolve the "glue" that holds dead skin cells together.
This will contribute to a brighter and healthier complexion with less pigmented and discolored areas.
Additionally, the 2% BHA is a supreme ingredient that travels deeper into the pores and clears out all the gunk, oil, and bacteria stuck in there.
This will be very effective if you are dealing with blackheads, whiteheads, and even moderate to severe acne.
However, since it's strong enough to cause irritation easily, avoid using it more frequently than once a week.
Best for oily/acne-prone skin.
RELATED: The Complete Guide To Salicylic Acid.
Alpha Arbutin + HA – $9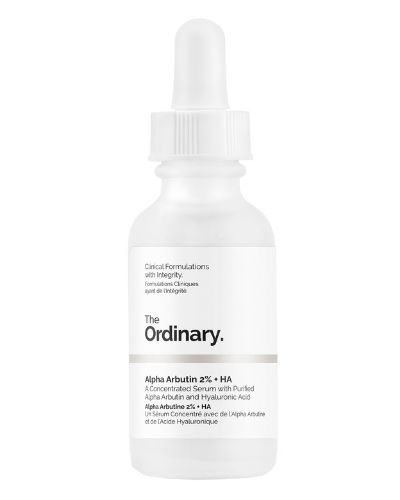 Alpha Arbutin 2% + HA is a serum aimed at brightening hyperpigmentation, evening the skin tone, and helping the skin attract moisture.
Alpha arbutin is a molecule that inhibits the production of melanin which is why it's so valuable at fading and preventing dark spots.
Its active counterparts are released at a slower rate onto the skin, making it gentle and well suited for sensitive skin.
However, the Alpha Arbutin + HA comes with a slight disadvantage and can pill and ball in combination with other products that are heavy on silicone content.
Therefore, it's best to use it in the evenings and follow it up with a moisturizer.
Granactive Retinoid 2% Emulsion – $10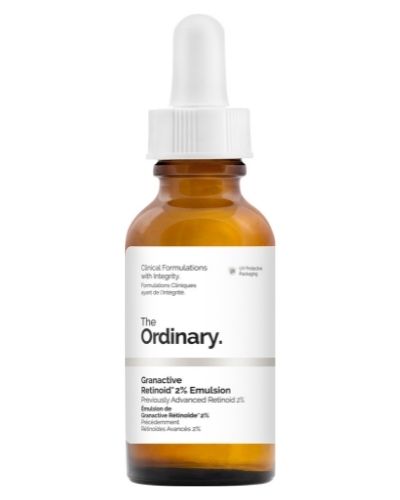 The Ordinary's Granactive Retinoid 2% Emulsion is a gentle, oil-free formula that delivers a potent anti-aging and anti-acne powerhouse into your skin.
The Hydroxypinacolone Retinoate (HPR), which is the main active ingredient in this product, is an advanced form of retinoid, a non-prescription ester all-trans retinoic acid.
This means that The Ordinary's Granactive Retinoid 2% Emulsion is a more gentle version of prescription retinoids that is also very effective but way less irritating than prescription strengths.
However, no matter how gentle it is, retinol speeds up the cellular turnover, which means there will be shedding, peeling, and potential irritations that can be mild to moderate when starting out.
Therefore, when starting to incorporate any product containing retinols, you also need to have a good moisturizer in your skincare routine to help soothe irritations and moisturize the skin to prevent dryness.
Lastly, you also need to use a broad-spectrum, high SPF in the morning to prevent sunburn and skin damage.
Best for oily/acne-prone skin.
"Buffet" + Copper Peptides 1% – $29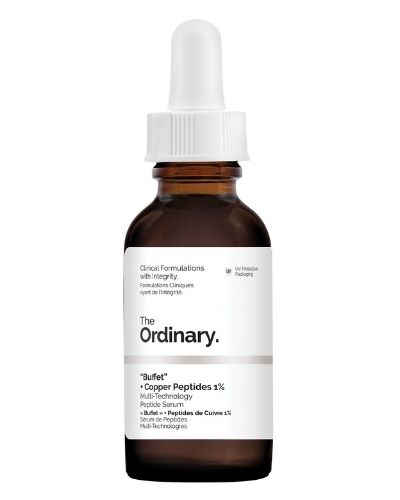 "Buffet" + Copper Peptides 1% serum is a cocktail of peptides aimed to replenish the skin and target signs of aging.
Copper peptides give this serum a blue hue, but they are also very efficient when it comes to healing the skin barrier from inflammation such as acne breakouts, sun damage, etc.
The product also contains Argireline and Matrixyl peptide complexes, which help to target fine lines.
Together, these peptides combine to make a potent, anti-aging, smoothing, and anti-inflammatory serum.
It can be used in the mornings or evenings as a part of your regular skincare routine, even alongside exfoliating acids, if your skin can tolerate the cocktail of actives.
My name is Simone and I am a certified skin specialist. I created this website to teach my readers how to take great care of their skin and I also like to occasionally share my honest opinions on skincare products I've tried. You can learn more about me here.
The Acne Solution: Your Ultimate Guide To Flawless Complexion
An extensive, no-nonsense course showing you how to never have acne again, from a licensed Esthetician specializing in oily/acne-prone skin.