When it comes to taking care of our skin, we all want the best results possible.
Fortunately, many skincare tools are available to us that can help us achieve those results at home.
The problem is, there are so many skincare tools on the market these days, it can be hard to decide which ones to buy.
Thus, I've put together a list of the best skin care tools to use at home, based on my experience and research.
I'll be discussing what each tool does and how it can benefit your skin so if you're looking for ways to improve your skincare game, keep reading!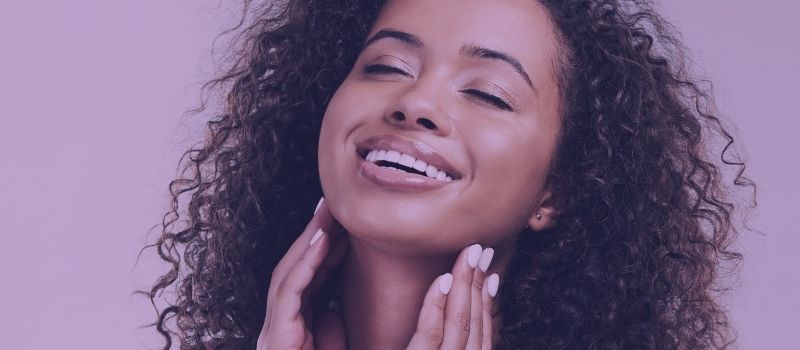 NB:
I can show you how to never have acne again.
If you have acne and want it gone
,
read this message
.
Fronnor – Ice Roller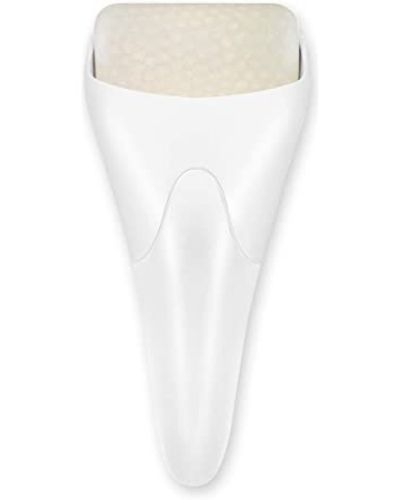 This is a very simple and typical ice roller tool with a handle and a detachable ice pack on the top that can be taken off and placed inside the fridge or freezer.
It rolls smoothly across the skin, and the idea is that it works to increase blood circulation and stimulate rejuvenation from the inside out.
I find it super calming and refreshing, and one of the major benefits of owning an ice roller is the depuffing effect it has, especially if you wake up puffy and swollen during the warmer months of the year.
It's a simple and affordable tool that you don't really need to have healthy skin, but it's very enjoyable and pleasant.
It's also great for instantly relieving burns, and the increase of blood circulation can potentially help heal the wound faster, although this hasn't been proven.
Project E-Beauty – High-Frequency Device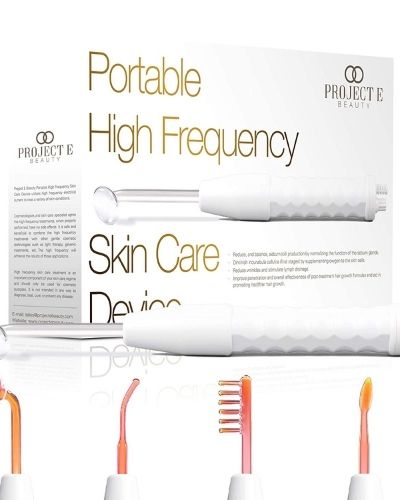 The High-Frequency Device by Project E-Beauty is designed to help target multiple skin concerns ranging from acne to wrinkles and even hair loss.
These machines work with high-frequency electrodes made out of very thin glass that come in several different shapes and sizes to cover different areas of the face, body, and scalp.
The electrodes are removable and kept separately from the machine's main unit due to safety and hygienic purposes.
When the electrode is firmly inserted into the handpiece, a gentle electrical current is generated by the machine, which then passes through the glass electrode upon contact with the skin.
The electrical current ignites the inert gas within the electrode, which produces healing electrical light energy and produces ozone formation.
Ozone is a purifying gas with antibacterial properties and helps to heal acne and combat congestion.
In other words, when mixed with the air outside of the electrode, the current infuses the skin with oxygen molecules, and during this process, a mild tingling sensation is experienced.
The particular device I linked contains mixed electrodes. While the general rule is to use blue (argon) gas for acne and wounds and orange (neon) gas for anti-aging purposes, these both work without an issue.
My at-home device is filled with argon gas, but the professional one I was using while in beauty school had neon gas, and it still helped with my acne.
When using a high-frequency device, you need to make sure to have a medium on your face to create a barrier and allow the electrode to glide across the skin with ease.
Ideally, this will be a gel mask of some sort that contains targeted active ingredients such as enzymes, salicylic acid, or alpha-hydroxy acids that the electrode can infuse into the skin.
Lastly, when you finish your treatment, make sure to clean the electrodes by wiping them with a tissue and rubbing alcohol. Never wash the electrodes, do not pour rubbing alcohol directly on them, and do not let them get in touch with water.
RELATED: Read my full guide on how to use high-frequency machines.
FOREO – BEAR & BEAR Mini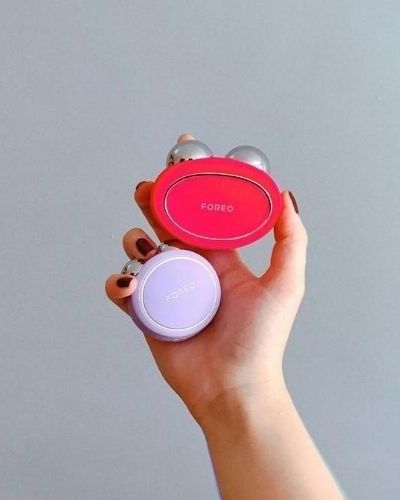 The BEAR and BEAR Mini are at-home microcurrent devices that are designed to help tighten your facial muscles through a variety of different current strengths.
The devices have a super cute and unique silicone design and ergonomic shape that makes them easy to hold and manipulate across your facial contours.
BEAR and BEAR Mini will give you a quick, convenient, and efficient treatment at home that will transform your complexion without wasting too much of your time.
Microcurrent devices can help tone the face and neck muscles and give a lifting effect with continuous use.
I have a full, in-depth review of BEAR and BEAR Mini and how to use them, so make sure you read that as you are surely going to love these products.
Touch Beauty – Ultrasonic Exfoliating Scrub Device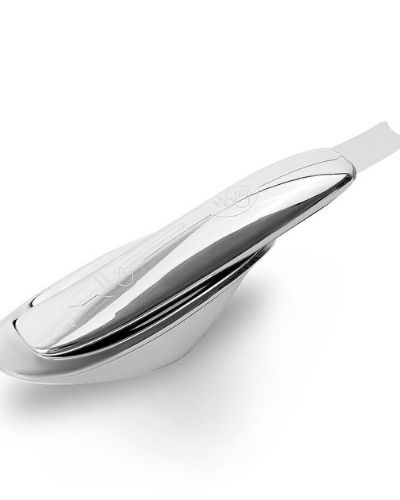 The Ultrasonic Exfoliating Scrub Device by Touch Beauty is a tool that looks like a spatula and is intended to be used as an exfoliator to help extract blackheads, gunk, and sebum that hasn't turned into a blackhead yet right out of your pores.
Additionally, the device can also help your skin better absorb skincare products, and it also helps give a temporary lifting effect due to the way it's being used.
The Ultrasonic Exfoliating Scrub Device is created by one of the best-known beauty device manufacturers, and it truly is one of the coolest ultrasonic scrub devices I've personally seen on the market.
The facial spatula is a sleek, shiny, and stylish unit with a touch interface, storage base unit, a cordless operation, and a ton of power to give amazing results.
It looks and feels ultra-luxurious.
From its sleek appearance and design down to its function, the Ultrasonic Scrub Device is truly something that can deliver the results you only see from in-office treatments.
FOREO – UFO Mini 2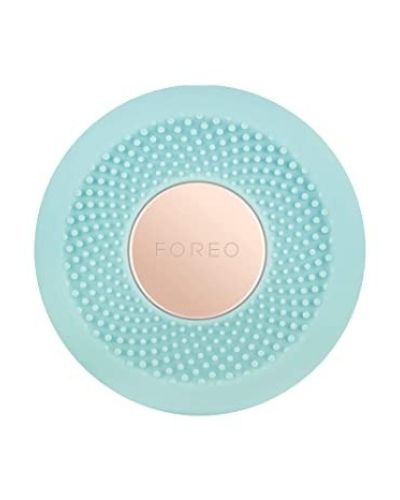 The UFO Mini 2 is a thermal smart mask treatment device designed to deliver optimum results by combining advanced technology with exclusive Korean mask formulas while giving you that luxurious spa experience in no longer than 90 seconds.
It's super quick, convenient, and designed to help you pamper yourself and transform your complexion while not wasting too much of your precious time.
Made to work in tandem with FOREO's activated sheet masks, the thermo-therapy is essentially a heating feature that helps soften the skin and open the pores to absorb the activated sheet mask's essence boosting your complexion with its LEDs that glow red and green throughout the treatment.
Additionally, the T-sonic pulsations work together to boost the effects and absorption of each mask while also giving you a gentle and pleasant facial massage.
Using the UFO Mini 2 is very simple. All you need to do is secure the mask to your device, turn it on, and glide it across your face for a complete smart facial treatment within seconds.
RELATED: Read my full UFO Mini 2 review.
TriPollar – STOP X Device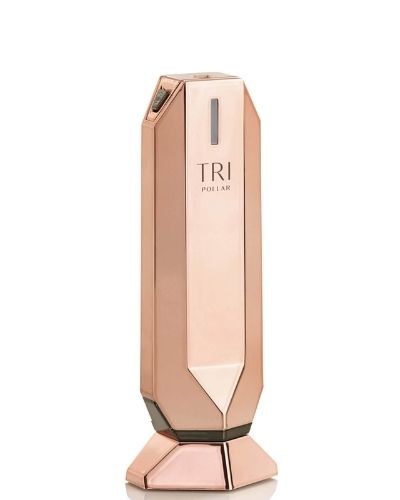 The STOP X Device by TriPollar is a radiofrequency device that stimulates blood circulation and dermal activity for anti-aging and rejuvenating purposes.
The device works to heat up and stimulate the fibroblasts, which are the cells that produce collagen and elastin, as this will help to improve the skin's contour, strengthen the skin's resilience, and improve fine lines and sagginess.
Before starting your treatment, you need to apply a thin layer of their Stop Preparation Gel that comes together with the device and helps it glide better across the skin and intensifies the warming sensation.
The device emanates a warm and very pleasant sensation, and you can definitely do these treatments while relaxing in front of the tv or even while in bed.
The treatment area should be divided into a number of smaller focus areas, and you should then move the device in a very slow, circular motion across the skin's surface.
You can use the STOP X Device as often as you wish, but it's recommended to use it once a day for 15-20 minutes, ideally in the evenings, due to the slight redness that may occur after the treatment.
The STOP X Device is quite a pricey pleasure, and the prices usually differ depending on the color of the device because the different colors come with different functions and technology behind them.
I've found Rose Gold to be the cheapest of all the other colors, and it costs $399 + a tube of preparation gel.
However, it's regularly on sale on SkinStore, LookFantastic, and CurrentBody, so watch out for those discounts if you want to splurge on this product.
ANLAN – Electric Eye Massager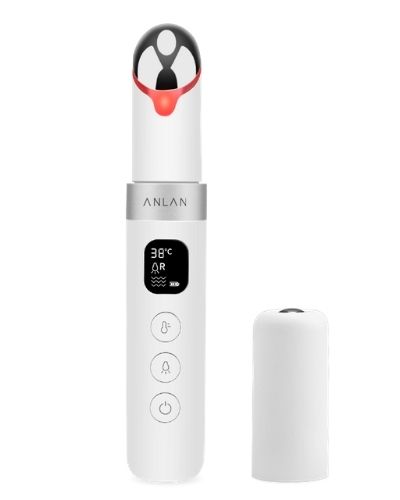 The Electric Eye Massager by ANLAN is a compact tool that uses high-frequency vibrations that help relax eye strain, as well as firm and tighten the skin.
The massager also features a thermal treatment and can warm up from 380C to 450C to help improve the blood circulation of the skin around the eyes, eliminate puffiness and dark circles, as well as promote better product absorption.
I personally like to use it in combination with a cooling gel in summer or a thicker balm in winter for extra under-eye hydration and nourishment.
RELATED: Read my full review on the Electric Eye Massager by ANLAN.
ESPA – Adventurine Jade Eye Massage Tool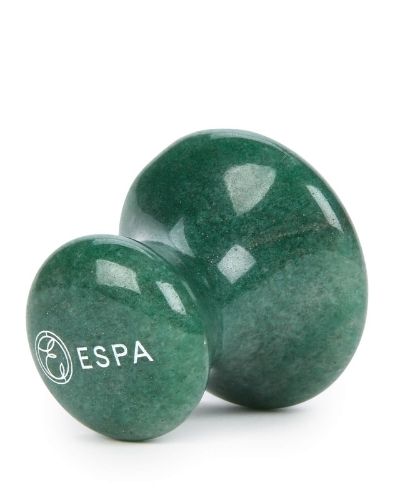 The Adventurine Jade Eye Massage Tool by ESPA is a smooth roller that glides over the skin with ease and works to increase circulation, diminish dark circles under the eyes, and rejuvenate the eye contour.
It can also have a cooling and depuffing action when you leave it in the fridge for a while and use it afterward.
It's honestly more expensive than it should be, but it's a handy tool that's easy to hold and feels good. It's not an absolute must-have, but you'll definitely enjoy it.
Hollywood Smoother – Dermaplaning Tool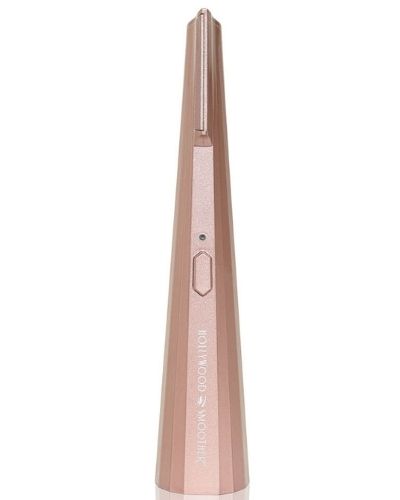 The Hollywood Smoother Dermaplaning Tool is a very convenient and handy piece that's easy to use and gets the job done without the risk of cutting your skin like the manual dermaplaning tools.
It also has sonic vibrations that help while you're using it to remove the peach fuzz from the surface of your skin.
It is a little bit pricey compared to the standard Tinkle razor everyone uses, but it feels very luxurious, and the blade lasts longer than the cheaper one would.
You can also purchase four additional blades and change them when you feel they are becoming blunt. Given that you only have to do dermaplaning once or twice a month – four blades would probably last you a year or more.
RELATED: How to do dermaplaning at home?
---
---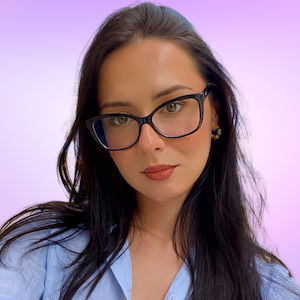 My name is Simone and I am a certified skin specialist. I created this website to teach my readers how to take great care of their skin and I also like to occasionally share my honest opinions on skincare products I've tried. You can learn more about me here.
The Acne Solution: Your Ultimate Guide To Flawless Complexion
An extensive, no-nonsense course showing you how to never have acne again, from a licensed Esthetician specializing in oily/acne-prone skin.