Finding a moisturizer for acne-prone skin can be incredibly challenging, even when it seems like a new skincare brand pops up every day.
Most products are too rich and heavy, which is the main reason why people with oily and acne-prone skin tend to skip this step and just hope for the best.
However, while skipping a moisturizer is sometimes justified, most of the time, it's doing more harm than good for your skin.
A moisturizer's role is to slow down transepidermal water loss so that all the moisture stays in your skin and helps the skin cells do their job.
Skipping your moisturizing step is especially harmful if you are already using any other skincare products, including cleansers, serums, exfoliators, and acne treatments, because these alter the skin's pH.
When the skin's pH is altered, the skin is more susceptible to moisture loss, which is why you should always seal the beneficial ingredients from your other products with a moisturizer on top.
No matter how hydrating your hyaluronic acid serum is – its benefits are likely to evaporate and leave your skin dehydrated if you don't top it up with a moisturizer and seal all that hydration in.
But all this doesn't take away from the fact that there are very few moisturizers that actually help acne-prone skin and don't dehydrate it or clog it even more.
Here are the six best moisturizers for acne-prone skin that you should consider looking into (reviewed below):
Neutrogena – Hydroboost Water Gel
Pyunkang Yul – Acne Cream
L'Oreal – Hydra Genius Oil-Free Moisturizer
Krave Beauty – Oat So Simple Water Cream
La Roche Posay – Toleriane Sensitive Fluide
AlumierMD – HydraClarité Moisturizer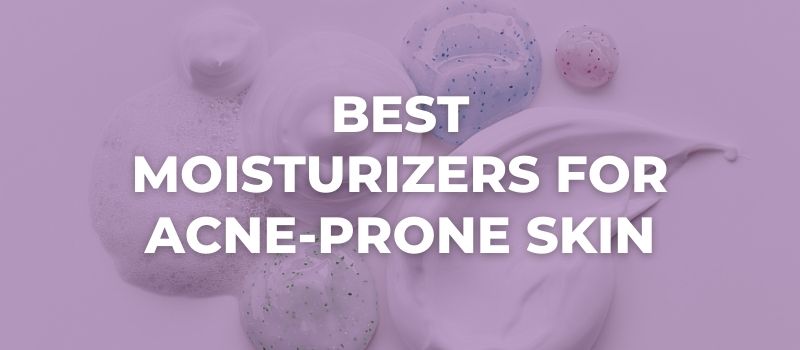 NB:
What if I told you I can show you how to never have acne again?
If you have acne and want it gone
,
read this message
.
Neutrogena – Hydroboost Water Gel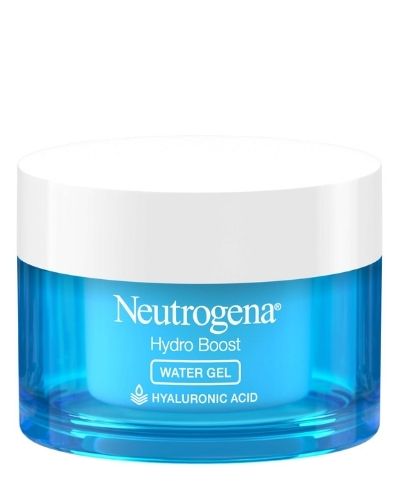 Neutrogena's Hydroboost Water Gel is one of the simplest, most affordable products that are great for combo, oily, and acne-prone skin.
It's an oil-free moisturizer with hydrating properties from ingredients such as hyaluronic acid, a humectant that attracts and retains water into the skin's uppermost layers.
It also contains a few silicones which are great moisturizing ingredients that help create that occlusive layer on the skin's surface and prevent the water from evaporating.
The Hydroboost Water Gel spreads easily on the skin and instantly hydrates it, leaving a velvety finish on the surface without feeling greasy.
This moisturizer does contain fragrance, and it may not be an option for those sensitive or allergic to it. The scent is also rather strong initially, but it, fortunately, doesn't linger for long.
Due to its popularity, you can find the Hydroboost Water Gel virtually anywhere from your local pharmacy, drugstore, Amazon, and many online stores.
Pyunkang Yul – Acne Cream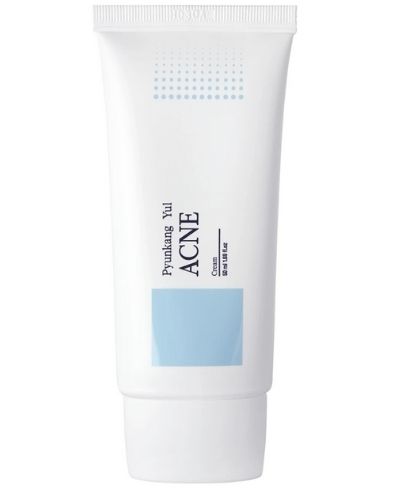 The Acne Cream by Pyunkang Yul is a very suitable product for you if you have mild to moderate acne or acne-prone skin that's currently clear and you are looking for a gentle product that will moisturize, hydrate, and maintain it.
This gel-cream has a very lightweight texture and contains a blend of humectants that help attract and retain water into the skin, as well as soothing and brightening ingredients such as niacinamide and Centella Asiatica that will also help strengthen your skin barrier.
Lastly, the Acne Cream contains two anti-inflammatory ingredients, including copper peptides that also work to strengthen the skin barrier as well as willow bark extract, which is a much gentler alternative to salicylic acid.
The product is very suitable for combo, oily, sensitive, and acne-prone skin and can be easily found on online stores that carry Korean products as well as Amazon.
L'Oreal – Hydra Genius Oil-Free Moisturizer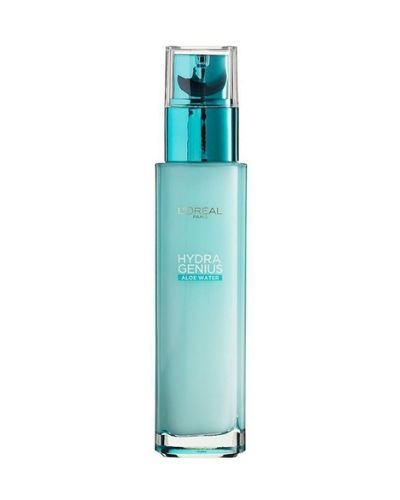 L'Oreal's Hydra Genius Oil-Free Moisturizer was among the first moisturizers I ever purchased, and it is also one of the best ones I've used.
It has a very lightweight, gel texture, smells fresh, dries on the skin very quickly, and leaves my oily and acne-prone skin feeling soft and bouncy.
Besides that, it lasts for a very long time because the bottle is bigger than a standard moisturizer of 40-50ml. This one has 90ml of product, and it lasts for over 6 months when I use a little more than a pea-sized amount of it morning and evening.
It also contains alcohol denat, which is usually a drying ingredient, especially when it comes in cleansers or serums; however, the silicones and emollients in this product balance it out and maintain excess oiliness at bay while still moisturizing your skin.
Krave Beauty – Oat So Simple Water Cream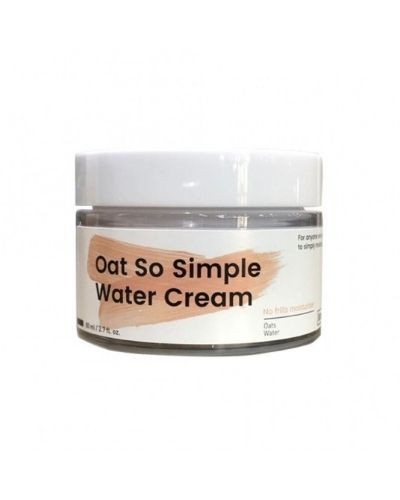 Krave Beauty's Oat So Simple Water Cream is a very simple moisturizer formulated with less than nine ingredients.
The star ingredient of the product is oat, which is exceptionally good for calming irritation, soothing and rebalancing stressed and damaged skin, and hydrating.
The moisturizer also contains emollients, moisturizers, water, and only one formula stabilizer.
Oat So Simple is a very lightweight, cooling moisturizer that feels like a burst of instant hydration on the face. It has a jelly kind of texture, and it's suitable for dehydrated, combo, oily, acne-prone skin, and it's even safe to be used on fungal acne, a.k.a pityrosporum folliculitis.
La Roche Posay – Toleriane Sensitive Fluide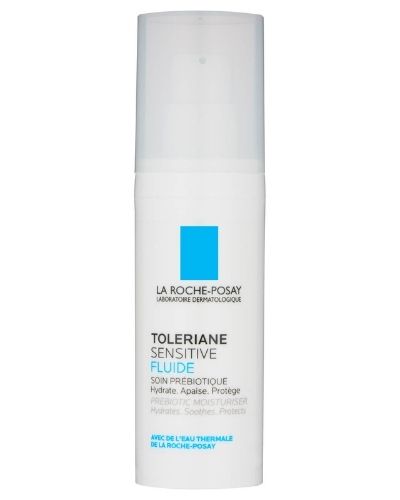 This is my favorite moisturizer for skin that's super oily and very acne-prone.
And I say very acne-prone because there are skins that get clogged from hardcore oils (which is very normal), but on the other hand, there are skins that still get clogged and breakout from ingredients that are present in many products marketed towards acne-prone skin.
The La Roche Posay Toleriane Sensitive Fluide is a moisturizer or a lightweight emulsion rather that's specially formulated for the latter type – skins that get clogged and breakout from literally anything.
It is formulated with only ten ingredients, including water, caprylic/capric triglyceride, which are lipids important for skin's health, soothing propanediol, brightening and balancing niacinamide, and a few other humectants and stabilizers.
It's also safe for fungal acne, which is another problem triggered by many skincare products marketed towards acne-prone skin.
And lastly, it's exceptionally good for ultra-sensitive skin. It's formulated without fragrance or fragrant components and drying alcohols.
The only downside of this product is its small size. It comes in a tube of 40ml, and it's quite pricey for its small size ($30).
But on the bright side – you won't be needing much of this product if your skin is super oily and a little more than a pea-sized amount is enough.
Another tip for making the most out of it is to apply it on damp skin as this allows the emulsion to spread easier and last longer as you will require less product.
AlumierMD – HydraClarité Moisturizer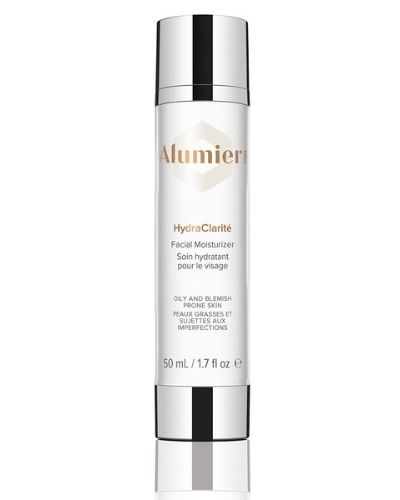 AlumierMD is a professional skincare brand sold exclusively through estheticians all around the world.
They have excellent lines for targeting virtually all skin concerns, but I was exceptionally impressed at the variety of their acne line that consists of more products than any other brand I've seen.
Usually, professional brands will have 3-5 products for acne, while AlumierMD has a choice of over 20 different products, including cleansers, serums, moisturizers, treatments, and sunscreens.
HydraClarité is the moisturizer that caught my eye immediately. It is an ultra-light non-comedogenic antioxidant-rich hydrator specially formulated for oily and blemish-prone skin.
It contains hinokitiol and sea whip to soothe the skin and relieve redness and irritation. Allantoin and honey work as humectants to maintain the skin's moisture balance.
Besides that, the HydraClarité moisturizer also contains resveratrol which is one of my favorite antioxidants derived from the skin of red grapes that neutralizes free radical damage caused by UV rays and inflammation.
Lastly, the moisturizer also contains Oligopeptide-10, an antimicrobial peptide complex that works synergistically with salicylic acid in acne-prone skin.
The only drawback is that you can't buy this product online, and you have to go to an esthetician that stocks AlumierMD. If you have the chance to do that, I highly recommend you try it out.
My name is Simone and I am a certified skin specialist. I created this website to teach my readers how to take great care of their skin and I also like to occasionally share my honest opinions on skincare products I've tried. You can learn more about me here.
The Acne Solution: Your Ultimate Guide To Flawless Complexion
An extensive, no-nonsense course showing you how to never have acne again, from a licensed Esthetician specializing in oily/acne-prone skin.