How many times have you put your trust into a product that is supposed to protect and nourish your skin and the same product did nothing but fail, disappoint, and damage your skin even further?
Sunscreen, although highly recommended, can easily be one of those products that will break it or make it for you, but unfortunately, not everyone has had a pleasant experience using sunscreen.
Perhaps it broke you out, smelled horrible, felt heavy on your skin, or made your skin red and triggered an inflammatory response.
If you have sensitive skin, in this article I will explain what causes your condition, as well as give you my top recommendations for…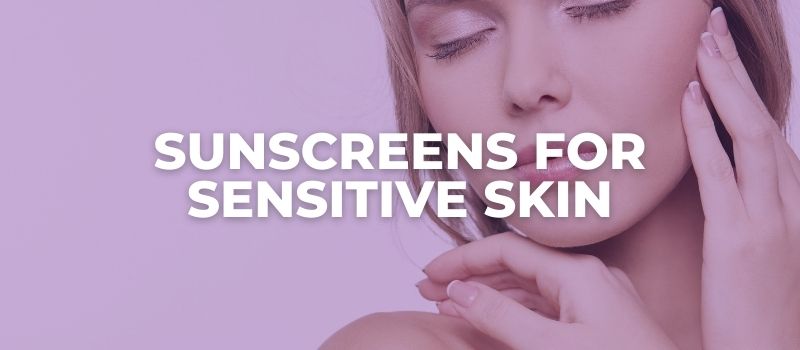 NB:
What if I told you I can show you how to never have acne again?
If you have acne and want it gone
,
read this message
.
The 5 Best Sunscreen For Sensitive Skin (Reviewed Below)
[ninja_tables id="7067″]
The best sunscreen for sensitive skin is the one that will successfully shield you and provide adequate protection from the sun.
To make life easier, I have made a lengthy list of my highly recommended sunscreens for sensitive skin you can check out.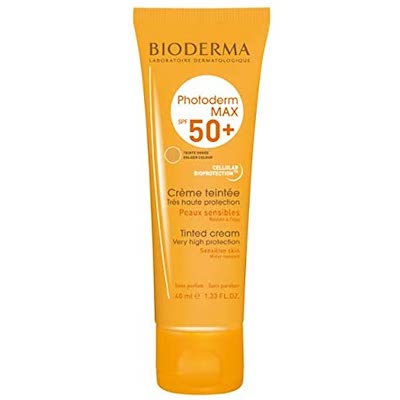 This is a light and velvety sunscreen that uses a combination of three powders to provide a slightly mattified, dry-touch finish.
It is suitable for normal, combination, and oily skin types that are sensitive to harsh chemicals and aggressive ingredients.
It provides decent protection from both UVA and UVB light and it is a water-resistant cream that will not leave a shiny or greasy residue after applying it.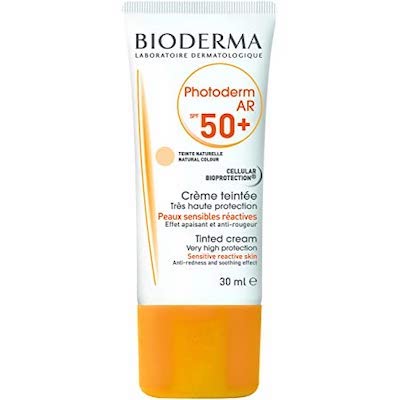 A very high protection sun lotion that is going to protect you from both UVA and UVB light, while effectively reducing the appearance of redness.
It is water-resistant and the tinted cream has a natural coloring that will even out the appearance of your skin on those days when foundation just sounds a little too much and too heavy, but you still don't want to go out of home completely bare-faced.
This product is suitable for sensitive and reactive skin as it is hypoallergenic, gentle, and non-comedogenic.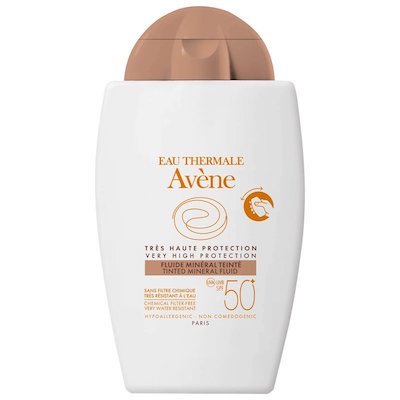 This tinted mineral fluid is a gentle and easily spreadable sun lotion formulated for most sensitive skins.
It contains a blendable tint for creating a natural-looking golden glow whenever you notice some redness going on your face that needs fixing.
It is most suitable for normal to dry skin types and it is a water-resistant, antioxidant-based sun lotion that will protect your skin from free-radical damage.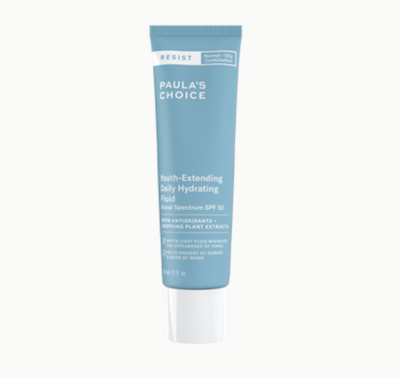 I didn't know what the fuss was even about the entire Paula's Choice brand until I discovered this sunscreen that left my oily and sensitive skin feeling hydrated and protected.
Additionally, it works to minimize the appearance of enlarged pores and god knows I've been trying to do that my entire life.
It has a potent, antioxidant-rich formula and it is a fast-absorbing, light lotion that provides daily broad-spectrum protection from the sun.
It delivers a matte finish and it is most suitable for combination, oily, and dehydrated skin types.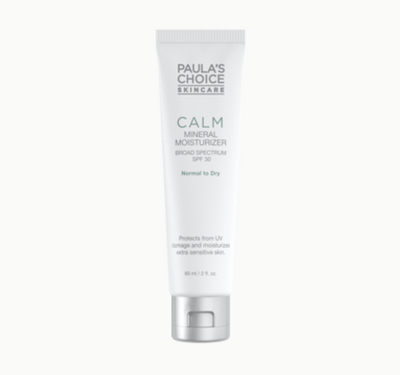 I briefly played with this sunscreen back when I was suffering from my severe acne breakouts and my sensitive and dehydrated skin loved the calming effect this delivered.
In addition, it left my skin feeling hydrated and luckily didn't irritate or inflame my acne even further.
It contains soothing emollients and a soft, skin-enriching texture.
The only thing I have to say about it is that I wished this sunscreen was SPF 50, although it doesn't necessarily make that much of a difference for colder countries, however, where I come from the sun is blazing all-year-round so SPF 50 is what I always turn to.
---
What Causes Sensitive Skin?
Sensitive skin is skin that is prone to rashes, redness, dryness, and extremely likely to react to something with a burning sensation.
As to what causes it…
Well, it can be a lot of things or a couple… surely depends on how you take care of your skin and the products you choose to nourish it with.
We are going to start from the beginning so hold on with the harsh accusations towards the "harmful chemicals" you may suspect are making your skin sensitive.
Dry skin.
The simplest cause for your sensitive skin may be skin dryness.
This is when the skin has lost too much water (moisture) and natural oil (sebum).
And it can happen anywhere on your body, not only on your face. Chances are that if you have dryness anywhere on the body, your skin is actually prone to sensitivity.
Very dry skin does a poor job in protecting the nerve endings in your skin, so naturally, they start to "rebel" while trying to tell you that there is something missing there.
Moisture! Moisture! Moisture!
Irritant Contact Dermatitis.
This is a red, itchy rash that develops when the protective layer of your skin is damaged when it comes into contact with chemicals or physical substances that cause an allergic or irritant reaction.
Basically, your skin develops a rash BY something it touches and it doesn't always manifest itself immediately.
In some instances, this can occur if you are repeatedly exposing your skin to an irritant, such as detergents, solvents, cosmetic products, over a period of time.
Some of the symptoms may include red rash, itchiness, swelling, burning, and tenderness.
Hives (Contact urticaria)
Contact urticaria is immediate localized swelling and redness that occurs on the skin as an allergic reaction after direct contact with an offending substance.
It distinguishes itself from contact dermatitis where a dermatitis reaction develops hours to days after contact with the offending agent.
Symptoms include welts, itching, burning, obvious redness, and swelling.
This can be triggered by things like plants, fragrances, irritating substances in cosmetics.
Rosacea.
This is a common skin condition of extreme sensitivity and redness that typically affects the face, but it can also spread to the ears and down to the chest.
Early signs include blushing, flushing, or sunburnt appearance, and some products may cause immediate burning and stinging.
How Do I Choose Sunscreen For Sensitive Skin?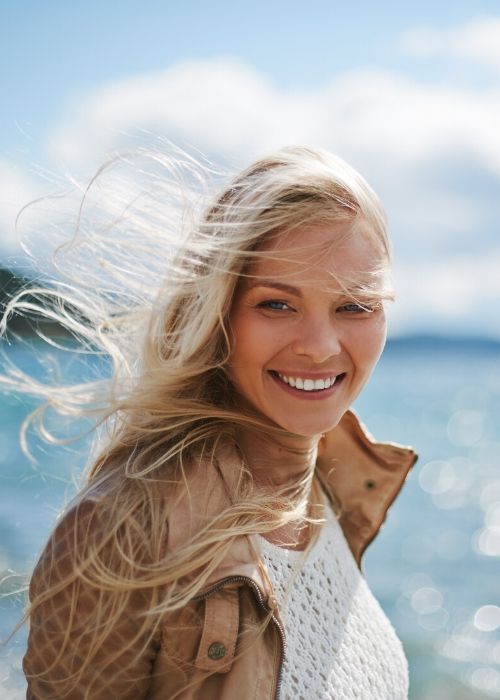 Physical or mineral sunscreens protect your skin by physically blocking and deflecting UV light away (hence the name) and in order to do so they contain two ingredients:
zinc oxide
titanium dioxide
Sunscreens that contain zinc oxide and titanium dioxide pose a lower risk for allergic reactions on sensitive skin as they do not penetrate your skin and do not need time to absorb to start acting as a shield.
They protect against UVA and UVB rays and also have a longer shelf life than some chemical formulations of sunscreen.
Additionally, if you are suspecting that products you are implementing in your skincare routine may be causing your sensitive reaction, patch testing is the best way to find out what you should stay away from.
You can do this by applying a small amount of product behind your ear for a few days in a row.
How To Know If A Sunscreen Is Not Suitable For Sensitive Skin
Chemical sunscreens are, simply put, products that contain chemicals. These are more common and work in a slightly different way than physical sunscreens.
Instead of physically shielding you from the sun, they absorb the UV light, then release it as heat (or infrared rays) as a result of a chemical reaction of changing the electromagnetic radiation effect.
However, chemical sunscreens include different types of active ingredients than physical sunscreens and some of these have been claimed as not a good option for sensitive skin types.
Octinoxate seems to be the most problematic ingredient that makes many people who suffer from overly sensitive skin as opposed to using chemical sunscreens.
While this ingredient is for now approved for use in cosmetics worldwide, further studies are still to be made to determine if it's really toxic for us to use.
It is certainly something that can easily irritate sensitive skin, therefore it is best to stay away from chemical sunscreens if your main concern is skin sensitivity.
My name is Simone and I am a certified skin specialist. I created this website to teach my readers how to take great care of their skin and I also like to occasionally share my honest opinions on skincare products I've tried. You can learn more about me here.
The Acne Solution: Your Ultimate Guide To Flawless Complexion
An extensive, no-nonsense course showing you how to never have acne again, from a licensed Esthetician specializing in oily/acne-prone skin.