Can you mix glycolic acid with lactic acid?
There is a little bit more than a straightforward answer to this question.
First of all, yes, you can mix glycolic acid with lactic acid; however, it's not the ideal combination to be used in two separate products.
Glycolic acid will work great combined with lactic acid, but only if both ingredients are present in the same product.
Together, glycolic acid and lactic acid can address and improve several common skin concerns, including uneven skin tone, rough and bumpy texture, closed comedones, dryness, mild acne, and hyperpigmentation left from previous breakouts.
Therefore, in this article, I will talk about the benefits of having both ingredients in your skincare regimen as well as how to use glycolic and lactic acid together for best effects without the risk of irritating your skin.
Let's jump right in: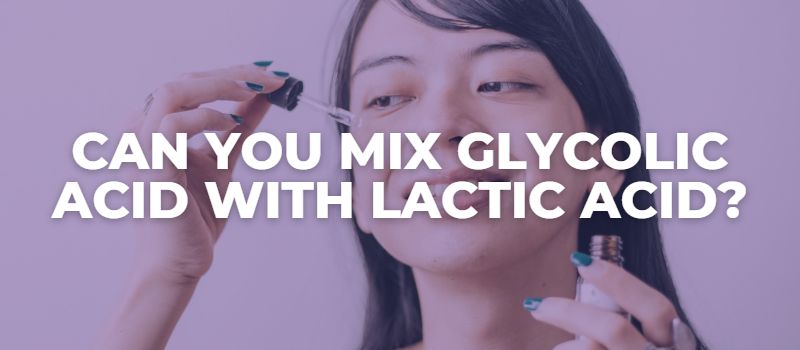 NB:
What if I told you I can show you how to never have acne again?
If you have acne and want it gone
,
read this message
.
How Does Glycolic Acid Work?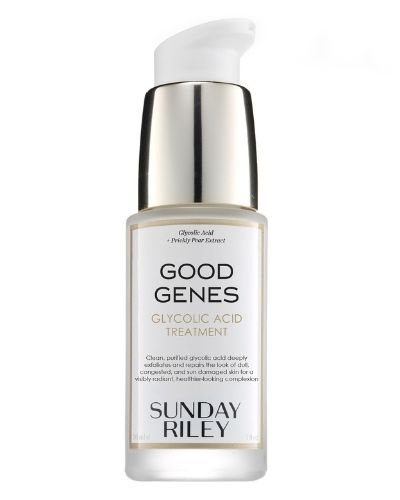 Glycolic acid is a substance that belongs to the family of alpha-hydroxy acids (AHAs), and it is a naturally occurring compound that can be found in sugar cane, sugar beets, pineapple, papaya, tomatoes, cantaloupe, and unripe grapes.
However, the glycolic acid used in skincare products is synthetically made in a lab due to being more stable and safer overall.
Glycolic acid is the strongest and most potent member of the family of AHAs, and this is due to having the smallest molecular weight, which allows it to penetrate the skin easier and work faster.
Glycolic acid is also a water-soluble substance, which means that it has the ability to work on the surface layer of the skin; however, it cannot cut through the oil and penetrate deeper than that, so it is most useful for superficial exfoliation.
Superficial exfoliation can be super beneficial for targeting various skin concerns, including superficial lines and wrinkles, hyperpigmentation, uneven skin tone, and rough, bumpy texture.
But although salicylic acid is the chief anti-acne ingredient when it comes to exfoliating acids, glycolic acid can also be good for acne-prone skin.
This is because glycolic acid also has antibacterial properties, but regular exfoliation prevents excess dead skin cells from clogging up the pores and contributing to acne.
Some benefits of using glycolic acid are:
Brighter complexion.
Smoother skin texture.
Improved scarring.
Improved hyperpigmentation.
Improved appearance of fine lines and wrinkles.
Evened out skin tone.
Decreased acne.
Hydrated and healthy skin.
RELATED: How to Use Alpha Hydroxy Acids and Avoid Irritation?
How Does Lactic Acid Work?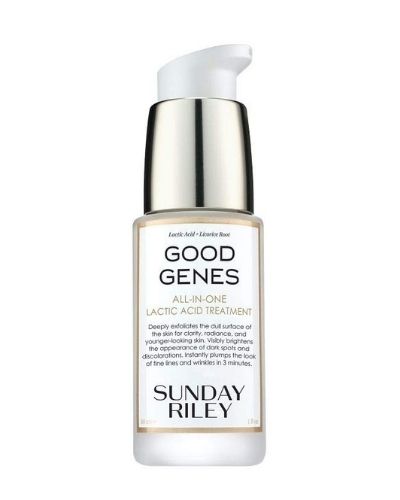 Lactic acid is an exfoliating acid that also belongs to the family of alpha-hydroxy acids (AHAs).
This ingredient is derived from sour milk or sugar-rich foods, and it's a water-soluble substance that possesses larger molecules, making it slightly different from glycolic acid.
Due to its large molecules, lactic acid won't penetrate deeper into the skin and will instead work on the surface, which means it will provide lighter exfoliation, making it more suitable for sensitive skins.
Some benefits of using lactic acid include:
Smoother and more uniform complexion.
Improved hyperpigmentation.
Dissolved closed comedones.
Evened out skin tone.
Refined texture.
RELATED: Best Serums for Textured Skin.
Benefits of Using Glycolic Acid with Lactic Acid
When using glycolic acid with lactic acid, both ingredients will provide good exfoliation on the surface of the skin.
This action will take care of surface irregularities such as closed comedones which happen when there's sebum trapped underneath the skin, as well as rough and bumpy texture and mild to moderate hyperpigmentation.
But besides that, both glycolic and lactic acid will also improve the appearance of fine lines and wrinkles, especially in areas where the skin is thinner such as the forehead.
Lastly, both glycolic and lactic acid have hydrating and moisturizing properties, which can be useful for plumping and reviving the skin's youthful and glowy complexion.
After a certain time of being consistent with using glycolic and lactic acid, you should expect to see brightened and evened-out skin tone, smoother texture, decreased hyperpigmentation and sun damage, improved lines and wrinkles, and a healthier, plumper, and more uniform complexion.
RELATED: Best High-End Products to Prevent Skin Aging.
How to Use Glycolic Acid with Lactic Acid?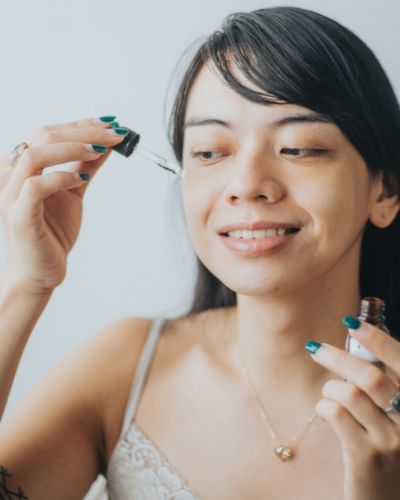 As you probably noticed throughout this article, glycolic and lactic acid basically do the same thing in different concentration, intensity, and at a different time frame.
Which is why you don't have to use two separate products that contain the two ingredients in one routine.
In fact, you don't even have to have two separate products to use in separate routines because it will be an extra cost for no significant benefits.
Besides that, formulas that contain exfoliating actives are usually strong and potent, which is why you shouldn't exfoliate more often than 2-3 times a week.
Therefore, if you have two products that contain glycolic and lactic acid, these would not only last you forever, but they might even expire before you are able to use them up, which again isn't cost-effective and is a total waste of product.
So the best thing to do is to either use a product that contains a combination of both glycolic and lactic acid, such as the Caudalie Vinoperfect Brightening Peel Mask or identify your skin concern to address it more efficiently with only one of these acids.
For example, glycolic acid works better if you want to target sun damage or more stubborn hyperpigmentation and uneven skin tone caused by pigmentary conditions such as melasma, while lactic acid is a better option for sensitive skins that want to target dryness, dehydration, and uneven texture.
Again, both glycolic and lactic acid will help with hyperpigmentation and texture, but depending on your skin type and other skin concerns, it's best to choose one instead of using both.
RELATED: Best Exfoliating Products for Sensitive Skin.
Risks of Mixing Glycolic Acid with Lactic Acid
When mixing glycolic acid with lactic acid, you would run a high risk of overdoing it and damaging your skin's natural moisture barrier.
When your skin's moisture barrier is damaged or compromised, the skin won't be able to retain moisture and will become dry, dehydrated, and extremely sensitive to external conditions and potential pathogens.
When this occurs, the skin usually becomes red, irritated, or even itchy and uncomfortable when in contact with even everyday chemicals, such as plain water.
Short-term effects of a damaged moisture barrier are irritation, redness, and discomfort; however, the long-term effects could be extremely sensitive skin and even some permanent conditions such as rosacea or irritant dermatitis.
RELATED: Best Products for Post-Inflammatory Redness.
My name is Simone and I am a certified skin specialist. I created this website to teach my readers how to take great care of their skin and I also like to occasionally share my honest opinions on skincare products I've tried. You can learn more about me here.
The Acne Solution: Your Ultimate Guide To Flawless Complexion
An extensive, no-nonsense course showing you how to never have acne again, from a licensed Esthetician specializing in oily/acne-prone skin.