Retinol is one of the most popular ingredients in skincare products, praised for its ability to reduce wrinkles, boost cellular turnover, get rid of acne, and improve the skin's appearance.
But with so much hype around retinol, there is some confusion as to how it works and whether it can actually cause some skin concerns it's supposed to be helping.
When it comes to uneven skin texture, there has been some debate about whether retinol can cause this.
The truth is that the ingredient itself does not cause uneven skin texture; however, when misused, retinol can cause the appearance of texture to intensify.
So, if you've been noticing a rough, patchy texture on your skin, it could be that your retinol product caused it; however, before you ditch it, be sure to read more about the possible causes of retinol-induced texture and what you can do to mitigate the issue.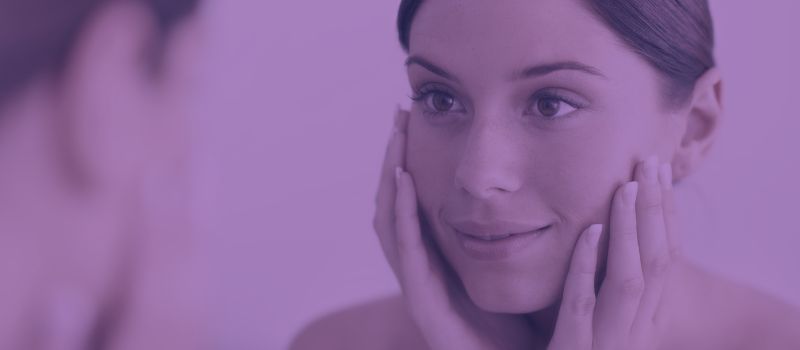 NB:
I can show you how to never have acne again.
If you have acne and want it gone
,
read this message
.
What is Retinol?
Retinol is a form of vitamin A found in over-the-counter skincare products. It is known to help improve the appearance of fine lines, wrinkles, and blemishes.
Retinol increases cellular turnover and collagen production, which helps make the skin appear smoother. It does this by binding to retinoid receptors in the skin and instructing them to do their job in maintaining the skin cells better.
This action normalizes cell function and influences the cells to behave in a healthier and younger way, making the skin look brighter and more youthful and purging the dead skin cells stuck inside the pores that have contributed to the formation of microcomedones such as blackheads and whiteheads that eventually turn into pimples.
Side Effects of Using Retinol
Using retinol is not a smooth journey, especially in the beginning when the skin is undergoing a retinization process, which means it is adjusting to the active ingredient.
Some common side effects include:
Dryness.
Irritation.
Redness.
Flakiness.
Peeling and shedding.
These are usually temporary side effects that tend to subside as the skin gets used to retinol.
However, should they persist for longer than twelve weeks (three skin cycles), you should consider changing the frequency of use, the way you use your product, or switching to a less potent derivative.
Can Retinol Cause Textured Skin?
Retinol can sometimes cause textured skin, and this can happen due to overuse of the product or incorrect usage. Overusing a retinol product can lead to redness, dryness, flaking, and irritation that manifest on the skin as texture and blotchiness.
This is why you should slowly introduce retinol into your routine and allow your skin to get used to the active ingredient. You should also pair retinol with a good moisturizer that will combat the drying effects the active ingredient has on the skin.
Another instance where retinol can cause texture is using a bad formula, as, while many brands are making excellent, effective products, there are also those that are using subpar ingredients that don't work well together and can sometimes result in irritation, redness, and in some cases, textured skin.
Furthermore, retinol triggers a purge period in those with acne-prone skin, which is the skin's natural response to the active ingredient.
During this period, the skin is adjusting to the retinol, which usually results in breakouts, meaning the clogged pores that were going to become a pimple at different points in their cycle will be coming out to the skin's surface at the same time, making the skin appear textured.
However, luckily, the purge period is a temporary annoyance that usually lasts anywhere from four weeks (one skin cycle) up to twelve weeks (three skin cycles.)
After the initial purge period, the skin should become less textured, smoother, and clearer.
In summary, while retinol can cause textured skin, this is usually a temporary occurrence that should pass in time.
However, it's always a good idea to monitor your skin's behavior while introducing retinol and list all the changes you notice.
This way, you can track how long these issues last and decide whether you should slow down, increase usage, or switch to a different product.
How to Use Retinol on Textured Skin?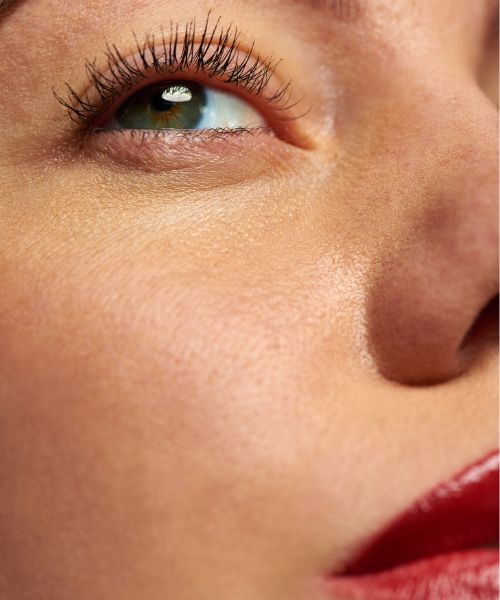 The best way to use retinol on textured skin is to first determine what might be causing the texture.
If retinol is the one causing textured skin, then slow down the usage or opt for a weaker concentration of retinol after what should've been an initial retinization period of up to twelve weeks.
On the other hand, if you want to start using retinol for textured skin, the best way to do it is to introduce it very slowly.
Start by using retinol products twice or three times a week, then gradually increase the frequency while monitoring your skin's reaction until you reach a threshold that works for you.
Also, make sure to pair retinol with moisturizers, as these will help combat the drying effects retinol has on the skin and ensure your skin is getting enough hydration.
On the other hand, avoid using products that contain drying alcohol, irritating fragrance, or exfoliating acids, as these can further damage your skin, causing dryness and texture in the process.
The Best Retinols for Textured Skin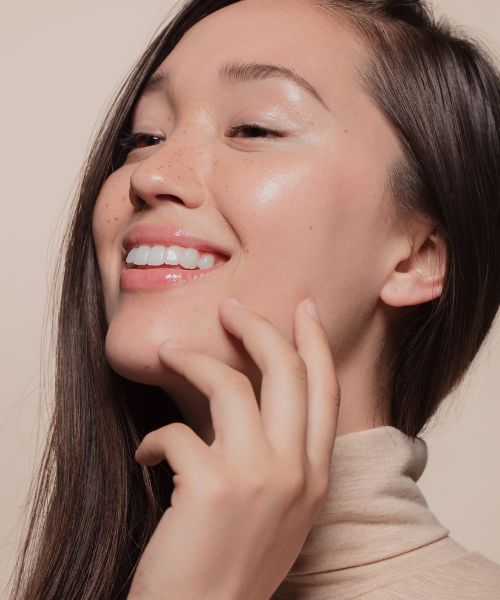 Here are some excellent retinols for textured skin:
Neutrogena – Rapid Wrinkle Repair Retinol Moisturizer, $20
Best on a budget.
The Rapid Wrinkle Repair Moisturizer by Neutrogena is a great choice if you are looking for an affordable option to improve fine lines, wrinkles, and skin texture.
It contains retinol, hyaluronic acid, and a proprietary glucose complex that helps enhance the skin barrier to maintain better hydration.
Gentle and non-irritating, the moisturizer provides antioxidant protection and soothes skin with a light texture that won't feel greasy.
Jan Marini – Age Intervention Duality MS, $100
Best for oily, acne-prone skin.
Jan Marini's Age Intervention Duality is a retinol/benzoyl peroxide cream that addresses mild to moderate acne while simultaneously minimizing the appearance of fine lines.
It has a dual-chamber dispensing bottle that combines 10% ultra-micronized benzoyl peroxide and highly concentrated all-trans-retinol.
But besides, the formula also contains soothing green tea extract, anti-aging peptides, hydrating and moisturizing ingredients such as hyaluronic acid and shea butter, as well as antioxidants to eliminate skin damage induced by free radicals.
However, due to the highly concentrated active ingredients, you should avoid overusing the Age Intervention Duality as this can cause some irritation and peeling.
LilyAna Naturals – Retinol Cream, $30
Best for dry skin.
An Amazon favorite, the LilyAna Naturals Retinol Cream is a gentle yet effective cream that reduces wrinkles, evens skin tone, and reduces redness.
The formula combines retinol with smoothing and skin-softening oils like jojoba and sunflower, as well as moisturizing shea butter and vitamin E to minimize irritation while also providing hydration.
It is an excellent choice for dry skin as it helps keep the skin soft, smooth, and hydrated while improving its texture.
Olay – Regenerist Retinol Moisturizer, $35
Best for mature skin.
The Regenerist Retinol Night Face is a decadent moisturizer filled with Olay's famous retinoid complex, which helps the skin become more vibrant, glowy, and smooth.
Thanks to the added amino peptides, the formula will also prominently reduce fine lines and wrinkles over time.
Lastly, there's also niacinamide which adds a moisture-retaining and gentle exfoliating element while helping to brighten and even out the skin tone and strengthen the skin barrier.
Paula's – Choice 0.3% Retinol + 2% Bakuchiol Treatment, $62
Best for sensitive skin.
The 0.3% Retinol + 2% Bakuchiol by Paula's Choice is a creamy and nourishing treatment ideal for those with sensitive skin or first-time retinol users looking for something gentle and effective.
The star of the show is a low percentage of retinol and bakuchiol, an antioxidant that helps to improve the skin's texture and firmness without irritating or drying it.
The product also contains peptides, which are short-string amino acids that help support healthy collagen for improved firmness and elasticity.
Finally, the product is also packed with barrier-improving antioxidants as well as moisturizing and soothing agents like allantoin, white willow extract, and oat kernel extract, making it an excellent choice for those with sensitive skin.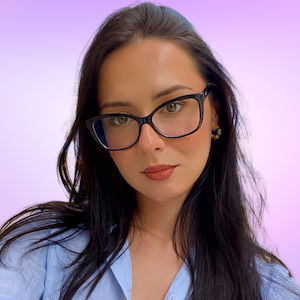 My name is Simone and I am a certified skin specialist. I created this website to teach my readers how to take great care of their skin and I also like to occasionally share my honest opinions on skincare products I've tried. You can learn more about me here.
The Acne Solution: Your Ultimate Guide To Flawless Complexion
An extensive, no-nonsense course showing you how to never have acne again, from a licensed Esthetician specializing in oily/acne-prone skin.