Dermaplaning is a treatment that carries several aesthetic benefits for the skin, including smoother texture, better makeup application, and a brighter complexion.
While the treatment is generally safe and beneficial, there are a few situations in which dermaplaning may not be ideal.
One of these is if you are using the prescription drug Accutane, also known as isotretinoin.
When Accutane is involved, the mild trauma caused by dermaplaning can trigger the skin to react in a manner it usually wouldn't after this treatment and become irritated and experience side effects such as redness, swelling, and discomfort.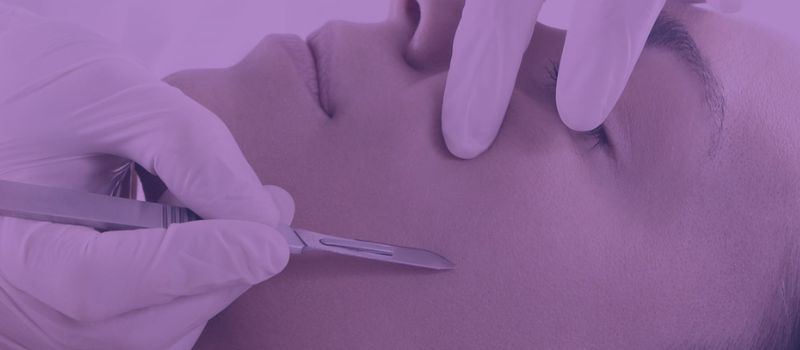 NB:
What if I told you I can show you how to never have acne again?
If you have acne and want it gone
,
read this message
.
What is Dermaplaning?
Dermaplaning is a form of exfoliation that involves the use of a sharp blade that scrapes the top layer of the skin, removing dead skin cells and fine vellus hair known as peach fuzz from the skin's surface.
Dermaplaning is a professional treatment provided by dermatologists and estheticians that is completely pain-free and requires no downtime, unlike some more aggressive forms of exfoliation such as chemical peels and dermabrasion.
However, although dermaplaning is generally provided by professionals, it can also be done at home by using safe devices with goofproof blades.
Although it's worth mentioning that the results won't be the same as when getting this treatment done by a skillful professional that uses a professional tool and preparation products, it's still something that you can do for yourself if you're not able to go to a provider.
The Benefits of Dermaplaning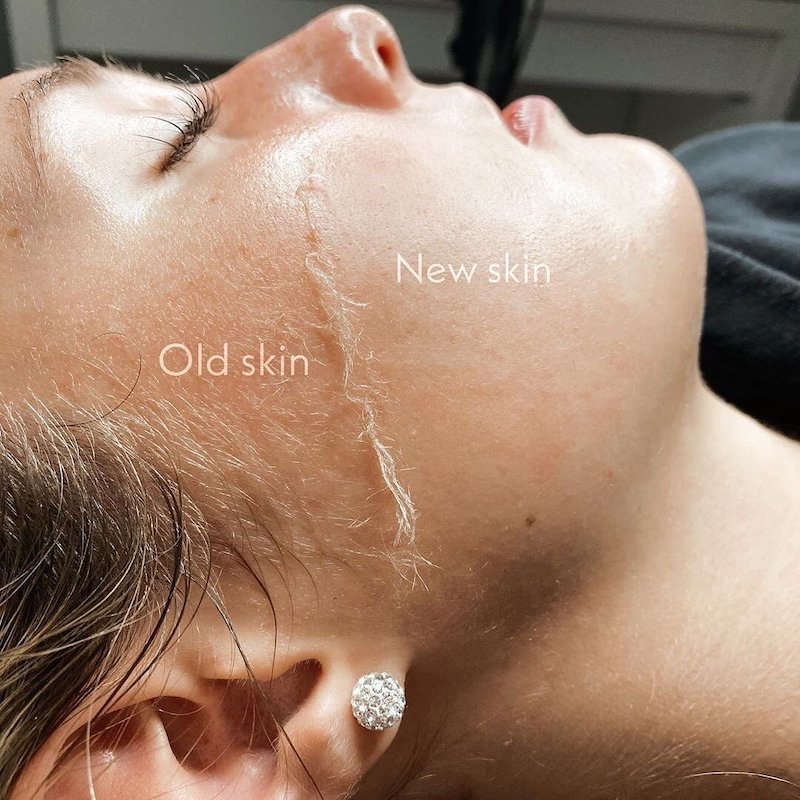 Like most exfoliation techniques, dermaplaning: removes dead skin cells, dirt, and oil from the surface of the skin.
This allows for better absorption of products such as serums and creams and helps you get more benefits from their active ingredients.
Additionally, by removing peach fuzz, dermaplaning can help you achieve smoother skin and help your makeup go on smoothly and stay looking fresh for a longer time.
Can You Dermaplane While on Accutane?
Dermaplaning, like all exfoliation treatments, isn't recommended for people that are currently taking Accutane.
The reason for this is that Accutane can make the skin extremely sensitive and susceptible to irritation.
Exfoliating treatments like dermaplaning can sometimes irritate the skin, resulting in redness that lasts several hours to a day; however, these side effects can become amplified if the treatment is done while on Accutane.
Accutane is a medication that affects the skin's oil production and makes the skin dry and prone to itching and burning. As such, exfoliating treatments like dermaplaning that involve grazing a sharp blade over an already compromised skin barrier can lead to further irritation.
For this reason, it's best to avoid dermaplaning while on Accutane and instead wait until you're finished with your course of medication before resuming such treatments.
Waiting anywhere from 1-3 months is usually recommended, as the skin will need some time to get back to normal after Accutane.
During this time, you can focus on maintaining healthy skin with a gentle skincare routine that includes mild cleansers, moisturizers, and hydrating toners, essences, or serums that will help replenish and restore the skin's natural barrier.
Additionally, make sure to inform your esthetician that you've recently finished Accutane before getting dermaplaning, so they can tailor the treatment to your specific needs and take the state of your skin into consideration in order to avoid any potential adverse effects.
What Should You Put On Your Face After Dermaplaning?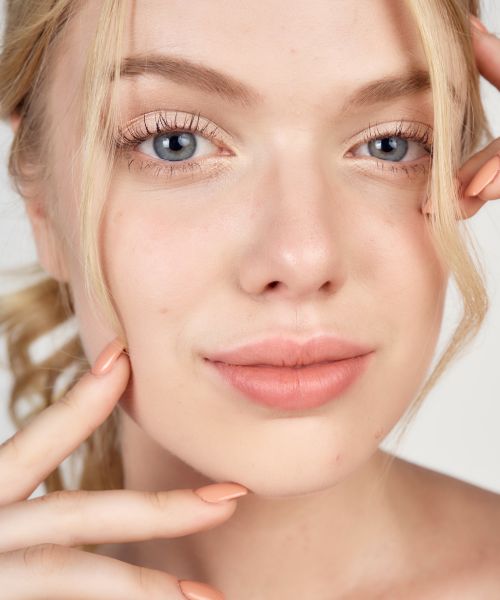 Although generally safe and causing virtually no adverse effects, dermaplaning is still a treatment that can make the skin irritated, red, and sensitive for a few hours.
This is why aftercare is extremely important, which is why you should avoid sun exposure, using swimming pools, having strenuous exercise, and makeup application for up to 24 hours after dermaplaning, depending on how your skin reacts.
To help soothe the skin and restore its natural barrier, you should also apply a gentle moisturizer or a nourishing balm that's specifically formulated for sensitive skin immediately after treatment and throughout the day.
These products should contain calming ingredients such as panthenol, Centella Asiatica, shea butter, and aloe vera, as they can help soothe irritation and reduce any redness or sensitivity.
On the other hand, you should avoid products that contain drying alcohols and heavy fragrances, as these may cause the skin to flare up and become red and irritated.
Here are some of my favorite post-dermaplaning products:
La Roche-Posay – Cicaplast Baume B5, $16
The La Roche-Posay Cicaplast Baume B5 is one of the best products to use after dermaplaning as it's specifically designed to soothe, restore and protect the skin.
It contains a combination of shea butter, glycerin, and panthenol that help replenish and maintain the skin's barrier.
It's also suitable for all skin types, including oily and acne-prone skin.
First Aid Beauty – Ultra Repair Cream, $16
The First Aid Beauty Ultra Repair Cream is an excellent product for those with dry and reactive skin since it's formulated with calming ingredients like colloidal oats and allantoin that help soothe irritation. It also contains shea butter, ceramides, and antioxidants that help lock in moisture and protect the skin from irritation.
Aveeno – Calm + Restore Redness Relief Moisturizing Cream, $20
The Aveeno Calm + Restore Redness Relief Moisturizing Cream is an excellent choice for skin that's very reactive and gets red and irritated after dermaplaning.
Formulated with feverfew extract, a natural ingredient known to help reduce redness and soothe irritation, this cream helps calm the skin while strengthening its barrier.
It also contains oat extract alongside fatty alcohols that help replenish and lock in moisture for long-lasting hydration.
COSRX – Pure Fit Cica Cream, $32
The COSRX Pure Fit Cica Cream is a thick, healing balm formulated with seven cica ingredients that help calm sensitive skin and aid in soothing, moisturizing, and strengthening the skin, leaving it healthier and more resilient to potential irritation caused by treatments like dermaplaning.
Avène – Tolerance Control Skin Recovery Cream, $36
The Avène Tolerance Control Skin Recovery Cream is an excellent product for those whose skin is excessively dry and gets easily irritated after treatments like dermaplaning.
Formulated with D-Sensinose postbiotic, an ingredient derived from Avène Thermal Spring Water, the thick balm helps calm all sensations of discomfort and restore the skin's barrier to its optimal state.
It also contains fatty alcohols, triglycerides, and squalane, which are all components naturally found in the skin and help soothe, nourish, and replenish it.
My name is Simone and I am a certified skin specialist. I created this website to teach my readers how to take great care of their skin and I also like to occasionally share my honest opinions on skincare products I've tried. You can learn more about me here.
The Acne Solution: Your Ultimate Guide To Flawless Complexion
An extensive, no-nonsense course showing you how to never have acne again, from a licensed Esthetician specializing in oily/acne-prone skin.