Getting makeup to look flawless throughout the day can be quite big of a challenge when you have oily skin.
We all know the terrible feeling when our foundation starts to break down, our eyeshadow starts to crease and the blush is nowhere to be seen by the end of the day.
I remember when it came to applying makeup, finding a routine that worked best for my incredibly oily skin was the biggest challenge for me ever since I was fifteen – and it took me nearly nine years to find a workable solution that worked for me.
Below is what I'm doing to prep my (very oily) skin for makeup application. I hope these tips will make life much easier for you as they did for me.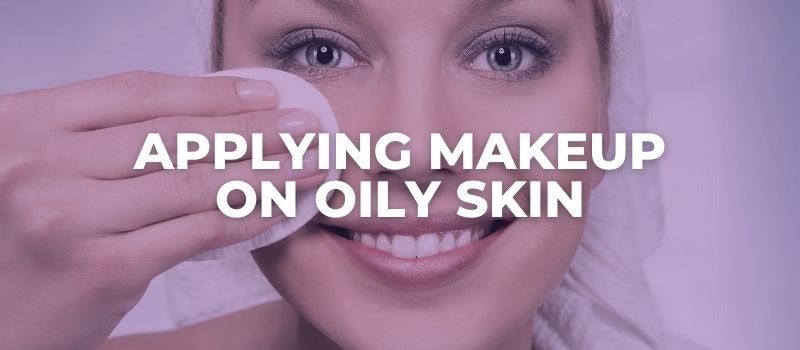 NB:
What if I told you I can show you how to never have acne again?
If you have acne and want it gone
,
read this message
.
5 Steps to Prep Oily Skin For Makeup
Wash your face with a gentle cleanser
Pat your face gently with a paper towel
Pat a toner on your face
Apply a moisturizer with sunscreen
Makeup primer is an absolute must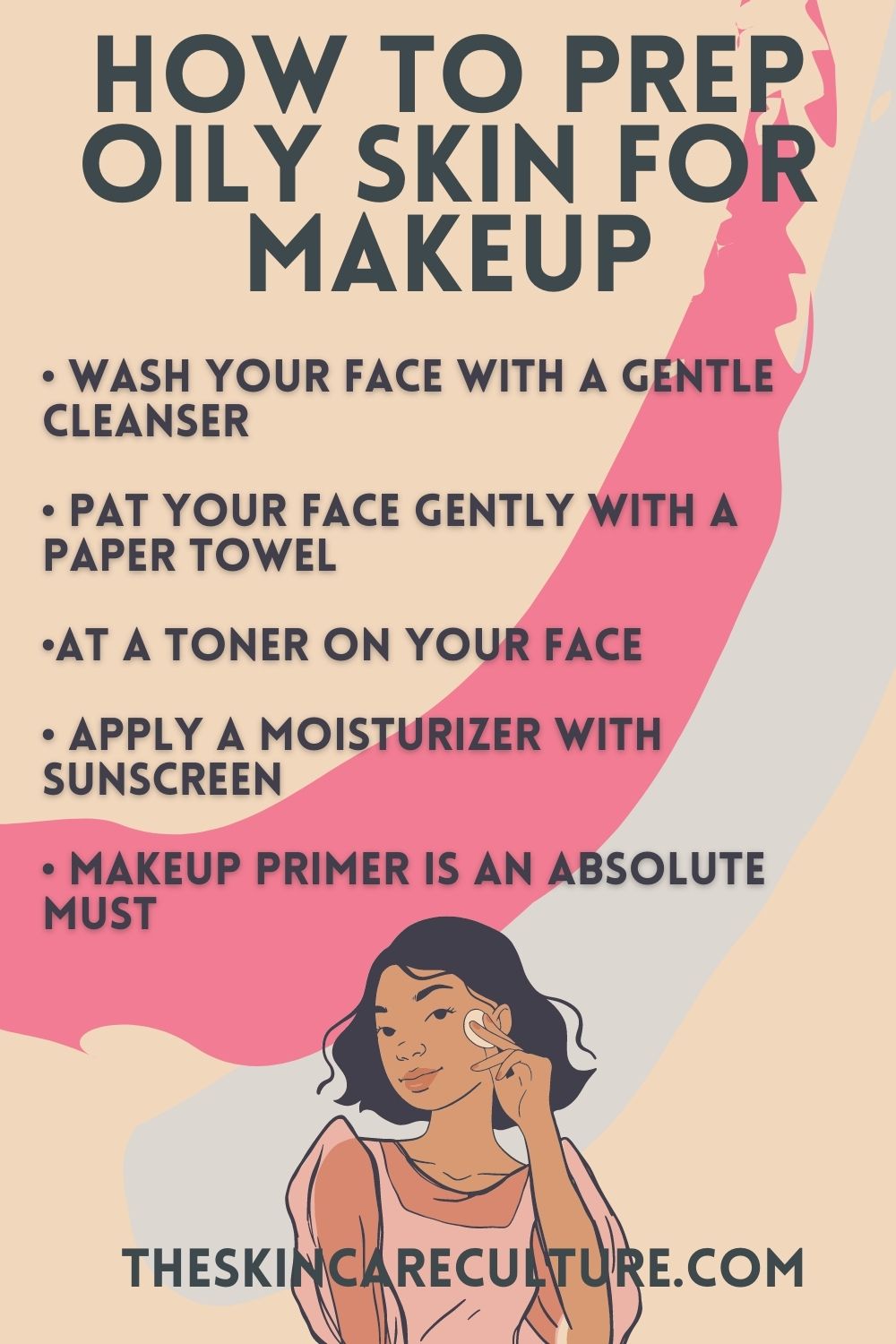 1. Wash your face with a gentle cleanser
Applying makeup to skin that is not properly cleansed will undoubtedly result in having that greasy and not-at-all attractive oily glow that will cause your cosmetics to smudge and even fade.
Cleansing your face with a gentle cleanser in the morning will provide you with a fresh and clean surface as a canvas.
This action will remove any residue of last night's products from your face as well as the little bit (or a lot) of sebum that's been sneakily produced by the sebaceous glands throughout the night.
I always recommend a gentle, pH balanced gel cleanser for this skin type, instead of using products that are heavy in chemicals, which may leave your skin feeling stripped and increase oil production.
2. Pat your face gently with a paper towel
I believe I have already mentioned in one of my previous posts that I am not really a fan of using towels for your face.
The reason for this is that damp towels tend to harbor bacteria that will do nothing but harm your skin by triggering a reaction like acne breakouts.
A disposable paper towel significantly decreases the risk of thriving bacteria on your face and besides that, it is also gentler on your face.
Rubbing water off of your skin too vigorously will irritate your skin, strip away its protective barrier and again – increase oil production.
Gently patting your face dry will absolutely feel nicer because at the end of the day we are trying to protect and be nice to our skin instead of hurting it.
3. Pat a toner on your face
And I mean a toner.
While you might think that astringents work better because their action is to shrink enlarged pores that naturally follow oily skin types, I dare you to think again.
Astringents irritate the skin and cause swelling around the pores so that they appear temporarily less obvious.
This will definitely solve one little issue, but will also cause another.
Astringents dry out the skin and this will stimulate the sebaceous glands to produce more oil as a defense against the drying agent.
This is what we are trying to control here, right?
Pat a gentle toner on your face to remove any remaining residue of cleanser, dirt, or oil left from your skin after washing it.
4. Apply a moisturizer with sunscreen
Oily skins need moisturizing too and applying one before your makeup can help even out and plump up your skin as part of the preparation.
I am shocked at how many comments I read daily about how people refuse to use a moisturizer or sunscreen because it makes their already oily skin even more greasy.
I mean, yeah. It can be annoying at times, but I believe that keeping our skin protected from daily aggressors should be in the first place.
Besides, you will find a wide range of moisturizing creams specially formulated for oily skins that are oil-free in the form of a gel or an emulsion.
There is also a variety of sunscreens for many particular skin concerns such as oily, blemished, acne-prone skin, and others that suit literally every skin type and concern there possibly is.
Another tip is that in creams that are formulated for oily skin types a little goes a long way.
So you don't have to feel the need to apply the thickest layer of moisturizer that will leave your skin looking and feeling greasy.
5. Makeup primer is an absolute must
If applying foundation is part of your daily routine, you may want to use a makeup primer after you have finished prepping your skin with the tips I have listed for you above.
Choose a mattifying makeup primer that will minimize the appearance of enlarged pores and will keep your makeup from wearing off throughout the day.
Unfortunately not every makeup primer works for every skin type, even though the bottle may say it is suitable for your skin type.
This is something that you have to experiment with the first few times until you find the one that works for you.
A little tip from me would be to look for primers that contain willow bark extract for natural shine control, salicylic acid to reduce the look of pores, or silica to improve the overall skin texture.
Don't forget to prime your eyelids!
Shame on me, but I nearly forgot to type this out.
How could I forget the dreadful feeling that by the time 2 pm rolls around, my oily eyelids have half absorbed and half smudged away all the hard work I've put into applying my eyeshadow this morning.
There are excellent primers that lock eye makeup in place, while having the ability to absorb the natural oil that normally leads to creasing, smudging, and fading.
Caring for oily skin can be one heck of a challenge.
---
WATCH NEXT: 17 Oily Skin Makeup Hacks (VIDEO)
My name is Simone and I am a certified skin specialist. I created this website to teach my readers how to take great care of their skin and I also like to occasionally share my honest opinions on skincare products I've tried. You can learn more about me here.
The Acne Solution: Your Ultimate Guide To Flawless Complexion
An extensive, no-nonsense course showing you how to never have acne again, from a licensed Esthetician specializing in oily/acne-prone skin.