Finding a routine that worked best for my incredibly oily skin was one of the biggest challenges I faced ever since I started wearing makeup – and it took me nearly a decade to find a solution that worked.
Below, I will share my best advice on how to prep oily skin for makeup, along with a few additional makeup tips for oily skin that will ensure your face stays fresh all day long.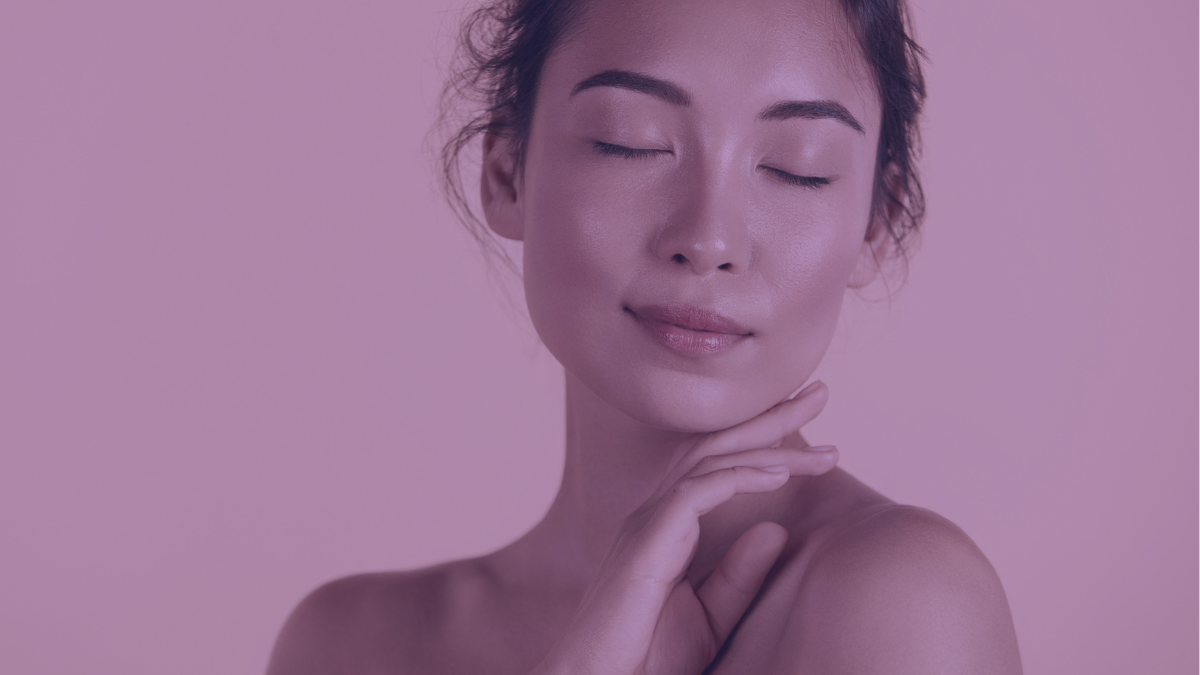 NB:
I can show you how to never have acne again.
If you have acne and want it gone
,
read this message
.
How to Prep Oily Skin for Makeup?
In the makeup world, oily skin can seem like a pesky hurdle you just can't cross.
While your skin benefits from your natural oil by nourishing itself, keeping you looking younger for longer, excess oil can also pose quite a challenge when trying to make your makeup stay on your face for longer than a few hours.
However, the shine, grease, and transfer can all be avoided or at least significantly minimized with the proper prep.
Therefore, here are all the steps you need to take to prep oily skin for makeup that will last throughout the day:
1. Wash Your Face With a Gentle Cleanser
Applying makeup to skin that is not properly cleansed will undoubtedly result in a greasy glow that will cause your cosmetics to smudge and even slide off your face within a few hours.
Cleansing your face with a gentle cleanser in the morning will provide you with a fresh and clean surface as a canvas.
This action will remove any residue of last night's products from your face as well as the little bit (or a lot) of sebum that's been sneakily produced by the sebaceous glands throughout the night.
I always recommend a gentle, pH-balanced gel cleanser for this skin type instead of using products that are heavy in drying alcohol, which may leave your skin feeling stripped and increase oil production to compensate for the dryness.
Best cleansers for oily skin:
2. Apply a Hydrating Toner
A lightweight, hydrating toner containing ingredients such as glycerin, hyaluronic acid, niacinamide, etc., is a great way to add more moisture without feeling too heavy on the skin.
This step will help restore the natural pH balance of your skin after cleansing, as well as provide extra hydration and prep it for whatever makeup you decide to apply.
Hydrated skin will feel comfortable throughout the day, and the oil glands won't work overtime to compensate for the dryness that might've been caused by cleansing.
Best hydrating toners for oily skin:
3. Apply a Lightweight Sunscreen
When applying makeup on oily skin, you want to have as few layers of greasy products on your face as possible.
This means eliminating less essential steps, such as a moisturizer and primer, and applying a lightweight sunscreen that will perform three functions: hydrating, protecting, and priming your skin for makeup.
After applying sunscreen, you want to wait at least 15-20 minutes before the following step to make sure the product has settled on your skin and won't be moved around during makeup application, as this will lead to uneven coverage and expose your skin to UV damage.
Best sunscreens for oily skin:
4. Set With a Lightweight Powder
After sunscreen has settled on your skin, you want to set your face with a lightweight, oil-absorbing powder.
This will help absorb the goopy layer of skincare products that has formed on the skin's surface and help prep your skin for the following complexion products.
However, don't go too heavy on this step, as you don't want a cakey layer of powder before applying any cream-based products, such as concealer or foundation.
Sometimes the two won't mix and may lead to uneven coverage, blotchy layers of powder, exacerbated imperfections, and a mask-like effect.
5. Blot Away Excess Product
This is optional, but blotting excess powder before moving on to complexion products is a fantastic way to finish prepping oily skin for makeup.
Blotting is a great way to remove a layer of powder in case you applied too much and will settle the layers of skincare products while providing a perfectly smooth base for any cream-based products you are going to use in the following steps.
Therefore, before continuing, gently press an oil-absorbing paper onto your skin to absorb any excess product.
Once you are done with these steps, you have properly prepped your oily skin for makeup and can move on to complexion products and the rest of your makeup routine!
Best blotting papers for oily skin:
Choosing the Right Makeup Products for Oily Skin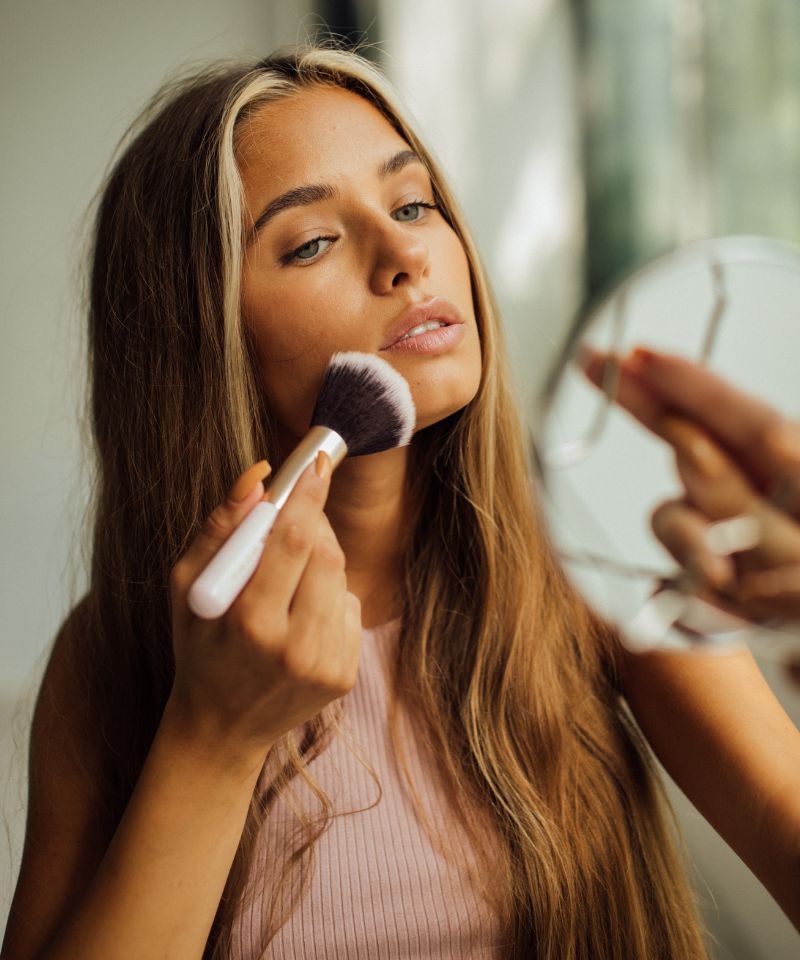 While many people dealing with oily skin will naturally gravitate toward any cosmetic product that has "oil-free" written on the label, these are not necessarily the best options for this skin type.
In fact, most oil-free products still contain ingredients that can make your skin oily throughout the day, either by creating a greasy layer on its surface or by dehydrating it to the point where your oil glands go into overdrive trying to compensate for the moisture loss.
Therefore, here's how to choose the right makeup products for oily skin that won't make it look greasier throughout the day but will instead help balance out the oiliness and provide you with a perfect, long-lasting beat:
Foundation
While most online information will point you toward oil-free foundations, picking the perfect foundation for oily skin can be tricky.
Oil-free foundations might not contain oils, but that doesn't automatically make them suitable for oily skin because most contain emollients to help the consistency spread easily on the skin.
Emollients, like oils, can be quite heavy, and many of them are comedogenic and can cause a skin type, such as oily skin, that's already prone to developing acne to break out.
On the other hand, matte foundations are also not the best fit for oily skin, as these usually contain drying alcohol and are more often than not high-coverage, which can exacerbate skin texture, make the pores look bigger, and cause the makeup to settle in any fine lines you might have.
In general, when it comes to oily skin, I recommend opting for light-to-medium coverage foundations that contain hydrating components, are not too heavy in oils and emollients, and provide a natural-looking finish that won't move around your face throughout the day when the skin is properly prepped.
Best foundations for oily skin:
Concealer
Like foundation, most online sources mention that you should only choose oil-free or matte concealers for oily skin, but those aren't always the best options.
Oil-free concealers can be excessively drying and may cause creasing and accentuate any texture on your face, making it a much less pleasant experience.
Besides that, remember that concealers are usually used in areas that are already dry, such as under the eyes, and regardless of how oily the rest of your face might be, those areas still need to be hydrated.
Therefore, matte and oil-free concealers will only worsen the situation in those areas and are unlikely to keep your skin hydrated throughout the day.
My recommendation is always to choose lightweight, hydrating, and minimum-coverage concealers, as these will provide enough coverage to cover any blemishes, dark spots, and other imperfections while keeping your skin comfortable throughout the day.
Remember, once the skin is properly prepped, you don't need heavy or damaging products to provide flawless coverage that won't move throughout the day.
Best concealers for oily skin:
Powder
While powder is the savior for any makeup applied to oily skin, you should still avoid heavy and cakey powders, as these can clog your pores and make your skin look cakey and unnatural, exacerbating the imperfections you want to hide.
Therefore, when choosing powder for oily skin, look for light-to-medium coverage products with oil-absorbing properties and a natural-looking finish.
Best powders for oily skin:
Blush/Bronzer
While powder-based blush and bronzer are typically more suitable for oily skin, if you're trying to achieve a natural makeup look, you will soon realize this is impossible with powder products, as they tend to create a mask-life effect on the skin.
Therefore, you can use cream-based blush and bronzer even if you have oily skin; however, similarly to foundations, avoid choosing products that contain heavy emollients and oils towards the top of the ingredient list, as this means the product is mainly composed of those components.
Cream-based products will provide a more natural and dewy effect on the skin and stay on throughout the day when the skin is prepped correctly.
Best blush/bronzer for oily skin:
Setting Spray
Setting sprays are great for all skin types; however, those formulated specifically for oily skin often contain drying alcohol, which can mattify your face in the short term but will cause the oil to come back with a vengeance after a few hours.
Therefore, I recommend choosing setting sprays that contain hydrating ingredients and provide a natural finish while ensuring that your makeup will look fresh throughout the day.
Best setting sprays for oily skin:
How to Prep Oily Eyelids for Makeup?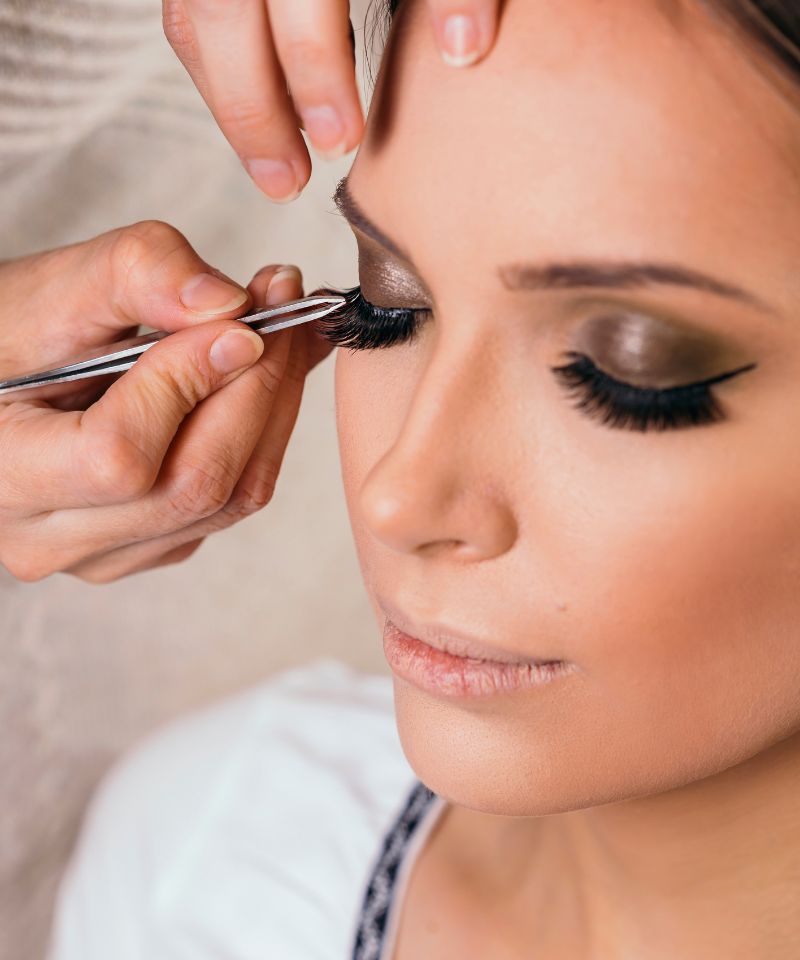 Oily eyelids can be an even bigger challenge to deal with because not only those with oily skin have oily eyelids.
Even if you have normal or dry skin, your eyelids can become extremely oily throughout the day due to using oily skincare and makeup products or being exposed to environmental pollutants that can cause your skin to produce more oil.
Therefore, prepping the eyelids is essential for applying makeup, as this will help the products adhere to the skin, make them look fresh for longer, and prevent them from transferring to other parts of your face.
Here's how to prep oily eyelids for long makeup wear:
Wash With Water
The first step to prepping your eyelids for makeup is to wash them with water.
When it comes to oily skin, keeping the area clean and free from accumulated oils that can cause your eye makeup to slide off, crease, and even transfer onto surrounding areas is essential.
However, since the eyelids are one of the most sensitive areas of the face, you should avoid using your facial cleanser, as no matter how gentle it is, it still contains surfactants that could irritate this area and even lead to dermatitis.
Therefore, whether you opt for plain, lukewarm water or a little bit of micellar water that you will wash off with water, make sure you clean your eyelids every single time before applying makeup.
Apply Sunscreen
The next step is to skip the moisturizer or eye creams as this will add an unnecessary layer of grease and stick to the essentials, which is applying sunscreen to keep your eye area protected from UV damage and environmental aggressors.
Apply an Eyeshadow Primer
While facial primers are not essential for oily skin, the same cannot be said about eyeshadow primers, which are a must to ensure your eye makeup doesn't move around during the day.
Apply a thin layer of eyeshadow primer on top of your sunscreen, as this will extend the wear time even further by ensuring that the oils don't break through and ruin your look.
Set With Powder
Before the eyeshadow primer has settled into the lines of your eyelids, quickly apply a thin layer of powder to set everything in place.
Once your eyelids are prepped, you can now apply your eye makeup, whether it is an eyeshadow or a liner, without worrying about it sliding off or transferring onto other areas of the face.
Blotting and Touch-Ups
If your skin is oily, an adequate prep will help prolong your makeup wear.
However, if you are dealing with long-term skin damage that has led to dehydration, fixing it will likely take time, a good skincare routine, lifestyle and diet changes, and patience.
Therefore, while the oil caused by dehydration will eventually show up on the skin's surface until the issue that's causing it is solved, you can keep your makeup in place with various touch-up methods.
One of the most effective yet simple methods is blotting your skin with oil-absorbing papers throughout the day to absorb excess oils without removing makeup and leaving you looking fresh as ever!
However, many people with oily skin are not fans of blotting papers because they often remove your makeup and leave smudges and uneven coverage if used incorrectly.
Therefore, here's how to use blotting papers correctly and make sure they don't mess up your makeup:
Tap Gently: Avoid pressing the blotting paper too hard into your skin, as this will pick up product along with excess oil and remove your makeup in the process. Instead, pat and tap gently to absorb just the oils without removing any of the product.
Don't Rub: Rubbing the blotting paper will only worsen things, as it will start moving all your products around and leave behind smudges. Therefore, make sure you pat and tap gently to absorb excess oils without rubbing.
Use a New Sheet for Each Area: For the best results, use a new blotting sheet for each face area. This helps to avoid spreading oil from one area to another.
Finish With a Light Dusting of Powder: If needed, you can dust a little bit of powder over the blotted areas to keep them looking fresh. Just be careful not to overdo it, as too much powder can leave your skin looking dry and cakey.
Spritz Some Setting Spray: As a finishing touch, you can spritz some setting spray over your face to keep everything in place and give yourself fresh-looking makeup all day long.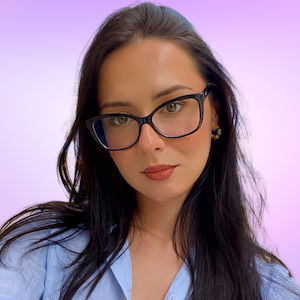 My name is Simone and I am a certified skin specialist. I created this website to teach my readers how to take great care of their skin and I also like to occasionally share my honest opinions on skincare products I've tried. You can learn more about me here.
The Acne Solution: Your Ultimate Guide To Flawless Complexion
An extensive, no-nonsense course showing you how to never have acne again, from a licensed Esthetician specializing in oily/acne-prone skin.