Acne scars are the aftermath that remains once the inflammation ceases.
Depending on the length and severity of the inflammation and your skin's resilience, type, and color – acne scarring can appear as dark brown spots, red spots, purplish spots, or atrophic scarring that sits lower than the surface of the surrounding skin.
Exfoliating helps with a certain type of acne scars.
However, you should know which exfoliators to use and how often to use them so that you can help improve your skin concerns without potentially triggering any new ones.
In this article, I will explain everything you need to know about how exfoliation can help with acne and give you a list of products that you can use to improve various acne scarring.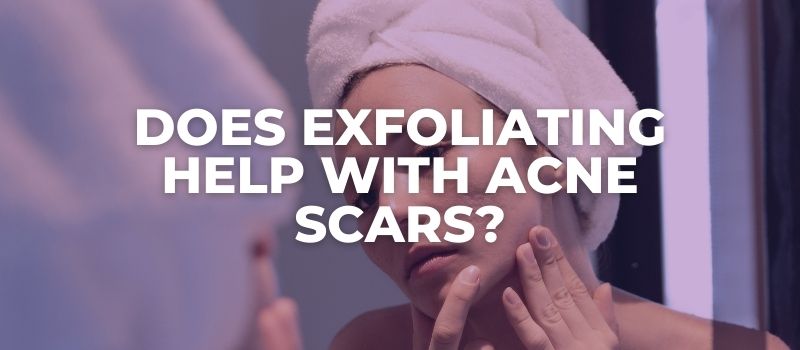 NB:
What if I told you I can show you how to never have acne again?
If you have acne and want it gone
,
read this message
.
Does Exfoliating Help Get Rid of Acne Scars?
Exfoliation is useful for people dealing with acne because it can clear out the pores from the cells that got trapped inside and are causing a clog that later leads to a full-blown pimple.
But once acne has finally cleared, we are left with the aftermath, which usually comes in the form of brown spots, red or purplish spots, and if acne was more severe – you are likely to experience atrophic or "depressed" scarring.
So what is the difference between these three?
Brown spots or post-inflammatory hyperpigmentation are explained as an uneven melanin deposit due to inflammation that stays on the skin.
This type of acne scarring is usually mild and superficial, and although it can be incredibly stubborn, it is one of the easiest forms of scarring to treat with topical products.
Regular exfoliation with alpha-hydroxy acids and retinol products usually helps improve it.
Red or purplish spots on the skin are known as post-inflammatory erythema. These are more common in people with pale and light skin.
The redness is caused by damage or dilation of the capillaries situated near the surface of the skin.
This type of scarring usually goes away on its own, but it can take a very long time to do so (usually longer than acne itself) because the capillaries need to recover on their own.
Post-inflammatory erythema is also more difficult to treat with topical products, and professionals usually recommend professional laser treatments. However, options such as azelaic acid have shown promising results in recovering mild to moderate redness over prolonged use.
And lastly, we have atrophic or depressed scars that arise from alterations in collagen deposition in the dermis following the acne lesion.
The base of this type of scarring sits lower than the surface of the surrounding area, and these are usually classified as "icepick," "boxcar," or "rolling" based on their size.
This type of scarring most commonly occurs on the cheeks as this is an area of thick skin that's most prone to cystic and deep acne breakouts.
This type of scarring can be slightly improved by combining glycolic acid and retinoids; however, this entirely depends on your skin.
Thirty-five patients with moderate to severe atrophic scarring were given a combination of retinoic acid and glycolic acid over the course of 12 weeks in a trial study.
91% of these patients showed improvement in their acne scarring; however, this improvement was on varying levels, which means the potential of any improvement depends entirely on your skin.
Although regular exfoliation and the use of topical retinoids can help improve atrophic scarring, there are much more effective professional treatments such as ablative and nonablative laser, microneedling, subcision, and fillers.
The 5 Best Exfoliators For Acne Scars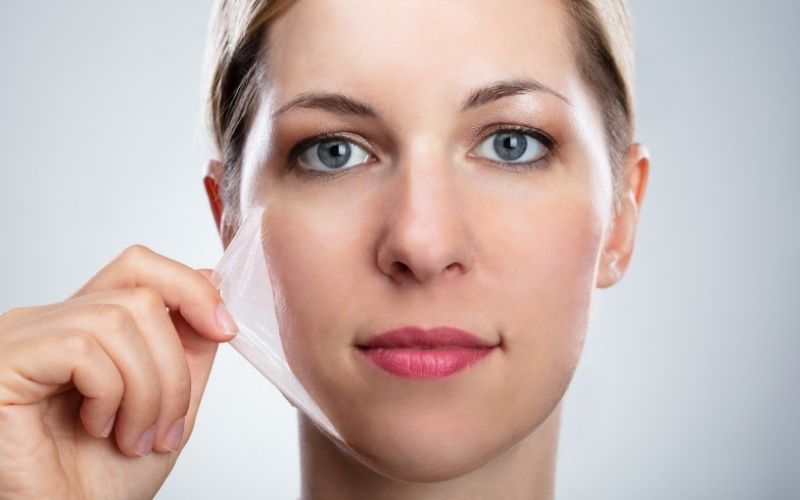 Here are the five best exfoliators for acne scarring: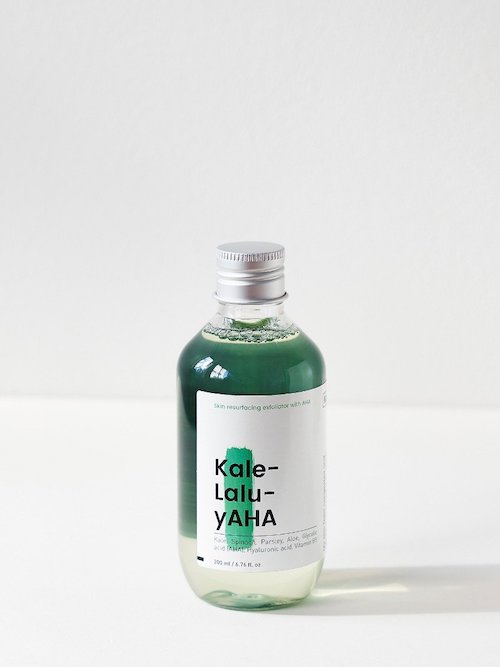 Best for very sensitive skin types that are dealing with hyperpigmentation left from acne and dull and uneven skin tone. It contains 5.25% glycolic acid formulated at a pH of 3.0 – 4.0.
It's formulated with vitamin-rich leafy greens, including kale, spinach, and parsley, as well as soothing aloe vera to calm any potential inflammation.
It also contains vitamin B5, which is an incredibly soothing and hydrating ingredient.
However, although this is a mild exfoliating acid product, you should still only use it 2-3 times a week and no more than that.

Hydroxyethyl Urea is the star of the show in the Retexturing Activator Replenishing Serum by the high-end brand Skinceuticals.
It works in the same way as glycolic acid does, meaning it softens and dissolves the keratin that holds dead skin cells together so that they can slough off on their own.
Hydroxyethyl Urea is also super hydrating, but besides that, the serum contains other hydrating ingredients such as glycerin and hyaluronic acid that will help maintain your skin plump hydrated.
Skinceuticals tells you to use it twice a daily, but you're not supposed to exfoliate that much! Exfoliating too often will irritate your skin, and besides that, this is an expensive goodie, so it's a good idea to slow down the usage and only indulge in it 1-2 times a week.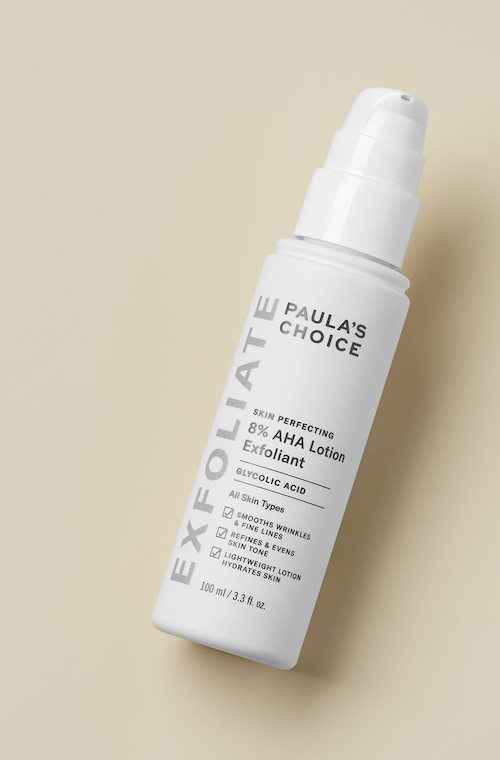 This is a gentle, lightweight solution that contains 8% glycolic acid and a customized mix of calming antioxidants and nourishing plant oils that soothe, smoothen, and dramatically soften the skin.
It's best for dry and sensitive skin that's showing early signs of aging. It will help improve hyperpigmentation without dehydrating and drying out the skin.
The website also recommends using it twice a day, but this is just too much exfoliation. Since it's mild, you can perhaps use it once a day in the evenings, but be mindful of irritation and minimize the use if it happens.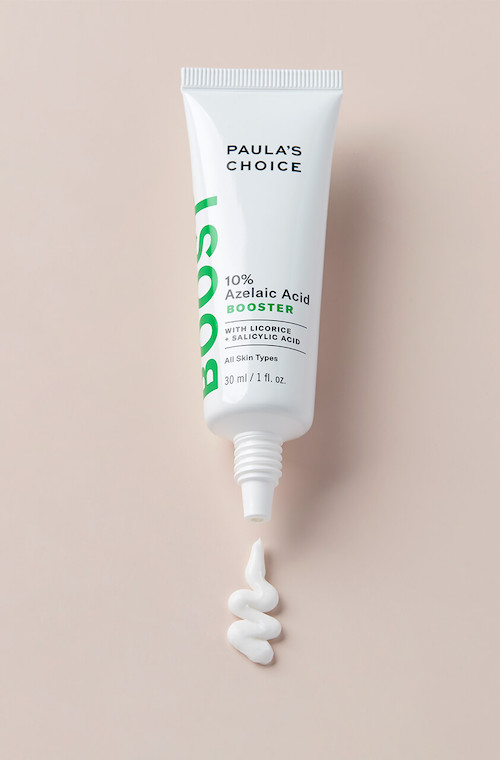 This is not technically an exfoliator but a booster containing salicylic acid, an exfoliating acid. However, the star in the composition is azelaic acid.
Azelaic Acid is an ingredient that has shown to have a significant impact on the skin and certain skin concerns, including diminishing the appearance of skin blemishes, help fade post-acne redness, pigmentation, and other discoloration, refine the skin's surface, and reveal a brighter and more even complexion among other actions.
It's also super gentle on the skin too.
This product is best for people who are dealing with post-inflammatory redness. It can also help hyperpigmentation, but it has done wonders for my post-acne redness, and I can't recommend it enough.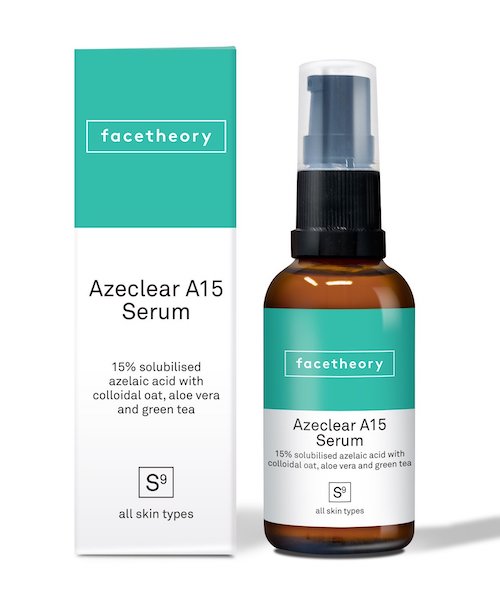 Another great product for skins dealing with post-inflammatory redness.
Azeclear Serum A15 is a smooth emulsion that contains 15% azelaic acid in combination with other soothing and antioxidant ingredients, including colloidal oatmeal, chamomile, and green tea.
Azelaic acid can be effective against acne; however, you will probably need to use it combined with salicylic acid if you have moderate to severe acne.
All in all, it's a good product for post-inflammatory erythema, hyperpigmentation, dryness, dehydration, irritated skin, and mild acne.
---
---
Exfoliation FAQs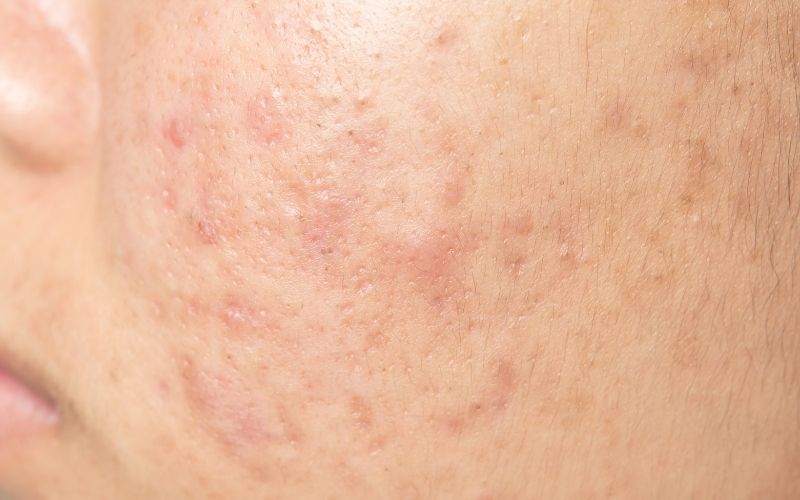 Here is a couple of the internet's most frequently asked question regarding exfoliation and acne:
Does Exfoliating Help With Body Acne?
Exfoliating can help clear out the gunk that's stuck inside the pores, causing a clog, which then leads to a full-blown pimple.
Therefore, regular exfoliating can help clear out acne in any area of the face and body.
Can Exfoliating Cause Acne?
Exfoliating can cause more acne, and this occurrence is known as the "purging stage."
Once you introduce a new exfoliating product, it will push the existing clogs toward the skin's surface to clear them out.
The purging stage can last a few weeks, and it can result in moderate to severe acne popping up on the surface of your skin all at once.
Once the purging stage has ended, your skin will remain clear if you maintain an excellent skincare routine and don't use products that can potentially cause more clogging.
My name is Simone and I am a certified skin specialist. I created this website to teach my readers how to take great care of their skin and I also like to occasionally share my honest opinions on skincare products I've tried. You can learn more about me here.
The Acne Solution: Your Ultimate Guide To Flawless Complexion
An extensive, no-nonsense course showing you how to never have acne again, from a licensed Esthetician specializing in oily/acne-prone skin.