A good skincare routine is the foundation of having good and healthy skin.
However, with so many available options on the market, how do you even know what to choose and what will work for you?
Figuring out your skin type and your main skin concerns is a good place to start to have an idea of what you're looking for.
If your main skin concern is clogged pores, you're in the right place.
Down below, I'll share with you the 5 best skincare products to unclog pores, as well as why you get clogged pores and how to get rid of them.
So, let's start from the beginning. Here are…
5 Products To Unclog Pores (Reviewed Below)
The Ordinary – Peeling Solution AHA 20% + BHA 2%
Paula's Choice – Regular Strength 2% Salicylic Acid
Paula's Choice – Pore-Refining Treatment 2% BHA + Hyaluronic Acid
COSRX – AHA + BHA Clarifying Treatment Toner
Drunk Elephant – T.L.C Framboos Glycolic Night Serum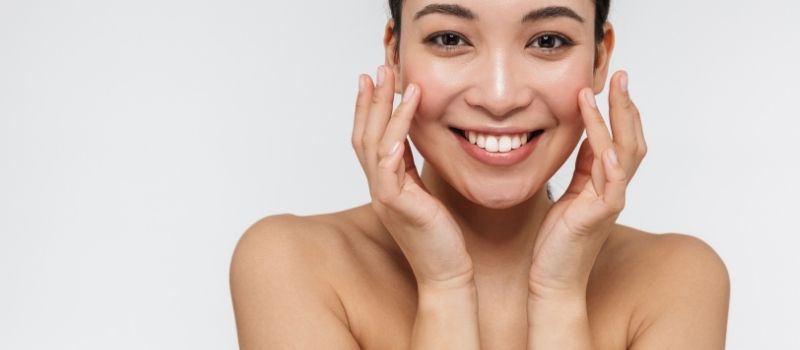 NB:
I can show you how to never have acne again.
If you have acne and want it gone
,
read this message
.
Why Do You Get Blocked Pores?
You get blocked pores because of the excessive amount of sebum produced by the sebaceous glands. Sebum is the skin's natural lubricant and a moisturizer. However, overproduction of sebum may clog the pores and cause blackheads, whiteheads, and acne.
Every person's skin is covered in small, invisible little hair (apart from the palms of the hands and soles of the feet). Each of these hair follicles has a pore, also called an opening at the top of it.
The hair follicle inside the pore has a gland that produces oil attached to it. These glands are called sebaceous glands, and they produce sebum or natural oil that serves as lubrication and natural moisturization of the skin and those tiny hairs.
When the sebaceous gland releases oil, the oil gets pushed upwards and rises to the top of the skin to lubricate and protect it. However, a big part of this oil collects in the pore.
So, if the oil isn't adequately removed and allowed to be replenished through a good skincare routine and it remains on the skin for a long time, the pore-lining has to expand and loosen up to accommodate all that oil.
This is also why your pores look enlarged.
Additionally, too much of this oil creates an airless environment inside the pore, and the bacteria that are usually on our skin starts to thrive in this type of environment, which manifests itself as a various form of acne from blackheads to full-blown cystic acne.
My 5 Recommended Products To Unclog Pores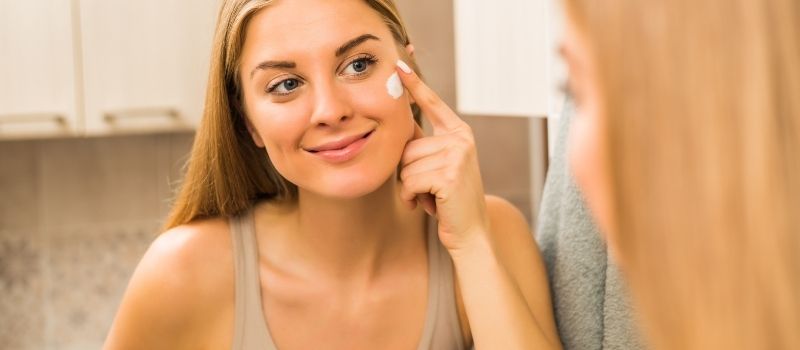 Here are the five best products that you can incorporate into your daily routine to effectively unclog pores and keep them clean and healthy.
NB: These products are not ranked in any particular order.
The Ordinary – Peeling Solution AHA 20% + BHA 2%
This potent product by The Ordinary is a treatment intended to be done once every week or two weeks, and it has a high content of exfoliating acids that tackle multiple skin concerns.
It contains 30% alpha-hydroxy acids that work to exfoliate the surface of your skin and gently dissolve the adherens junctions or "glue" that holds dead skin cells together.
This will contribute to a brighter and healthier complexion with less pigmented and discolored areas.
Additionally, the 2% BHA is a supreme ingredient that travels deeper into the pores and clears out all the gunk, oil, and bacteria stuck in there.
This will be extremely effective if you are dealing with blackheads, whiteheads, and even moderate to severe acne.
Paula's Choice – Regular Strength 2% Salicylic Acid
If you've been following my blog for some time, you might have noticed how I never fail to recommend this product for all acne-related skin concerns.
This product has been a great help when I struggled with severe acne, but I always have a bottle of it laying about the house as I never want to run out of it.
The Regular Strength 2% Salicylic acid solution is perfect for oily skin types that deal with moderate to severe acne breakouts. It has a nice and light texture, isn't heavy on the skin, and is generally well tolerated by all skin types.
One thing I have to say about it is that it can sting a little for the first several uses, especially if your skin is also a little dehydrated. However, once your skin gets used to it, you will be good to go.
Paula's Choice – Pore-Refining Treatment 2% BHA + Hyaluronic Acid
The pore-refining treatment is another great product by Paula's Choice that caters to more sensitive skin types that are also dehydrated.
Besides containing 2% salicylic acid to clear all the gunk, oil, and bacteria inside the pore, this also contains hyaluronic acid to hydrate and plump the skin, as well as nourishing peptides and antioxidants to accelerate the healing process of damaged skin.
COSRX – AHA + BHA Clarifying Treatment Toner
The COSRX toner is one of the best affordable exfoliating treatments out there. I first found out about this product when Jame Welsh raved about it in several of his YouTube videos, and I knew I had to give it a try upon glancing at the ingredient list.
The toner is packed with gentle exfoliating and hydrating ingredients, and there is a little bit of everything in here, including alpha-hydroxy acids derived from fruits as well as a gentler form of salicylic acid known as betaine salicylate.
Additionally, it has no shortage of hydrating ingredients, including one of my most favorite moisturizing and softening ingredients – allantoin.
Through consistent use of this toning solution, you will definitely enjoy a brighter, more radiant, and clearer complexion within several weeks of using it.
Drunk Elephant – T.L.C Framboos Glycolic Night Serum
I absolutely hate that I love this product so much because the price ($134) is killing me, but I have to list it here because it works, and it gives excellent results for the particular concern we are addressing in this article.
It is very pricey, but looking on the bright side, the T.L.C Framboos Glycolic serum isn't a treatment that should be used every day due to the potent combination of exfoliating acids it contains, including:
So, this might actually last you for a long time and give your skin excellent benefits.
It's great for both dry and oily skin types, and it can help unclog your pores, balance out sebum production, and prevent acne breakouts while also working on the surface of the skin and helping with pigmentation, sun damage, lines, and wrinkles.
---
5 Frequently Asked Questions About Clogged Pores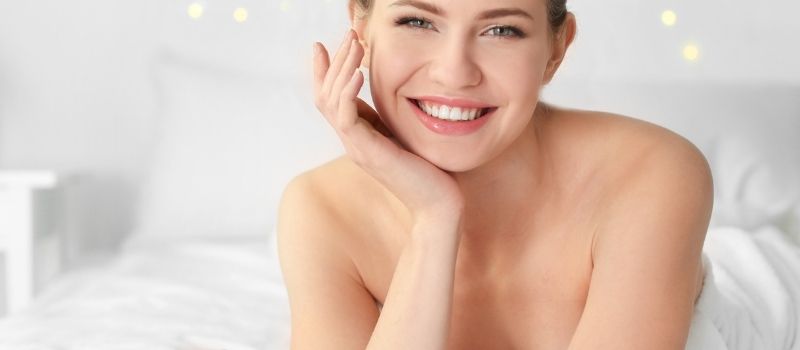 Here are some clogged pores related questions I have seen floating around the internet:
Q: Do Clogged Pores Go Away On Their Own?
No, clogged pores will not go away on their own and therefore, you need to commit yourself to a good skincare routine you are going to be consistent with.
Clogged pores are bad news for the skin as they always lead to all sorts of issues and concerns, so you need to have a good cleanser followed by an exfoliator that works for your skin type to keep them clean.
Q: What Do Clogged Pores Look Like?
When they are mildly clogged, pores look dull and "lifeless", making your complexion appear sallowy and even look sickly and discolored.
Additionally, clogged pores always result in blackheads, whiteheads, and everything from mild to moderate and severe acne breakouts.
Q: How Do You Get Rid Of Deep Clogged Pores?
A good skincare routine is how you get rid of all skin concerns, including clogged pores, and keeping your pores clean and healthy is actually easier than you probably think.
To unclog your pores, you need a good skincare routine that consists of properly formulated products, but the two most important items you need to pay attention to are a good cleanser and an exfoliator.
Q: How can I permanently shrink my pores?
You cannot permanently shrink your pores; however, you can make them appear smaller through regular exfoliation and a good skincare routine.
As I already mentioned above, the pore-lining slightly expands to be able to accommodate your natural oil, so ensuring that you have a good and consistent skincare routine will prevent your pores from becoming filled and potentially clogged with sebum.
Q: Does baking soda unclog pores?
No, home remedies such as baking soda and apple cider vinegar do not help unclog pores, and these two may very well be the cause of ruining your skin.
Check out my article explaining why homemade skin remedies are a scam you should stay away from.
---
---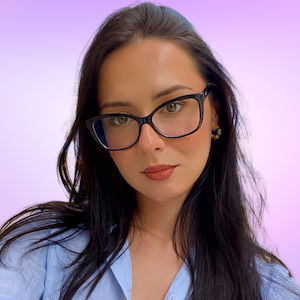 My name is Simone and I am a certified skin specialist. I created this website to teach my readers how to take great care of their skin and I also like to occasionally share my honest opinions on skincare products I've tried. You can learn more about me here.
The Acne Solution: Your Ultimate Guide To Flawless Complexion
An extensive, no-nonsense course showing you how to never have acne again, from a licensed Esthetician specializing in oily/acne-prone skin.