Paula's Choice is a brand I trust and love, so even before trying something out, I already know that it's going to be good.
Even for products that don't necessarily work for my skin, I can't say that they are complete trash because their ingredients are always top-notch.
Therefore, in this article, I want to talk about yet another Paula's Choice product that I ended up liking, using, and buying more than one bottle of.
This is my Paula's Choice 10% Niacinamide Booster review, where I will talk about the ingredients in this product, how I use it, and how it worked for my oily and acne-prone skin.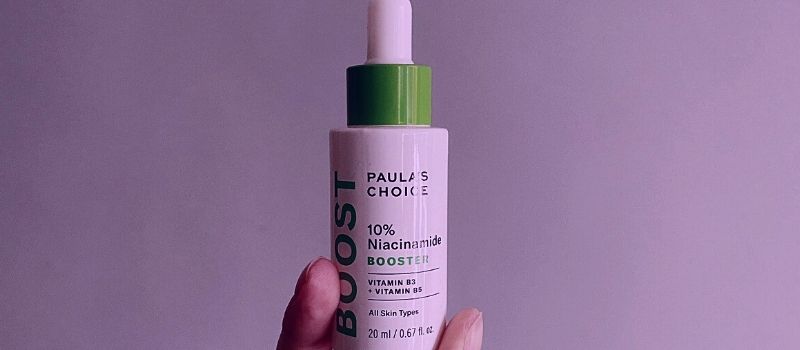 NB:
What if I told you I can show you how to never have acne again?
If you have acne and want it gone
,
read this message
.
About Paula's Choice 10% Niacinamide Booster
Paula's Choice 10% Niacinamide Booster is a concentrated serum that aims to improve uneven skin tone and refine the appearance of pore size, skin texture, and fine lines.
The product comes in a sleek glass bottle, and although it's only 20ml, the 10% Niacinamide Booster should last you anywhere between 3-4 months when using it once a day or around two months when using it twice a day.
I personally don't have a set way of using the 10% Niacinamide Booster, and I sometimes apply 3-4 drops twice a day and sometimes more than that once a day, depending on what other products I'm using.
The 10% Niacinamide Booster lasted me around three months, which comes to a little over $15 a month.
Ingredients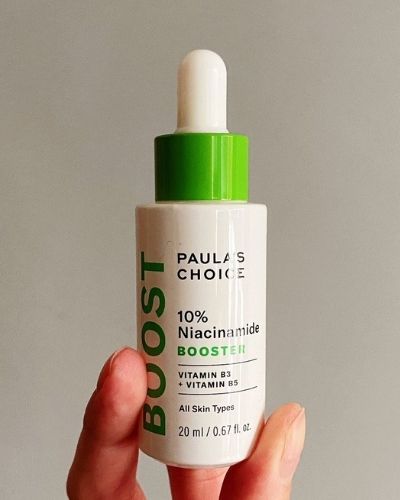 The 10% Niacinamide Booster is an incredibly potent product packed with beneficial ingredients.
It has one of the most active formulas I've ever seen in an over-the-counter product, and every ingredient found here has its own function, unlike many over-the-counter products that are just using filler ingredients to rack up the retail price.
So, let's start with the main active ingredient – niacinamide.
Niacinamide is a form of vitamin B that delivers a plethora of benefits to the skin. One of its best and most important functions is slowing down trans-epidermal moisture loss and strengthening the skin barrier.
Once your skin barrier is strengthened – your skin will handle all sorts of issues much better, including redness, irritation, and inflammatory conditions such as acne and rosacea.
But besides that, niacinamide is also a melanin-inhibitor, meaning that it can not only fade existing hyperpigmentation, but it can also prevent uneven melanin deposit, meaning it stops hyperpigmentation from forming in the first place.
Next on the list are allantoin and licorice extracts, which are efficient moisturizing agents that provide antioxidant benefits to the skin and soothe sensitivity and irritations.
Additionally, we also have Ascorbyl Glucoside, a stable form of vitamin C thought to encourage collagen production, minimize fine lines and wrinkles, and brighten the complexion and refine skin texture.
Vitamin C usually comes in products that are on the oilier side, which is why I've never had much success with this ingredient having oily and acne-prone skin myself.
Therefore, trying it out in a lightweight formula that won't clog my pores and make me break out finally made me experience the true benefits of this powerful antioxidant on my skin.
Besides all these effective actives, the 10% Niacinamide Booster doesn't stop there.
The product also contains hydrating hyaluronic acid and glycerin, EGCG, which is the most active polyphenol in green tea, soothing and skin-repairing panthenol, healing and repairing amino acids, and skin-regenerating ubiquinone (Q10).
Phew!
There's so much more in here, but this article would be way too long if I were to talk about all the beneficial ingredients, which are basically all the ingredients.
But you get the point.
This product is a lovely wrap of goodies and superstar ingredients for the skin.
Scent
The 10% Niacinamide Booster has no added fragrance, perfume, or other fragrant components such as essential oils, and this is why it has no scent.
Consistency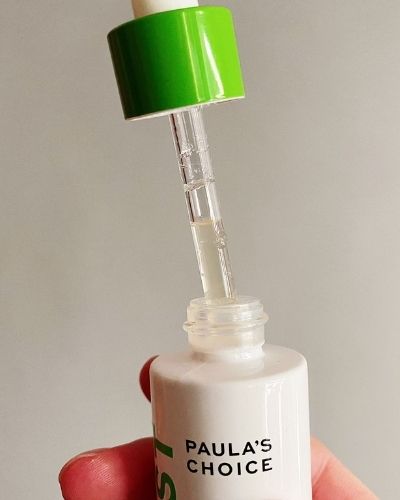 The 10% Niacinamide Booster has the consistency of a lightweight serum.
But even though it can be considered lightweight, there is some substance to this product, and it's not as watery as the Marine Hyaluronics by The Ordinary, for example.
So, yeah, it's runny and lightweight, but you will notice a thin film when you apply it to the skin.
For example, I have very oily skin, and I can definitely see the film of the 10% Niacinamide Booster when applied on my face.
In the photo below, for example, the product is fully absorbed and looks matte, but this is a photo of the back of my hand where the sebaceous glands aren't as active as on my face, and my skin doesn't get oily, which is why the product looks different.
If you have dry skin, the product will likely absorb quicker and give you a matte finish, but oily skin folks will definitely be able to notice it after application as it will leave a subtle glow.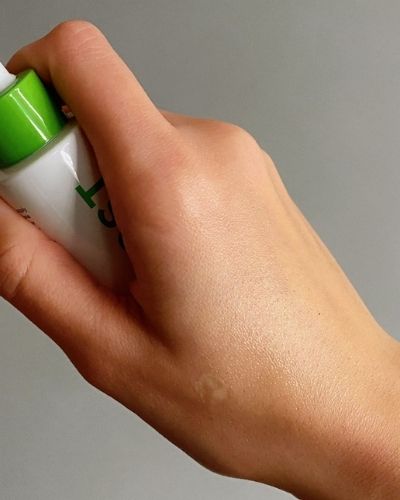 Performance
Like many others, I became interested in niacinamide with the serum from The Ordinary, which I discovered more than a few years ago.
I've used other products that contain niacinamide, but it was The Ordinary that made this ingredient boom and become so popular through their dedicated serum that contains niacinamide as an active ingredient.
However, even though I periodically used to go back to The Ordinary's Niacinamide, I must admit that I never looked back after starting the Paula's Choice Niacinamide Booster.
Paula's Choice formula is unbeatable compared to The Ordinary and some other popular niacinamide serums, such as Naturium's 12% Niacinamide + Zinc 2% serum.
Yes, it's much more expensive than the two I mentioned, but the formula feels nicer on the skin, is more complete, and offers a plethora of other beneficial ingredients that improve many skin concerns, including dehydration, irritated skin, fine lines, wrinkles, hyperpigmentation, sun damage, etc.
Both The Ordinary and Naturium serums have a much simpler formula, with two main ingredients, and the rest of it being made up of solvents, basically.
Besides that, Naturium gives you an option to choose if you want their Niacinamide serum to be delivered to you every month, so if this is how long the serum lasts you, you are paying more for it than you would for Paula's Choice Niacinamide Booster.
But I digress.
Additionally to the beneficial ingredients, I also prefer the texture of Paula's Choice 10% Niacinamide Booster. It's lightweight and watery, but there is still substance to it, and I can see the subtle glow it gives me when I apply it to my face.
And lastly, I love the results Paula's Choice 10% Niacinamide Booster gives me.
After finishing my first bottle, which took around three months, I noticed a huge improvement in my skin.
Namely, the few most noticeable things were a refined skin texture, smoother skin, smaller pore size (although this is also thanks to my retinol and regular exfoliation with salicylic acid), and improved redness from past acne I've had left on my cheeks.
The 10% Niacinamide Booster also gives my skin a beautiful glow, especially when I use it in the evening before my retinol. I always wake up with soft, glowy skin and no redness on my face, which was rarely the case before.
In fact, I also think it helps with puffiness since I also apply it around my eyes, and my morning puffiness isn't as prominent as it used to be.
So, all in all, the 10% Niacinamide Booster is a beautiful product that contains many beneficial ingredients and delivers great results.
I can't recommend it enough.
The price is a little steep for a 20 ml bottle; however, as I already mentioned above, this should last you around 3-4 months, depending on how you use it, and would come down to paying around $15 a month.
Besides that, since the product contains so many ingredients that target multiple skin concerns, you wouldn't have to use other dedicated products to target those concerns, such as dehydration and redness, for example.
So you can actually save money by cutting out other products and investing in something that will improve your skin in many ways.
10% Niacinamide Booster Pros:
Lightweight and comfortable texture.
Helps soothe redness and inflammation.
Refines skin texture.
Evens out uneven skin tone.
Minimizes the look of enlarged pores.
Soothes acne and irritation.
Balances out oil production.
Gives a beautiful glow when paired with retinol in the evening.
10% Niacinamide Booster Cons:
Pricey.
Might not be easily available in some countries.
Where to Buy Paula's Choice 10% Niacinamide Booster?
Here are a few websites where you can buy Paula's Choice 10% Niacinamide Booster from:
My name is Simone and I am a certified skin specialist. I created this website to teach my readers how to take great care of their skin and I also like to occasionally share my honest opinions on skincare products I've tried. You can learn more about me here.
The Acne Solution: Your Ultimate Guide To Flawless Complexion
An extensive, no-nonsense course showing you how to never have acne again, from a licensed Esthetician specializing in oily/acne-prone skin.