To know how to prevent premenstrual acne, you need to know what triggers this inflammatory condition and how to deal with the cause's root.
As you might have guessed, this is most likely linked to hormones.
The hormone progesterone, to be exact, plays an important role in premenstrual and menstrual acne. Progesterone levels rise during the second half of your cycle, and this hormonal change directly affects the sebaceous glands, which are the oil-producing glands.
This increase in oil production causes the pores to swell and open, additionally trapping dirt, thus creating a perfect airless environment for acne-causing bacteria to thrive inside the pore.
Therefore, in this article, I will give you only four simple ways to prevent premenstrual acne, as well as a list of my favorite products for hormonal acne.
Here are…
4 Ways To Prevent Premenstrual Acne
Have a Consistent Skincare Routine
Consult With Your Dermatologist
Make an Appointment With Your Esthetician
Don't Stress Too Much About It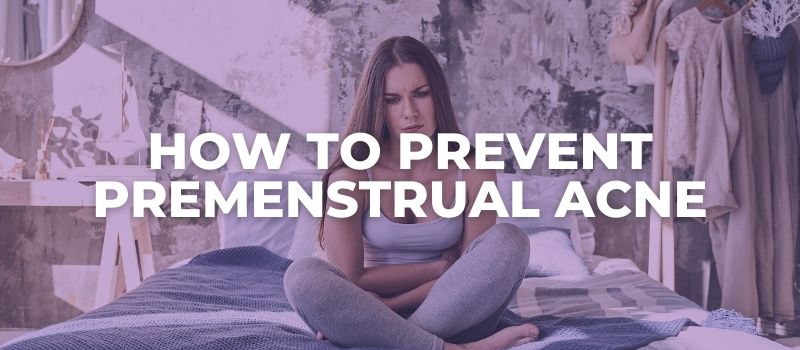 NB:
What if I told you I can show you how to never have acne again?
If you have acne and want it gone
,
read this message
.
Have a Consistent Skincare Routine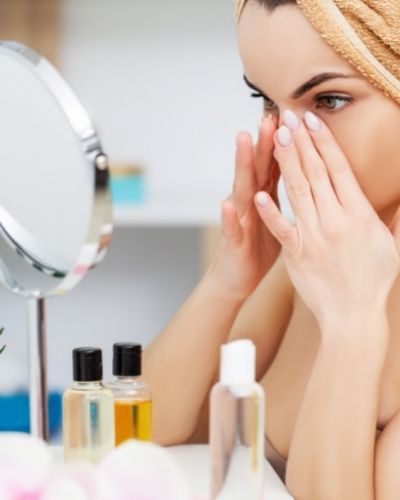 Whether you have dry skin, oily skin, acne-prone skin, or any other skin concern you want to tackle – there's only one rule that matters:
consistency is key!
With whatever skincare routine you practice, consistency will always remain essential for its effectiveness.
Maintaining a skincare routine will keep your skin in better and healthier condition. It can prolong skin aging by keeping the premature wrinkles at bay, improve clarity, fade hyperpigmentation, and prevent future acne.
Having a steady and consistent skincare routine when dealing with acne, whether they only show up before your period or you are constantly dealing with them, is essential.
Once you find what works for you, you need to stick to it so that it continues to work and keep those pesky breakouts away from your face.
As I already mentioned above, every pimple, no matter how big or small, is caused by a single clogged pore. Therefore…
Having a skincare routine that keeps the pores clean and nourishes your skin will be beneficial all the time, not just before getting your period.
Besides that, having a good skincare routine will also strengthen your skin so that it can deal with inflammation and breakouts quicker and easier.
For example, healthy skin = happy skin; therefore, when something "bad" as a pimple shows up – the happy skin will deal with it quicker and easier, instead of making a big deal out of it.
When your skin is strong and healthy, skin concerns such as pimples and hyperpigmentation will clear much faster than they would if your skin is dehydrated, weak, and malnourished.
When you have a consistent skincare routine, whatever improvements you have achieved over time will become easy to manage.
As long as you stick to the skincare routine that works best for you, you will be able to maintain the changes made over time with little effort.
That being said, you don't need to have a long and complicated skincare routine to achieve the results you want.
Having a short and simple skincare routine that consists of products that work for your skin concerns is the best way to maintain skin health and not overwhelm your skin with several different ingredients that don't agree with each other.
Exposing your skin to different ingredients can and most probably will become problematic and can potentially irritate it and trigger more inflammation.
Your skincare routine should consist of no more than 4-5 products that work and don't overwhelm your skin.
Consult With Your Dermatologist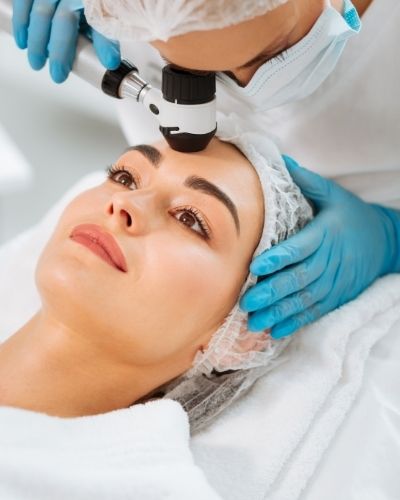 Whether you are only dealing with breakouts before your period or all the time, seeing a dermatologist will definitely be a good idea.
A dermatologist can determine your skin condition and create a tailored treatment for your specific needs that will help you overcome your skin concern.
They may ask you to do hormonal tests or allergy swabs because there are plenty of treatments such as oral antibiotics, hormone-regulating medication, and prescription-strength topical products available for different skin concerns.
You never know what may be causing the issue; therefore, it is important not to neglect something bothering you and seek professional help.
Make an Appointment With Your Esthetician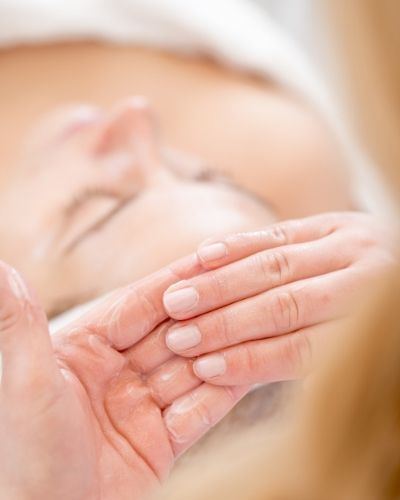 Having a great skincare routine that works for you is super important; however, getting treatments for maintenance is one of the best ways to maintain clear, healthy, and happy skin.
If your skin is relatively clear, you can do 2-3 treatments a year; however, you may require a little more than this if you are dealing with a more serious issue.
As an esthetician, I advise at least 2 chemical peels a year to rejuvenate the skin and give your skincare routine a boost.
Don't Stress Too Much About It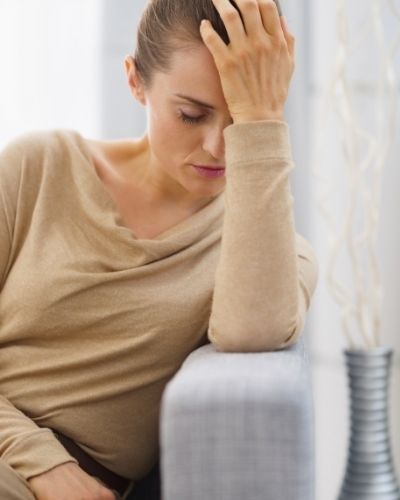 Having a pimple or a few happens to everyone, and this isn't something you should be all too concerned about.
A pimple means that your immune system reacts to a clog and takes good care of you by letting you know that something contributed to a clogged pore.
If you think that a new product be it skincare or makeup caused the pimple – you may be right, but it's usually just your immune system's dramatic reaction.
This is good because it is important to discontinue using a potential trigger; however, a premenstrual pimple isn't something you should stress obsessively about.
Furthermore, we are also susceptible to acne breakouts due to stress, and guess what?
This is also related to hormones – the hormone cortisol, in particular.
Cortisol is the body's stress-reaction hormone that can stimulate the sebaceous glands to produce more oil, leading to more clogging and acne breakouts.
Therefore, continue to rely on a good skincare routine, good diet, good health, professional help, and a peaceful state of mind to take care of your premenstrual pimples.
---
---
The Best Skincare Products For Acne-Prone Skin
In addition to maintaining a consistent skincare routine, it is also vital that you use skincare products that work well with your skin type and treat your specific skin condition.
Here are a few of my favorite products for fighting acne all year round.
Paula's Choice – BHA 2% Liquid Exfoliant – $30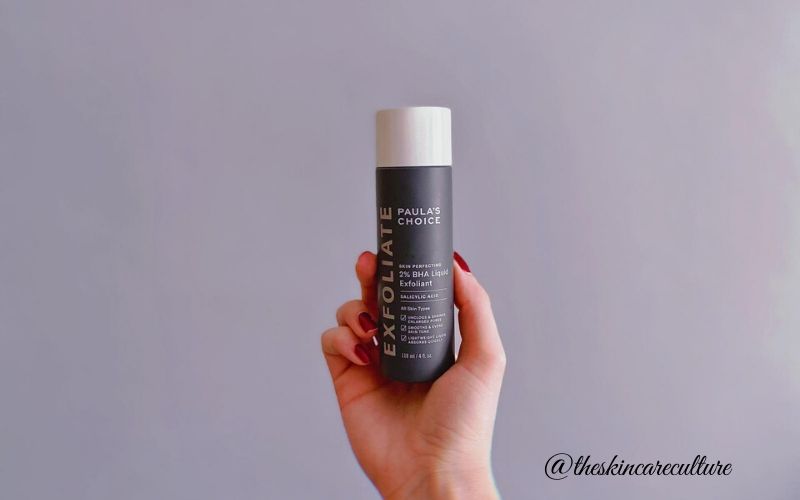 The BHA 2% Liquid Exfoliant by Paula's Choice is a great exfoliating product.
It is specially formulated for blackheads and whiteheads; however, what's great about it is that it's very gentle on the skin, meaning even sensitive skin types can tolerate it well.
This product contains 2% salicylic acid, which can be very efficient in soothing redness caused by acne and unclogging the pores and dissolving the few things that cause acne – excess sebum and dead skin cells inside the pores.
The BHA 2% Liquid Exfoliant alone may not fully eliminate cystic acne; however, it will undoubtedly help improve the issue without irritating the skin.
Paula's Choice – Anti-Redness Exfoliating Solution – $30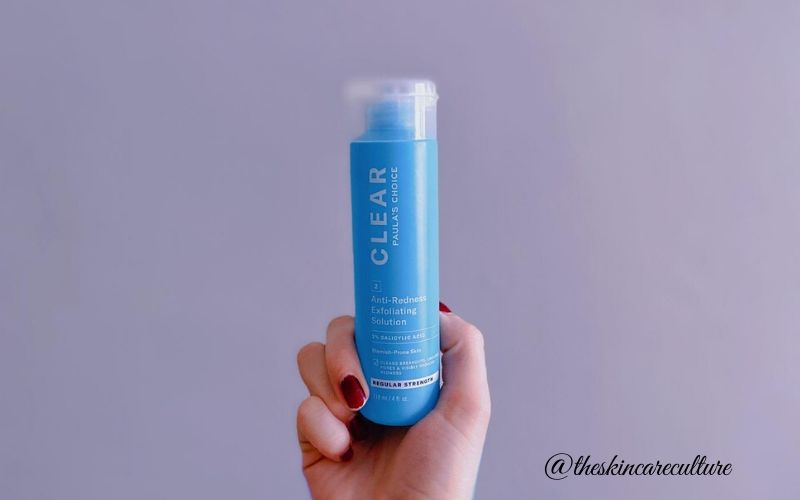 The Anti-Redness Exfoliating Solution with 2% Salicylic Acid is an extra potent formula that slightly differs from the BHA 2% Liquid Exfoliant mentioned above.
It still contains 2% salicylic acid; however, in this particular formula, the active ingredient is slightly higher on the list, followed by simpler ingredients that focus on hydration and soothing the skin.
The extra strength can be a little more drying to the skin compared to the BHA 2% Liquid Exfoliant; therefore, you must use a good, non-clogging moisturizer right after applying it.
Although this product is intended to be used on the entire face, you can still use it as a spot treatment for premenstrual pimples.
Acne.org – 2.5% Benzoyl Peroxide – $25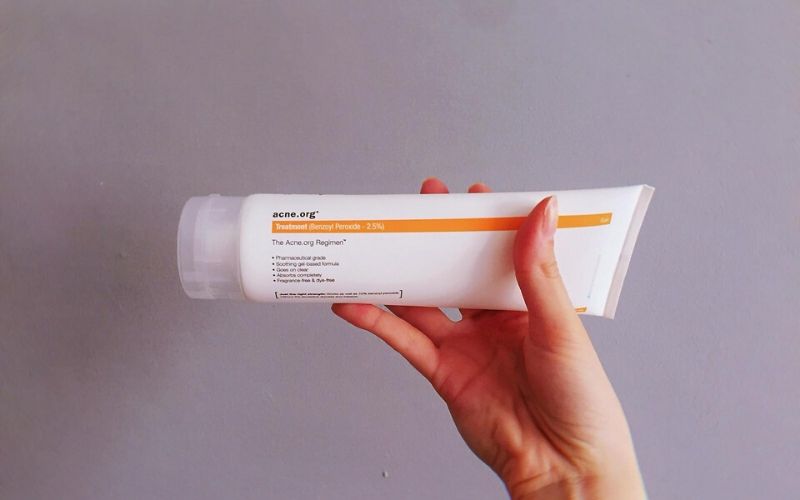 The 2.5% Benzoyl Peroxide by Acne.org has certainly been a lifesaver for me when dealing with cystic breakouts.
I still occasionally use it as a spot treatment, especially when I feel like a huge and deep cyst is forming under the surface of my skin.
This formula comes in gel-cream consistency, and it can be used daily or a few times a week if your skin is sensitive to it.
It can be a little drying on the skin; therefore, the trick is to use very little of it and leave it for about 10-15 minutes to dry out before applying a good, non-clogging moisturizer.
Benzoyl peroxide can be used on severe cystic acne or as a spot treatment on inflamed premenstrual pimples.
Differin Gel – $29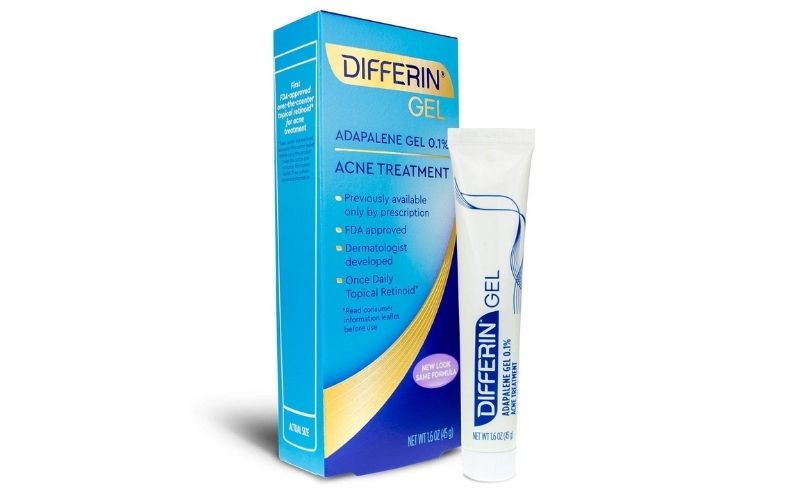 Differin gel contains Adapalene, a strong over-the-counter retinoid, especially competent in fighting acne and improving hyperpigmentation; however, emerging research also suggests it can give some anti-aging benefits.
This product is most likely to work on more severe cystic acne, but it comes with some side effects, which include peeling and shedding, as well as dryness and irritation, especially in the areas around the mouth.
However, the most unwanted side effect is purging, which means you may be breaking out more than usual at the beginning before your skin gets better.
Therefore, to avoid these side effects as much as you can, you need to introduce Differin slowly into your routine, follow it up with non-clogging moisturizers and sunscreens, and be extra patient until your skin gets used to it.
Differin delivers the best results when used on the entire face; therefore, it's not the ideal option for just a spot treatment. Go with benzoyl peroxide for spot treatment, instead.
My name is Simone and I am a certified skin specialist. I created this website to teach my readers how to take great care of their skin and I also like to occasionally share my honest opinions on skincare products I've tried. You can learn more about me here.
The Acne Solution: Your Ultimate Guide To Flawless Complexion
An extensive, no-nonsense course showing you how to never have acne again, from a licensed Esthetician specializing in oily/acne-prone skin.