Both Paula's Choice and CeraVe are brands that have strong track records in terms of helping people clear their skin from acne, but which one is right for you?
In this post, I will break down the key differences between Paula's Choice and CeraVe to help you make an informed decision on which one to go for in order to target your specific skin concerns.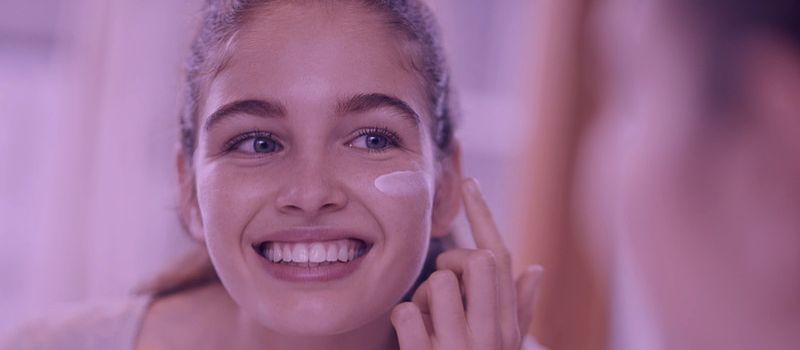 NB:
I can show you how to never have acne again.
If you have acne and want it gone
,
read this message
.
How Are Paula's Choice and CeraVe Different?
Even though both brands have some pretty great products for various skin concerns, including acne, Paula's Choice and CeraVe differ in quite a few aspects.
Ingredients
While both brands focus on gentle and nourishing ingredients, Paula's Choice tends to focus more on soothing extracts such as green tea (which is present in almost all their products), licorice, chamomile, etc.
Paula's Choice is definitely a brand with the most nourishing ingredients in their products, hence why it's one of the better brands in the West.
CeraVe, on the other hand, tends to focus more on barrier-strengthening and repairing ingredients, which is why all of their products have their proprietary blend of three ceramides alongside niacinamide and hyaluronic acid.
Availability
CeraVe is easily available in most drugstores in the world, including Europe, Australia, and Asia, while Paula's Choice, although still easily available, tends to vary in prices depending on where you buy them from.
Price Point
Paula's Choice is definitely the pricier of the duo, while CeraVe aims to be more affordable and accessible to all budgets.
CeraVe's products have the same (or very similar) prices for both the US and European markets. For example, their most popular Foaming Cleanser costs $18 in Ulta and around €15 in most European pharmacies, which is the same.
Paula's Choice products, on the other hand, are slightly pricier in Europe. For example, their most popular 2% BHA Liquid costs $32 in Sephora and €36 on their official European website, which converts to $40.
I'm not sure why this is, but even other European sites such as Space NK and Cult Beauty, which carry Paula's Choice, sell their products for more expensive than US-based websites.
Range
Even though both brands have great ranges for many skin concerns, I think Paula's Choice wins this one because their products are definitely more elaborate when it comes to ingredients, which is why one product often targets more than one skin concern.
Additionally, Paula's Choice has more products than CeraVe, while CeraVe is definitely keeping it simple with just the essentials.
Paula's Choice vs. CeraVe: Which is Best for Acne?
I've used and recommended different products from each brand because both Paula's Choice and CeraVe have great products for acne.
For example, I tend to gravitate towards CeraVe Foaming Cleanser simply because it's more convenient for me to get it, and it gets the job done.
On the other hand, I enjoy using Paula's Choice exfoliators and serums, which is something I don't mind splurging on because they work for my skin.
Therefore, when choosing products for your skin type and skin concern, try to stick to the product and not necessarily the brand because not everything from the same brand will work for you, and mixing and matching often works better.
Which is why I will list my favorite products for acne from both Paula's Choice and CeraVe.
Best Paula's Choice Products for Acne
Here are the five best Paula's Choice products for acne:
Pore Normalizing Cleanser – $14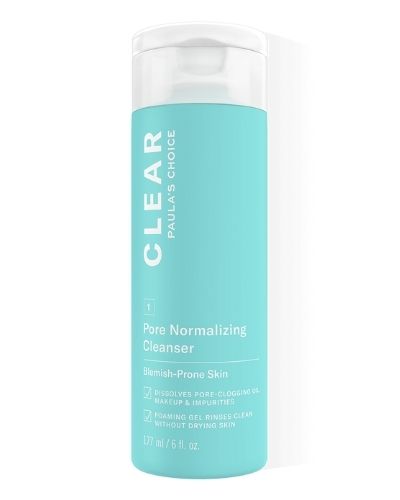 Best for oily, acne-prone skin.
The Pore Normalizing Cleanser is a gentle, foaming cleanser that contains a very mild concentration of 0.5% salicylic acid to gently remove impurities from the skin and unclog pores.
It has a similarly rich texture like the CeraVe, and it lathers nicely, so little goes a long way with it.
Besides the main active ingredient, the cleanser also contains arginine, a skin-softening amino acid, and panthenol, which is one of the most calming and soothing ingredients found in skincare products.
Even though it contains salicylic acid, the concentration in this cleanser is very mild compared to the usual 2% found in over-the-counter products; therefore, it can be used daily.
However, every skin is different; therefore, if you notice that it's drying you out, minimize its use down to 2-3 times a week.
Daily Skin Clearing Benzoyl Peroxide Treatment – $19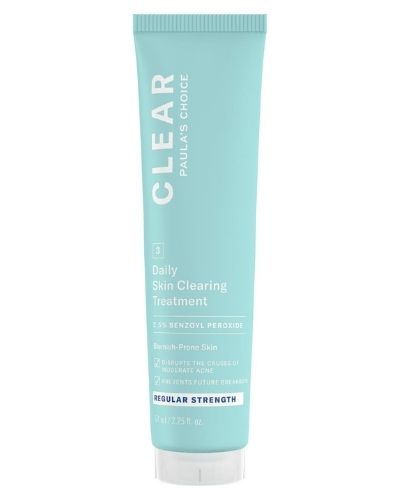 Best for moderate, cystic acne.
Paula's Choice Benzoyl Peroxide Treatment is an excellent product that can help fight mild, moderate, and even severe acne in combination with other actives or on its own.
The treatment comes in two strengths, including 2.5% for milder acne and more sensitive skin and 5% for more stubborn acne and more resilient skin.
It also contains hydrating agents such as propylene glycol as well as soothing agents including bisabolol and allantoin to prevent dryness and nourish the skin.
The only downside to it is that it could potentially bleach your clothes and pillowcases, so be ready for that.
I apply it in the evenings after my cleanse, and I give it 10-15 minutes to fully dry out before following it up with a moisturizer.
2% BHA Liquid Exfoliant – $30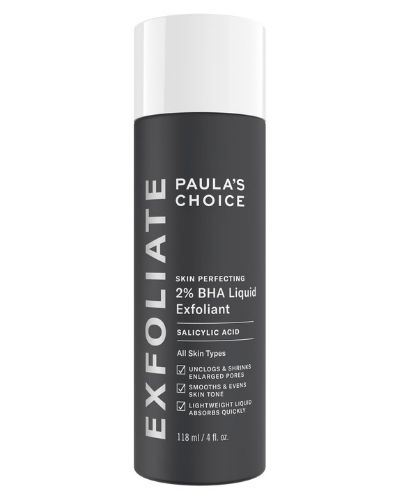 Best for dry, dehydrated, combo skin with mild acne, blackheads, and texture.
Paula's Choice 2% BHA Liquid Exfoliant has been a continuous bestseller ever since it dropped back in 2000. I can confidently say there isn't an esthetician or a dermatologist in Europe and in the US that hasn't tried and loved this product.
It is a lightweight exfoliating solution containing 2% salicylic acid to clear out the pores from the inside out and soothing green tea extract to calm any redness from pimples and inflammation.
However, although the product itself is amazing, I'm not too fond of the marketing that comes with it.
The BHA Liquid Exfoliant is marketed as a daily toner that can be used once or even twice a day.
But since it's an exfoliating solution, you should know that using it 2-3 times a week is enough, and anything more than that will put your skin at risk of becoming irritated.
So no matter how coarse and resilient your skin is, try to use this product in moderation.
Anti-Redness Exfoliating Solution 2% Salicylic Acid – $30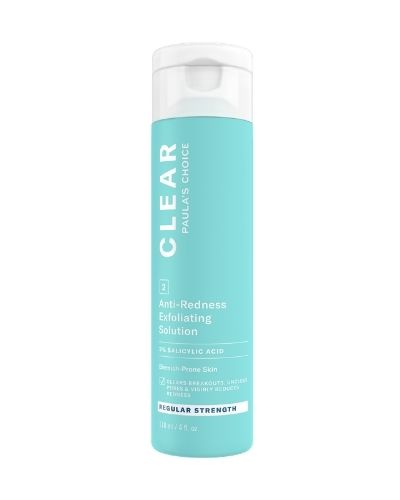 Best for oily skin with mild to moderate acne and blackheads.
The Anti-Redness Exfoliating Solution with 2% Salicylic Acid is a gentle, leave-on exfoliant that's slightly stronger than the one mentioned above but still gentle enough to be used up to 2-3 times a week.
It contains 2% salicylic acid followed by simpler ingredients that focus on hydration and soothing the skin.
It's a great formula for oily skin types dealing with blackheads, pustules, and even mild cysts here and there.
While it probably won't be enough for more serious acne issues, it's definitely a good place to start, especially if your skin is too sensitive for stronger treatments.
Ultra-Light Daily Hydrating Fluid SPF 30+ – $35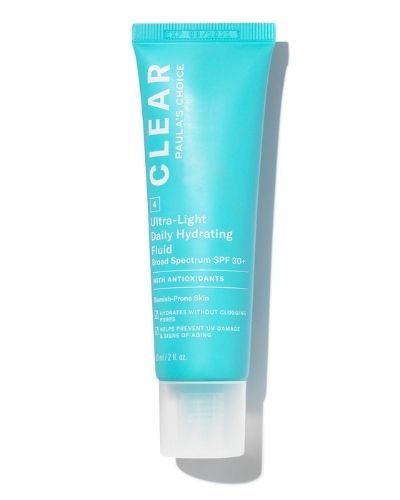 Best for combo, oily, acne-prone skin.
Ultra-Light Daily Hydrating Fluid SPF 30+ is a super weightless sunscreen that provides broad-spectrum sun protection and dries into a semi-matte finish.
The fluid also contains great antioxidants as well as cell-communicating ingredients that help the skin recover from damage.
The only issue I have with it is that I wish it comes in SPF 50 instead of only 30, but hopefully, that will change in the future.
Best CeraVe Products for Acne
Here are the five best CeraVe products for acne:
Acne Foaming Cream Cleanser – $15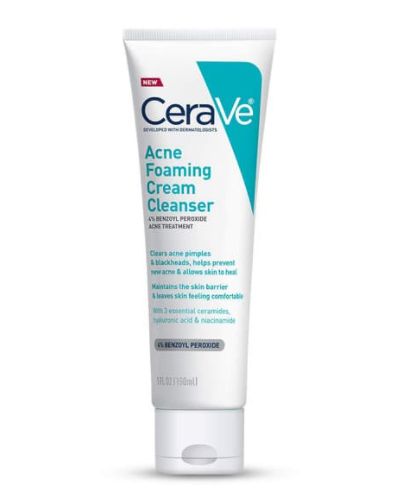 Best for combo, oily, acne-prone skin.
The Acne Foaming Cream Cleanser is a facial cleanser that contains benzoyl peroxide.
Benzoyl peroxide is a chief antibacterial agent found in many products intended to neutralize the acne-causing bacteria and prevent it from spreading and triggering the immune system to cause inflammation.
The formula also features hyaluronic acid to help retain draw moisture into the skin, as well as barrier-strengthening niacinamide to provide you with soothing benefits while helping your skin heal.
The Foaming Cream Cleanser is particularly good for more severe acne and sensitive skin as it can be used as short contact therapy.
However, given that the benzoyl peroxide strength in this product is 4%, it is quite efficient, but it may be too strong for daily use.
Therefore, try to incorporate it into your evening routine 2-3 times a week and keep it on the skin for no longer than 60 seconds.
Always make sure to follow it up with a hydrating moisturizer, as it can potentially dry out your skin.
Foaming Facial Cleanser – $15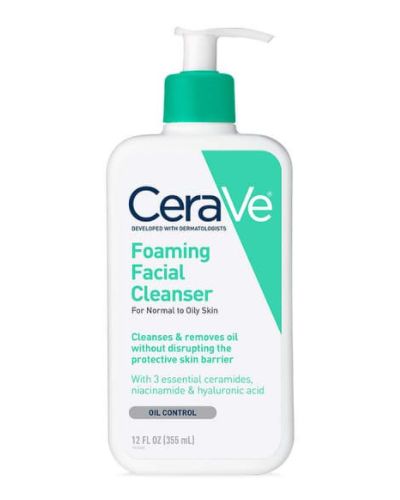 Best for oily, sensitive, acne-prone skin.
The Foaming Facial Cleanser is one of the simplest, most efficient cleansers in the market for combo, oily, and acne-prone skin.
The cleanser doesn't contain any direct acne-fighting actives such as salicylic acid or benzoyl peroxide; however, it's still efficient in removing daily dirt and debris accumulated on the skin's surface from being outside.
Besides that, it also contains barrier-strengthening and nourishing ceramides, hydrating hyaluronic acid, and brightening, oil-balancing niacinamide.
It can be used once or twice a day, as needed, it foams up nicely, and a little goes a long way. It's also super affordable and accessible.
Salicylic Acid Acne Control Gel – $20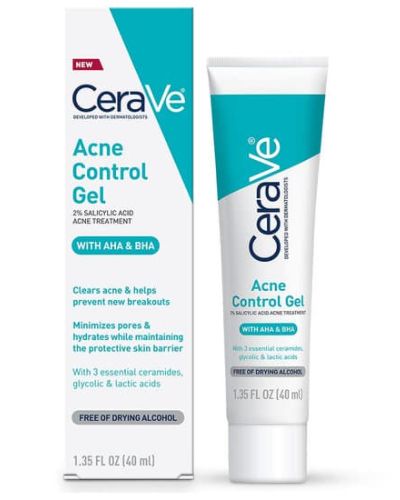 Best for all skin types and can also be used as a spot treatment.
The Acne Control Gel is one of the newer CeraVe products that belongs in their acne range.
It's a lightweight, hydrating, full-face acne treatment that contains glycolic and lactic AHAs plus the BHA salicylic acid.
The mild yet effective exfoliating formula can help clear acne, prevent new blemishes from forming, and minimize the look of enlarged pores while also improving skin texture and hyperpigmentation thanks to the AHAs that work on the surface of the skin.
Besides that, the Acne Control Gel also replenishes the skin's protective barrier with CeraVe's proprietary three essential ceramides, calms and brightens the skin with niacinamide, helps the skin look noticeably clearer, and maintains healthy skin with daily use.
Resurfacing Retinol Serum – $16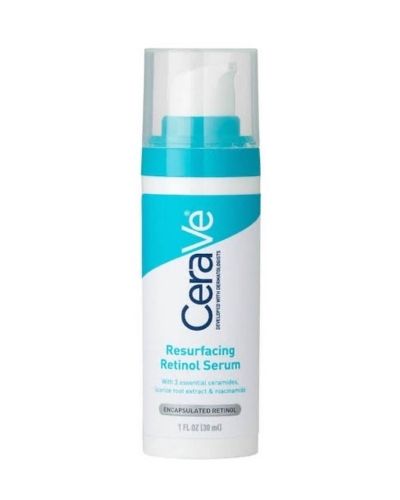 Best for dry, sensitive, and acne-prone skin.
The Resurfacing Retinol Serum by CeraVe is a great product that can help you get rid of post-acne scarring, but due to several ingredients such as niacinamide and propanediol, it can also work on balancing oil production, soothing, and hydrating the skin while also strengthening the skin barrier.
On the other hand, it contains one problematic and potentially clogging ingredient at the bottom of the list called Isopropyl Myristate, a heavy emollient ingredient usually found in cream-based tretinoin.
Isopropyl Myristate works as a penetration enhancer and an emollient and is known to cause issues for oilier, acne-prone skin.
As an oily and acne-prone person, I have struggled with this ingredient before, including when using cream-based tretinoin, so I must warn you to watch out for it.
On the other hand, if your skin is on the dry but acne-prone side, you will likely find the Resurfacing Retinol Serum helpful.
Ultra-Light Moisturizing Lotion SPF 30 – $15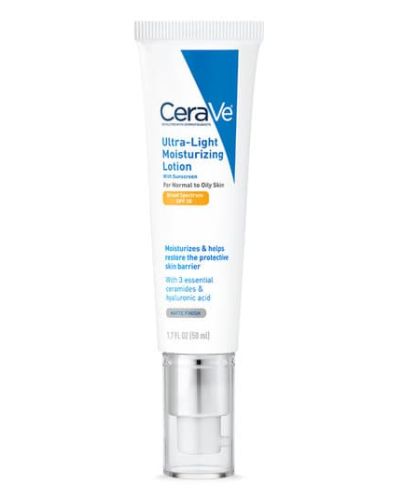 Best for dry, acne-prone skin.
The Ultra-Light Moisturizing Lotion SPF 30 is an affordable daily moisturizer with SPF to protect the skin from UV damage.
Although suitable for oily and acne-prone skin, this moisturizer isn't mattifying, and it can leave quite a bit of a greasy layer behind.
That said, it's all chemical sunscreen with a few chemical filters as active ingredients, including avobenzone, homosalate, octisalate, octocrylene.
Despite the chemical filters, this moisturizer shouldn't sting the eyes as it's created for sensitive and irritated skin in mind.
Besides the main actives, the moisturizing lotion also contains hydrating hyaluronic acid, barrier-repairing ceramides, and soothing niacinamide.
As I already mentioned, it's a great moisturizing sunscreen, but it leaves a greasy layer; therefore, you will definitely need to set it with powder, or otherwise, likely, you won't appreciate it, especially if you have excessively oily skin.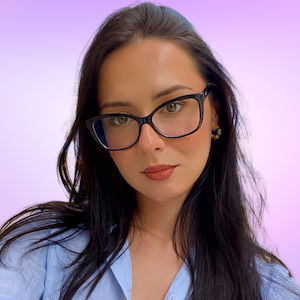 My name is Simone and I am a certified skin specialist. I created this website to teach my readers how to take great care of their skin and I also like to occasionally share my honest opinions on skincare products I've tried. You can learn more about me here.
The Acne Solution: Your Ultimate Guide To Flawless Complexion
An extensive, no-nonsense course showing you how to never have acne again, from a licensed Esthetician specializing in oily/acne-prone skin.