There are so many different types of makeup products and brands on the market these days that it can be borderline overwhelming to figure out what you should be using.
Besides this, there's also the "label phenomena" which is essentially what every possible brand claims their products will do for you.
So in this era of mix and match, how are you really supposed to know what is the best product for you to use?
One of the basic makeup essential is having a foundation and you have probably noticed how there are two most dominant types of foundation – powder, and liquid.
Both are great products with different pros and cons, but which will be overall most beneficial for you depends entirely on your skin type.
Since you clicked on this article you are probably someone who has oily skin and everyone and their grandma probably know that oily skin goes very well with a powder foundation.
So my focus today is to explain why is that the way it is and also recommend some of the best powder foundations for oily skin for you.
Moreover, this article is going to teach you the following:
What is oily skin?
Is powder foundation better for oily skin?
& some of my recommendations of best powders for oily skin
So let's start this article by answering the most obvious question here: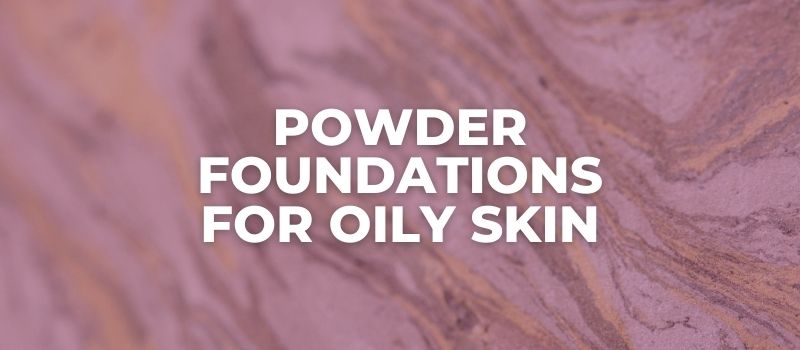 NB:
What if I told you I can show you how to never have acne again?
If you have acne and want it gone
,
read this message
.
What is Oily Skin?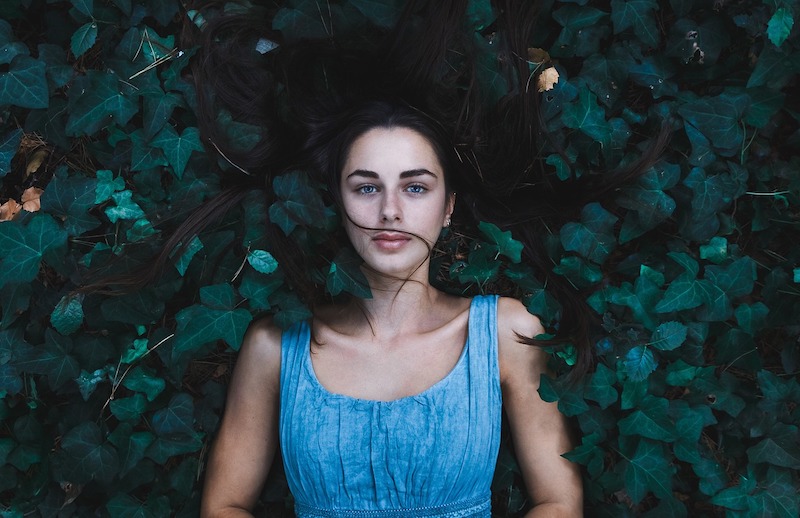 Talk to me about the most annoying skin type ever.
Oily skin is a common skin type that is determined by the number of overactive sebaceous glands present in the area that produce large amounts of sebum.
Having a good amount of sebum is important and healthy for your skin as this keeps it lubricated and protects it from drying out and becoming irritated as a result.
However, when overactive sebaceous glands produce excess sebum, your skin ends up looking shiny and your pores can become clogged, leading to acne breakouts and other skin imperfections.
Oily skin is typically hereditary, however, it can also be the result of heightened hormone levels and this usually happens during puberty as sebaceous glands that happen to be directly influenced by hormones become more active during these times.
What? You are in your 30s and your forehead still shines bright like a diamond?
I hear you.
There is nothing wrong with that too.
While oily skin is very common for people in their teens and early 20s, for others, it doesn't end there. It is not uncommon to have oily skin in your 30s and beyond.
But, not everything is dark in life, so even is your oily skin is driving you crazy right now, there is good news to this too.
People with oily skin types tend to have more moisture in their skin, and this is exactly what makes them less prone to premature lines and wrinkles.
Which doesn't sound bad at all, right?
Moreover, there are ways to control oily skin but because I don't want to make this article painfully long to read, make sure you check out my other article showing you ways to control oily skin that just happens to go in great depth in addressing this particular issue.
Here Are My 5 Recommended Powder Foundations for Oily Skin
To help you find your perfect product, I have made up a list of tried and tested powder foundations for oily skin that worked miracles in keeping my daily makeup in place.
#1 NYX High Definition Finishing Powder
The NYX High Definition Finishing powder grants your complexion with a new lease of life while efficiently eliminating shine and blurring imperfections.
It feels virtually weightless and is meant to promote a healthy-looking radiance without settling into fine lines or looking all cakey and messy on you midday.
It is available in three shades:
Translucent – to mattify and brighten
Banana – to set concealer into place
Mint Green – to effectively neutralize red tones
Additionally, it can be suitable as a base to instantly camouflage or as a finishing touch to set your daily makeup.
#2 bareMinerals Mineral Veil Setting Powder
This sheer finishing powder is the perfect addition if you want to apply something that will minimize your pores but still deliver the look of a perfectly bare complexion.
It feels incredibly lightweight and it is absolutely perfect to use throughout the day.
It contains no talc, fragrance, or binders and it can be worn on a bare face, over concealer or foundation of your choice to create that gorgeous, soft-focus, shine-free finish.
#3 Too Faced Primed & Poreless Pressed Powder
This is a translucent pressed powder that I really found enjoyable to use.
It is efficient in blurring the pores and smoothing out the imperfections I used to have not that long ago.
It is also excellent to be used over your primer as to prepare the complexion for an additional concealer or a heavier foundation.
For extra matte finish just go ahead with another thin layer over your makeup and you will be good to go for the entire day.
It delivers a smooth and seamless, airbrushed finish for long and poreless wear.
#4 Clinique Stay-Matte Sheer Pressed Powder
A heavier, evening powder foundation if I do say so myself.
This baby is completely oil-free and will set your makeup efficiently for an entire evening of drinking and partying.
It leaves the skin looking fresh with specifically targetting greasy areas to prevent the unwanted shine.
#5 MAC Studio Fix Powder Plus Foundation
Another powder foundation that belongs on the heavier side which makes it more suitable for evening wear.
It completely refines the complexion by smoothing effortlessly onto the skin without settling into the fine lines or caking throughout the entire wear.
It is perfect for providing good coverage and reduces the appearance of pores, blemishes, and other skin imperfections.
It offers up to eight hours of wear, so if you are not planning on showing up directly to work after a long night out, you are more than good to go with this baby.
It is gentle and suitable for all skin types and offers an even, mattified complexion with an airbrushed finish. Such a delight!
Is Powder Foundation Better for Oily Skin?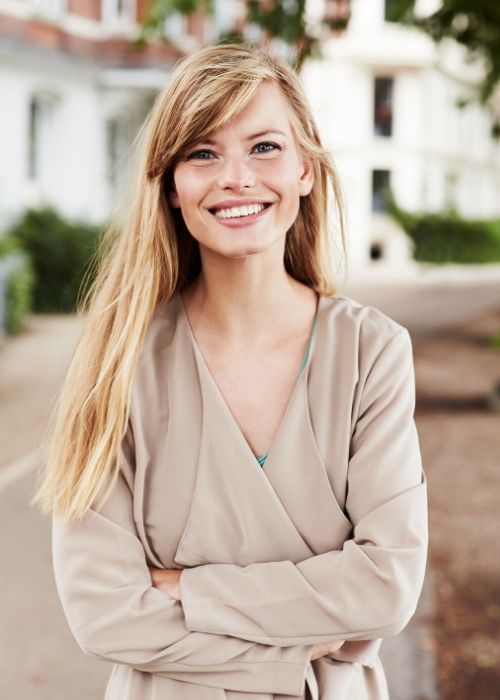 If you have oily, sensitive, or acne-prone skin, a powder foundation might be your new best friend.
This is because powder foundations feel light on the skin as opposed to liquid or cream formulas that tend to crease and end up looking cakey when combined with your natural oils throughout the day.
Powder foundations don't have a pore-clogging effect and have excellent oil-absorbing properties since they don't contain emollients or oils that are often the main components of a liquid or cream foundation.
However, the downside of powder foundations is that they don't give as much coverage as liquid or cream foundations which may cause a challenge in covering breakouts and imperfections.
But this can easily be corrected by using a lightweight concealer that will create an even-toned look in areas prone to imperfections before applying powder over it.
What to look for?
Mineral-based powders give a smooth, luminous look to the skin and very often contain protective SPF properties.
They are also less likely to settle into fine lines and existing wrinkles and provide you with that gorgeous, no-makeup makeup look.
---
So there you have it, ladies.
I enjoyed writing this article and educating you a little further on what oily skin is and how to deal with cakey and shiny makeup by implementing some of the best powder foundations for oily skin as a daily step in your makeup routine.
Let me know in the comments if you have tried any of my recommended products and what was your experience with them.
In addition to this, do not forget to check out one of my recent article revealing the best primers for oily skin that will teach you how to complete and perfect your daily makeup look.
Moreover, I would also love to know which powder foundation you've found to work best with your oily skin.
My name is Simone and I am a certified skin specialist. I created this website to teach my readers how to take great care of their skin and I also like to occasionally share my honest opinions on skincare products I've tried. You can learn more about me here.
The Acne Solution: Your Ultimate Guide To Flawless Complexion
An extensive, no-nonsense course showing you how to never have acne again, from a licensed Esthetician specializing in oily/acne-prone skin.