Tretinoin is one of the most intense topical products prescribed to treat acne, improve signs of aging, fade hyperpigmentation, and treat sun damage.
And although it's super effective in doing all this, this product is known to cause some pretty intense side effects, too.
Some of these include dryness, irritation, and discomfort, which is why I highly recommend you step up your moisturizing game if you are just starting tretinoin.
However, if you are unsure what to choose, this article will show you the ten best moisturizers to use with tretinoin. These will moisturize and soften your skin and relieve the discomfort that comes from dryness and irritation.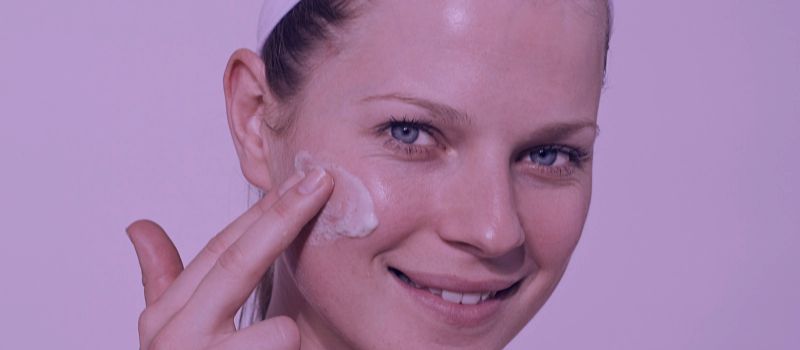 NB:
What if I told you I can show you how to never have acne again?
If you have acne and want it gone
,
read this message
.
La Roche Posay – Cicaplast Baume B5 – $15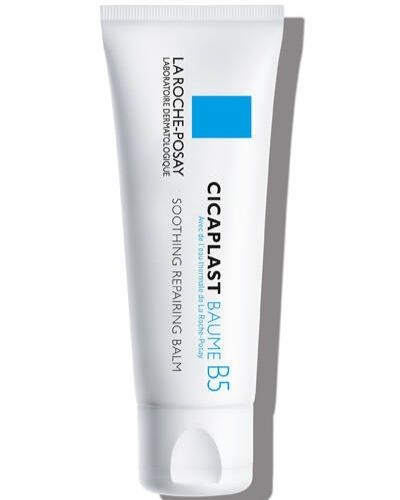 Best for dehydrated/oily/acne-prone skin.
The Cicaplast Baume B5 by La Roche Posay is a product that delivers immediate relief within seconds of applying it to dry, sensitive, and irritated skin.
It's a thick balm that contains many soothing, repairing, and moisturizing ingredients, including softening shea butter, hydrating glycerin, soothing and repairing panthenol, nourishing magnesium, anti-inflammatory zinc, as well as Madecassoside, which is one of the four main compounds in the plant extract Centella Asiatica, an incredibly soothing and repairing agent that helps strengthen the skin barrier.
The Cicaplast Baume B5 is also non-comedogenic, and although it's quite thick and moisturizing, there's nothing here that will clog the pores and cause your skin to break out.
You can use the Cicaplast Baume B5 before or after applying tretinoin to soothe the skin and relieve irritation caused by this potent active.
CeraVe – PM Facial Moisturizing Lotion – $14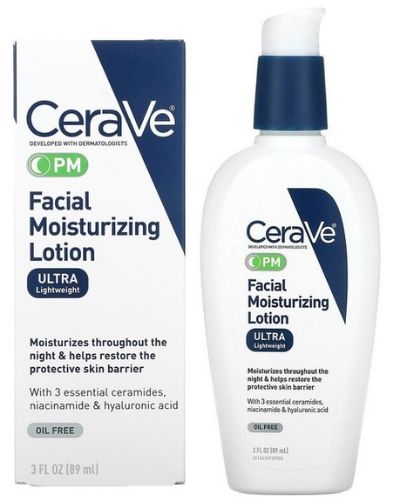 Best for combo/dry/mature skin.
CeraVe's PM Facial Moisturizing Lotion is another excellent option for those whose skin gets super dry, irritated, and weak while getting used to tretinoin.
The cream contains hydrating hyaluronic acid alongside niacinamide and ceramides, two very efficient barrier-restoring ingredients.
The PM Facial Moisturizing Lotion has a rich consistency, and it feels silky smooth on the skin. It's also oil-free and super-hydrating, meaning it's one of the best products to soothe irritation and repair a damaged skin barrier.
First Aid Beauty – Ultra Repair Cream – $15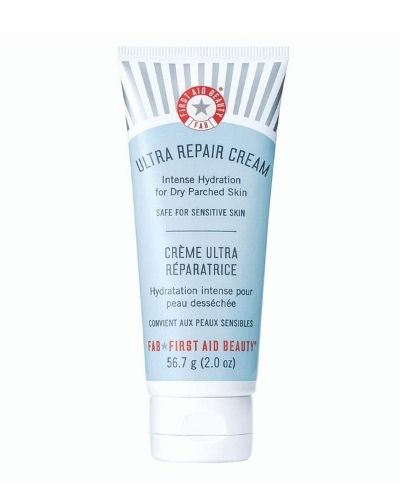 Best for dry/mature/irritated skin.
The Ultra-Repair Cream by First Aid Beauty is very similar to the Cicaplast Baume B5, with only a few different ingredients, including stearic acid, Cetearyl alcohol, and squalane which are excellent emollients for someone with dry skin.
The Ultra Repair Cream also contains triglycerides, which are lipids naturally found in our skin's natural oil and are essential for a healthy skin barrier.
It also contains moisturizing shea butter, anti-inflammatory colloidal oatmeal, and soothing licorice extract to help relieve dryness and irritation caused by tretinoin.
Embryolisse – Lait-Creme Concentre – $16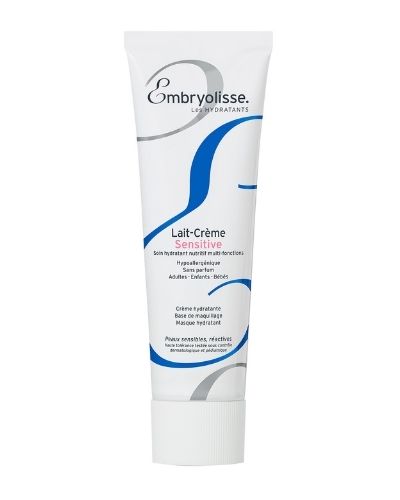 Best for dry/irritated/sensitive skin.
Embryolisse's Lait-Creme Sensitive is a deeply moisturizing and nourishing cream developed for irritated and sensitive skin, which makes it a perfect moisturizer for when on tretinoin.
The soothing cream is fragrance-free and rich in essential fatty acids and vitamins that provide the skin with nutrients and protect it from pathogenic aggressors while helping it retain moisture and a healthy barrier.
Besides that, there are also soothing aloe vera and moisturizing shea butter and beeswax in the formula, making it a thick, nourishing product suitable for dry, mature, sensitive, and irritated skin.
Weleda Skin Food – Original Ultra-Rich Cream – $19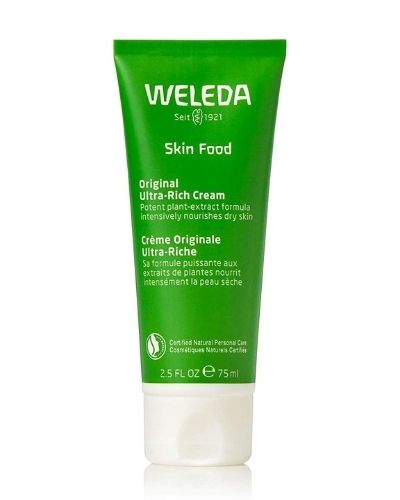 Best for extremely dry/irritated skin.
Weleda Skin Food Original Ultra-Rich Cream is designed for extremely dry skins that are in desperate need of emollients to maintain moisture levels and a healthy barrier.
Essential fatty acids along with vitamin E moisturize and soften while organic pansy calms irritation caused by excessive dryness. Organic calendula flower extract gently cares for your skin, aiding repair and restoration.
Paula's Choice – Omega+ Complex Moisturizer – $36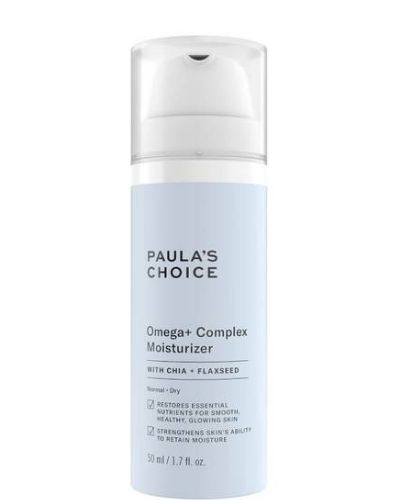 Best for combo/dry/dehydrated/irritated skin.
Paula's Choice Omega+ Complex Moisturizer is a silky smooth cream formulated with ingredients that aim to restore dehydrated skin and strengthen the skin barrier.
The Omega Complex Moisturizer contains ingredients such as Omegas 3, 6, and 9, which act as building blocks in the skin cells, and strengthen the skin barrier.
Additionally, anti-inflammatory passion fruit and guava extracts work to soothe the skin and relieve irritation caused by excessive tretinoin peeling.
The Complex Moisturizer has a lightweight, whipped texture that locks in hydration and soothes the skin.
Drunk Elephant – F-Balm Electrolyte Waterfacial – $52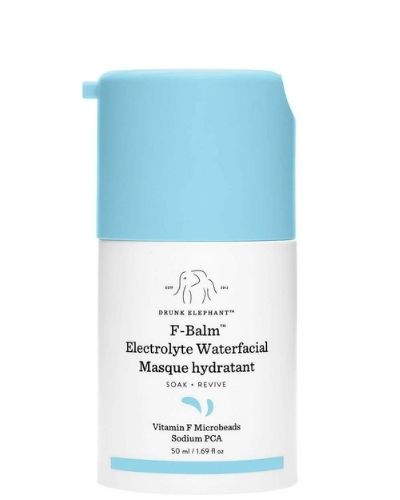 Drunk Elephant's F-Balm Electrolyte Waterfacial is a hydrating mask that can be used as a moisturizer to hydrate and replenish damaged skin.
Its main active ingredient is vitamin F, which technically isn't a vitamin but this name is used to represent a combination of two essential fatty acids.
Vitamin F is what we know as a combination of linoleic acid, an Omega-6 and alpha-linoleic acid, an Omega-3.
The dream team of the two fatty acids provides many benefits for the skin, including softening, hydrating, replenishing, and antioxidant properties the skin craves, especially while getting used to tretinoin.
The mask/moisturizer has a thick, creamy texture that feels slippery and spreads on the skin with ease. It also has these interesting grains that burst when in contact with the skin, making the cream feel very soft.
Skinfix – Barrier+ Triple Lipid-Peptide Face Cream – $52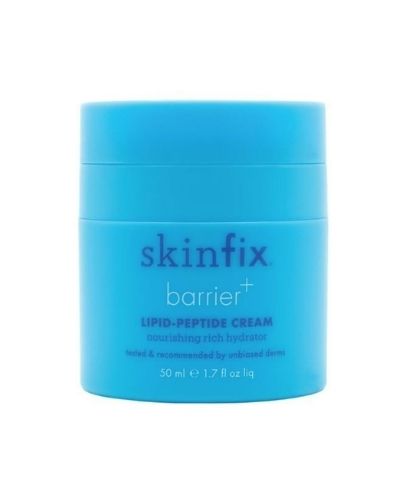 Best for dry/dehydrated/mature skin.
The Barrier+ Triple Lipid-Peptide Face Cream by Skinfix contains a patented blend of active ingredients that help replenish the skin barrier, such as lipids, ceramides and fatty acids.
Lipids are fatty or waxy components that are naturally found on the surface of our skin and help fortify the skin barrier to defend against damages such as pathogens and environmental pollution that often takes a toll on the skin.
Lipids also act as emollients and help prevent moisture loss, which can be extremely helpful for skin that's struggling to remain soft and moisturized due to tretinoin.
Additionally, the cream also contains a peptide-protein blend that works to support the skin barrier function and protect against free radical damage.
The Skinfix Barrier+ Triple Lipid-Peptide Face Cream is an amazing product for those with dry, reactive, irritated, and sensitive skin on tretinoin.
HoliFrog – Grand Amino Cushion Cream – $60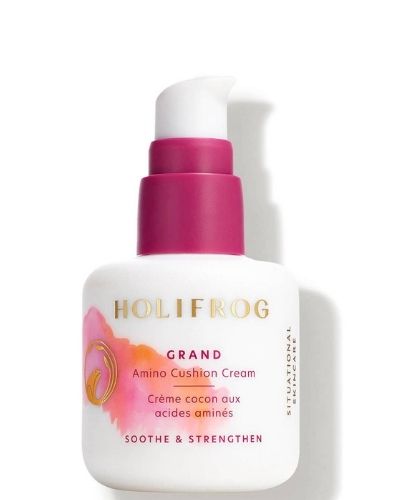 Best for oily/combo/dehydrated/dry skin.
HoliFrog's Grand Amino Cushion Cream is a multitasking moisturizer that includes a powerful ingredient blend to help restore, brighten, support water retention and fortify the skin barrier without pore-clogging lanolin, waxes, or silicones.
Formulated with a concentration of peptides, ceramides, vitamins, antioxidants, and a blend of 11 amino acids, this creamy moisturizer absorbs into the skin upon application for a velvety soft feel and is beneficial for all skin types including oily skin, and skin that's going through some rough time due to tretinoin.
SkinCeuticals – Triple Lipid Restore 2:4:2 – $130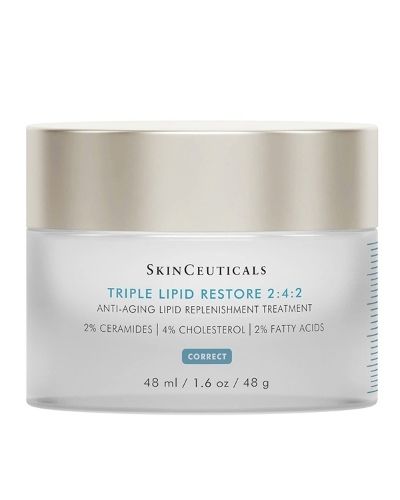 Best for dry/irritated/mature skin.
Triple Lipid Restore 2:4:2 is a replenishing cream that contains the optimal lipid ratio of 2% pure ceramides 1 and 3, 4% natural cholesterol, and 2% fatty acids, which aims to nourish the skin while simultaneously correcting dullness and signs of aging.
The unique lipid correction cream will also strengthen the skin barrier and encourage the skin to repair itself from damage, be it caused by an allergen, an external pathogen, damaging UV rays, and dryness and irritation induced by tretinoin use.
Triple Lipid Restore 2:4:2 has a creamy, fast-absorbing texture, and the moisturizer gives an instant radiance as soon as applied to the skin.
It is a great product for dry and irritated skin and it can also be used as post-procedure aftercare or when starting retinol or tretinoin to prevent the initial irritation and flakiness that's often associated with it.
My name is Simone and I am a certified skin specialist. I created this website to teach my readers how to take great care of their skin and I also like to occasionally share my honest opinions on skincare products I've tried. You can learn more about me here.
The Acne Solution: Your Ultimate Guide To Flawless Complexion
An extensive, no-nonsense course showing you how to never have acne again, from a licensed Esthetician specializing in oily/acne-prone skin.