If you have been on my website before, you probably know I'm a huge fan of La Roche-Posay's Cicaplast Baume B5, and the multiple reviews I have written about this product can attest to that.
However, in this article, we will compare the Cicaplast Baume B5 with another popular spot treatment by La Roche-Posay: the Effaclar Duo.
In this comprehensive review, I'll delve into my personal experience using the Cicaplast Baume B5 and Effaclar Duo, focusing on their effectiveness in tackling acne issues.
Both of these acclaimed La Roche-Posay products have made waves in the skincare industry and on social media, and here, we'll explore their impact on oily and acne-prone skin in depth.
This analysis will shed light on how these products can potentially transform your acne skincare routine and help you achieve a clear, healthy, and glowing complexion.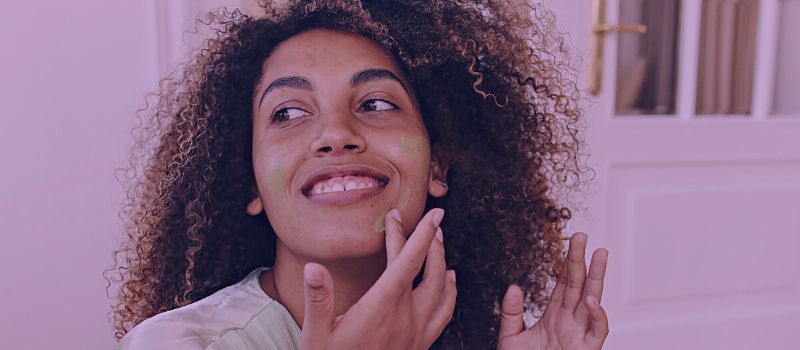 NB:
I can show you how to never have acne again.
If you have acne and want it gone
,
read this message
.
La Roche-Posay – Cicaplast Baume B5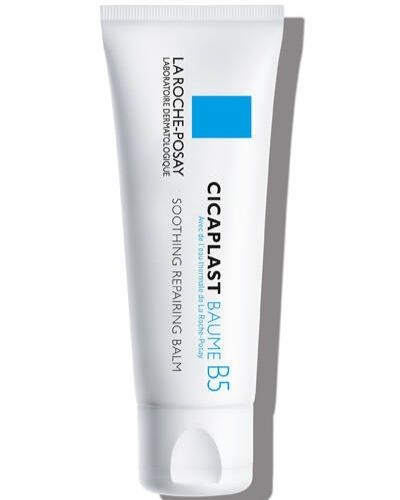 La Roche Posay's Cicaplast Baume B5 is a multi-purpose soothing cream that can be used on cracked, chapped, dry, and irritated skin to help hydrate and soothe.
It's suitable for adults and children and can be used on all areas of the face and body.
Ingredients
The Cicaplast Baume B5 balm contains many soothing, repairing, and moisturizing ingredients.
Some of the main ones include softening shea butter, hydrating glycerin, nourishing magnesium, and Madecassoside, which is one of the four main compounds in the plant extract Centella Asiatica, an incredibly soothing and repairing agent that helps strengthen the skin barrier.
Additionally, Cicaplast Baume B5 also contains a couple of acne-fighting ingredients, including zinc and panthenol (vitamin B5), which is a soothing and barrier-repairing component that strengthens the skin barrier, helping it fight off pathogens and overgrowth of the acne-causing bacteria.
The Cicaplast Baume B5 is also non-comedogenic, and although it's quite thick and heavy, there aren't known acne triggers in its formula that will clog your pores and cause your skin to break out.
Scent
The Cicaplast Baume B5 doesn't have added fragrance or other fragrant components such as essential oils, and it doesn't have any scent.
Consistency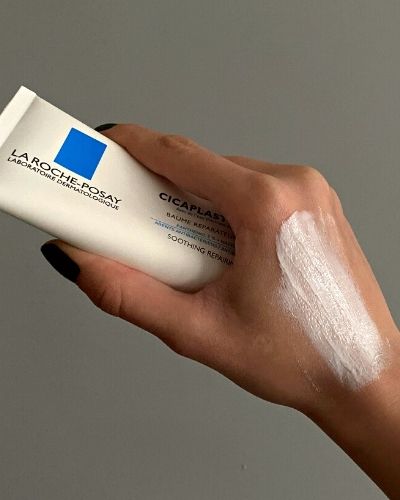 The Cicaplast Baume B5 has the consistency of a thick, creamy balm.
How to Use It?
The Cicaplast Baume B5 isn't a regular moisturizer; therefore, if you try to rub it into the skin the way you would do a typical moisturizer, chances are that you are not going to like this product.
Instead, the right way to use the Cicaplast Baume B5 is by warming a pea-sized amount of product between your fingertips and pressing it into the skin rather than rubbing it around.
This will help the balm settle and absorb into the skin instead of sitting on the surface and leaving white streaks behind.
Performance
I've been using the Cicaplast Baume B5 for over two years now, and the first and most important thing I have to say about it is that it definitely does what it says it does when it comes to soothing and repairing the skin.
I started using the balm when my skin was experiencing severe dehydration, dryness, flaking, and purging due to starting tretinoin, and this product never failed to relieve these issues instantly after applying it over my face.
I've since stopped using tretinoin, but when I was trying to make it work, I would apply the Cicaplast Baume B5 before bed, 20-30 minutes after applying tretinoin, and I would feel immediate relief from dryness and irritation.
Cicaplast Baume B5 also helped strengthen my skin barrier and even helped smooth out rough skin texture caused by excessive dehydration.
It also helped soothe inflammation, and my purge-induced pimples always looked better in the morning after using the Cicaplast Baume B5 the previous evening.
Now that I'm no longer on tretinoin, I've continued using the Cicaplast Baume B5 as a moisturizer in my night routine, and it helps lock in all the moisture from my toners and serums, preventing my skin from drying out overnight.
Additionally, besides using it as a moisturizer every evening, I also like to use it as a mask by applying a thicker layer than usual and sleeping in it.
The masking method makes my skin incredibly soft, smooth, and radiant in the morning, so if you are dealing with excessive dryness and irritation, I would highly recommend you try this out.
It's also great for dry and flaky eyelids, which is an issue that can occur due to conditions like eczema and psoriasis and even allergic reactions to eye products like mascara, eyeliner, and eyeshadow.
I've also noticed that Cicaplast Baume B5 can be used over acne to minimize the severity of inflamed pimples.
Now, Cicaplast Baume B5 is NOT an acne treatment. However, while it won't address the underlying cause of acne, which is bacterial overgrowth, it will soothe the symptoms of inflammation, such as redness and swelling.
Therefore, whenever I use this product as a spot treatment over a rogue pimple, I've always noticed that the lesion looks smaller and less inflamed the next day.
All that said, there's one claim I disagree with, and that is Cicaplast Baume B5 not being greasy, according to La Roche Posay's website.
Yes, this isn't a greasy oil or a petroleum-based product like Aquaphor or CeraVe Healing Ointment, but it does leave the skin very moisturized and glowy, which is why, as someone with oily skin, I only use it in the evenings to avoid shine during the day.
This claim isn't necessarily incorrect; however, I know that folks with oily skin expect a velvety or a slightly matte finish when we read a product is "non-greasy," and this one definitely leaves a glowy layer on the skin.
Other than that, I absolutely love the Cicaplast Baume B5 and would highly recommend it to anyone dealing with dryness, flakiness, sensitivity, redness, and acne.
La Roche-Posay Cicaplast Baume B5 Pros:
Instantly calms the skin and relieves irritation.
Softens skin texture and helps rebuild the skin barrier.
Excellent for those who are using tretinoin or acne medication such as Accutane.
Free of irritating fragrance and drying alcohol.
La Roche-Posay Cicaplast Baume B5 Cons:
Can make the skin oily throughout the day, which is why it's best to use it at night.
La Roche-Posay – Effaclar Duo Acne Spot Treatment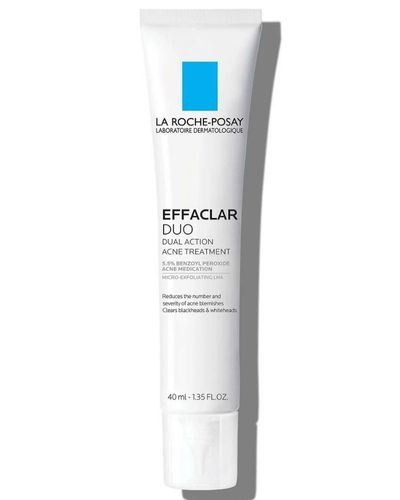 The Effaclar Duo is a spot treatment that reduces the severity of acne lesions and redness, as well as some types of non-inflammatory acne, such as closed comedones and blackheads.
Ingredients
The Effaclar Duo is a spot treatment formulated with 5.5% micronized benzoyl peroxide and micro-exfoliating lipo-hydroxy acid to provide quick results in flattening and fading acne.
The lightweight spot treatment also contains glycerin to hydrate the skin, alongside other soothing ingredients like fireweed extract, an antioxidant plant with antibacterial and anti-inflammatory properties, as well as fatty alcohols to soften the skin and make the treatment more tolerable for those with sensitive and reactive skin.
Scent
The Effaclar Duo doesn't have added fragrance or fragrant components, but it has a very faint medicinal scent that's easily tolerable and fades away as soon as it's applied to the skin.
Consistency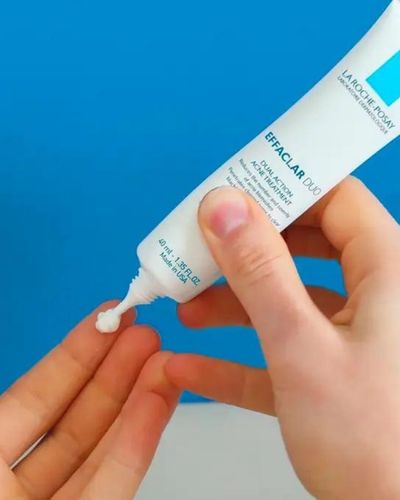 The Effaclar Duo has the consistency of a lightweight moisturizer or a thicker, creamy serum. It spreads on the skin with ease and absorbs quickly after application without leaving a greasy layer on the skin's surface.
How to Use It?
To use the Effaclar Duo as a spot treatment, start by cleaning your face with a gentle cleanser and following with your standard skincare routine. After toning, applying a serum, and moisturizing, apply a single dot on the pimples you want to treat and try not to disturb the product until it fully absorbs.
To use the Effaclar Duo on larger areas, start by cleansing the area with a gentle cleanser and allowing your skin to dry naturally.
Once your skin is damp but not fully dry, apply the treatment over the affected area and wait until it fully absorbs before following up with the rest of your skincare routine.
That said, avoid using the Effaclar Duo too often or for prolonged periods, as this treatment contains benzoyl peroxide, which can dry out the skin and disrupt its microbial balance.
This imbalance could potentially result in persistent acne problems in the long run.
For best results, use the Effaclar Duo 2-3 times a week and take short breaks from it after a few weeks of use to allow your skin's microbiome to recover from the antibacterial effect of the active ingredient that destroys both bad and good bacteria that keep other strains of bad bacteria in check.
Performance
I initially used this product back when I first started experiencing acne in my early twenties.
Back then, I didn't have a clue about what I was doing, so I simply walked into a pharmacy and asked for the best acne treatment they had.
The Effaclar Duo (then under a different name) was recommended to me, and I have to say that it definitely helped clear some of the big cysts I had on my cheeks and jawline.
However, after a week or so of using it twice a day, I started experiencing some side effects.
My skin started feeling raw and irritated, and after a few days of the initial symptoms, I noticed flaking and peeling around my mouth.
Again, back then, I had no idea what benzoyl peroxide is and how it works, and that overusing it could lead to issues like dryness, irritation, and flaking, so I definitely overused this product, which isn't the best thing to do if you want to heal your acne without wrecking your skin barrier in the process.
So, I decided to slow down and give the Effaclar Duo a week's break before I continued using it twice or three times a week, which ended up working much better.
The huge, purple cysts on my cheeks and jawline started subsiding slowly but surely, and after a week of using it less frequently, they were basically flat and pretty much gone, besides leaving red marks behind.
Mind you, I was still getting new breakouts during that time, but the Effaclar Duo managed to significantly reduce the size and severity of my acne lesions, which was a huge relief back then.
Now, years later, I no longer use this product because I have a steady routine and get regular treatments that help keep my skin clear, so I don't have the need for an acne spot treatment like this one.
But I would definitely recommend it to someone who's struggling with active acne and is looking for a quick and affordable fix.
However, keep in mind that this product contains two potent active ingredients and can very easily be overused, which can lead to issues like irritation, redness, flaking, and peeling.
Therefore, if you want to give it a go, I'd recommend using it no more than 2-3 times a week without adding extra exfoliation.
Effaclar Duo Acne Spot Treatment Pros:
Instantly flattens a pimple.
Gentle and non-irritating.
Contains a high percentage of benzoyl peroxide to destroy bacteria.
Lipo-hydroxy acid provides gentle exfoliation and unclogs pores.
Effaclar Duo Acne Spot Treatment Cons:
Can cause peeling and flaking if overused.
Which One is Better for Acne?
Both the Cicaplast Baume B5 and Effaclar Duo are great for acne as each product helps reduce inflamed lesions in its own way.
Cicaplast Baume B5 relieves pimples by instantly soothing and flattening a raised angry spot, and it repairs the skin barrier long-term, preventing future breakouts.
Effaclar Duo, on the other hand, contains active ingredients such as benzoyl peroxide and lipo-hydroxy acid that inhibit the issue underneath the skin's surface by infusing the pore with oxygen and destroying the overgrowth of bacteria and dissolving the debris bacteria use as food to grow.
Therefore, both products are excellent for acne and can be used together to target pimples at every stage.
However, some may prefer Cicaplast for its skin-calming abilities and long-term effects, while others may find Effaclar Duo's active ingredients more effective in clearing up blemishes quickly.
Ultimately, it is up to you to decide which product works better for your unique situation.
However, I definitely recommend using them both, as this skin-soothing, barrier-repairing, and acne-busting duo is sure to leave your skin looking and feeling amazing!
Where to Buy La Roche-Posay Cicaplast Baume B5?
La Roche Posay's Cicaplast Baume B5 is easily available in most drugstores or pharmacies.
However, the LRP Cicaplast Baume B5 can also be purchased from sites like:
Where to Buy La Roche-Posay Effaclar Duo?
Easily available in drugstores, pharmacies, and online stores, here are a few excellent places to buy the La Roche-Posay Effaclar Duo: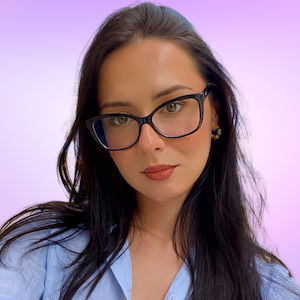 My name is Simone and I am a certified skin specialist. I created this website to teach my readers how to take great care of their skin and I also like to occasionally share my honest opinions on skincare products I've tried. You can learn more about me here.
The Acne Solution: Your Ultimate Guide To Flawless Complexion
An extensive, no-nonsense course showing you how to never have acne again, from a licensed Esthetician specializing in oily/acne-prone skin.